The True Test
Masters 2022: Tiger Woods is here and it's a miracle. Now comes the hard part
Tiger Woods has already exceeded expectations by being here. The tournament itself presents a new test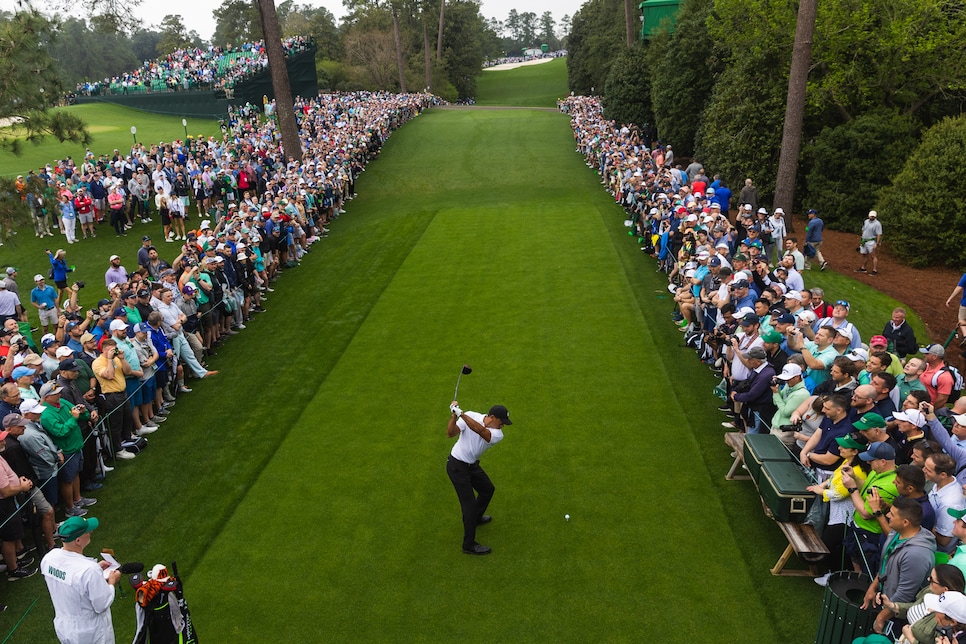 AUGUSTA, Ga. — Wednesday morning at the Masters offers tinkerers one final opportunity for last-minute tweaking. Four months of thinking about Augusta National and a three-day cram sesh of learning it culminate with five hours of morning daylight. The lunch hour brings an air of resignation to the 91 players in the field; there is no choice but to accept that prep time is done and showtime awaits.
Tiger Woods reached the rubber-hits-road moment ahead of schedule, well before noon, as is his habit, on a gray and misty Wednesday at golf's greenest treasure. He'd just played nine holes with lil' bro Justin Thomas and big bro Fred Couples for the second time this week, and for the second time this week he headed directly to the putting green afterwards to roll a few more. Then he walked through a tunnel of adoring patrons, under *the* tree and into the clubhouse to begin a multi-hour wind-down process. Then he'll sleep, and then he'll play in the world's biggest tournament, 508 days after his last competitive round and 408 days after his right leg was crushed by the weight of a large automobile.
We haven't yet devised a way to accurately measure hype, but anecdotally speaking, anticipation for Woods' first round has reached a fever-pitch. The Tiger juice is intoxicating, and the public is taking fat swigs. Per BetMGM, Woods has received more than double the bets and the money to win the Masters as any other player. The crowds at Monday's practice round were unlike any Monday crowd in recent memory, and Wednesday might've been even more packed. It's understandable—the greatest player of his generation, the biggest star in the sport's history, clawing out of the ashes yet again to make a most improbable return at the tournament that has defined his career more than any other, on the 25th anniversary of his first major championship. The fact that Woods even considered playing this week shows the power of modern medical technology when combined with an otherworldly work ethic.
Now comes the true test. You couldn't pick a worse course to return from a leg injury at than Augusta National, a beast of a walk. Can he drive a 7-iron into a headwind off an upslope? Can he build a stance with one foot out of the bunker to create a swing path? Can he push off his right leg 40 times for four days in a row? Can he walk uphill, then downhill, then uphill again? How will he feel on Saturday morning, when it won't hit 50 degrees until 10 a.m. and won't hit 60 at all?
"Just in general with my body, anytime it's cold, it doesn't feel very good," Woods said Tuesday. Still, he hasn't softened his expectations for himself.
"I think that the fact that I was able to get myself here to this point is a success, and now that I am playing, now everything is focused on how do I get myself into the position where I'm on that back nine on Sunday with a chance? Just like I did a few years ago."
By "a few" he means three, when he completed what looked like the ultimate comeback to win a fifth green jacket. Woods inspires optimism like few others, and the most ardent Tiger-stans can point to that 2019 tournament as evidence that Woods can pull off the impossible yet again. So will Couples' assessment of his game.
"I really personally think he looks the exact same (as before the latest flurry of injuries)," Couples said. "I don't know if you watched any holes, but he stood over the ball, and he says, 'watch this,' and he drew it around the corner. He hit a great iron on 12. It hit the bank and went in the water, but it was a flush iron. He knows where to aim, go over there to the left. Basically, No. 13, hooked it around the corner. He looks the exact same to me."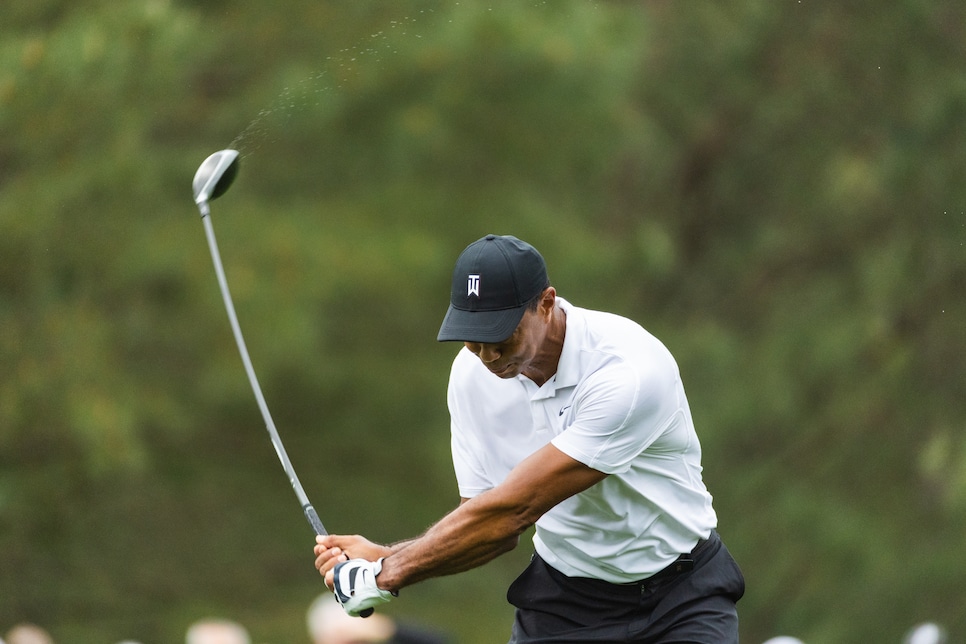 "I really can't. I was on this (podium) on Monday, and people were asking me, and I said besides golf—he's Tiger Woods, so I'm not worried about watching him hit a ball ever because he's the best player I've ever seen play.
"It's a miraculous thing. Fourteen months ago I'm bawling like a baby every day, and now you pair with him and he looks strong. I know the leg is hurt, but he's driving it with JT. Maybe JT today was a little more pumped up, got him a few times, but he's hitting it plenty far enough to play this course, and he plays this course as well as he does where he's won seven or eight times, and he's won here a bunch. He knows what to do."
Couples said Monday that if Woods can walk all 72 holes—a massive if—he'll contend. His reasoning: he's still Tiger Woods and this is still Augusta National. Thomas, who knows a thing or two about the kind of golf that wins in the 2020s, offered a similar assessment of Woods' game: "It's plenty, plenty good enough to play well." Are those fair assessments or (understandable) products of the hype machine?
Woods has returned to the Masters after an extended break multiple times before, and with some success. In 2010, he played his first tournament after his marital scandal and tied for fourth. In 2015, he emerged from a two-month hiatus and the chipping yips to tie for 17th. But that was before his right leg would send a metal detector into overdrive. He's more physically compromised than he's ever been, and yet he genuinely believes he can win this week.
"I don't have any qualms about what I can do physically from a golf standpoint," he said Tuesday. "It's now, walking is the hard part."
For all that Woods is, one thing he is not is delusional. He wouldn't say he has a chance to beat JT and Rahm and Rory if he didn't have his full arsenal of shots. Which is to say: he does have his full arsenal. The on-course display has been impressive; Woods reached the uphill par-5 8th in two on Monday, hardly missed a fairway on Wednesday and turned a 3-wood around the corner on 13 both days. He looks excellent on the range as well, knocking down flags and cruising in the low 170s mph ball speed with the driver, faster than he was toward the end of 2020 and slightly above tour average. On Monday afternoon he thrilled the patrons with a dazzling short-game display. He cut chips and then he drew them. He nipped high floaters and jammed low runners. An artist at work.
Looking good in practice, however, does not guarantee scoring success. Put simply: everyone looks good in practice—Tiger especially. From the seating area behind the practice range, you can tell who's going to miss the cut but you cannot tell who is going to win. Woods looks . . . well, he looks like all the other great players here.
Vegas isn't buying it. The over/under for his opening round was at 75.5, and the odds suggest Woods is more likely to miss the cut than to make it. It's worth noting that Woods, for as loose as his game has been in years past, has never missed the cut at the Masters as a professional. Perhaps they're banking on him struggling physically—he did walk extra-slow up the 17th fairway on Wednesday, before responding with that closing birdie—because his golf shots look more like a contender than a Friday trunk-slammer.
No one knows how Woods' body will feel come Friday afternoon, including Woods. Assuming it does hold up structurally, and his range of motion is not further impacted—if it's just a matter of pain tolerance, it's no matter at all—it's fair to expect him to make the weekend. Contending is a different matter altogether; he was still the No. 1 player in the world in 2010, and 2019 came at the tail end of a 16-month period of elite play. This time around there are two dozen great players who've spent the last 14 months playing and practicing as he re-learned how to walk. Tournament golf requires a sharpness and comfort under pressure that cannot be replicated, even if Woods has replicated Augusta National's green surrounds in his backyard facility. This year . . . this is different. But so is he.
"I wouldn't be surprised (to see him contend)," Rory McIlroy said Tuesday. "I've spent a little bit of time with him at home, and the golf is there. He's hitting it well. He's chipping well. He's sharp. It's just the physical demand of getting around 72 holes here this week. That's probably the question mark. But the golf game is there.
"So, would I be surprised? No, I'm not surprised at anything he does anymore."
More Masters 2022 stories from Golf Digest