Pairings party
Masters 2022: Pairings history shows Tiger Woods has blown away his partners in first two rounds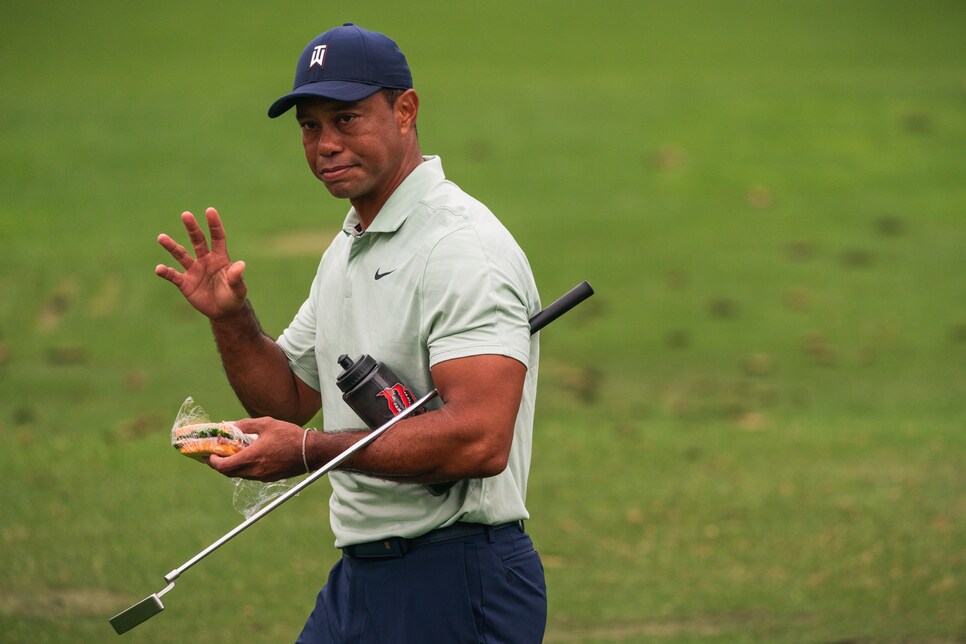 Shortly after Tiger Woods' presser at the Masters, the pairings were released for the first rounds. Woods will tee it up Thursday at 10:34 a.m. ET with former Open Championship winner Louis Oosthuizen and Joaquin Niemann.
Although it would be easy to think that the good folks at Augusta National might have put him in a comfortable pairing with close friends Justin Thomas or Fred Couples, that has not been the history for Woods at the Masters. In fact, his pairings in the year's first major since turning pro in 1997 are an interesting mix. In particular, Augusta National has routinely chosen international players to accompany Woods for the first two rounds. Oosthuizen is South African and Niemann is Chilean.
In fact, of the 42 players Woods has played the first two rounds with as a professional, 24 of them came from outside the U.S. Eight times, Woods was alongside a pair of non-Americans. On two of those occasions, it was in years Woods won a green jacket, as he played with Darren Clarke and Carlos Franco in 2005 (starting 74-66) and with Jon Rahm and Haotong Li in 2019 (starting 70-68).
Twice, Woods was in a pairing with two international players with one a major champion (the situation he has this year). In 2008, Woods played with 2007 U.S. Open champion Angel Cabrera and Australia's Stuart Appleby, opening 72-71. Three years later, he was paired with 2010 U.S. Open champ Graeme McDowell and Robert Allenby, starting 71-66—the 137 total being his third-lowest 36-hole score at the Masters.
In Woods' 21 Masters starts as a pro, he has been under par 14 times after 36 holes; combined, his group partners have managed to be in the red only 11 times. Those playing alongside Woods have managed only 11 rounds in the 60s, while Woods nearly matches that total with 10.
Perhaps the biggest indicator of the impact of playing with Woods is that of the 81 rounds played by those in his group, 25 scored 75 or higher. Woods has had but five such rounds. Overall, Woods scoring average in the first two rounds is 71.07; his playing companions are nearly two shots higher at 72.99.
Here's a look at all of Woods' pairings for the first two rounds of the Masters as a professional:
2020 Andy Ogletree (a) (73-70); Shane Lowry (74-69); Woods (68-71)
2019 Jon Rahm (69-70); Haotong Li (72-74); Woods (70-68)
2018 Marc Leishman (70-67); Tommy Fleetwood (72-72); Woods (73-75)
2015 Jimmy Walker (73-72); Jamie Donaldson (74-71); Woods (73-69)
2013 Luke Donald (71-72); Scott Piercy (75-69); Woods (70-73)
2012 Miguel Angel Jimenez (69-72); Sangmoon Bae (75-71); Woods (72-75)
2011 Graeme McDowell (70-73); Robert Allenby (75-71); Woods (71-66)
2010 K.J. Choi (67-71); Matt Kuchar (70-73); Woods (68-70)
2009 Stewart Cink (69-78); Jeev Milkha Singh (71-75); Woods (70-72)
2008 Angel Cabrera (73-72); Stuart Appleby (76-70); Woods (72-71)
2007 Aaron Baddeley (79-72); Paul Casey (79-68); Woods (73-74)
2006 Robert Allenby (73-73); Edoardo Molinari (a) (80-77); Woods (72-71)
2005 Darren Clarke (72-76); Carlos Franco (76-73); Woods (74-66)
2004 Thomas Bjorn (80-77); Casey Wittenberg (a) (76-72); Woods (75-69)
2003 Ricky Barnes (a) (69-74); Angel Cabrera (76-71); Woods (76-73)
2002 Toshi Izawa (73-76); Bubba Dickerson (a) (79-71); Woods (70-69)
2001 Mikko Ilonen (72-79); Mike Weir (74-69); Woods (70-66)
2000 Stewart Cink (75-72); Aaron Baddeley (77-72); Woods (75-72)
1999 Sergio Garcia (72-75); Tim Herron (75-69); Woods (72-72)
1998 Matt Kuchar (a) (72); Fuzzy Zoeller (74); Montgomerie (75); Woods (71-72)
1997 Nick Faldo (75); Paul Azinger (73); Woods (70-66)
More Masters 2022 stories from Golf Digest