AUGUSTA, Ga. — Bryson DeChambeau keeps forgetting. As he approaches another one of those Augusta National putts­—you know, the downhill, ski-slope 40-footers that force you to putt with your back to the hole—his first instinct is to pull out his bible.
Green-reading books are a sensitive subject out on the PGA Tour, but they're an integral weapon in Team DeChambeau's arsenal. One-half of his putting equation, even. It solves for speed and break, and he's figured out how big of a stroke he needs to take to putt the ball a certain length. Match those two up, and then it's go time. So he keeps reaching into his pocket for it. Then he remembers where he is.
"It's usually always in the [yardage] book, and I'm looking like, Where is it?" DeChambeau said Friday. "And I'm like, Oh, my gosh, I'm here."
The Masters is the only tournament the world's best play that prohibits green-reading books, which use laser renderings of putting surfaces to produce incredibly detailed diagrams of greens. Every nook and cranny of a green is quantified, with each slope being assigned a percentage break. A significant slope might be a 7 percent break, with more subtle ones in the 1 percent range. Augusta National has not permitted the personnel or the technology needed to create these books on the grounds.
For some players, these numbers just act as general information to factor into their reads. But for guys who rely on the AimPoint system, which combines percentage break with distance to suggest an ideal line, knowing the exact slope is vital. At Augusta, players are forced to decode the game's most vexing putting without the ultimate decoding tool.
For years, a loophole provided a semi-workaround. There was no rule prohibiting level devices that measure slopes—you place it down on a green, and it tells you the percentage break—so players could map out their own homemade green-reading books. But that ran contrary to the spirit of the ban, and it was slowing down practice rounds, so these levels were added to the list of prohibited devices.
All this is to say: At the Masters, players are forced to read greens the old fashioned way—and they're some of the toughest greens to read on Planet Earth. Especially when they're running as slippery as they are this year, a noted departure from the unusually soft conditions in last year's one-off November Masters.
"It's actually pretty easy to feel slope out there, because they're steeper than average," said Mark Sweeney, the creator of AimPoint. "It's harder to feel really flat slopes and there are very few flat areas out there. If you have trained yourself to feel slope, it's pretty straightforward. But they're going back to old-school—just hitting putts and remembering what they do."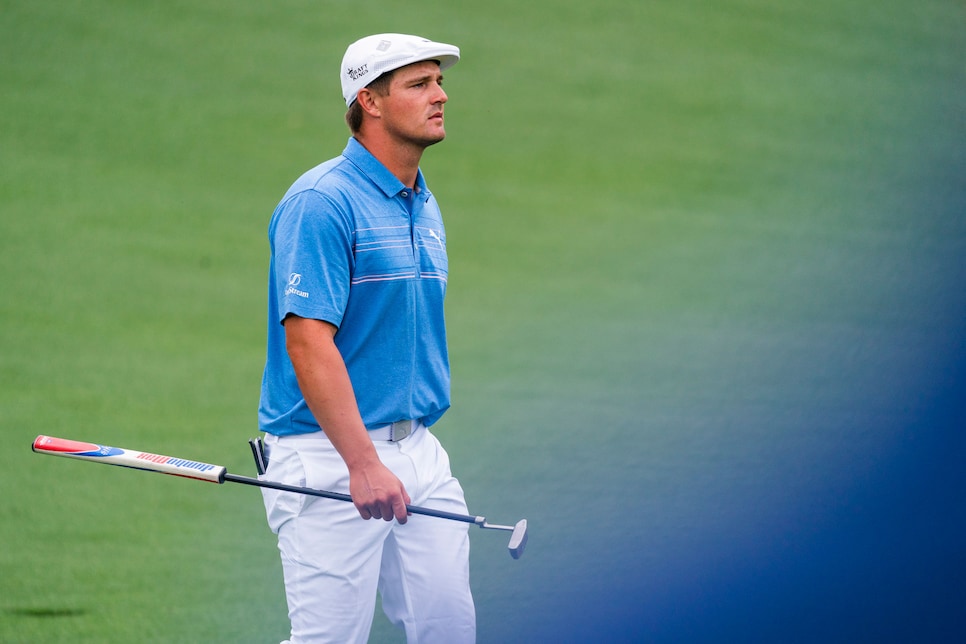 Bryson DeChambeau has to do extra homework during Masters week since he can't use the green-reading books he relies on at other PGA Tour events.
JD Cuban
This, then, helps explain why Augusta is known as perhaps the ultimate local knowledge course. You can't really know what a putt does until you see it with your own eyes. Billy Foster, current caddie for Matthew Fitzpatrick, has been coming to the Masters for 30 years. He's looped here for Seve Ballesteros, Lee Westwood and Darren Clarke, and caddied for Tiger Woods in the 2004 Presidents Cup. His philosophy in reading Augusta's greens is heavily influenced by his week spent with Woods.
"Tiger always said, choose the highest possible point that it could break in, because if it's too low it will never go in," Foster said.
That would suggest always taking the high line and letting the ball die into the cup. That checks out, because the last thing you want on greens this fast and slopy is to knock it four feet by and have a slider coming back.
But the problem with that logic is it makes the hole a bit smaller, particularly on putts in the three- to five-foot range. By hitting it so softly, you're letting the ball take every inch of break possible. So often at the Masters, a put looks like it's going to miss high … and then it misses low, because it has no speed and snaps right at the hole.
"I actually think from inside three or four feet, you have to hit them firm because there's literally, like, no grass there," said Cameron Smith, who has two top-five finishes at Augusta. "There's no friction, so the ball is not going to move as much as you think.
"I've missed quite a lot of 15-, 20-footers really high because there's just no friction from the grass pushing it."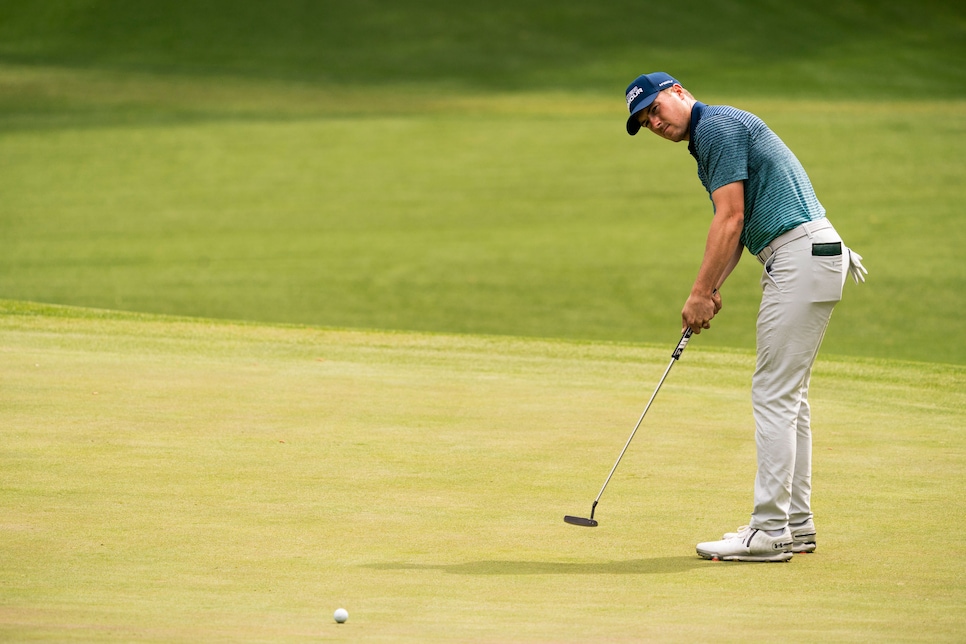 Jordan Spieth has been lauded for his short-game prowess at Augusta, but even he says he's still trying to figure out how to play certain putts.
JD Cuban
So we've got one guy saying die it in, another saying you have to be firm. This is indicative of the riddle that is Augusta's greens—there are no books to guide you, and there's no right or wrong way to putt them. No shortcut to learning them, either. Even Jordan Spieth, who has a win and three other top-three finishes here, is still learning.
"You get a different putt [and] you want to jot [it] down and kind of take a little mental video of that and move on," Spieth said Friday. "I might ask Collin [Morikawa] on the next hole, what did you play that put? Because I'm kind of curious, and then I just have it in the memory bank, write it in the book."
The yardage book, that is. Not the green-reading book.