Masters 2021
Masters 2021: Rory McIlroy says he's 'just at the start of a journey.' Here's what he means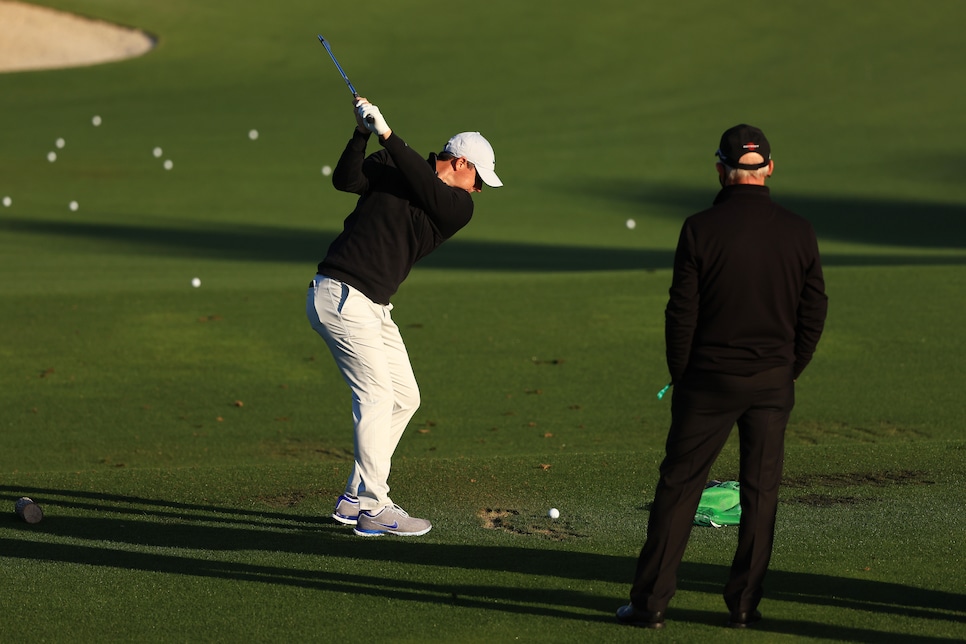 AUGUSTA, Ga. — Someone very wise once said, "The definition of insanity is doing the same thing over and over again, but expecting a different result." The Google machine tells me this person was Albert Einstein, who certainly fits the bill intelligence-wise.
Watching Rory McIlroy's golf rounds over the last 10 months has brought Dr. Einstein's definition to mind. They always seem to follow a certain rhythm. There's been plenty of good, to be fair. Mainly off the tee—bombed drives, usually right down the middle of the fairway. And there are plenty of birdies, often set up by those drives. At his best, perhaps no player has ever made this most vexing game look so straightforward.
But recently, the good spells have been too frequently offset by head-scratching mistakes. He'll miss a green with a wedge in his hand, or snap-hook a drive into the water. Or, like at the Players Championship, he'll do it twice.
The foul-ball show at the Players, where he shot 79-75 to miss the cut by a million, seemed to be the last straw. Rory McIlroy is not insane, and so he knew something needed to change.
He was seen later that afternoon hitting balls in front of noted instructor Pete Cowen, who has worked with plenty of major champions. Koepka. McDowell. Woodland. It was a notable development because Pete Cowen is not Michael Bannon, the reclusive Northern Irishman who's coached McIlroy since he was a boy.
"It felt comfortable because I've known him for so long," McIlroy said at his Tuesday pre-Masters press conference of the move to Cowen. He was quick to note that Bannon is still "part of the team," for what that's worth.
"I worked with Pete when I was 13, or from the age of 13 during Irish national [team] weekends, and he was a consultant for the team. It's not as if it felt like we were getting to know each other for the first time. We've known each other for a while.
"I just thought with what I have been sort of struggling with or trying to find a grasp with my swing, Pete likes to get his students to do what I was trying to feel I was doing, and he's worked with a bunch of different players, and he's got a lot of knowledge and a lot of wisdom.
"It just felt like a comfortable fit for me. That's the reason I brought him in."
And so McIlroy arrives at this Masters with new swing thoughts, albeit simpler ones. He admitted that he was inspired by Bryson DeChambeau's romp at Winged Foot, and that inspiration sparked an ill-fated attempt to add speed. The speed was indeed added, but the rest of his game suffered, and COVID-19 travel restrictions made it impossible to put in consistent in-person work with Bannon. Every time they did meet up, it felt like they were working on something different. As any golfer knows, that's never a good sign. So Rory made the tough call to move away from the man who molded his swing, his gorgeous swing, and bring in another set of eyes.
The team is different this week, but the opportunity has not. This will be the seventh time he tees it up at Augusta National with golfing immortality up for grabs. A win would see him complete the career grand slam, something only five other men have accomplished.
In some of those seven years, Rory's quest has been the main storyline. He'd be asked about it constantly. This year … not so much. That's what happens when you play poorly (at least by his standards). He has missed the cut in two of his last four stroke-play events and failed to get out of his group at the match play. He ranks 80th in strokes gained/approach for the season and 127th in approach play from 50-125 yards, which is tough for a guy who has 50 to 125 yards into par 4s so often.
As such, he has dropped to No. 12 in the World Rankings. And, if you read between the lines, the 31-year-old is not exactly approaching this week with a win-or-bust mentality.
"Yeah, look, I'm trying to view what I'm doing with my golf game on a … I'm trying to see the big picture here," he said. "I'm obviously focused on this week, but it's bigger than that. It's a journey, right, and it's a journey to try to get back to playing the game the way I know that I can play the game.
"So obviously this week is very important, but I'm still looking beyond that. I'm just at the start of a journey here that I know will get me back to where I want to be."
McIlroy knows there are no shortcuts to the summit of this sport. It took Jordan Spieth nearly four years to win again. Now, McIlroy's slump, if you can even call it that, is not close to the depths Spieth saw. But the principle holds true: Swing changes take time. Not everyone is Tiger Woods, who found a way to win with a work-in-progress swing.
Clearly, the expectations aren't what they've been in years past, but this is still Rory McIlroy and this is still Augusta National Golf Club, and if you subscribe to the mentality that winning isn't everything in golf, McIlroy has a terrific history here to look back on. In 2011, he led here after 54 holes by four. In 2018, he made a Saturday charge and played in the final pairing on Sunday. The man has top-10 finishes in six of the last seven Masters, including last year—when he overcame a first-round 75 by shooting 14 under the last three days to finish T-5.
But McIlroy doesn't look back much these days. It's a point of emphasis for him and Cowen, actually—to focus on the player McIlroy can and will be going forward, not the player he was. "There's no future in the past," is how Cowen put it to Sky Sports earlier this week.
"It's not as if you can just magically delve back into it and bring it all back to life," McIlroy said. "I think that golfer going forward is just a little more knowledgeable about what he does and how he swings the club and the movements he needs to make to basically hit three shots, right? Hit a draw, hit a fade, hit one straight. That's all you need to do in the game of golf. It's not that hard."