Shot In the Dark
Masters 2021: Why a closer look at 2004 could predict this year's winner. At least that's what we're going with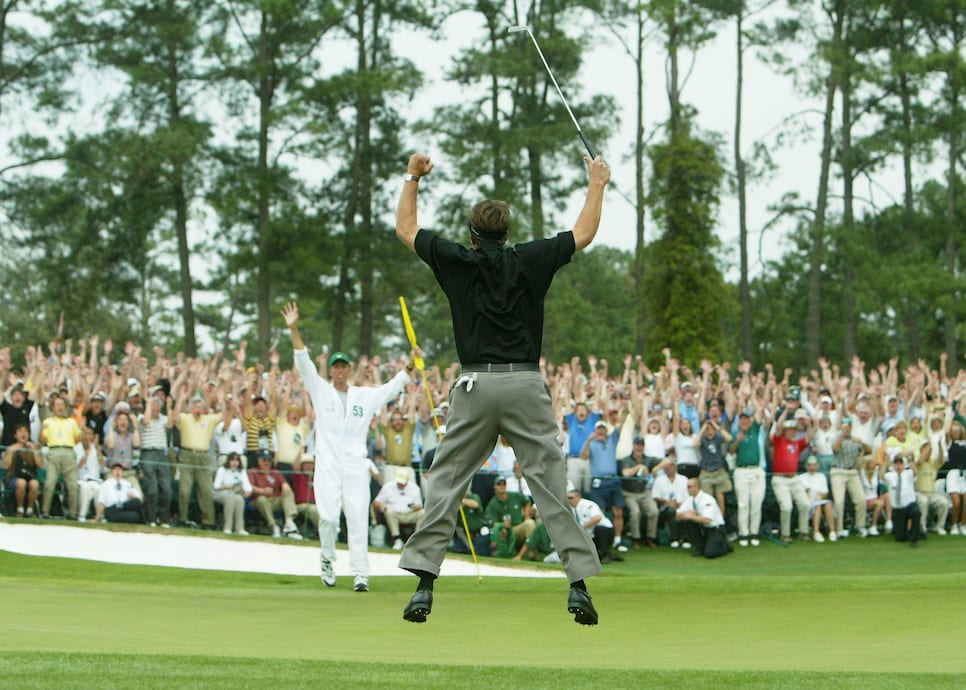 Editor's Note: For several years Golf Digest's Mike Stachura has applied his own brand of advanced analytics to attempt to pick a major championship winner. Maybe once has he even come close.
We are overdue for normal. We're all desperate for it, really. I've so much forgotten what it's like to not have a mask always at the ready that the other day at the driving range I worked my way through the bag with it on the whole time only to realize as I saddled up to head home that I was the only one there and had been for some time. (PSA: Still, don't stop wearing yours yet, and, B, consider yourself lucky for not having to watch all those driver shanks I displayed.)
In golf, there is no more reliable normal than April and the Masters. (Taking nothing away from Dustin Johnson, but Masters that happen in November are like, well, U.S. Opens that happen in September. What 2020 essentially gave us was the plant-based burgers of major championships: like the real thing as long as you've forgotten what the real thing is supposed to taste like.)
Which brings us to where we are right now: Normal is so dang close we can taste it. And nothing tastes like the Coca-Cola, pimento cheese, sweet Georgia goodness of the Augusta Masters in April. It's that unique but viscerally known feeling when there's a kind of crispness in the morning that almost drips away to the easy warmth of a Southern spring. There's a blindingly blue sky that makes you believe you're 23 again with a whole long weekend ahead of you with everywhere to go and nothing to do. Or maybe it's nowhere to go and everything to do. Either way, it's a whole lot different feeling than the days we've been living, a whole lot closer to the normal we crave.
April may have been the cruelest month to T.S. Eliot, but then I'm guessing he never saw the 13th at Augusta National.
But the Masters is that week when all of golf is a song everybody knows all the words to, or at least thinks we do (see Stone, Mike). The setting, both majestic and familiar. The sounds, even with attendance limited, will be a kind of new normal, still signaling, elevating the drama of the moment. The characters in this play, though clearly different across the years, always seem to feel the same. Keith Fergus begat Nolan Henke begat Kirk Triplett begat Brendon Todd. Or put another way Bernhard Langer begat Bernhard Langer begat Bernhard Langer begat Bernhard Langer.
The Masters and its trusted rhythm is just that steadying moment we need in a world trying to find its way away from chaos and toward a kind of regularity that also has a sort of hope in it. I'm not saying the Masters and Augusta National is perfect in every way. But let's step away from all the problems for a moment and just think about any year's 12th hole tremors, good or bad, or Larry Mize's playoff chip-in or even the, well, Verne Lundquist of it all, and relish it for what the Masters on a Sunday really is: the perfect competitive sports occasion there to remind us of the triumph of the athlete in the moment. That normal perfection of the Masters is what we need.
So now I'm going to ruin all that gooey specialness with the most perfect imperfection there is: My impossibly inaccurate record of incorrectly picking the winner of a major championship. And with that I hope comes its own kind of normalcy, a sort of New Jersey diner generic-label ketchup that's good enough after 11 on a Saturday night when you just don't care because everything tastes like its own kind of existential regret. And in this desire for normalized normalcy, my formula was to find a time when the Masters in the sort-of recent past reflected that ultimate normal competitive perfection. That time was the "Is it his time?... Yes!" Phil Mickelson Masters of 2004. Back then, though it was only a teenager ago, the Masters was becoming its newest generation of itself. The course had come through most of its expansion in response to Tiger Woods' bludgeoning in 1997. And yet those changes seemed right and appropriate and by 2004 mostly settled into what golf's most played major venue would be (for that generation). And so the Masters again could be that familiar place where great players played great, and one colossal fan favorite could charge through a Sunday like Arnold Palmer half a century earlier. Indeed, 2004 was a time when past and present converged like they always do at the Masters, where Byron Nelson and Tiger Woods shared the stage, each offering a handshake send-off to the King as he played his last competitive rounds at Augusta National.
Jack Nicklaus and Gary Player were still in the field in 2004, so, too, were Nick Faldo and Raymond Floyd. But then so were Briny Baird, Tim Herron and Jonathan Kaye. But that's what the Masters is. A collection of old and new, natural, long established greatness mixing with the accidentally successful sneaking a seat backstage for a brief moment. In other words, normal. And it was a time, of course, when a golfing lifetime's worth of drama played out over the back nine on Sunday. Normal. 2004 was so perfectly perfect, or in Masters terms, "normal" that the official Masters film that year opens with a sequence of epic, rollicking back nine Masters wins by Palmer in 1960, Nicklaus in 1975 and '86, and Jim Nantz doing his very best Jim Nantz, gushing, "Sometimes…you just know …that the ball wants to go in the hole…never more so than at the amazing 2004 Masters," and then concludes with a Mickelson reference to spiritual influences on his 72nd hole birdie and the line "one of the most exciting Masters ever played." This was a Masters on Full Nantz, and that is exactly the normal we need now, the kind of normal only the Masters can provide. If I could take the calculus of that time and apply it to this time, well, maybe this, begging Mr. Nantz's pardon, could be my time ...
That's right, if there ever were a modern-era, perfectly normal (or normalishly perfect) Masters, it would have to be 2004. Back when the cut on golf shirts was, er, generous to the point of philanthropic. While Tiger didn't win that year, even surprisingly faded on Saturday, a whole world of characters threw haymakers from every corner in Sunday's final hours. (Even Tiger birdied the 18th on Sunday just as a reminder of whose house this now was.) There were back to back holes-in-one on 16 in the afternoon's final hours, almost an appetizer to accent the flood of roars echoing through the pines. Like the one accompanying K.J. Choi's eagle 2 on the 11th that was good the moment it left the clubface on his way to a back-nine 31 and a third-place finish. Sergio Garcia played the last 12 holes in eight under to finish in a tie for fourth—with, of course, a perfectly normal Bernhard Langer. And Ernie Els swinging as sweetly as Waffle House iced tea and putting like the colossus he was supposed to be before Tiger crushed his soul, led by three shots with five holes to go and didn't really miss a shot coming in.
And still, as would be incredibly the case throughout his career, his best would cruelly fall short. What only mattered in the end of the 2004 Masters was the fan favorite being propelled through the back nine like Nicklaus and Palmer before him. Like those giants, Mickelson both then and now seemed to always have been wearing a green jacket and his win not only cemented his standing but also started a modern day Palmer-Nicklaus run through the Masters that would see the two of them win five times between 2001-06. He, not Tiger, was quite simply the best player heading into that 2004 Masters. That Phil Mickelson played perfectly normal golf, selectively aggressive and smart, hitting fairways, making five birdies in his last seven holes, including the walk-off/leap-off on 18 to a roar he's still hearing.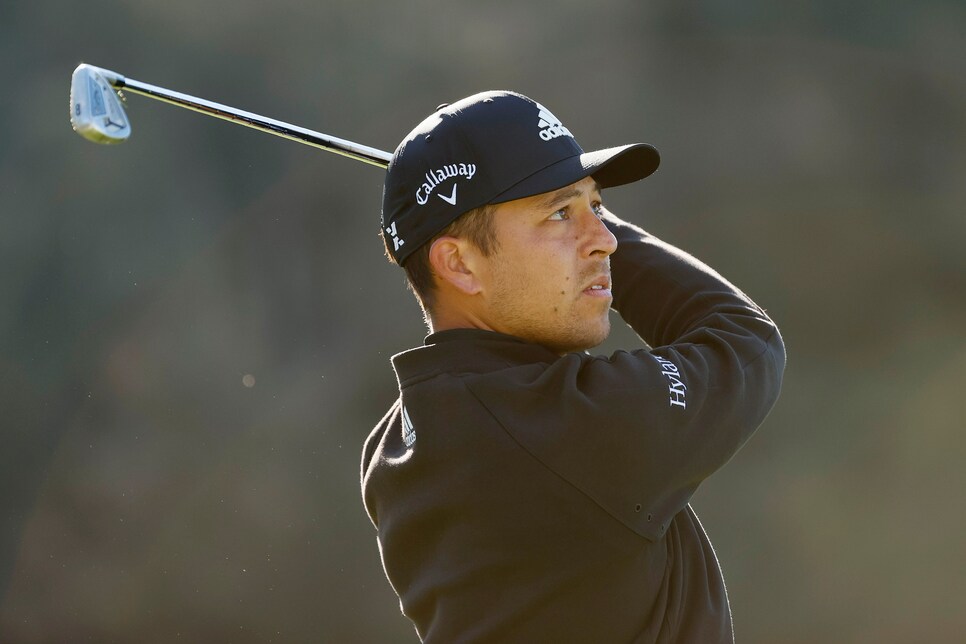 So in my quest for normal, I chose to find 2021's Phil Mickelson, the guy whose stat package adds up to be most like Mickelson back in 2004. I looked at strokes gained off the tee, approach, around the green and putting, threw in his par-5 scoring average and added in his rank in number of top 10s and came up with a combined average rank. Mickelson was stupid good heading to Augusta that year with a win among his seven top 10s, and his rank in strokes gained off the tee, approach, around the green and par-5 scoring was eighth, first, ninth and seventh, respectively. His low mark was putting, where he only ranked 38th.
So what Godzilla-Kong hybrid, what new conquering hero fits that stat bill this year? It sounds like it should be a Bryson or a DJ or even a Jon Rahm or Brooks Koepka. That would be majestically normal. Perfect.
Alas, friends, we all know I don't know how to do perfect or normal. (You write about inanimate objects as long as I have and your sense of reality tends to be internet troll-like.) And while those grade-AAA beef giants were in my mix, they didn't add up in my math. My numbers are the ones you get when your hamburgers are made with methylcellulose, expeller-pressed canola oil, cocoa butter and mung bean protein.
That's why my Masters champion for 2021 is, ahem, Xander Schauffele, whose average rank in the above statistics is the closest to Mickelson's a generation ago. Schauffele is a sort of post-pandemic Phil Mickelson, as thrilling as, well, mung bean protein. He's top 40 in all my relevant stats, even 6th in the all-important par-5 scoring. None of the other big names on the board can claim that consistency this year, although all of them would be much-preferred prime-sirloin choices.
Of course, Mickelson's 2004 Masters win was his first of an overdue and impressive run of five majors in the next decade, so maybe 2021 will be Schauffele's first in a run of his own, cementing his legacy as the Beyond Burger to Mickelson's Five Guys.
Maybe. Or maybe I'll just have to keep wearing that mask.
MORE MASTERS 2021 STORIES FROM GOLF DIGEST: