Playing it cool with Mr. Cool
Masters 2021: Patrick Cantlay happily calls this past champion his Augusta National mentor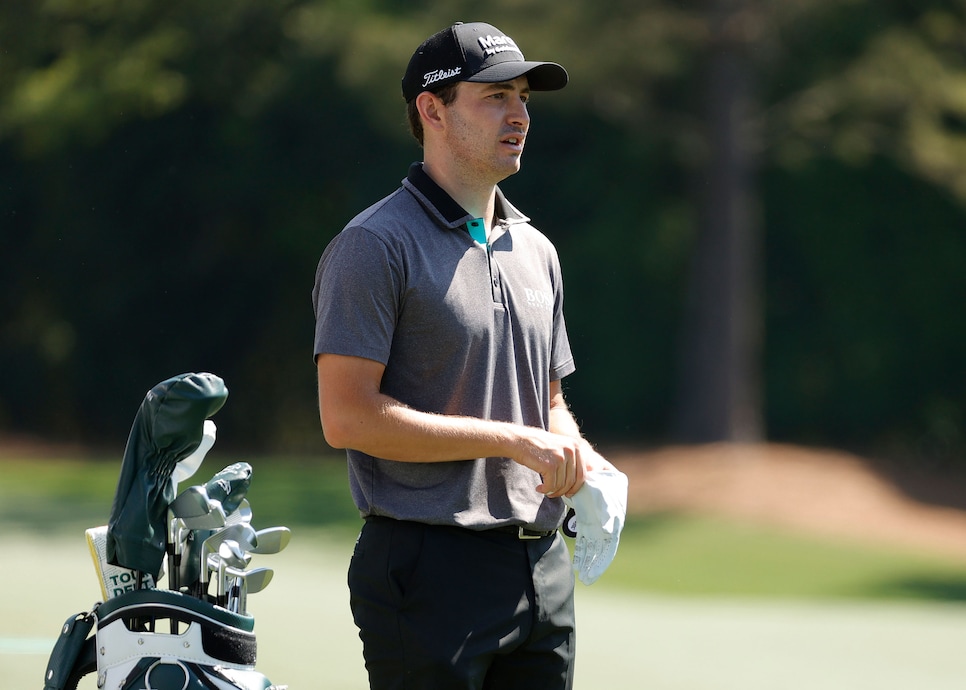 Patrick Cantlay looks on from the 12th tee during a practice round on Monday at Augusta National.
Jared C. Tilton
The Masters overflows with traditions, from the Champions Dinner to the Par 3 Contest (though not this year again, because COVID-19) to the Crow's Nest to the ceremonial opening tee shots that gets the tournament under way. Binding them all is how they each manage to connect old and young, generations past and present brought together to share in the experiences. Been there, done that, and welcome to Augusta National.
Another tradition where this occurs is during practice rounds, where, as Golf Digest contributor Alan Shipnuck noted, you can see "a unique mix of peach-fuzzed amateurs, tour veterans trying not to think about the enormity of the opportunity and living legends chewing the scenery." To the point, it was little surprise that Patrick Cantlay joined Fred Couples in a friendly match against Xander Schauffele and Max Homa on Monday at Augusta National.
Only Couples, of course, owns a green jacket of the foursome. This year marks his 36th Masters start, compared to a combined 10 from the other three in the group. Couples' 1992 victory took place before Schauffele was born, and Homa and Cantlay were so young neither would remember it.
"Not surprising Fred birdied 16 and 18," Cantlay said when recalling the details of the lopsided match. "We had a great time."
Cantlay and Couples know each other by way of their California connections. Cantlay honed his skills during his formative years under Jamie Mulligan at Virginia Country Club in Long Beach and before moving to Florida lived in Newport Beach, where Couples has been entrenched for years. Cantlay, 29, remembers watching Couples, 61, on Shell's Wonderful World of Golf and says he's always considered him one of the coolest golfers of all time. Right before Cantlay made it all the way back to the PGA Tour in 2017 after suffering a debilitating back injury and the death of his best friend, he and Couples played almost every Sunday back in So Cal.
"He's just always been really kind, and he's awesome to hang with," Cantlay said of Couples. "So it's been really cool to grow up watching him and then meet him and he's everything you would imagine and everything you would want and more because he's such a nice, smart, cool guy."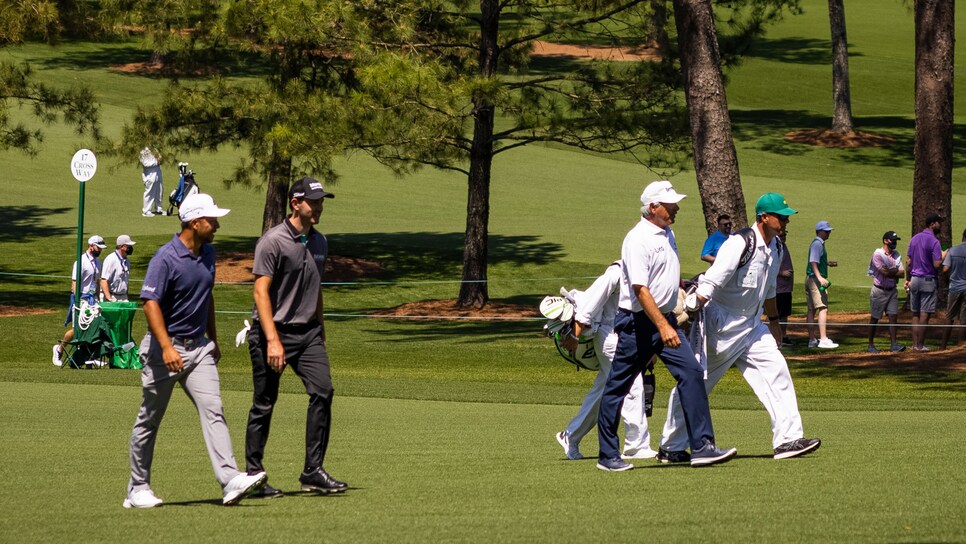 Xander Schauffele and Patrick Cantlay tried to glean as much local knowledge as they could from by Fred Couples during their Monday practice round.
Ben Walton
Helpful, too, which brings us to this year's Masters. As the only major played on the same course every year and one rife with nuance, whose brain better to pick than that of a guy who not only has won there but has 10 top-10 career finishes.
What sort of knowledge has Cantlay, making his fifth appearance in the tournament, gleaned over the years in his practice rounds at Augusta National?
A few snippets: That the tee shot on the par-4 seventh looks like it calls for a fade but whenever he tries to hit one he pulls it left and into the trees; now, instead, he opts for his normal draw. And despite wanting to hit driver as an amateur in 2012, 3-wood is plenty of club on the hole. Another bit of advice: You can get "trapped" into thinking he needs a fade into 13 green, a prospect made much more difficult with the ball above the feet.
"The more I play this place, the more I get comfortable with the shots," said Cantlay, whose best finish was a T-9 two years ago. "I think I've tried to draw a lot on Fred Couples' knowledge and some of the other guys' knowledge, and just little things, picking even just the shot they might play on a certain hole or how they see it.
"I almost imagined being a shot-maker almost too much, and so now just getting comfortable with more my stock shot wherever it fits. The golf course is so big that there's a lot of space for your stock shot."
And always space for Couples in the group, to tap into his knowledge as well as his easy personality on what is one of the most pressure-filled weeks of the year.
Said Cantlay: "When we were at Presidents Cup in Melbourne, I remember sitting in the team room when everybody was in there for a meeting or dinner or something, and I thought, if Tiger wasn't here, and everyone put away their ego, even Tiger, if everyone was picking, if I could go to dinner with one guy in the room, it would be Fred, and you could feel that. He's just great."