Open Book
Masters 2021: The never-boring Jordan Spieth narrative takes on a familiar theme—hope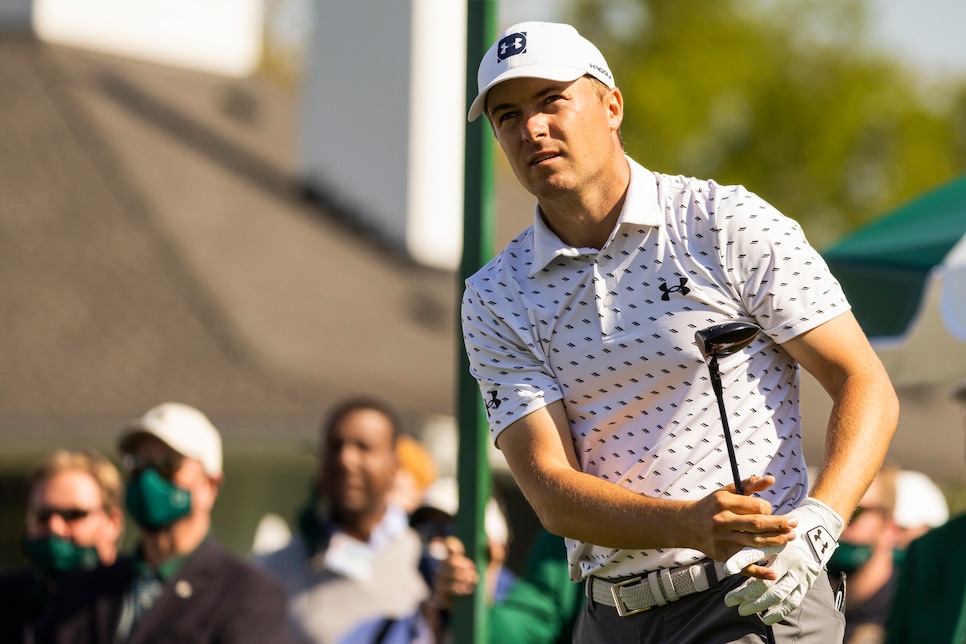 AUGUSTA, Ga. — He has already given us so much of himself. A 72nd-hole birdie to win the U.S. Open. The greatest driving-range bogey in golf history. Chasing the Grand Slam on the hallowed turf of the Old Course. A Masters Sunday so wrenching it felt like a death in the family. ("Buddy, it seems like we're collapsing.") A mystifying, almost four-year slump that confounded and transfixed the golf world, followed by a cathartic victory just as this Masters beckons. He was a phenom at 16 and a shoo-in for the Hall of Fame by 23 but what has always made Jordan Spieth so riveting is his openness. We feel his joy and, even more acutely, his pain.
For most tour players, the barrier between them and the fans is much more formidable than a thin rope. But Spieth lets us in and makes us part of the journey. He arrived on tour just as Tiger Woods' health and career were cratering, and this enigmatic champion had retreated into the well-guarded fortress of his inner-self. Spieth is the opposite, a compulsive oversharer whose self-talk between the ropes can be amusing but often strays into self-flagellation. His rollercoaster play has always drawn comparisons to Phil the Thrill but the key difference is that Mickelson's crack-ups rarely leave a bruise because he seems in on the joke—he is part jester and part stuntman and his job is merely to entertain us. Spieth is different. His golf is raw and real and elemental. Even in the best of times the wolf is at the door—let us not forget his sloppy 71st hole double bogey to nearly boot away the 2015 U.S. Open. But he rallied to win that national championship, part of an epic three-year run during which he took three-quarters of the Grand Slam, won a total of 10 PGA Tour events and nabbed a FedEx Cup. But time marches on as inexorably as Spieth's hairline recedes. The one-time boy wonder is now nearly 28 and married. After his breakthrough victory last week in Texas he is suddenly the betting favorite for this Masters. While Golf Twitter collectively loses its mind, Spieth is doing his best not to get caught up in the whirlwind. "I feel it's actually been a lot easier for me, over the last 12 hours, to just look forward versus kind of looking back, I guess," he said on Monday after touching down in Augusta.
Spieth went so far as to backtrack on having used the word "monumental" to describe the importance of his victory at the Texas Open. "Yeah, I think I used a word that was within 30 seconds of tapping in the last putt and kind of just not really knowing where my head was at, and I think that was probably a little aggressive of a term," he says.
With more time to reflect, he has been better able to put the breakthrough in its proper perspective. "I was happy that it didn't hit me that hard, that it felt more normal, that it felt like me and that's where I'm supposed to be and this is who I am."
Who is he, exactly? The overwhelming statistical favorite for this Masters, as crazy as that might be. As recently as February, Spieth was on the verge of falling out of the top 100 in the World Ranking and he hadn't had a top-five finish in more than 20 months. Before his slump, he had constructed a game very similar to peak Mickelson, built on stellar iron play and sensational work on and around the greens. When Spieth drove it well he was very, very difficult to beat; when he drove it OK he was still a contender.
Over the preceding three-plus years he often struggled to keep his drives on the planet, leading Brandel Chamblee to opine earlier this year that Spieth is "headed for oblivion." But he pushed forward with the squinty determination that once led Ben Crenshaw to compare Spieth to Wyatt Earp. He never panicked, even as everyone else did. He remained loyal to his "team" even as the cognoscenti called for the ritual sacrifice of a caddie or swing coach. Spieth just kept grinding and preaching patience to a sports world that demands instant gratification. And then it all finally came together last week, as he gained 12.89 strokes on the field tee-to-green, the most dominant performance of any of his 12 career wins.
Now Spieth has arrived at his favorite course, where his 70.46 scoring average is the best in history (among players with 20 more rounds played). The surge in expectations has led to a familiar feeling swirling in the dogwoods, of hope mixed with dread. Spieth has broken our heart here before; think of his watery doom in 2016, or the overhanging tree branch near the 72nd tee in '18, when Spieth was stalking a 62 and a comeback for the ages. Earlier this year, on Saturday at Pebble Beach, after Spieth played a wild slinging hook on 16 and his ball trickled into the hole for an eagle that salvaged a shaky round, Gary Murphy of Sky Sports said, "That is why he is so enjoyable to watch. A bit like Seve, he defies logic–a vulnerable genius."
That is now the central question of this Masters: is Spieth still wounded, despite the recent win, or can he again access the genius that carried him to a green jacket at 21? The answer may be found in something he said at Pebble, when his luck was just beginning to turn: "It's crazy, you go on runs of cards out here. You get good ones and then you go on a bad run of cards. I'm now hitting it and kind of thinking it's going to be a good break again, which is really nice."
MORE MASTERS 2021 STORIES FROM GOLF DIGEST: