History lesson
Masters 2021: Augusta National's most under-the-radar champions
The words "under the radar" and "Masters" are an odd pair, and very rarely go well together. Even when compared to the other majors, the Masters resists obscurity. The tournament has been obsessively documented since the start, and its champions are—for the most part—enshrined in golf lore. There's also the fact that the tournament started later than all the other majors, in 1934, meaning it doesn't have the long decades of pre-modern history that you find at the U.S. Open or Open Championship. By the time you reach the 1970s, there are few winners who would be even remotely unfamiliar to a modern fan as the Masters reached a cultural saturation point. Perhaps you'll take offense then to the recency bias this list presents, but we'll own up to that from the start.
Still, even for such a renowned event, there exists a few shadowy historical pockets where you might see a champion's name, raise an eyebrow and think, "wait … who is that?" What follows are the 6 most unheralded Masters champions ever—men whose names are etched in the record, but rarely spoken aloud.
In one of the closest Masters ever, it was Archer who finished one shot ahead of Billy Casper, George Knudson and Tom Weiskopf for his only major victory. Archer was known as one of the game's best putters—the kind of guy who could play an entire tournament in less than 100 putts, as he did at Sea Pines Heritage in 1980, with 94 total—and later brought the first female caddie to Augusta National when his daughter Liz looped for him in 1983.
Archer's accomplishments are all the more profound considering a fact that wasn't learned until after his death in 2005; a severe learning impairment meant that he was nearly illiterate, able only to read short sentences, and limited to writing his name. He's also the author of one of the simplest, yet most profound sentences ever spoken about the sport: "One thing about golf is you don't know why you play bad and why you play good." My favorite, though, is a gem that would have made Yogi Berra proud: "If it weren't for golf, I'd probably be a caddie today."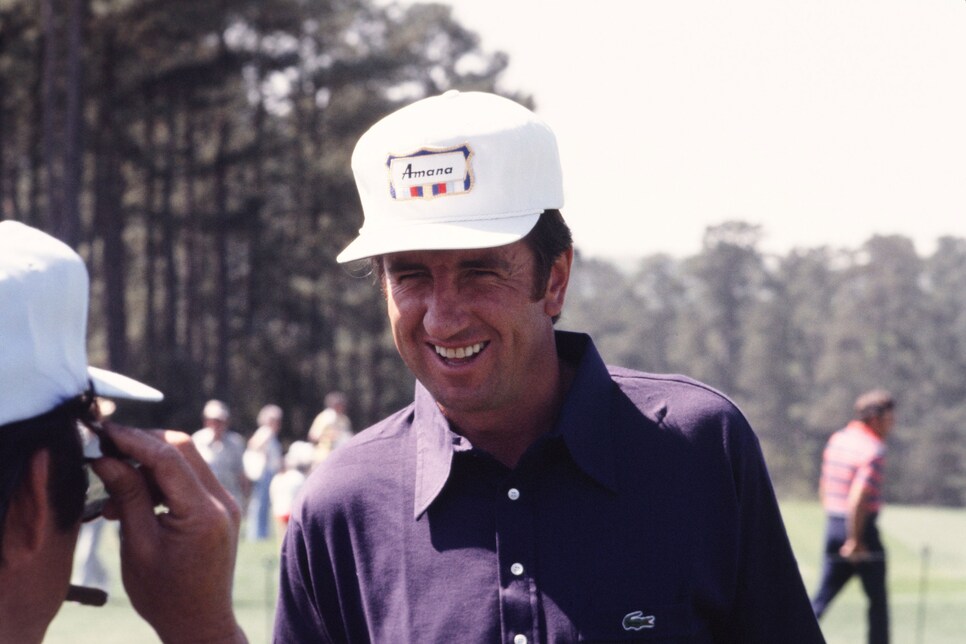 Brewer was from Kentucky, friendly and well-liked, and until 1966, someone who would rank a step above "tour journeyman" by modern standards, or a step below the game's stars. His game improved that year, and only a bogey at the last hole kept him from winning the Masters (he lost to Nicklaus in an 18-hole playoff). The following year, he hung around after a modest beginning, and surged up the leader board with a Sunday 67 to win by one over Bobby Nichols. That tournament is remembered for an ailing Ben Hogan shooting a tournament-best 66 on Saturday, including a 30 on the back nine, but it was Brewer who lit it up when it really mattered, with birdies on 13, 14, and 15 to take the jacket. To Brewer, it was the "biggest thrill I've had in golf," and it was also the first U.S. golf broadcast aired in Europe.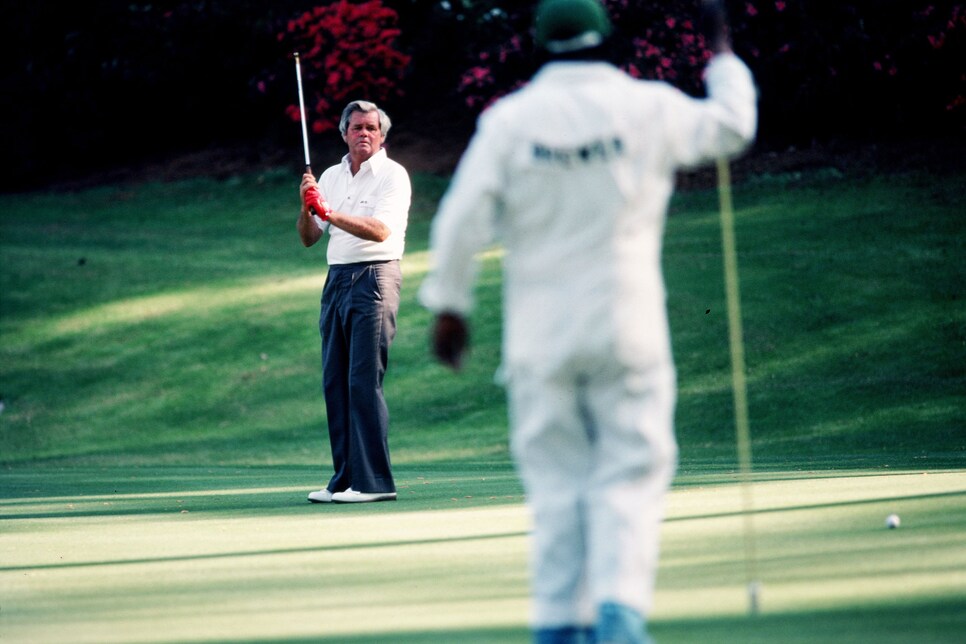 Remember what I said about the 1970s being the point at which all names become familiar? Here's your exception. Coming into the 1971 Masters, the Texan had won just two PGA Tour events, and he'd never win another after. He's also the beneficiary of one of the all-time backhanded compliments in golf, courtesy of his contemporary Frank Beard, who said, "Charlie's one of our better shot-makers, but he tries hard not to win." Well, be that as it may, Beard never won a Masters, and Coody did. Heading into the final round with a three-shot lead, everyone expected him to lose to Jack Nicklaus, but it was Johnny Miller who made the charge, taking a two-shot lead at 14 before a mini-collapse saw his fortunes fade. Meanwhile, Nicklaus could muster nothing except a few three-putts. Coody made back-to-back birdies on 15 and 16 to seal the victory by two.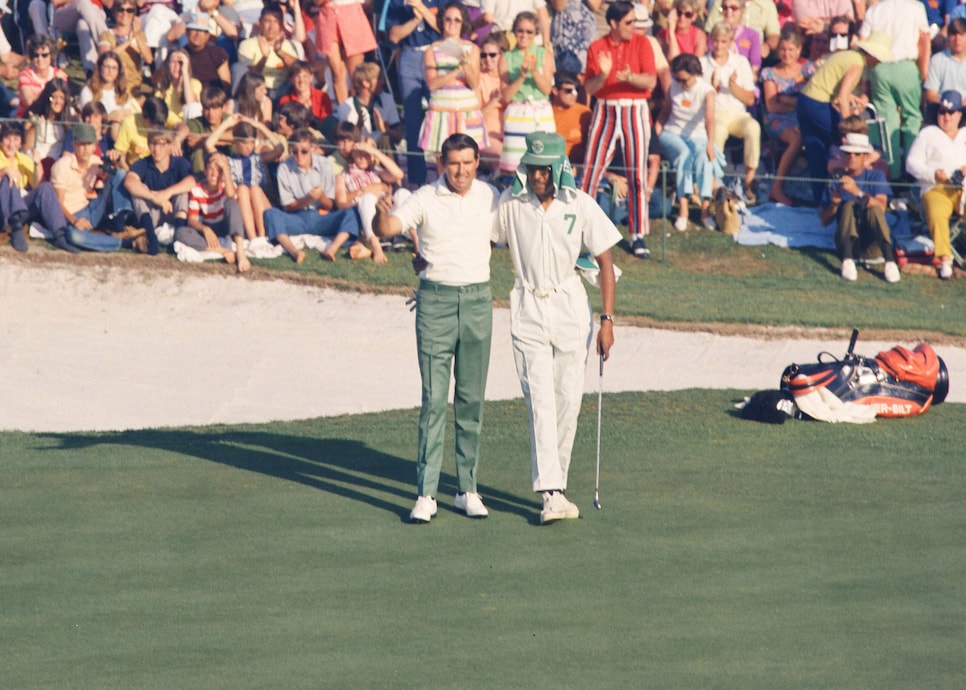 A year after Gay Brewer's win, Goalby, the son of an Illinois coal miner, broke through for his big Masters win. Of course, the name everyone remembers from that year is not Goalby, but Roberto De Vicenzo, who neglected to count one of his birdies and managed to blunder his way out of a playoff, handing the green jacket to Goalby. It remained a sore spot for Goalby—he didn't believe he got proper credit for winning the Masters, and considering the circumstances, that was probably inevitable. Still, it's a shame, because Goalby finished on a tear, shooting a 66 on Sunday, but all he could say of the aftermath was that "it was more than awkward for me. No matter what I said, I was wrong." The archival footage is fascinating, with the controversy starting at the 63-minute mark:
Due to his serious demeanor, Keiser had one of the great nicknames in early golf: "The Missouri Mortician." He was the head pro at Firestone Country Club in Akron, spent three years with the U.S. Navy in WWII and won the first Masters to be held after the war. At that event, he held a five-shot lead heading into Sunday, and nearly blew it with a 74 that included a three-putt on the 18th. Ben Hogan came to the 18th green needing a two-putt to force a playoff, but the greens were fast that day, and he missed a two-foot par putt. That was Keiser's only major top-10, though he finished his career with five PGA Tour victories.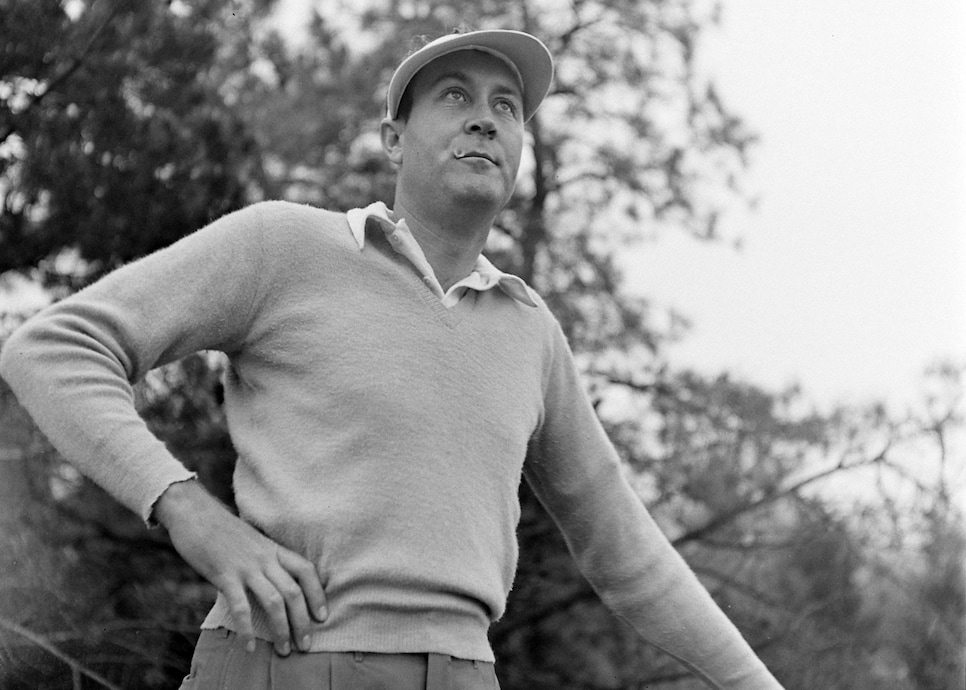 Wall, a Duke grad, was far from anonymous in his heyday; in fact, he was named PGA Tour golfer of the year in 1959, the same year he won his lone major. At that year's Masters, he registered one of the most scintillating comebacks in tournament history, making birdie on five of his last six holes to go from three behind Cary Middlecoff to one ahead—and that's with Middlecoff making eagle on 15. With his Sunday 66, Wall also jumped ahead of Arnold Palmer, who had to settle for third, and '59 also happened to be Jack Nicklaus' first year in Augusta—he missed the cut. Wall never won another major, but 16 years later, he became the second-oldest player to win a PGA Tour event, prevailing at age 51 at the Greater Milwaukee Open.