News
Masters 2020: Francesco Molinari's longer-than-usual wait for Augusta redemption has finally arrived. But is his game ready?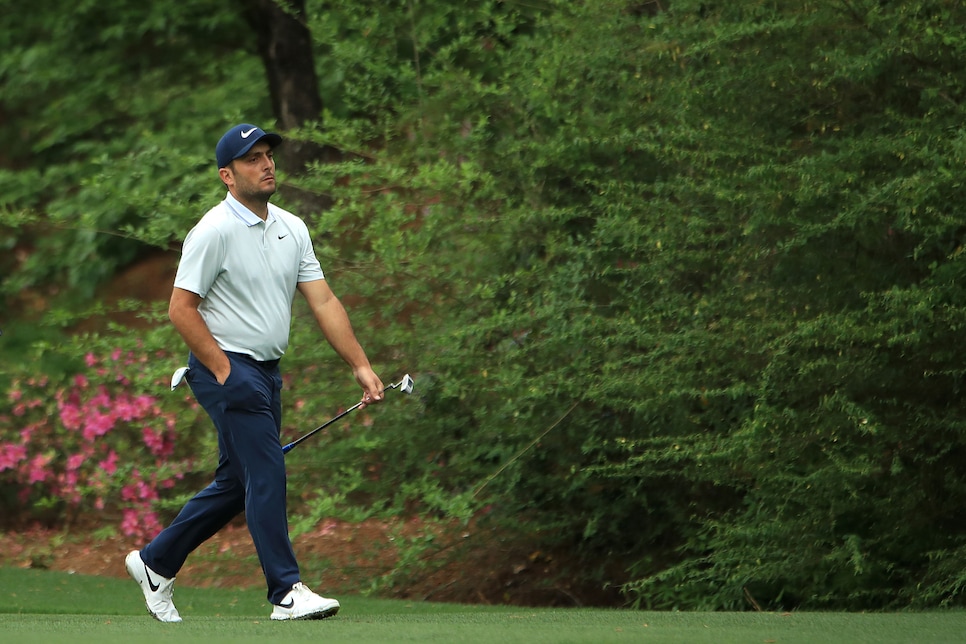 Francesco Molinari walks the 13th hole during last year's final round after making a double bogey at the 12th that began his Sunday slide.
Andrew Redington
What a difference 19 months can make. When Francesco Molinari arrived in Augusta for the 2019 Masters, he did so as Open champion. Statistically at the time six golfers were ranked higher in the world. In truth, however, a strong case could be made that the 38-year-old Italian was just about the best player on the planet—and had been for almost two years.
During that time, Molinari achieved much, quite apart from his maiden major victory at Carnoustie in 2018. That same year he won the BMW PGA Championship at Wentworth, the biggest event in the European Tour, and became the first European player to pick up five points from five matches at the Ryder Cup in Paris. And in March of 2019, one month before the last Masters, he had won for a second time on the PGA Tour, taking the title at the Arnold Palmer Invitational.
But that was then. This week only underlines Molinari's change in fortunes. Coming off a T-15 finish in last week's Houston Open—only his second competitive start since February—the three-time Ryder Cup player is looking up at 84 players in the World Rankings. In what will be his ninth Masters appearance, Molinari is rated no better than a 70-1 shot.
Before making his return to the PGA Tour at last month's Shriners Hospital for Children's Open in Las Vegas, where he not surprisingly missed the cut, Molinari, wife Valentina and their two children, moved not once but twice. After leaving their house in London where they had lived for 12 years, a brief flirtation with San Francisco was followed by a second and hopefully more permanent landing in Los Angeles.
"In March, when everything stopped, when they closed the borders from the U.S. to the U.K, it was a strange feeling to know I would so far away [on the PGA Tour] when my family was in England," Molinari said last weekend in Houston. "I wanted to keep playing in the States, so it seemed a good idea to get there together and at least give it a go. COVID has made it harder than it would have been. When we got over here, it was hard to meet people because a lot of things were closed and everyone is being careful. So the circumstances made it even harder and it would normally be hard anyway."
That all makes sense. A 6,000-mile move is tough enough to make in normal times. But in the middle of what are unprecedented circumstances, every aspect of an already high-stress activity has been made so much more difficult.
"Francesco decided that his golf and family life would be better if he based himself in the U.S," said Denis Pugh, Molinari's long-time swing coach. "Due to the on-going pandemic it was clearly an exceptionally tricky move to make. It has been hard for them to settle in. Also, he had to do some strong practice to get ready for Augusta. So yes, he has played only two events since the WGC-Mexico nine months ago, but he finished well last week in Houston on a tough course."
Molinari is also, of course, toting some excess baggage in his return to the Masters. Leading with seven holes to play last year, he (in)famously dumped his tee shot in the water fronting the 12th green before drifting off to a T-5 finish, two shots behind playing partner and eventual champion, Tiger Woods. And any demons have apparently lingered. Since that disappointment, Molinari has failed to record even one top-10 finish anywhere in the world. With this year's Masters postponed for seven months, he has been forced to wait a long time to claim redemption.
"It would have been good to go back [to Augusta] after a year and get that closure, to move on," Molinari said. "It has been harder not to have been back there yet. Hopefully this brings that sense of closure and it will be easier to move on. It has been so long. When I look back, I think that I actually played very well but obviously some small details made a difference. In the immediate aftermath I didn't give myself enough credit for how I played for four days."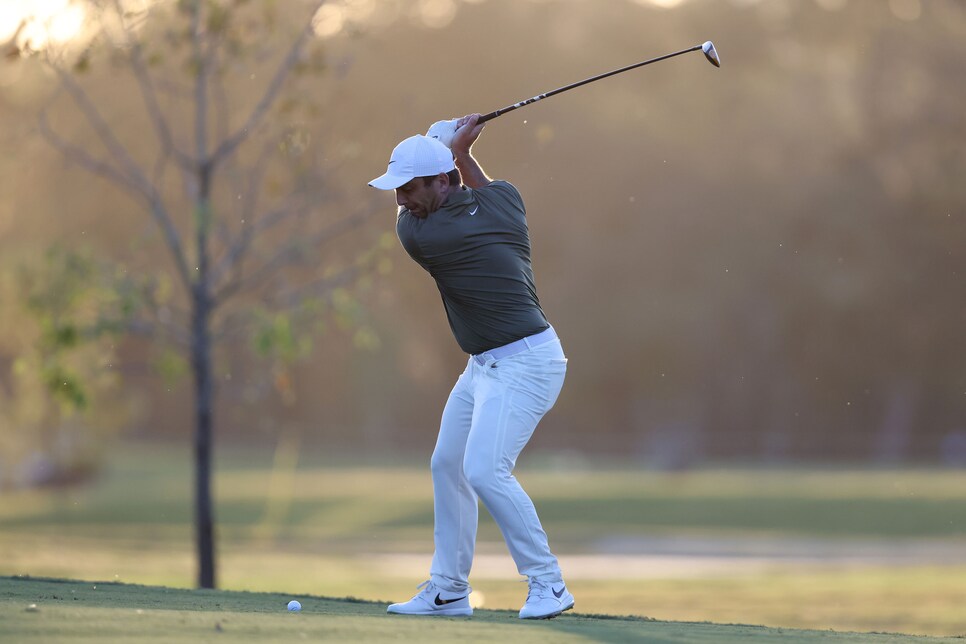 Molinari played in just his second tournament since February last week in Houston, finishing a respectable T-15.
Carmen Mandato
Looking forward, Pugh at least has faith that his long-time charge will perform with something close to distinction. A closing 66 in Houston was a welcome boost for the pair who haven't seen each other face-to-face since March.
"We have used Zoom and WhatsApp to send swing videos and keep discussions going," says Pugh, who was unable to travel this week because of treatment for an on-going skin condition. "Fran is getting to where he needs to be technically. So I'm confident he will do well this week."
Molinari is also upbeat, although slightly more circumspect.
"I will want to compete," he said. "Winning, I think, would be a huge surprise even to me. I'm excited to come back now because I think I can be competitive. But I see this more as a step in the process to getting back to where I normally am, week-in and week-out."