News
Masters 2020: Bernhard Langer keeps building on the sneakiest good record in Masters history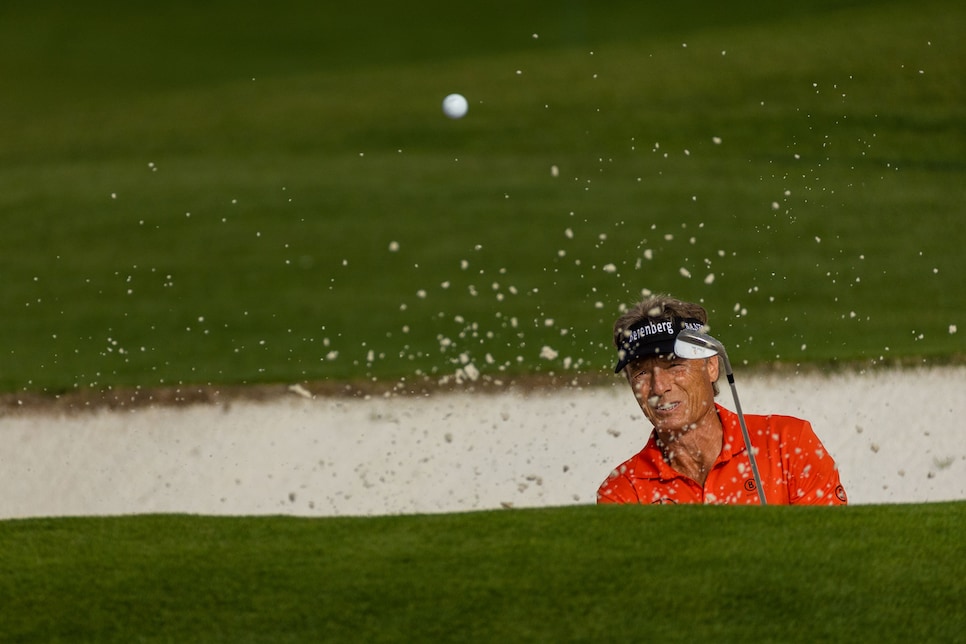 Bernhard Langer at last year's Masters was among those to suggest that he and his fellow past champions still hanging around watching the finish on the television inside Augusta National's clubhouse put on their green jackets and go down to congratulate Tiger Woods on his victory, understanding the magnitude of what they were witnessing.
On Friday morning, Langer had his own moment in the sun—or at least the bits of it that were trying to poke through the clouds above the quieted course in the pines. Finishing off an opening-round four-under 68 after inclement weather had delayed play a few hours the day before, the 63-year-old found himself just three strokes off the lead as the second round got under way late Friday morning. It also left him tied with Woods.
Yes, Augusta National is playing soft—the first round offered the tournament's lowest scoring average before the cut and a record 24 rounds in the 60s—but at age 63 everything about Langer is supposed to be soft.
His game, not so much. Especially at Augusta National.
This week marks Langer's 37th Masters. He's won the tournament twice, in 1985 and 1993, with the latter coming after heavy rains on Friday afternoon led to the second round being completed Saturday morning (sound familiar?). Amazingly, he has only missed the cut twice in his career. The last time he did was in 2011, and in 2014 he shot a final-round 69 to tie for eighth. In his opening round Friday, he picked off a half-dozen birdies with his usual precision over power, missing just a single fairway along the way.
Langer also has 41 PGA Tour Champions victories on his resume, the latest coming last March.
And while this fall Masters, sans spectators, is unlike any other, one tradition did carry on just the same: Some old men turned young again when they drove down Magnolia Lane. With 62-year-old Larry Mize shooting 70 in the opening round, it's the first time in any major that two players over the age of 60 have shot under par in a round.
While it's unlikely that Langer will go on to win, or even remain in contention—the oldest winner of the Masters was Jack Nicklaus at age 46 and the oldest major winner Julius Boros, who at 48 won the 1968 PGA Championship at Pecan Valley in San Antonio—his performance will be, at the very least, a fun-if-not-memorable footnote to the week. And one worthy of at least some applause from wherever you're watching.