News
Masters 2018: Sunday's winners & losers—Patrick Reed holds off a pair of Ryder Cup teammates; Rory McIlroy stumbles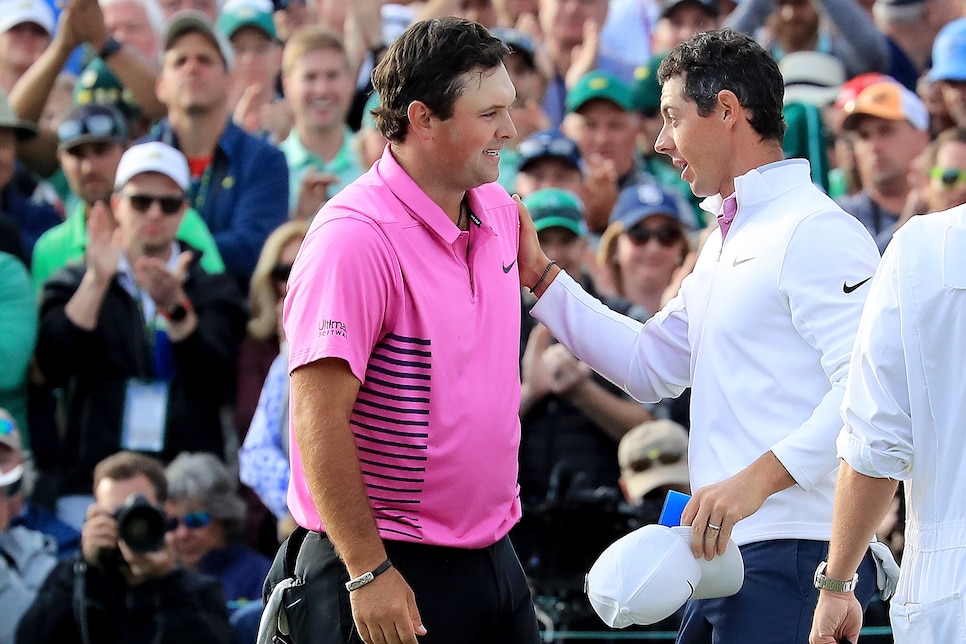 Masters Sunday didn't give us the Ryder Cup rematch between Patrick Reed and Rory McIlroy that we were expecting, but there were still plenty of roars reverberating through Augusta National. Lets break down the tournament's dramatic conclusion with the week's final edition of Birdies and Bogeys: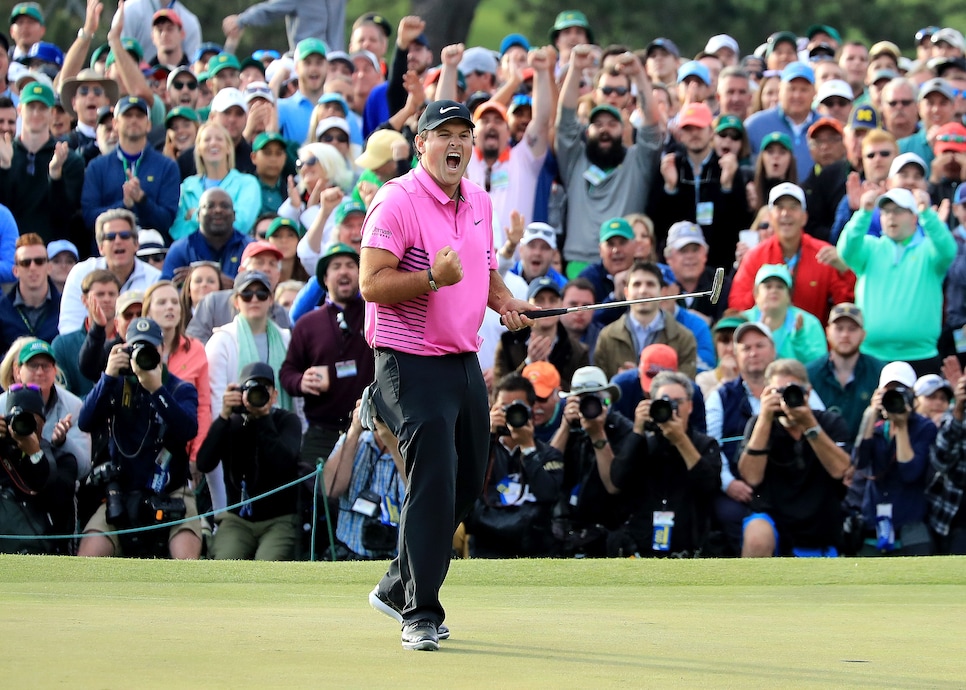 For years, golf fans wondered how someone who plays so well at the Ryder Cup could play so poorly at golf's four biggest individual tournaments. Wonder no more. After a Sunday charge came up just short at the final major of 2017, Reed held off charges from several of the game's biggest names to win the Masters. At 27, and now with six wins, including a major, Reed has cemented himself as one of the game's brightest stars -- maybe, finally, even one of the top 5? Sorry, couldn't resist. . . In any event, congrats to Captain America. The haters have been shushed for good.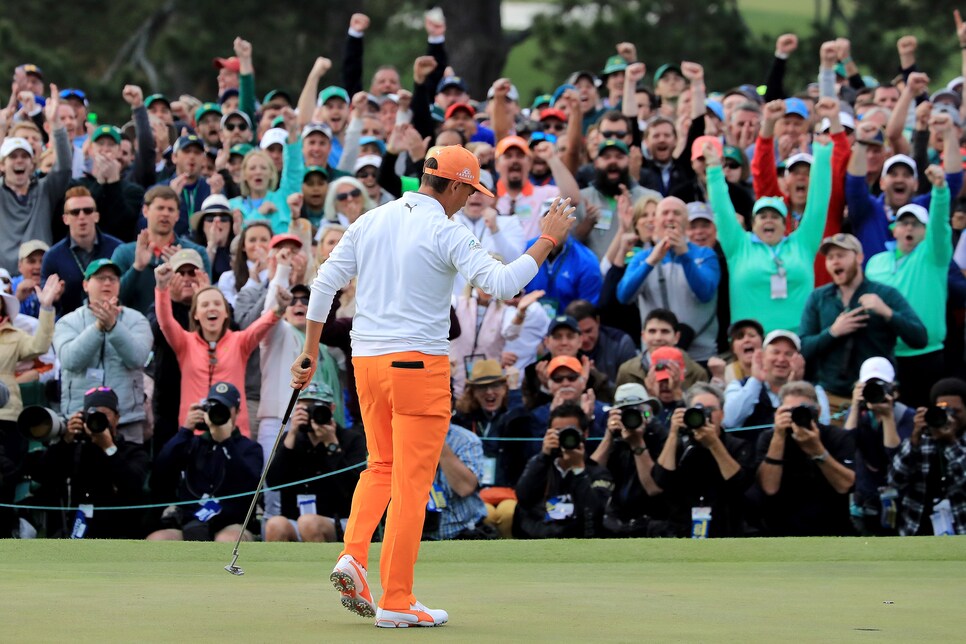 Trailing by five shots entering the final round, Fowler didn't get off to the fast start he needed to put pressure on Patrick Reed, but he more than made up for it with a 32 on the back nine that was capped by a clutch closing birdie that at least made Reed sweat out his final hole. Unfortunately for Fowler, he's still at the top of everyone's "best player to have never won a major" lists, but with a 12-under weekend performance, he showed it's just a matter of time before he breaks through in a big one. And if green goes good with that pink shirt Reed was wearing, then it will look pretty sporty with Fowler's orange pants.
BIRDIE: Jordan Spieth's first 17 holes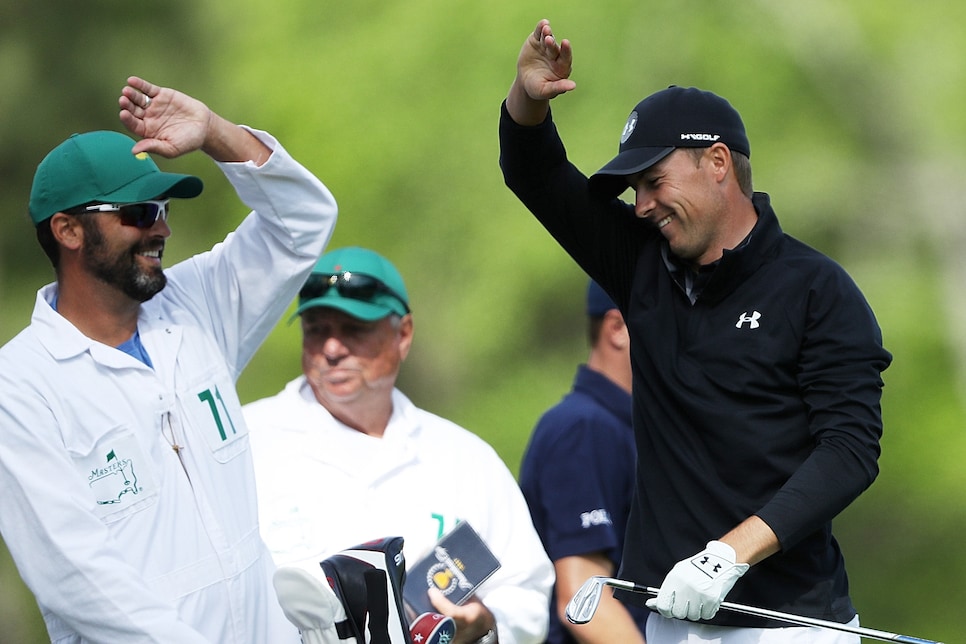 That was fun, wasn't it? We expected someone to make a big Sunday charge, but Spieth's rise up the leader board was otherworldly. After making the turn in a blistering 31, Spieth pulled off a shot from the pine straw on No. 13 that looked like it might be an iconic Masters-winning moment. He didn't make the putt, and he didn't wind up winning, but everyone learned an important lesson: Never doubt this dude at Augusta National no matter what his recent form is. With a third-place finish to go with two runner-ups and a win in 2015, Spieth should be a tournament favorite for next couple decades.
BOGEY: Jordan Spieth's 18th hole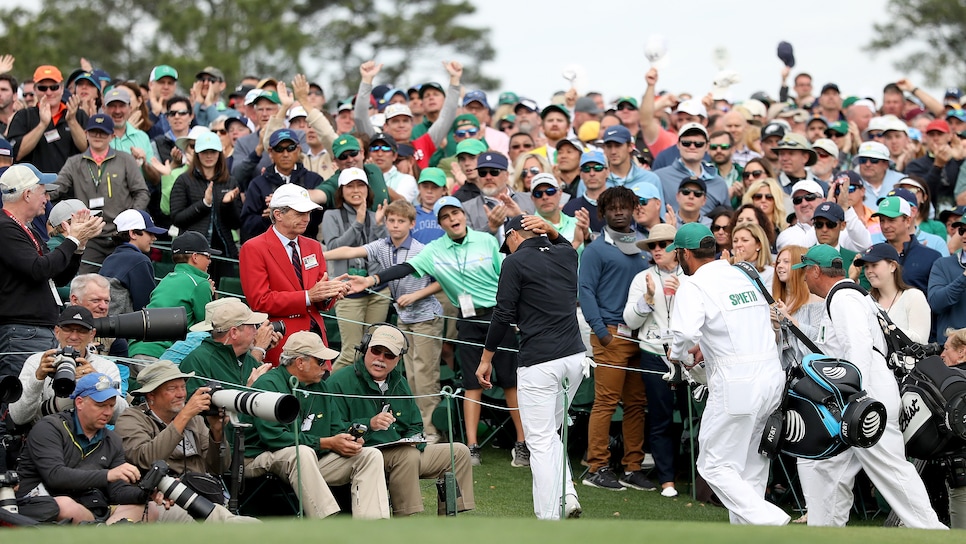 For a moment, it looked like Spieth might set a Masters scoring record and pull off one of golf's all-time greatest comebacks. And then he hit a shot heard 'round the world for the wrong reason. CRACK. Spieth isn't the first player to hit lumber trying to navigate the shoot off Augusta National's 18th tee box, but he's certainly the most notable. But like he did with his wayward drive at Royal Birkdale's 13th hole during last year's Open, the three-time major champ battled back, and even gave himself a great look at par. However, he couldn't convert the putt, forcing him to "settle" for 64 and a 13 under total that dashed his dreams of slipping on a second green jacket.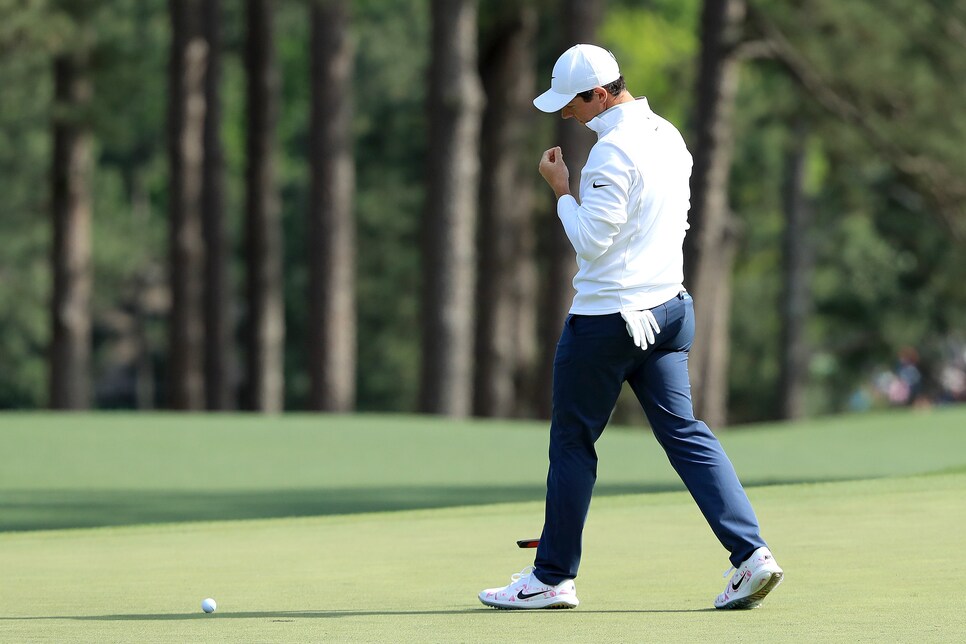 The man just about everyone was picking to win on Sunday wasn't even a factor by the time the back nine rolled around. Emphasis on "rolled" because, well, let's just say Rory's round certainly won't be used as part of any putting instruction videos. McIlroy's woes on the greens began on No. 2 when it looked like he would wipe out the three-shot deficit to Reed he began the day with after sticking a towering iron to four feet. But he whiffed the eagle putt and never gave his playing partner anything like that match between the two at the 2016 Ryder Cup. At 28, McIlroy still has plenty of time to complete the career Grand Slam, but he now has two disappointing Sundays at Augusta in the memory bank. And he'll be reminded of this one every time he faces Reed in this year's Ryder Cup.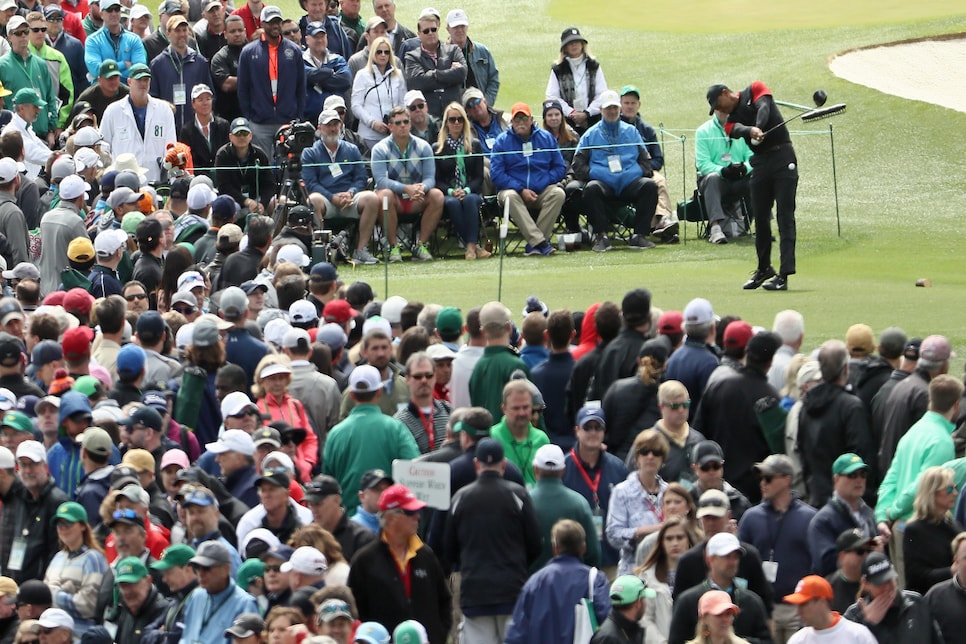 No, he didn't win a fifth green jacket. In fact, he didn't come close. But Sunday's 69 showed Tiger still possesses all the tools to do it. He just needs to get them working at the same time. "I drove it on a string. . . . I putted awful," Woods told CBS following his round. Pretty much. He also hit two highlight-reel approach shots, a 4-iron from 232 yards that lipped out for an ace on No. 4 and helicopter cut/slice on No. 7 to five feet (he three-putted). A T-32 isn't what he was hoping for this week, but his fifth made cut in six starts this season has already topped the 4.5 number set by Vegas oddsmakers at the start of the year. And speaking of prop bets, we're guessing he won a few people some money by beating Phil Mickelson by one shot. . .
BOGEY: Bubba Watson's bunker putt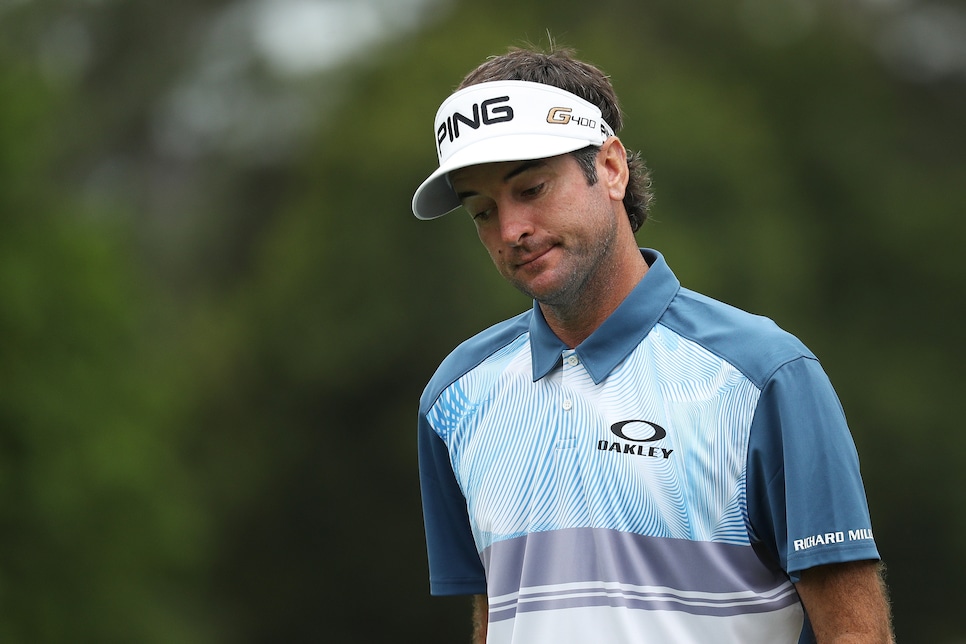 The two-time Masters champ and two-time winner in 2018 was one of the favorites leading into the tournament and he played his way into contention on Sunday before an embarrassing gaffe on No. 2. Faced with a difficult eagle putt that required his golf ball rolling through the fringe, Watson pulled off the rare putt into a bunker. We'd like to show it to you, but the Masters didn't release it as an official highlight, because, well, it was the opposite of a highlight. To Bubba's credit, he got up-and-down for par and still shot 69, but again, he putted into a bunker. Even Charles Barkley is allowed to laugh at that.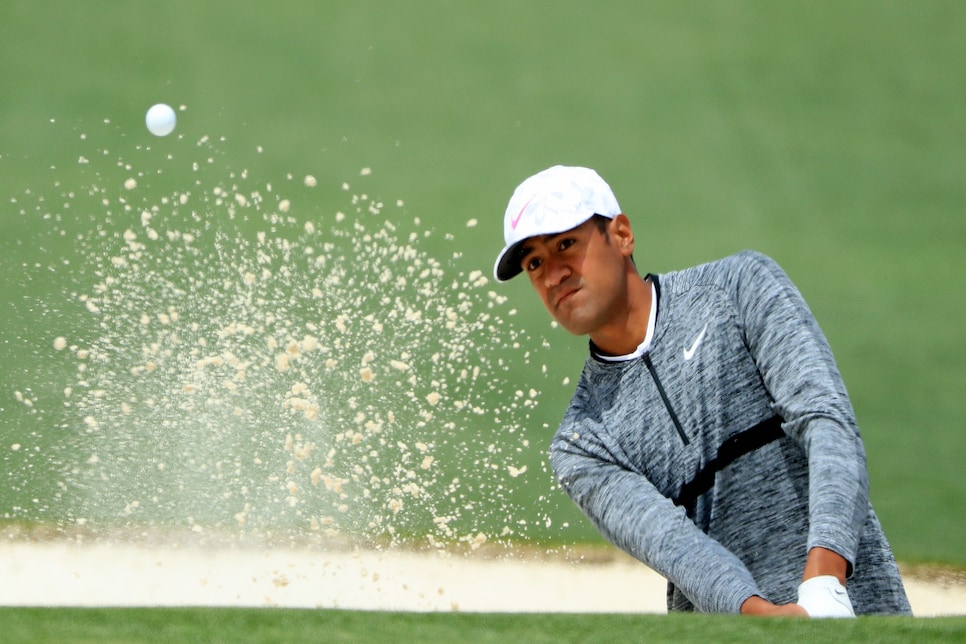 Tony Finau didn't do much to help the "golfers are athletes!" cause when he injured himself celebrating an ace in Wednesday's Par 3 Contest. But by Sunday, the former high school basketball star -- See?! Golfers ARE athletes! -- had more than redeemed himself. Not only did Finau play through the pain (Insert Mike Ditka growling and saying "I'd want Finau in my foxhole!"), he nearly tied the Masters record of seven consecutive birdies during a Sunday 66. If Finau can finish top 10 in his Masters debut on a dislocated ankle, there's no telling what this guy is capable of.
Scroll down for Fridday's winners & losers . . .
BIRDIE: Ryder Cup rematch
Patrick Reed. Rory McIlroy. Game on. As if a star-studded leader board wasn't enough, golf fans get to watch these two go head-to-head (and finger-to-finger) like they did in such spectacular fashion at the 2016 Ryder Cup at Hazeltine.

The 36-hole leader Reed faced plenty of challengers on Saturday, but a 67 -- highlighted by eagles at 13 and 15 -- gave him a three-shot lead over McIlroy when the two tee off in Sunday's final group. Both will be looking to make a bit of golf history with Reed trying to win a first major and McIlroy attempting to become the sixth golfer to complete the career Grand Slam. Here's how McIlroy, who lost to Reed in that memorable Sunday singles match at Hazeltine, assessed the situation:
"All the pressure's on him tomorrow," McIlroy told CBS after firing a bogey-free 65 that was punctuated by a birdie on 18. "He went to Augusta State, he's got a lot of support here. I'm hoping to come in and spoil the party."
Either way, we should be in for a show.
You're right, Steven. We don't.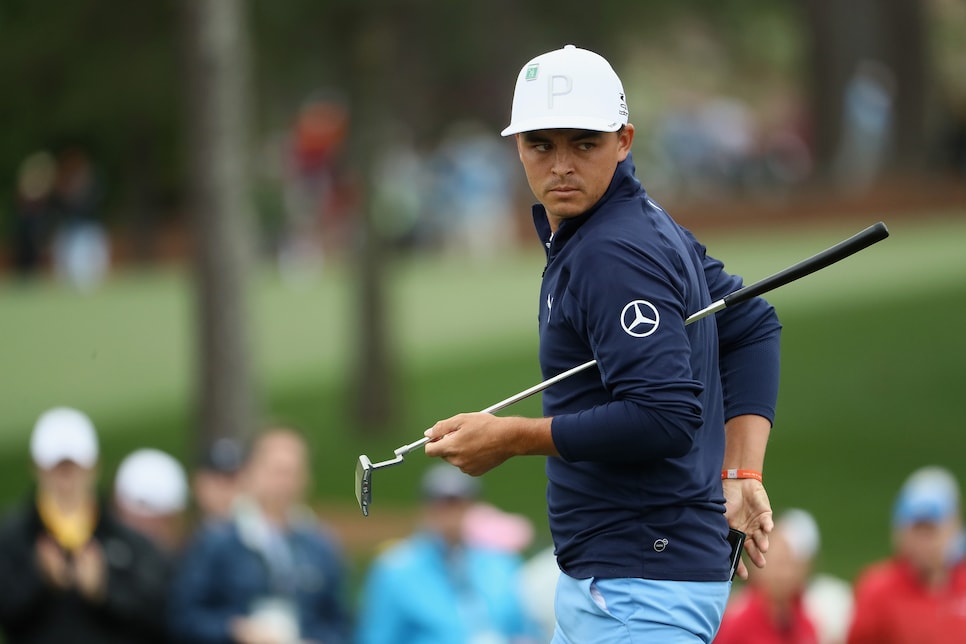 Normally, a bogey-free 65 on Saturday at the Maters would really stand out. Not this time. Fowler was one of three players to pull that off, and although he's in third place by himself, he's five shots behind Reed. Here's a better idea of just how good Saturday's scoring was at Augusta National:
The bad news for Fowler is that he might need another 65 on Sunday to claim his first major. The good news is the course will probably be set up to yield low scores again.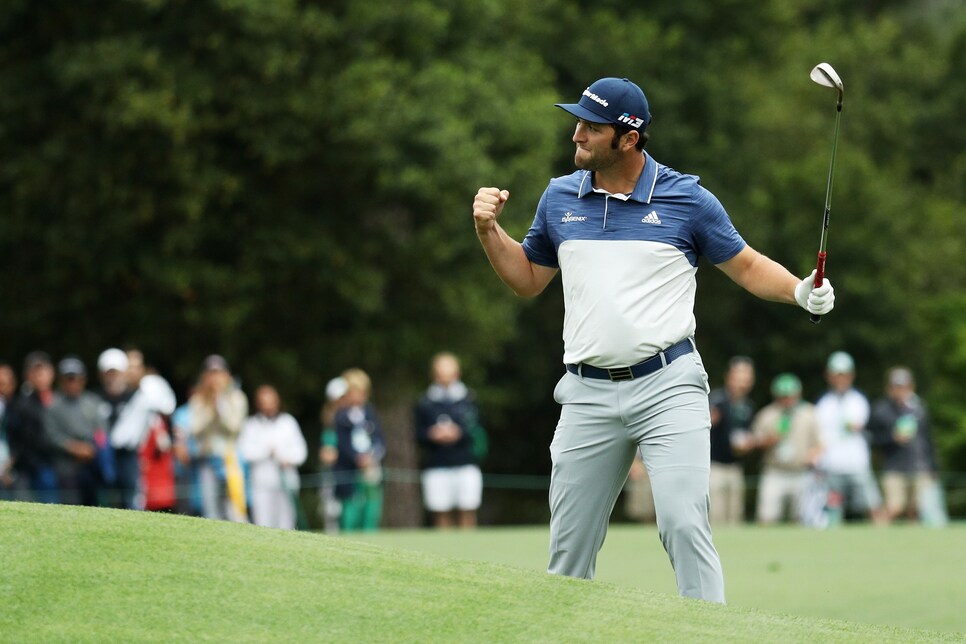 Sergio Garcia had a forgettable Masters title defense, but he might wind up slipping the green jacket on a fellow Spaniard on Sunday evening. Rahm carded a bogey-free 65 that (briefly) was the round of the tournament and could have been even better if he had birdied either of the two par 5s on the back nine. Somewhere, Jim Nantz is in a hotel room working on his winning call. "Move over Seve and Sergio and make way for a new Spanish Master!" Or something like that. . .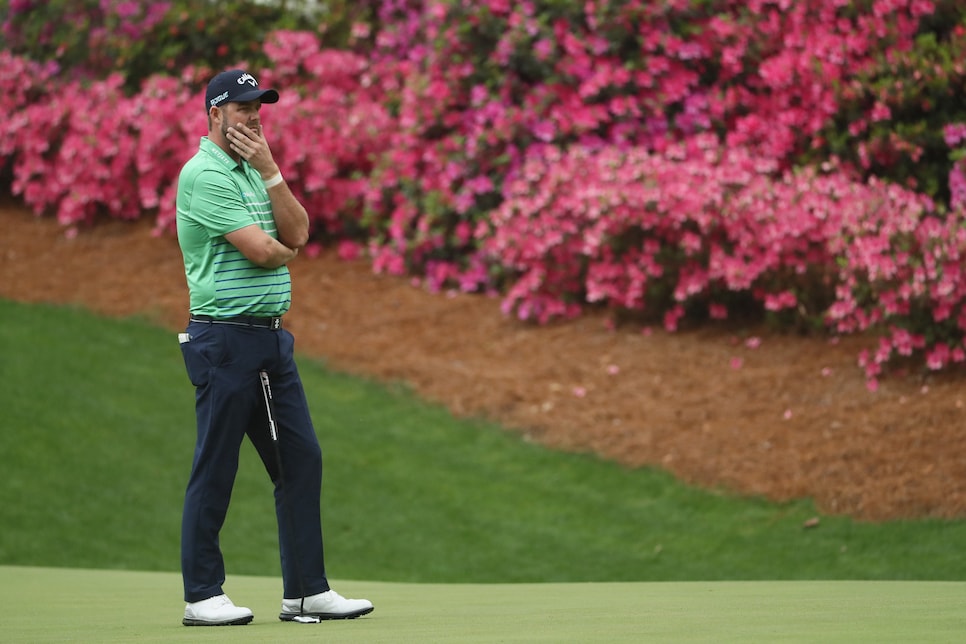 From tee-to-green, the Aussie playing in the final group held his own with the bigger names going low all around him. But on the greens, it was a different story. Leishman couldn't buy a putt, missing a string of makable birdie looks from No. 6 through No. 13.
BOGEY: Dustin Johnson/Jordan Spieth
The third-to-last group featuring two of the game's best was supposed to produce at least one Sunday challenger. Instead, it was pretty much a snoozefest. Neither DJ or Spieth played particularly poorly, but a pair of 71s was surprising and disappointing on a day filled with red numbers. Johnson will also be disappointed to know that he could have his 59-week streak as World No. 1 snapped if Rahm wins.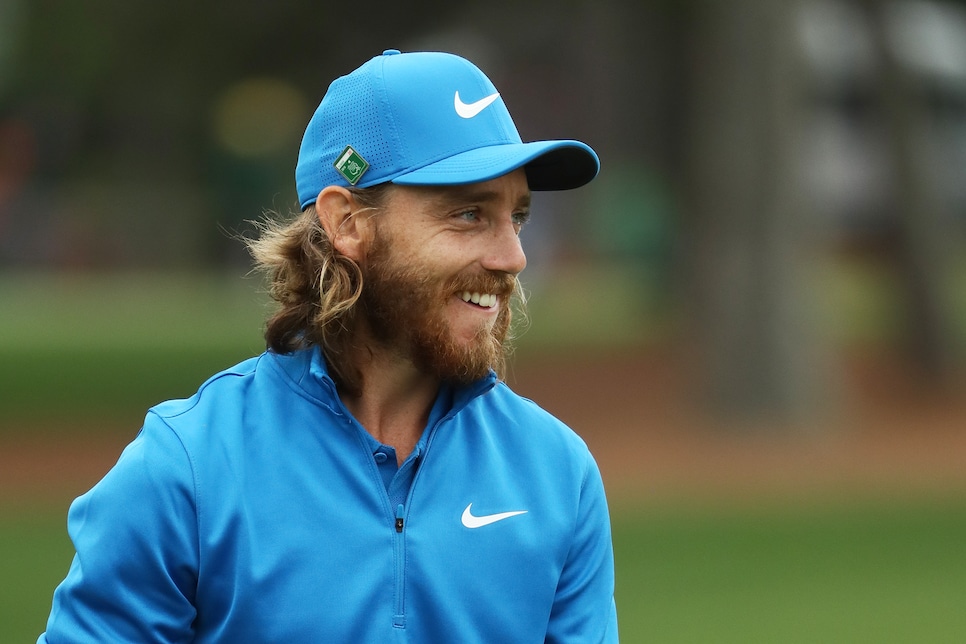 Many casual golf fans got their introduction to Fleetwood earlier this week as "one of those two guys playing with Tiger Woods" the first two rounds. Many more will learn a lot more about the 27-year-old Englishman if he slips on a green jacket come Sunday evening. Fleetwood didn't seem like he'd be much of a factor on Saturday until he made five consecutive birdies beginning on the 12th hole. A closing three-putt bogey put a slight damper on his Sunday prospects, but you can't ask for much more than a 66 on Moving Day. And as always with Golf Digest's April cover boy, you can't ask for better hair.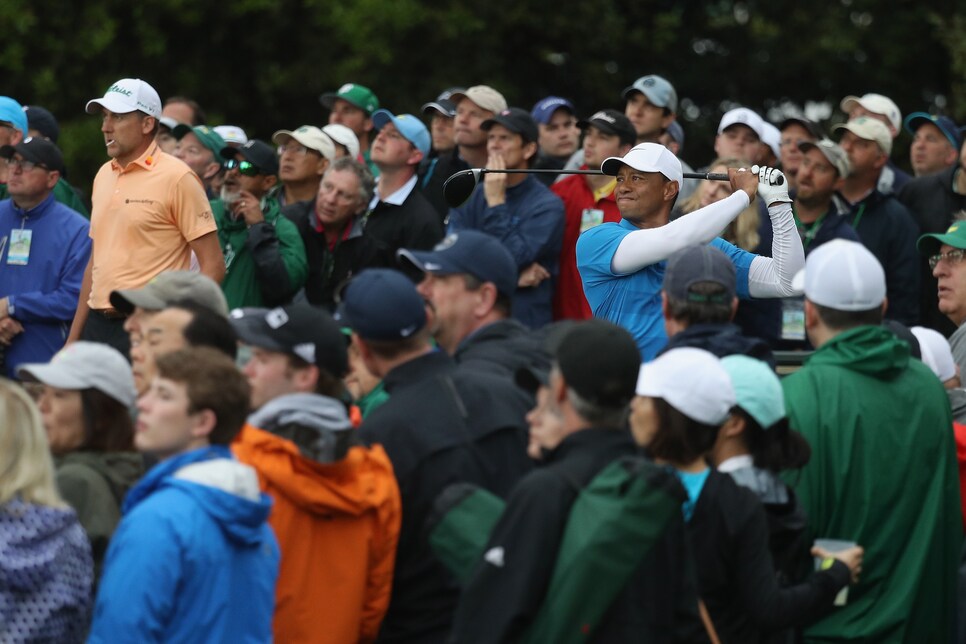 On a day where a softer Augusta National was there for the taking, Woods never got things going. In fact, he immediately went the other way with back-to-back bogeys to begin his round, all but ending his chance at winning a fifth green jacket this year. Of course, there are some silver linings. Woods' even-par 72 snapped a streak of nine consecutive rounds over par in majors for Woods. And oh yeah, there's that whole he-wasn't-sure-he'd-ever-play-competitive-golf-again thing just six months ago.
Speaking of bad starts by guys with multiple green jackets, Mickelson opened with a triple bogey that included a whiff (yes, a WHIFF):
Hey, the guy can't pull off every shot from the pine straw.
BIRDIE: Phil's driver off the deck
But after that early disaster that had Lefty looking like someone who wished he didn't make the cut on the number, Phil did something that totally made him worth being part of the early featured-group coverage. A driver off the deck on the par-5 eighth that he managed to hit closer than any other approach shot today.
"The nice thing is, I'll get some crystal out of it," Mickelson said of the reward for an eagle during competition, "so it wasn't a total loss."
Scroll down for Fridday's winners & losers . . .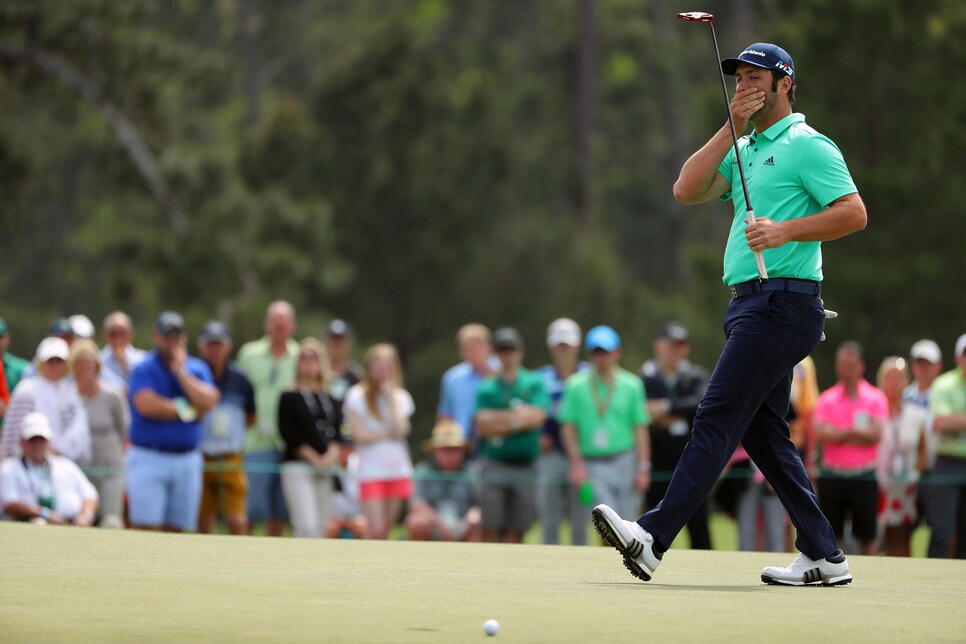 The sun-drench sky played tricks on the eyes, making it look like birdies could be had on Friday at Augusta National. But it was a mirage. Gusty, swirling winds left club selection dicey, and tucked hole locations kept red numbers to a minimum. The day's final scoring average—74.563—was nearly a stroke higher than the 73.793 from Thursday, and was the second highest Round 2 average since 2007 (trailing only 2016's 75.022). Maybe Augusta National officials were trying to ensure a small crew advancing to the weekend, where anticipated wet weather on Saturday could make for scheduling issues. The good news: Some rain might soften the course up and let the field play aggressive again. The bad news: The rain could be so bad that even par remains a good score.
Andrew Redington/Getty Images
That's not to say scoring was impossible, as Reed proved while playing in the day's final threesome. After opening with a 69 on Thursday, Reed stayed aggressive on Friday, birdieing his opening three holes to set a tone that he wasn't going to be afraid of big, bad Augusta National. For a second straight day he birdied all four par 5s. He'd finish with a 66, the best round, to take a two-stroke lead into the weekend. The knock on Reed was that he was a good player who struggled in majors, needing until last August at the PGA, his 16th major start, to finally grab a top-10 finish with his T-2 showing at Quail Hollow. With 36 holes to play, he has a chance to change that narrative for good.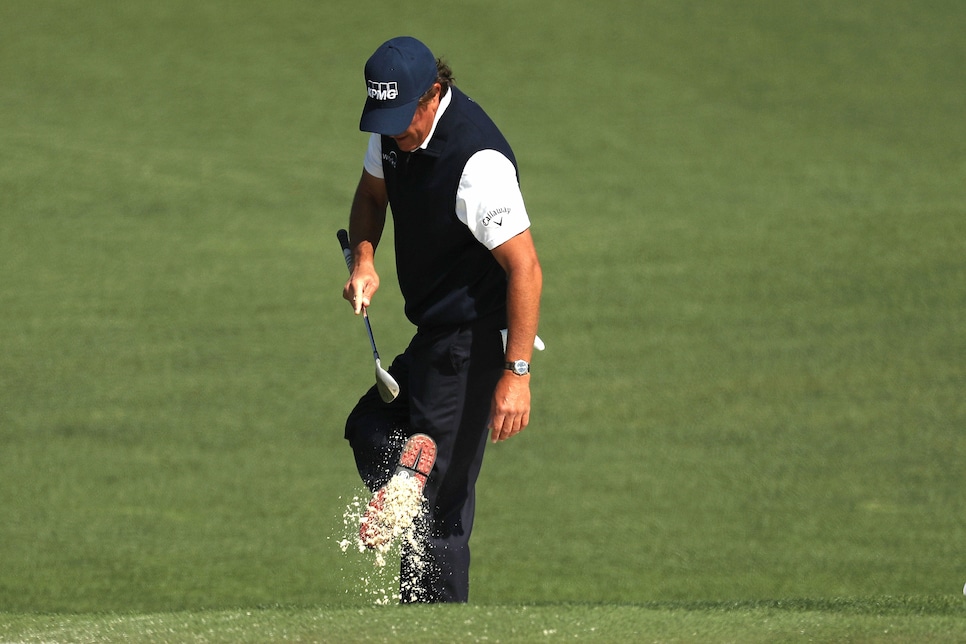 Patrick Smith/Getty Images
There's never a dull moment with Lefty at Augusta, so Friday was business as usual. Until it wasn't. When Mickelson made birdie on the second hole to get to three under for the tournament he briefly held a share of the lead. But by day's end, his seven-under 79—matching his worst score in 96 rounds in the Masters—was just good enough to make the cut on the number at five over. As sometimes happens for the three-time Masters champ, Mickelson couldn't avoid the big numbers, making a triple bogey on No. 9, double bogey on No. 12, and bogeys on 11, 16 and 18. He'll no doubt make the most of his final two rounds, but this wasn't the outcome Mickelson envisioned 48 hours earlier.
Andrew Redington/Getty Images
That's not to say scoring was impossible. At least not for the No. 1 player in the world, who shot a four-under 68—his second best second round in eight Masters appearances—to jump into contention after an opening 73. DJ got into a positive frame of mind with an eagle on No. 2. After his lone bogey on No. 4, he played the rest of the day in three under, moving from T-28 to T-6, his third straight Masters start in which he has been inside the top 10 entering the weekend.
BOGEY: Jordan Spieth's front nine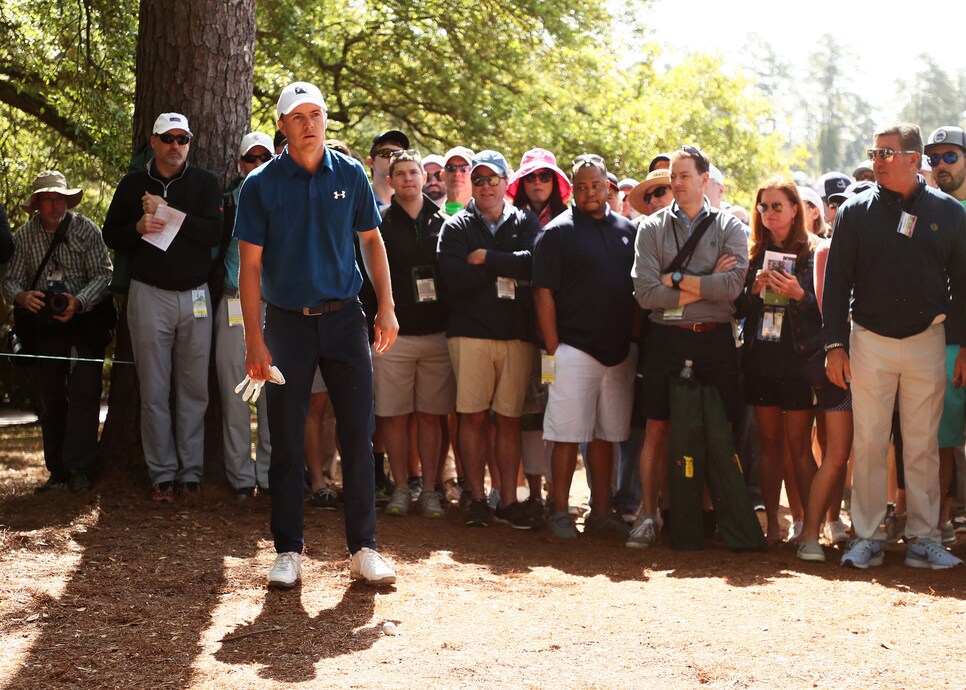 He started the day with a two-stroke lead, a morning tee time and the chance to put some distance between himself and the field. Instead Spieth opened with a double bogey-bogey start and turned in four-over 40. It wasn't just that the Golden Boy had missed a golden opportunity. He looked helplessly out of sorts off the tee early on. Until that is …
BIRDIE: Jordan Spieth's back nine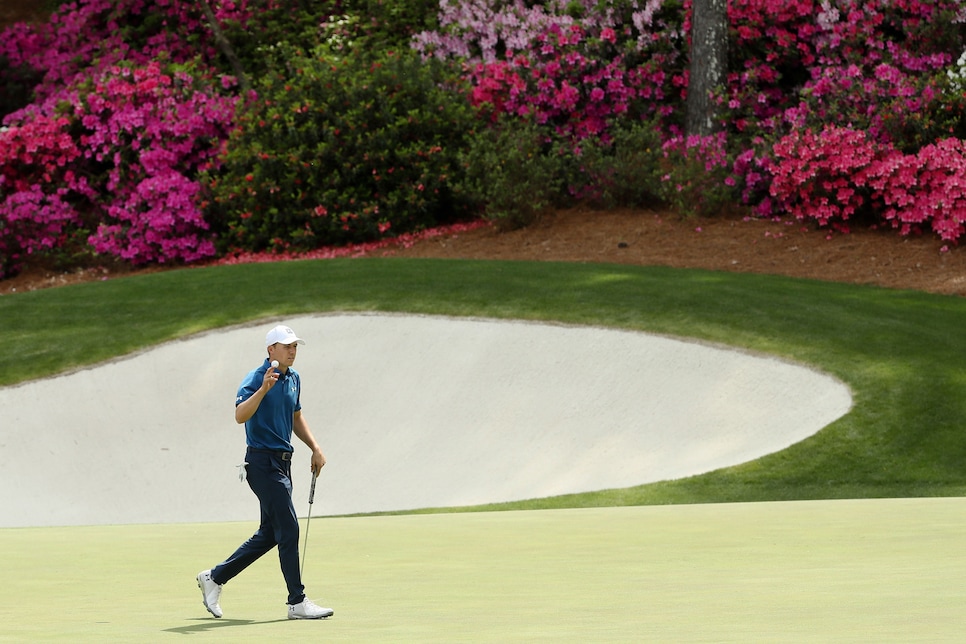 Jamie Squire/Getty Images
The three-time major champion exhibited the trait that's become his calling card: grit. While still only hitting three fairways coming in, Spieth refused to give back any more shots. With birdies on the two par 5s, the result was a two-under 34 and a two-over 74 that kept him well in the hunt.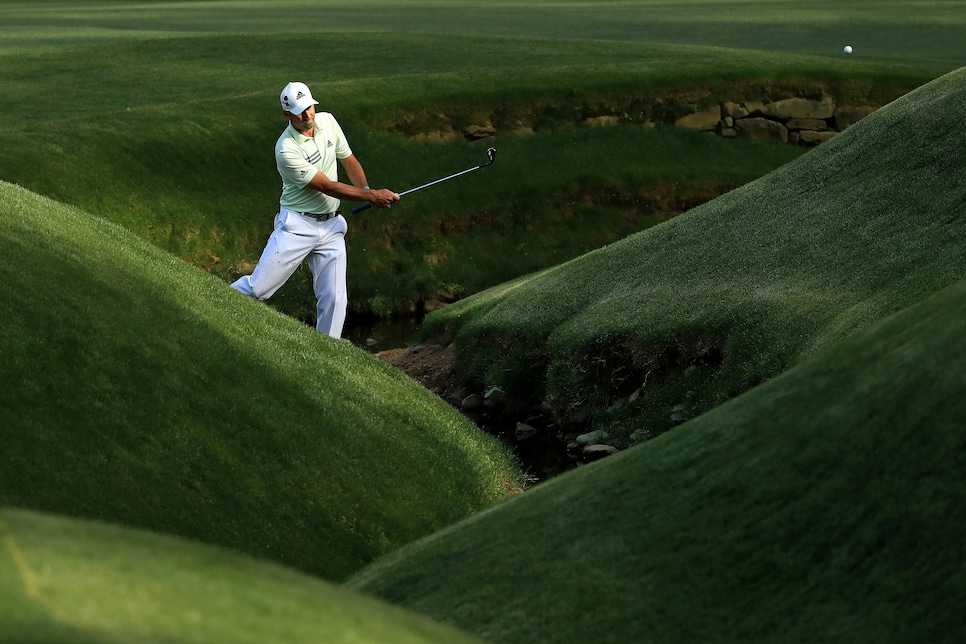 Andrew Redington/Getty Images
You can almost forgive Garcia's one bit of insanity on Thursday, when he splashed five shots into the water en route to a 13 on the 15th hole. But Friday's despair was more prolonged and disappointing. A six-over 78 included a birdie on the 18th hole, but still left him last among the 81 professionals in the field. Garcia joins a list of nine others who didn't make the weekend while trying to defend and establishes a new high score for a defender for 36 holes at 159, breaking the mark of 156 set by Nick Faldo in 1997. Interestingly, Garcia's early departure makes it seven international players who have failed to make the cut in the year after they won.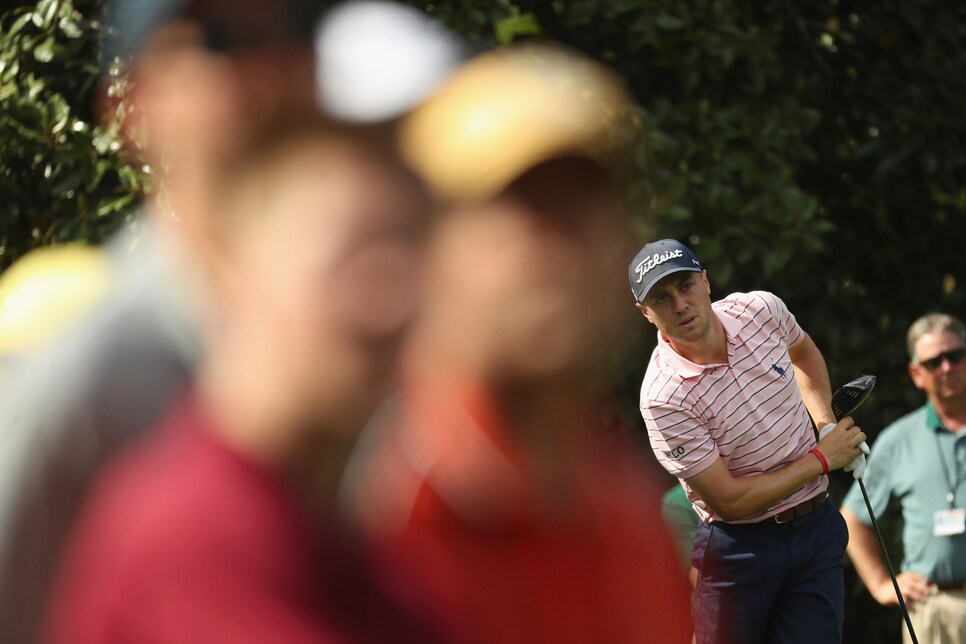 Patrick Smith/Getty Images
Thomas is the only player at Augusta who can win a second-straight major title, but he looked like he would have no shot at that after an opening 74. The 24-year-old quietly seethed overnight before deciding to do something about it on Friday. A five-under 67—including three straight birdies on the back nine—was Thomas' best round in the Masters by three strokes, and keeps his quest for a second-straight major intact.
The final threesome of the day needed 5 hours and 40 minutes to get their 18 holes in … and that's with Reed shooting a 66 among the trio. On Wednesday during his chairman's press conference, Ridley noted that he was happy with the weekend pace of play in recent years, but the fact that the second round barely finished in the gloaming speaks to the bigger issue the game continues to face.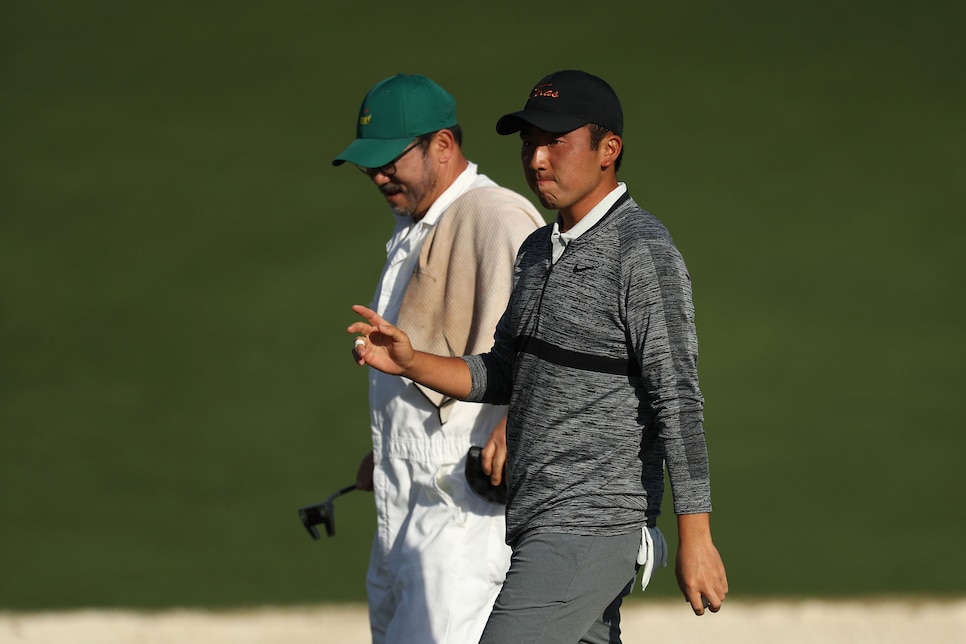 Patrick Smith/Getty Images
The University of Texas senior proved the lone bright spot among the six amateurs competing at Augusta National. It wasn't a pretty second round, but a birdie on the 16th hole ensured that Ghim's 76 would keep him on the right side of the cut line and make it eight times in the last nine years that they'll be handing out the low amateur cup come late Sunday afternoon.
BOGEY: Saturday's forecast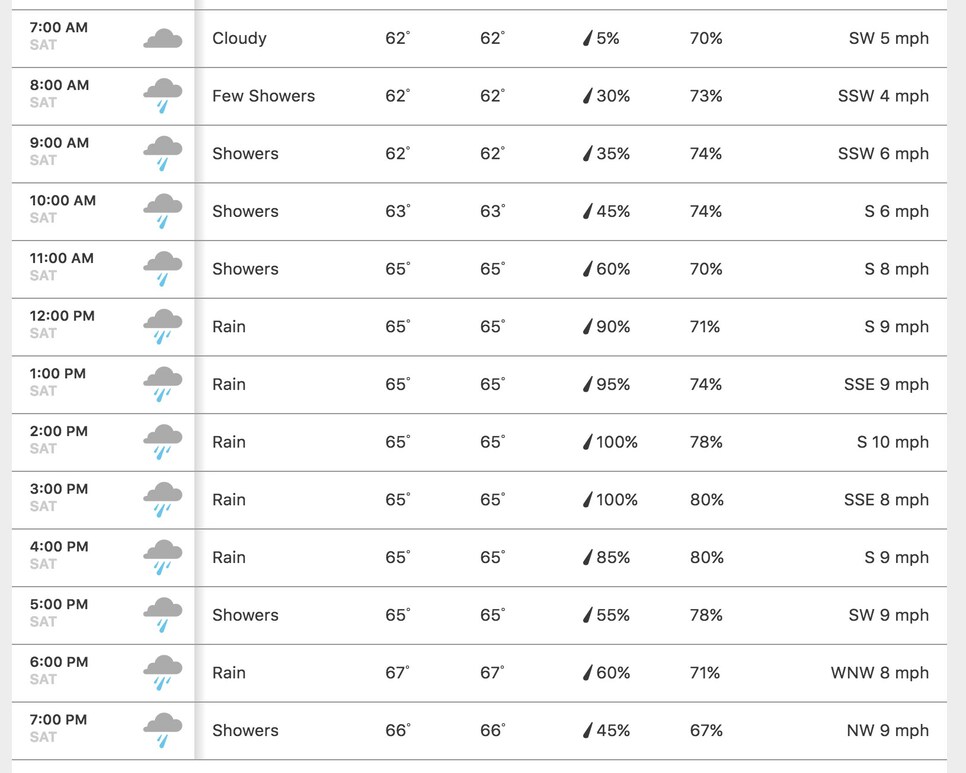 The forecast for the third round is ominous, with a capital "O": There's a 90 to 100 percent chance of rain between noon and 3 p.m. Tournament officials aren't adjusting the tee times however (leaders are scheduled to go off at 2:30 p.m.). So if you think you've got the 82nd Masters figured out, think again.
Scroll down for Thursday's winners & losers . . .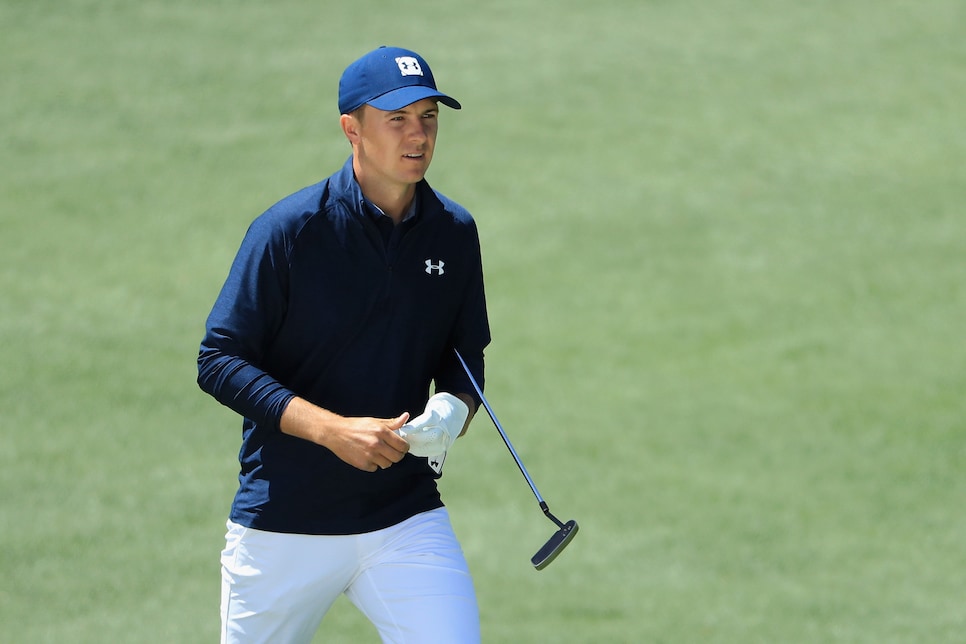 Maybe it shouldn't be surprising given his record here—a win and two runner-ups; at least a share of the lead in eight of his last Masters 14 rounds—but if you factor in Spieth's fairly flat start to 2018, this six-under 66 was still a resounding reminder that no one feels more at home at Augusta National. Spieth did finish T-3 last week in Houston, but it was more the way he meticulously navigated his opening 18 holes, including five straight birdies on the back nine, that suggests Spieth has emerged from his early season malaise and is primed to contend for a fourth career major.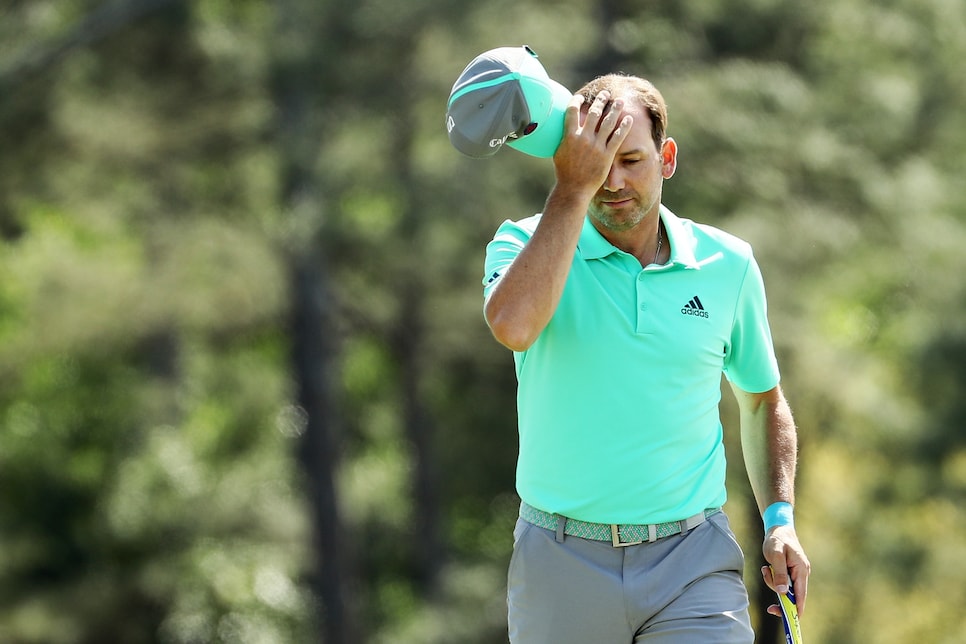 It didn't ALL fall apart on the 15th hole. The defending Masters champion was already two over by the time he arrived at the exacting par 5, but it was there where he was reminded that Augusta National takes as much as it gives … and then if it wants to, it will take even more. Five balls in the water. A record eight-over-par 13. It all added up to an opening 81, which all but assures that Garcia's Sunday's duties at Augusta National will consist of giving the green jacket away and nothing more.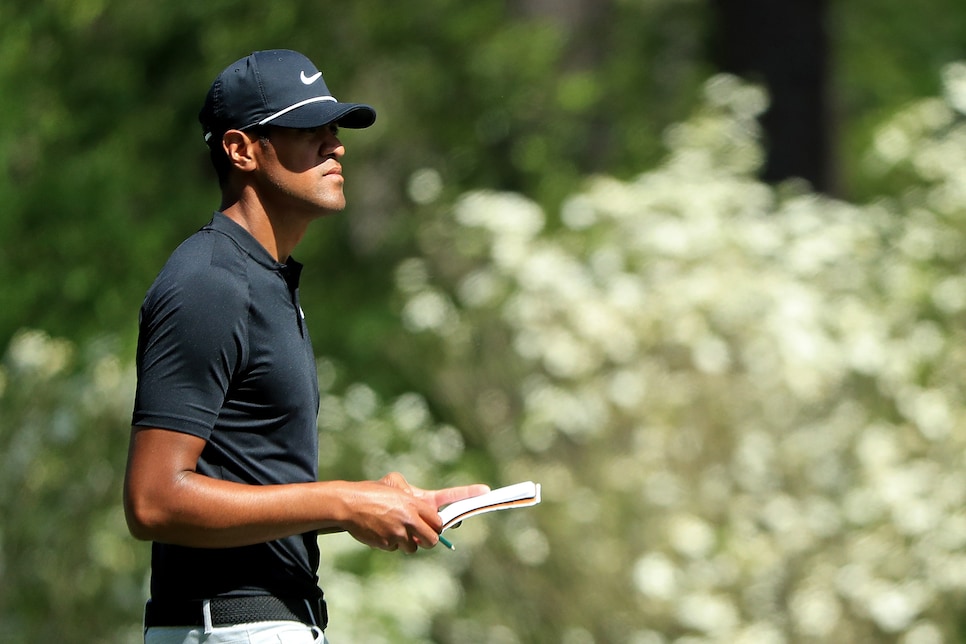 Could he play? Could he WALK? There was plenty to discuss about the 28-year-old heading into Thursday, but contending on a bum ankle seemed like a reach. Yet Finau, who dislocated his left ankle after falling awkwardly in the Par 3 Contest, then popped it back in moments later, not only made it to the first tee, he holed out on 18 with a brief share of the lead. An opening 68 in his first Masters, two shots behind leader Spieth, would have been impressive in any context. Doing so given the follies of the day before was truly remarkable.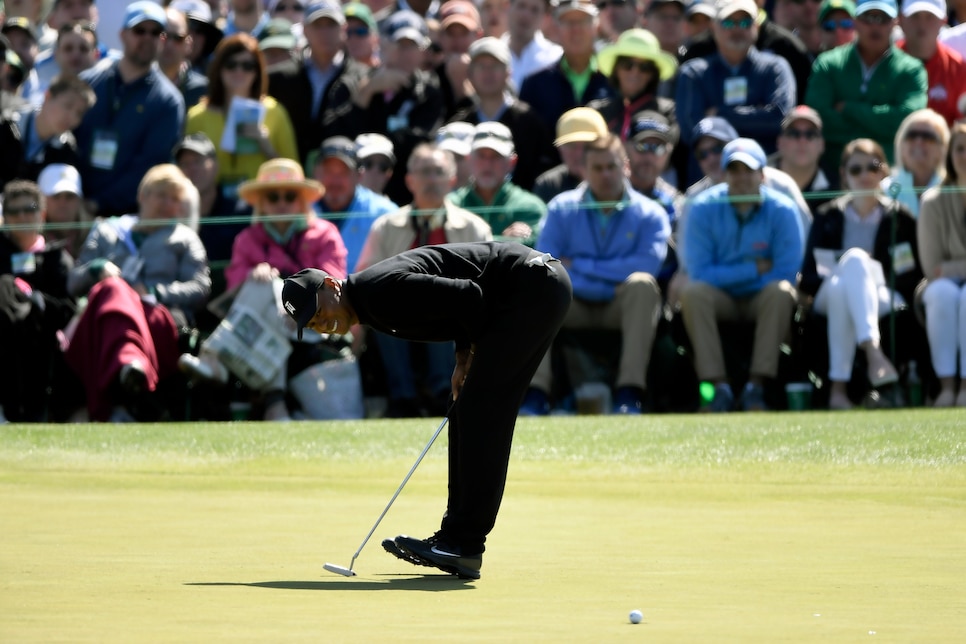 We'll get to the positives of Woods' return to Augusta in a second, but first, allow us some nitpicks about his opening 73. Woods failed to birdie any of the par 5s on Thursday, and his driver play is still enough of a hole-by-hole adventure that he's spraying it to both sides. Seven strokes off the lead after Thursday, it's difficult to imagine him seriously contending if he continues on the same trajectory. Then again …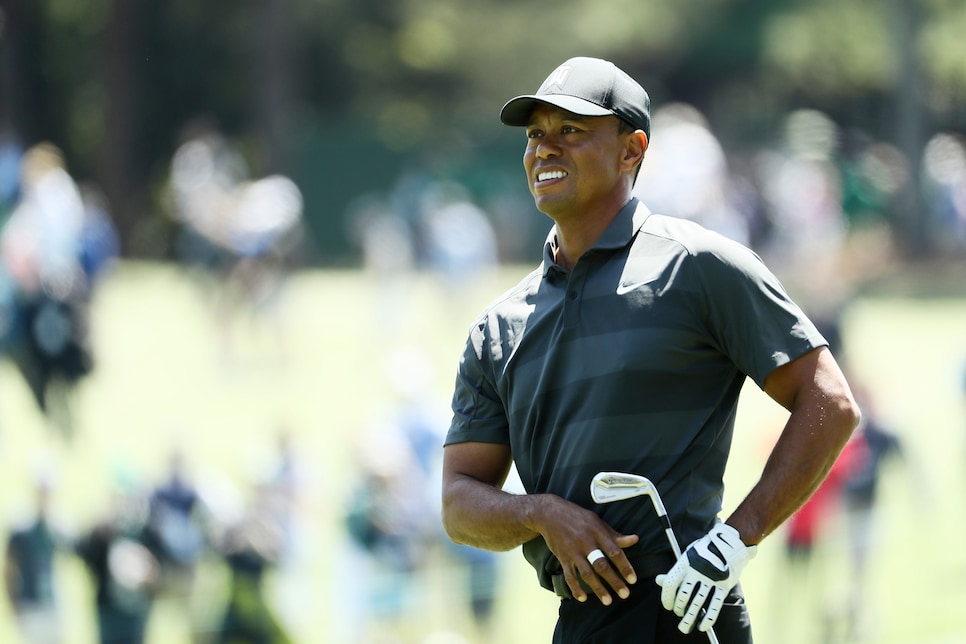 Jamie Squire/Getty Images
This was Woods' first competitive round at Augusta National in three years, and he did rally with two birdies in a three-hole stretch on the back nine. Maybe a 73 was a disappointment for a player who was the Vegas betting favorite and had registered top-fives in each of his last two starts. By the other, he seemed to find his footing by day's end, and Thursday's round was still a stroke better than the last time he won the Masters, in 2005.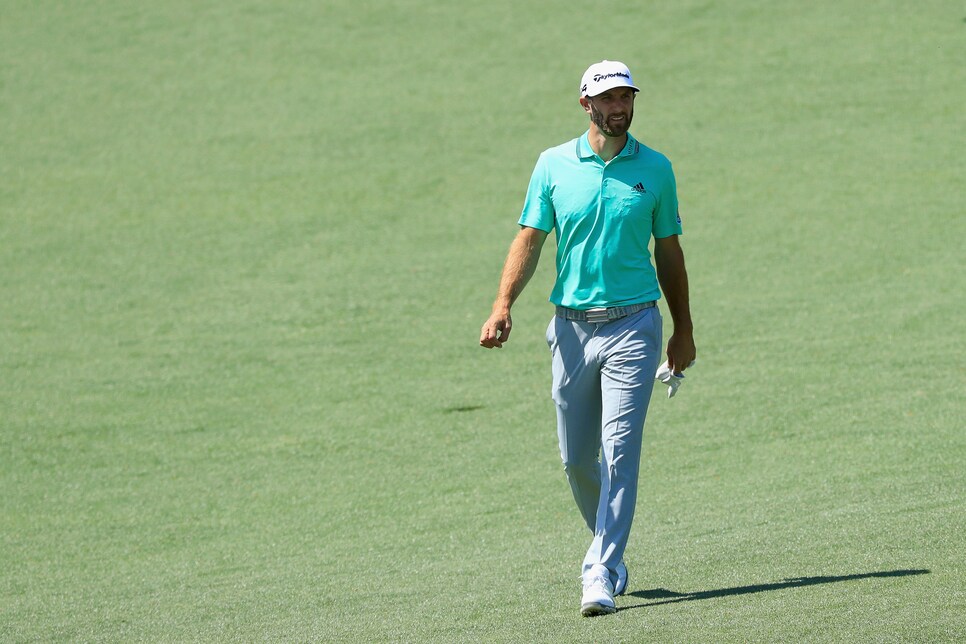 Another 73 for a player returning after an absence from Augusta National, only in Johnson, we're talking about the No. 1 player in the world. As you surely have heard by now, Johnson missed last year's Masters when he slipped on a set of stairs and injured his back, disrupting the momentum of a player who was the clear favorite to capture a green jacket. A strong start Thursday would have helped further distance Johnson from that disappointment, but he instead found himself three over par through 10, and was fortunate to claw his way back from the brink on the back nine.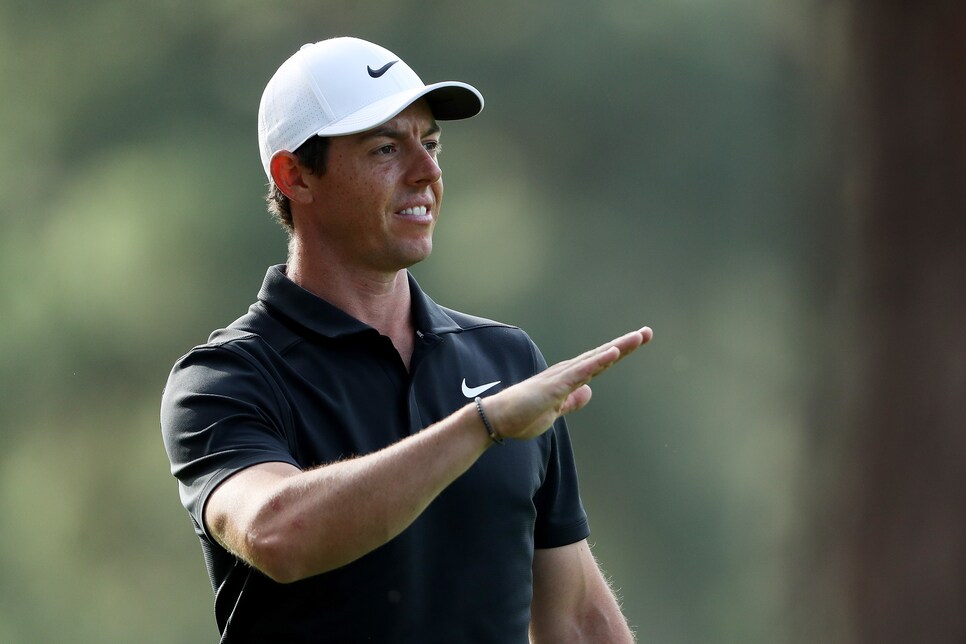 Although he's registered top-10s in his last four Masters appearances, McIlroy had only broken 70 once in the first round at Augusta National. That was in 2011, when he shot 65 to start then famously squandered a four-shot lead in the final round. The second time came Thursday, when McIlroy's 69 placed him three shots behind Spieth, giving him perhaps his best chance to complete the career Grand Slam this week