News
Masters 2018: A minute-by-minute recap of Thursday in our live blog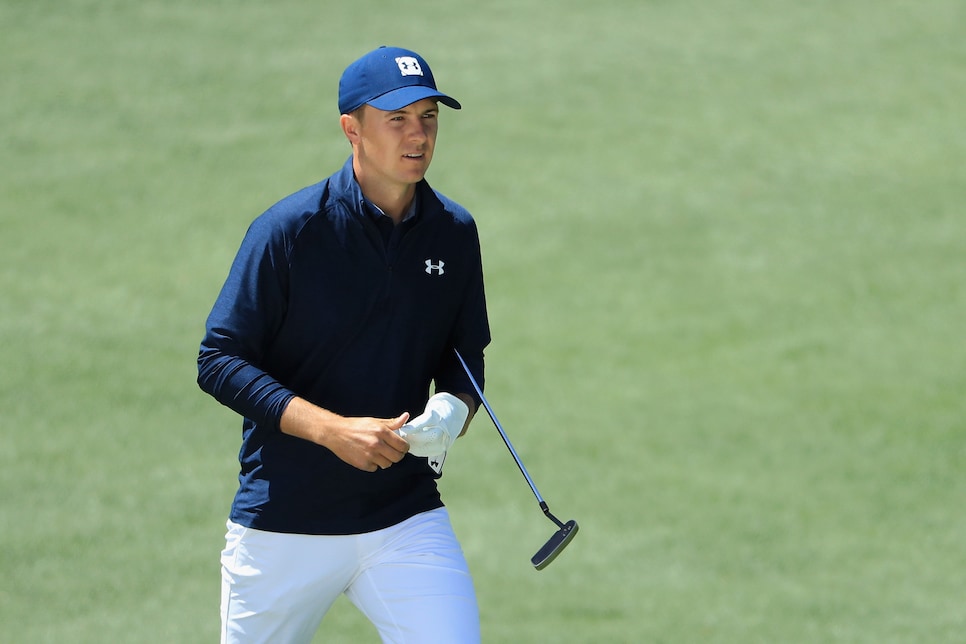 The much-anticipated 82nd Masters Tournament is finally underway, and it looks like its going to be a chilly morning for the early wave of players at Augusta National. Temperatures will be in the mid-to-high 40s until around 11 a.m. before getting into the 50s and reaching the high 60s in the late afternoon.
Though the first few groupings each provide some intrigue, like 8:52 a.m. threesome featuring amateur Matt Parziale or the 9:14 a.m. with Bryson DeChambeau, the first marquee groups tees off at 10:09 a.m., Hideki Matsuyama, Patton Kizzire and Paul Casey. Two groups later marks the long-awaited Masters return of Tiger Woods, as he's set to peg it at 10:42 a.m. alongside Marc Leishman and Tommy Fleetwood. Soon after, Sergio Garcia, Justin Thomas, Bubba Watson, Jason Day and Henrik Stenson will all be out on the course, making for an exciting morning at Augusta.
We'll have updates for you on all the important happenings throughout the first round of the Masters right here in our live blog.
7:22 PM: Here are the tee times for Round 2, starting with Billy Horschel, Chez Reavie and Cam Smith at 8:30 a.m.
7:15 PM: Jordan Spieth was asked to sum up his fantastic pitch shot that ended up inside a foot at the last hole. He had the perfect response:
7:01 PM: Like we said, Spieth's going to have to do really well to make a bogey here. And that's exactly what he did. Even hitting a backward shot, Spieth has salvaged a bogey—which will surely save his momentum—after a tremendous pitch shot from the left of the green to inside a foot.
Your first-round leader, once again, at Augusta National, will be Jordan Spieth. Spieth finishes at 6-under, marking his ninth time leading or co-leading at the Masters (out of 17 competitive rounds). And it's the third year out of the last four that Spieth has led after the first round. Fantastic stuff from the 2015 Masters champion.
6:54 PM: So Jordan Spieth just made history—doing something he never did at the Masters: Birdie five straight holes—13 through 17. Now he has to get it home, sitting at 6-under. That's appearing to give him some trouble thus far.
His tee shot went so far right that he had to pitch out sideways—in fact, backward—before he hits his third shot. He's going to do well if he bogeys here.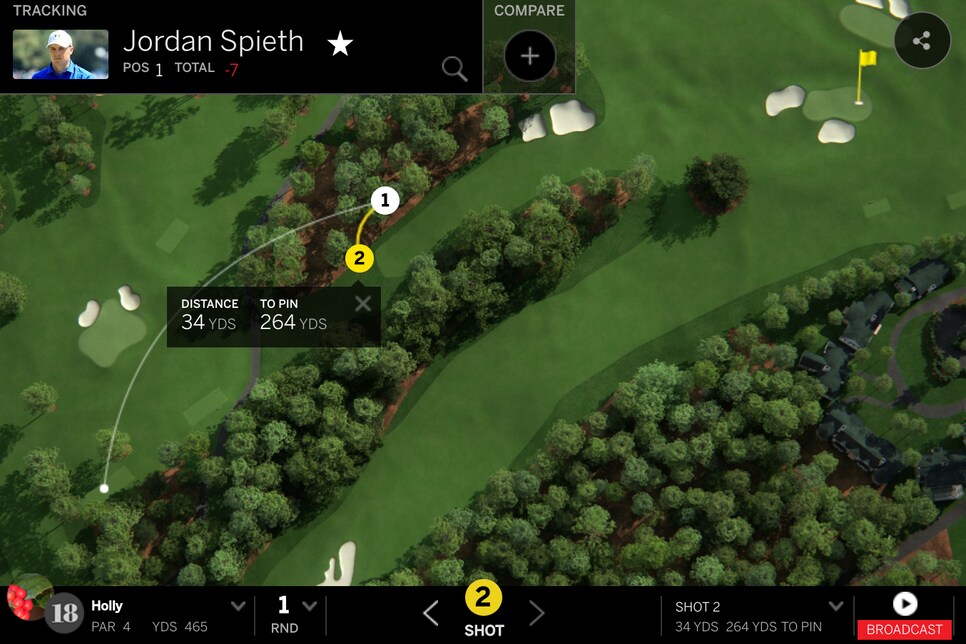 6:47 PM: There it is. Five in a row for Spieth and he's now at seven under. Just hand him the green jacket now. Ha!
6:44 PM: Quite the finish from the group of Mickelson, Fowler and Kuchar. Kuch was the only one to birdie the last, giving him a four-under 68, but Mickelson and Fowler each turned in two-under 70s. Of the many marquee groupings, this trio provided the most entertaining, even though it took them awhile to do so.
In the group behind them, Rory McIlroy makes another huge par save at the 17th, this time from 13 feet after leaving his bunker shot short. He's at three under, and will need another tough up-and-down after missing the 18th green well left. At 17, Spieth hits one close again, giving himself a chance at a fifth straight birdie.
6:31 PM: Rickie Fowler keeps it rolling at the 17th, draining a 27-footer for birdie to get to two under. After sitting at one over through 12, and then saving a huge par at the 13th, Fowler has flipped the switch and gotten into contention.
Meanwhile, Jordan Spieth extends his lead by sticking his tee shot on the 16th and tapping in the putt for his fourth straight birdie. He's at six under, two clear of Finau. Back at the 15th, Dustin Johnson saves par with an impressive 102-yard up-and-down, keeping him at even par.
6:21 PM: Spieth holes his birdie and is now the solo leader. Up at the 16th, McIlroy makes an impressive par save to stay at three under.
Looks like Dustin Johnson's hot streak will end at 15. The world no. 1 just rinsed one in the water despite hitting it "as good as he could have hit it" as he told his caddie and brother Austin. Tough break.
6:14 PM: After laying up at the 15th, Jordan Spieth hits a beauty into the green on his third, leaving him a short one to get to five under and grab the solo lead.
6:10 PM: Bang. Bang. Bang! Mickelson, Kuchar and Fowler all make birdies at 16, two in a row for all three of them. The energy level is at an all-time high late in the day at Augusta. Kuchar is at three under, Mickelson at two under and Fowler at one under.
At the 16th tee, Rory McIlroy misses the green left, leaving him a tough chip. But he did just birdie the 15th, which has him one back at three under along with Kuchar & co.
6:05 PM: After missing the green well left at the 18th, then hitting his pitch way past the hole, Tony Finau still saves par from 13 feet to post a four-under 68. Adventurous, but good enough for the clubhouse lead. And to think we all thought this guy broke his ankle on Wednesday.
Back at 16, the trio of Mickelson, Fowler and Kuchar continues to thrill, each hitting a 7-iron inside 10 feet at the par 3.
6:00 PM: Guess who is back atop the leader board at the Masters.. Jordan Spieth, who just made a second straight birdie at the 14th. He could be the solo leader in a matter of minutes as Tony Finau, like many of the leaders coming up the 18th on Thursday, is struggling to hold that four under number.
Spieth isn't the only one making some noise late in the day either. Dustin Johnson has made three birdies in his last four holes, including at the 14th where he nearly spun it back into the cup for eagle. He's back to level par. Up ahead at the 15th green, Phil Mickelson makes birdie to get to one under and Rickie Fowler matches him to get to even par. The third member of their group, Matt Kuchar, also makes birdie and is at two under. It's all happening now.
5:45 PM: Nudge us if you've heard this before: Jordan Spieth is in the mix at Augusta. The three-time major champ is just one off Tony Finau's lead with another birdie.
5:05 PM: Tony Finau just hit another fabulous pitch shot -- this one on 15 -- to get back into a share of the lead with Haotong Li.
4:57 PM: How about Haotong! Your solo leader is now China's Haotong Li. The 22-year-old birdied the 16th hole to get to 4-under—good enough for the solo lead.
4:52 PM: Ouch! Tony Finau hit a sporty pitch from behind the 14th green to three feet—looking like he'd get up and down to keep the solo lead. Not so much. Short putts have been Finau's weakness all year, and another short miss at No. 14 has brought him back into a tie for the lead at 3-under.
Those now tied for the lead: Henrik Stenson, Adam Hadwin, Patrick Reed and Charley Hoffman (in with 3-under 69s) and Haotong Li (who has a good look for birdie at 16).
4:45 PM: Haotong Li hit one of the best shots you'll see to a front pin at the par-5 15th hole—giving him a chance to tie Tony Finau atop the leaderboard. But his putt just missed on the left side of the hole. Still, a tap-in birdie puts Li one back of Finau.
Li, who, you might recall finished third at the Open last year after shooting a 63, has serious game. He took down Rory McIlroy by a stroke earlier this year in Dubai to win on the European Tour. It's early—but this is an impressive start from the young Chinese golfer.
Also in Li's group is 58-year-old Fred Couples ... who before the tournament told us about his back injury that has prevented him from playing any golf since January ... is now under par at Augusta National. This should surprise nobody, given his penchant for contending at the Masters.
4:40 PM: Phil Mickelson made an absurd 46-footer at the first hole for a hot start, and then birdied the third in typical Phil fashion -- but his round has been up and down since then. This photo might say it all -- from the 11th hole.
4:35 PM: Thursday's leaders are having trouble finishing their rounds. Shortly after Henrik Stenson bogeyed No. 18 to fall to three under, playing partners Charley Hoffman and Adam Hadwin do the same exact thing. That means there are currently four players in the clubhouse at three under. However, there is now a new solo leader: Tony Finau. Yep, the same Tony Finau who dislocated his ankle about 24 hours ago and popped it back in himself. Other than Larry Mize (No offense, Larry), Finau probably would have been the last guy we would have predicted to be in this position. Incredible.
4:19 PM: Henrik Stenson bogeys the 18th hole, but he's still the early clubhouse leader after shooting 69. Not a bad way to celebrate your 42nd birthday. It matches the second-best score at Augusta National for the Swede, who has never finished better than T-14 at the Masters.
4:10 PM: Jordan Spieth has lived on leader boards at Augusta National in his career with a win and two runner-ups in four starts, and he's making another early push on Thursday. After giving back two early birdies with a pair of bogeys on No. 5 and No. 7, Spieth hit his second shot on the par-5 eighth hole to 14 feet and converted the eagle putt to jump back to two under. A T-3 in Houston last week put him back among the favorites entering this week, but his putting (Ranked 185th in strokes gained) has held him back this season. Still, seeing his name among the leaders on this golf course is never a surprise.
4:00 PM: After a bogey on No. 7, Rory McIlroy birdied the par-5 eighth to get back to red figures for the day. McIlroy began the week as one of the foursome of tournament favorites (10-to-1 odds), according to Westgate Las Vegas Sportsbook. This is his fourth attempt at completing the career Grand Slam.
3:55 PM: Oh, Canada! Adam Hadwin makes back-to-back birdies on 15 and 16 to join Henrik Stenson and Charley Hoffman at four under at the top of the leader board. Hadwin is trying to follow in Mike Weir's footsteps as a Canuck green jacket winner.
3:45 PM: Tiger Woods makes two-putt pars at both 17 and 18 to finish with a one-over 73. Not what he or his legions of fans were hoping for, but it also could have been a LOT worse. Woods looked like he would drop to four over until he rolled in a long bogey putt from the fringe on No. 12. He then made birdies on 14 and 16.
And if you're worried about Woods not getting off to a great start at the Masters, don't. Only once (2010) has he opened with a score in the 60s. In his first three wins, he started with 70 and in his fourth, he began with 74. Woods is currently five shots behind co-leaders Henrik Stenson and Charley Hoffman.
Meanwhile, playing partner Marc Leishman made a sporty par on 18 after finding the trees with his tee shot and having to punch out. Leishman was leading for most of the day until a double bogey on No. 15. Still, a 70 is a strong start for the Aussie in search of his first major championship. The third member of this featured group, Tommy Fleetwood, opened with 70.
3:40 PM: Zach Johnson, the 2008 Masters champ, is in the mix again following a birdie on No. 18 for an opening 70 that gives him (for the moment) a share of the clubhouse lead with Bernd Wiesberger. Meanwhile, another former champ, Fred Couples, flashed some magic on the 12th hole:
Of course, it was there where he got one of the most fortuitous breaks in golf history in 1992 when his tee shot hung up on the bank above Rae's Creek and he saved par. Whenever Freddie finally goes, he might want his ashes scattered on the famed par 3. . .
3:37 PM: Gotta give Sergio Garcia some credit. After carding that 13 on 15, he made a 2 on 16 for a bounceback birdie. In other news, Charley Hoffman -- a perennial early-round leader board lurker at Augusta National -- is now tied for the lead with Henrik Stenson.
3:27 PM: Sergio Garcia will be back at next year's Champions Dinner, but it doesn't look like he'll be selecting the menu again. The Spaniard just suffered a Tin Cup-esque moment on the par-5 15th, depositing five balls (yes, FIVE) in the water.
Garcia arrived at the hole at two over par, but after carding a disastrous 13(!), he is suddenly 10 over and in second-to-last place. Hey, he named his daughter "Azalea" (after the par-5 13th), not "Firethorn."
3:20 PM: An incredible story is developing as Tony Finau has tied for the lead after making the turn at three under. Masters rookies rarely contend no matter the circumstances, but it's a minor miracle that Tony even teed it up today after dislocating his ankle celebrating an ace in Wednesday's Par 3 Contest.
3:13 PM: BANG! Woods rolls in a birdie on the par-3 16th to get back to one over. It wasn't quite an "IN YOUR LIFE!" moment, but it was an important putt for Tiger, nevertheless. We expected Woods see to make two birdies in a three-hole stretch on the back nine, but not 14 and 16.
3:07 PM: Woods' birdie effort comes up short, but a par to stay at two over looks good now that we've seen what Leishman did. The Aussie made a mess of the 15th, hitting his second over the green and then pitching his third into the water in front of the green. He walked away with double bogey to drop to two under, two back of Stenson, who is now the new solo leader at four under after two-putting for birdie at the par-5 13th.
Charley Hoffman also converted on a birdie at the 13th, putting him one back at three under with Adam Hadwin. Two back along with Leishman are Spieth and Finau, who is not only playing well in his first Masters start, but doing it with an injured ankle.
2:55 PM: Woods' drive goes right again at 15. That's been the miss, and it forces him to lay up. He's using up the whole course on Thursday.
2:48 PM: Bang. Woods holes the birdie putt at 14. Big momentum shift with the par-5 15th coming up. Knowing him, he might just salvage this round.
Meanwhile, Jordan Spieth quickly moves on to the first page of the leader board with two birdies on his first three holes. He joins Wiesberger, who is in the clubhouse, and Charley Hoffman, who just made his third birdie of the day at the 12th to get to two under.
Vijay Singh finishes with a bogey at 18 to post a one-under 71, matching Satoshi Kodaira, who birdied 18 for his 71. One under is looking pretty good right now, with Leishman at four under through 14. Henrik Stenson and Adam Hadwin are just one back at three under.
2:40 PM: Woods finds the fairway at the 14th and then hits one of his best approach shots of the day to seven feet. It's not even 3 p.m. on Thursday, but this feels like a must make, especially considering Leishman has a good look at birdie as well to get to five under.
2:26 PM: Leishman was able to convert at the 13th, two-putting for birdie to get to four under and regain the solo lead.
2:25 PM: With a 27-foot birdie conversion at the 11th, Stenson now joins Leishman at three under. Both players have yet to make a bogey. At the 12th, Justin Thomas makes his third birdie of the day to get to one under, joining a group that includes McIlroy and Mickelson.
Everybody is now out on the course, including Dustin Johnson, Jordan Spieth and Rickie Fowler, who are all at even par early in their rounds.
At the 13th, Woods finds the green with his third shot and just misses the putt for birdie. Three over through 13, and no birdies on the par 5s yet.
2:14 PM: Your new leader in the clubhouse is Bernd Wiesberger, who carded a two-under 70 highlighted by this 36-footer for birdie at the par-5 15th:
Vijay Singh can match him with two more pars at 17 and 18, or perhaps best him with a birdie. Also at two under are Henrik Stenson and Adam Hadwin, who are each through 10 holes.
2:10 PM: Woods' pitch comes up just short of the green in the fringe at No. 12, but he's able to drain the putt for bogey. What a save to only fall to three over, with two par 5s coming up. He can still grind out a solid round.
Leishman continues to plug along, making his fifth consecutive par to stay at three under. Wiesberger, Singh and Stenson are just one back.
2:00 PM: Oh boy. Woods' tee shot at the 12th finds Rae's Creek. Big trouble.
1:56 PM: Woods falls to two over after a two-putt bogey at the 11th. Not ideal, but still just five back of Leishman. No one going crazy low quite yet at Augusta.
1:54 PM: Major trouble for Woods at the 11th after his drive misses way right and then his second shot .. well, I'm not sure what happened. But it did not go far and it went into the gallery on the right. Par would be a minor miracle at this point.
Meanwhile, a few other players have gotten to two under, including Patrick Reed and Charley Hoffman, who went off at 11:15 a.m. together. They both birdied the par-5 eighth.
All the way back at the first hole, Phil Mickelson starts is quest for a fourth green jacket with a birdie at the first. Rory McIlroy also birdied the first, and he and Mickelson join a large group at one under that includes Thomas Pieters and Tony Finau, who has bounced back with two birdies at the second and fourth holes after a bogey at the first.
1:36 PM: Woods' drive finds the fairway at the 10th, but his approach shot missed the green just right. He got lucky though, as it stayed out of the bunker and he played a delicate chip to tap-in range for a par. Leishman makes another par as well to stay at three under, which is now good enough for the solo lead after Singh makes bogey at the 14th. He's back to two under along with Stenson and Wiesberger.
1:34 PM: While all the masters.com featured group coverage has been focused on Woods, the other group they're following features Hideki Matsuyama, who has made 11 straight pars to start his round, including a testy nine-foot slider for par just now at the 11th. Matsuyama's fellow countryman Satoshi Kodaira also has a great round going in his first Masters appearance, sitting at one under par thanks to this hole-out at the par-4 seventh. He's followed with six straight pars:
1:24 PM: Two-putt par for Woods and he turns in one-over 37. He's four back of Leishman, who also made par at the ninth to stay at three under.
Another past champion, Zach Johnson, gets into red figures, holing a 16-footer for birdie at the par-4 10th. He joins Immelman, Lyle and Singh among the pack of past champs who are under par. Speaking of Singh, he just got to three under to grab a share of the lead with a birdie at the 13th.
1:17 PM: First group is in, with Potter, Jr. posting a 73 and Austin Cook and Wesley Bryan each carding two-over 74s. As for some of the other marquee names, they aren't doing much better than Woods, who just found the green with his second shot at the ninth. Justin Thomas and Bubba Watson are also at one over, Sergio Garcia is two over and Jason Day has fallen all the way to four over.
1:10 PM: Leishman is still the solo leader, but now Henrik Stenson is just one back after making his second birdie of the day at the par-4 seventh. He and Singh are tied for second.
How about this card from Ted Potter, Jr.? The AT&T Pebble Beach Pro-Am winner was five over after making a double at the 11th hole. Time to pack it in for the week, right? Wrong!

Talk about a battle. Looks like we jinxed him though, as he just bogeyed the 18th. But to finish with a one-over 73 after falling to five over through 11 is remarkable.
1:02 PM: Woods' pitch shot runs long, and he settles for a two-putt par. He's one over through eight.
12:53 PM: Once again, Woods stripes a drive at the par-5 eighth, and then plays a rope hook up near the green. Should have a good chance to get up-and-down for par.
Meanwhile, Vijay Singh gets back to two under with a birdie at the difficult par-4 11th. Not a bad way to pick up a stroke on the field for the 2000 Masters champion. He's one back of Leishman in solo second. Also back in red figures is Bernd Wiesberger thanks to a birdie at the par-5 13th. He's among a large group at one under that includes Stenson, Reed and Hoffman. Some early highlights from the morning wave:
12:40 PM: Woods gave it a good run, but it just misses on the left side and he walks away with a par to remain at one over. Leishman extends his lead with a birdie, putting him a three under, two clear of Singh, Kodaira, Reed, Hoffman, and now Henrik Stenson, Sandy Lyle and Trevor Immelman. Interesting front page of the board right now.
12:31 PM: Vintage stinger 3-wood for Woods at the par-4 seventh, leaving 148 yards to the hole. His approach ends up on the green, but it's a bit long, and he'll have a tough downhill look for birdie.
12:24 PM: Woods' short birdie look never had a chance, sliding by on the left side. Disappointing par to stay at one over. Leishman's par save, however, was an impressive one, with the Aussie getting up-and-down from well off the left side of the green to stay at two under.
12:19 PM: Huge bounce back tee shot for Woods at the par-3 sixth, striping one to seven feet. Good look at birdie coming up.
12:07 PM: Woods went with the safe play at No. 5, opting to hit 3-wood, and it ends up in the fairway bunker. From there he put one on the front of the green, leaving him a long birdie putt, which he blew past the hole and then missed the next. Back-to-back bogeys for Woods and he drops to one over.
A couple groups back, Patrick Reed and Charley Hoffman join the one under party, each making birdie at the par-5 second. Thomas and Garcia both bogeyed the par-3 fourth to fall back to even par. Leishman remains the solo leader as he works on a bogey-free, two-under round through five holes.
11:48 PM: Woods hit his bunker shot well past the hole and it costs him a shot as he two-putts for bogey. Back to even par through four holes.
11:46 AM: Woods was staring down his tee shot at the par-3 fourth, but it ended up just short in the bunker. Tough break, but should be a pretty straightforward bunker shot. Leishman is now the solo leader at two under, as Singh drops a second shot in a row at the seventh. He's joined at one under by Woods, Kodaira, Garcia, Thomas and U.S. Amateur winner Doc Redman, who just birdied the par-4 third. Not a bad leader board early on Thursday: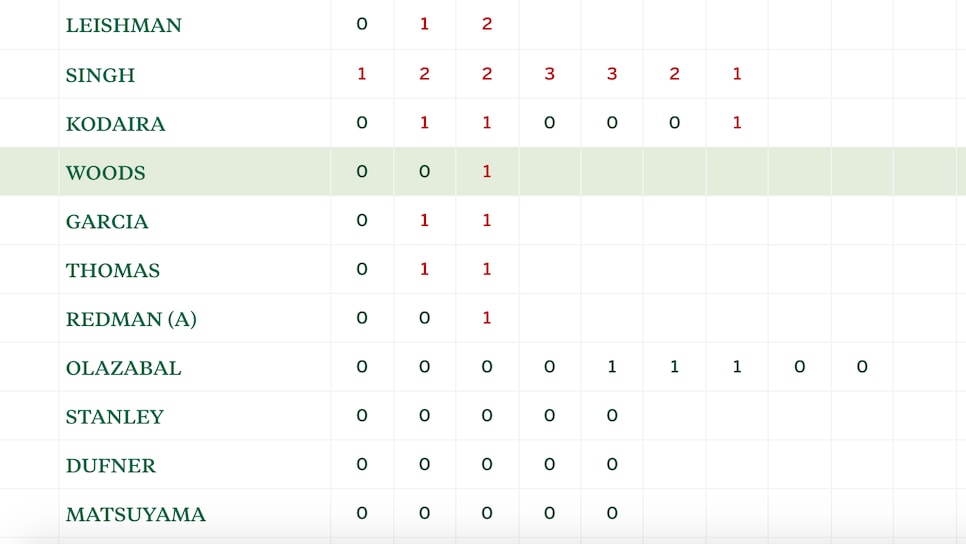 11:36 AM: Woods' pitch shot rolled about 10 feet past the hole, and then he walked his birdie putt to get to one under. The aggressive driver play pays off, and he's now one off the lead, which belongs to Singh and Woods' playing partner Leishman, who rolled in a long birdie putt at the second. Here's Tiger's putt:
Two groups behind them, Thomas and Garcia both birdie the second hole to get to one under.
11:22 AM: Woods pulls driver at No. 3 and pipes it again. Very, very good sign, as that was the one club everyone was worried about coming into the week. He's got a short pitch shot coming up.
Up ahead, Singh drops his first shot at the par-3 sixth and now sits at two under, one up on Leishman and O'Meara.
11:17 AM: Following a decent bunker shot, Woods hits a great putt that just missed catching the edge. After that drive, par feels like a big missed opportunity, but it's still only Thursday morning. Leishman did make birdie, putting him at one under two back of Singh.
11:11 AM: With a golden opportunity to knock one on and get an eagle look, Woods mishits his approach and puts it in the front right bunker at No. 2. In the group right behind, Justin Thomas and Sergio Garcia each par the first hole.
11:01 AM: Great sign at No. 2 for Woods as he crushes one that bounds down the fairway and should leave him a mid-iron into the green. He's going to need a birdie to hang with these old guys. Check out this leader board: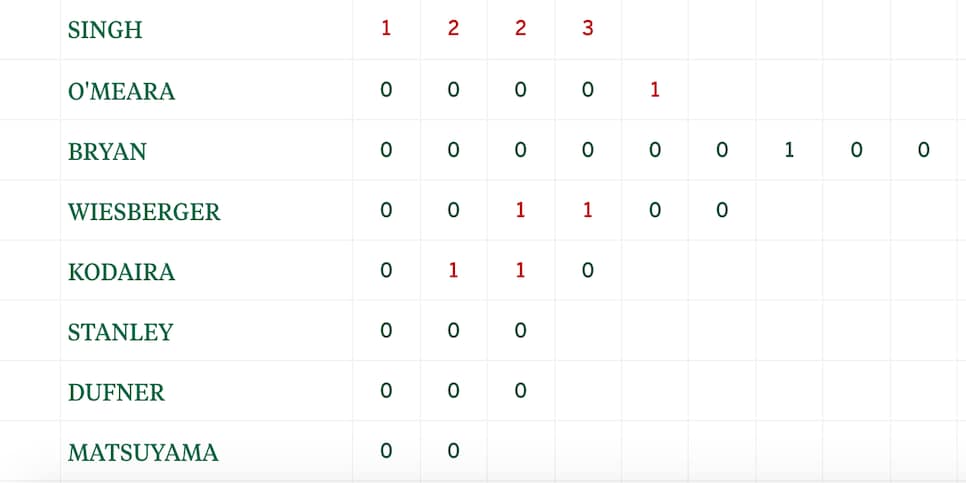 Singh, O'Meara, is it 1999?
10:57 AM: From all the way at the front of the green Woods lags it perfectly to a back-right pin and cleans it up for par. Huge save after an ugly drive. Leishman and Fleetwood started off with pars as well.
10:51 AM: OK, Woods hits a solid second shot up near the green from the pine straw. Up-and-down would be a victory here, and it would put him three back of Vijay Singh, who is now at three under after making another birdie at the par-3 fourth. Impressive start from the 55-year-old.
10:45 AM: Well, it wouldn't be a Thursday at the Masters without Tiger pulling his tee shot well left of the fairway. Even with a 3-wood in hand, Woods tugged it a bit, but it looks to be not too bad. Meanwhile, Fleetwood finds the fairway with ease and Leishman misses a little left.
10:32 AM: Back-to-back birdies for Vijay to open his round, giving him a one-shot lead over Wiesberger and Japan's Satoshi Kodaira, who just birdied the second to get to one under. What a start for the Big Fiijan, who has missed his last two cuts at the Masters. Long way to go, but his form on the PGA Tour Champions of late suggests he could make the weekend at Augusta for the first time since 2015.
We're now just 12 minutes away from Tiger Woods' opening round of the Masters getting underway. Get excited, people.
10:02 a.m.: Just before 10 a.m. on Thursday, Tiger Woods appeared on the practice range at Augusta National, hitting some crisp pitch shots and warming up for his 10:42 tee time alongside Marc Leishman and Tommy Fleetwood. Not surprisingly, the cameras on the live feed from the range haven't moved off Tiger. Everyone is anxious to see how the four-time Masters champion plays in his return to Augusta—playing some great golf coming into the 2018 Masters.
We now have solo leaders—Austria's Bernd Wiesberger birdied the par-4 third hole to get to 1-under, and 2000 Masters champion Vijay Singh started his day with a birdie at the difficult first hole to get to 1-under.
9:57 a.m.: Some of the biggest news of the morning at Augusta National is that Tony Finau will attempt to tee it up after his freakish injury during Wednesday's Par-3 Content, in which he dislocated his ankle in celebrating his hole-in-one.
Now we have a live look at Finau's ankle, courtesy of ESPN's dogged reporter Darren Rovell.
Hopefully there are lots of highlights from Thursday's action so we can bury this photo of Finau's foot. Not exactly the type of photos you want to see early on Masters Thursday, we're sure—but it's significant news nonetheless.
9:52 AM: We have our third birdie of the day at the par-4 first, and it comes from 2000 Masters champion Vijay Singh, who now has the solo lead.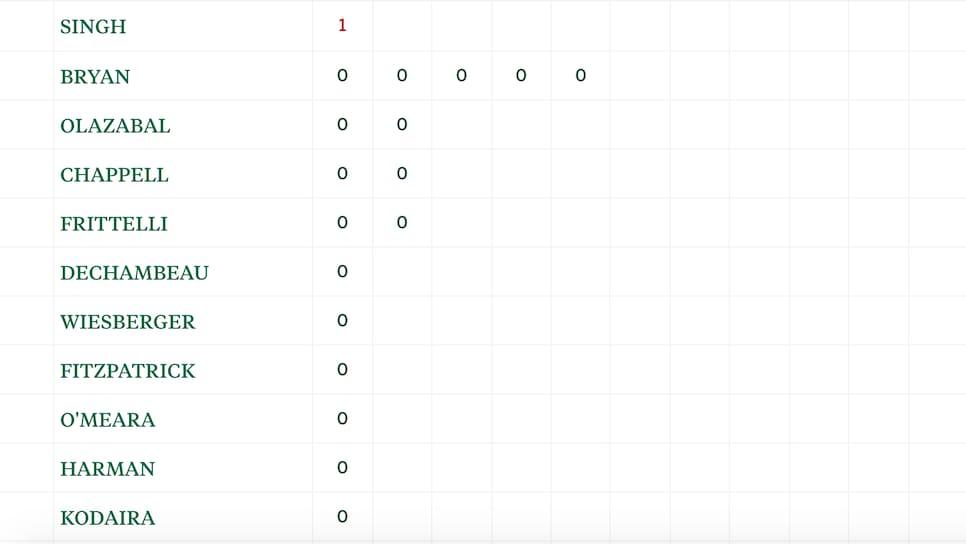 9:44 a.m.: From two under to one over in the blink of an eye. Colorful start for Ryan Moore: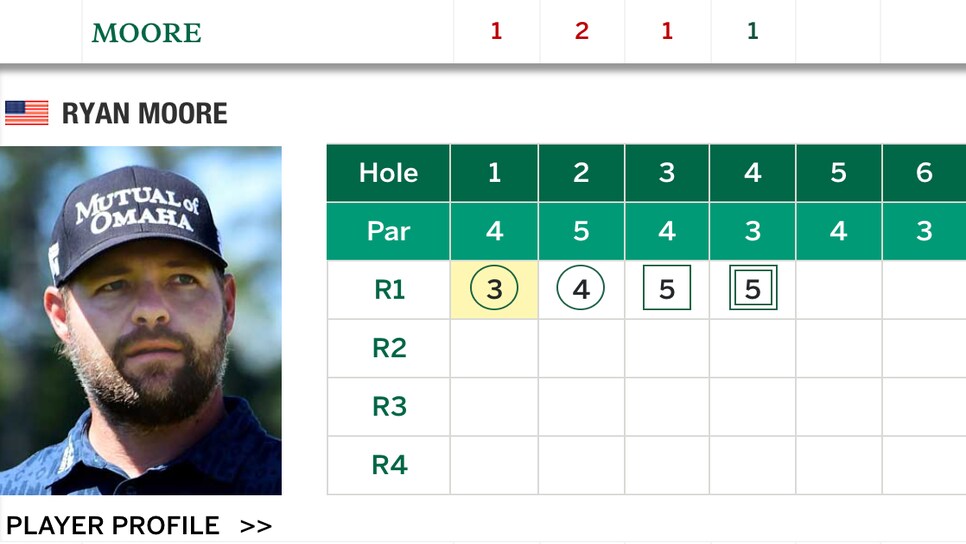 That means we have a 10-way tie for the lead at even par at the Masters.
9:37 a.m.: Moore drops a shot at the short par-4 third, ending #59Watch on Thursday at the Masters, for now. Meanwhile, Cook gets a shot back with a birdie at the par-3 fourth. He and Bryan are at even par through four, one back of Moore, who is through three holes.
9:22 a.m.: Ryan Moore is off to a flying start, backing up his opening birdie with another at the par-5 second to get to two under. That gives that '04 U.S. Amateur winner a two-shot lead over Wesley Bryan, who is at even par through three holes. Austin Cook, the only other guy to make birdie at the first so far, has made back-to-back bogeys to drop to one over.
9:17 a.m.: After suffering that gruesome ankle injury while celebrating a hole-in-one in the Par 3 Contest, Tony Finau's MRI came back positive on Thursday morning, and it looks like he will give it a go. Great news, especially for a Masters first-timer. Finau looks poised to play in plenty of Masters in his career, but you never know how many chances you're going to get. He's set to tee off at 12:43 p.m. alongside Yuta Ikeda and two-time Masters champion Bernhard Langer.
9:05 a.m.: Here's full video of the Honorary Starters ceremony. Good stuff, as always:
9:02 a.m.: Ryan Moore joins Cook in the lead with a birdie at No. 1. By the way, here are the pin positions for Thursday, making birdie at first all the more impressive with that back right location:
8:56 a.m.: Before Austin Cook grabbed the first-round lead, Jack and Gary got things underway:
8:51 a.m.: The first group is off and have completed the first hole. Austin Cook made birdie, making him the solo leader at the Masters. He'll always be able to share that fact! Ted Potter, Jr. and Augusta native Wesley Bryan each made par. We're off and running.