News
Masters 2018: Tiger is good with his opening act at Augusta
Woods knows he can do better than his first-round 73, but is pleased with the way he handled adversity in his major championship return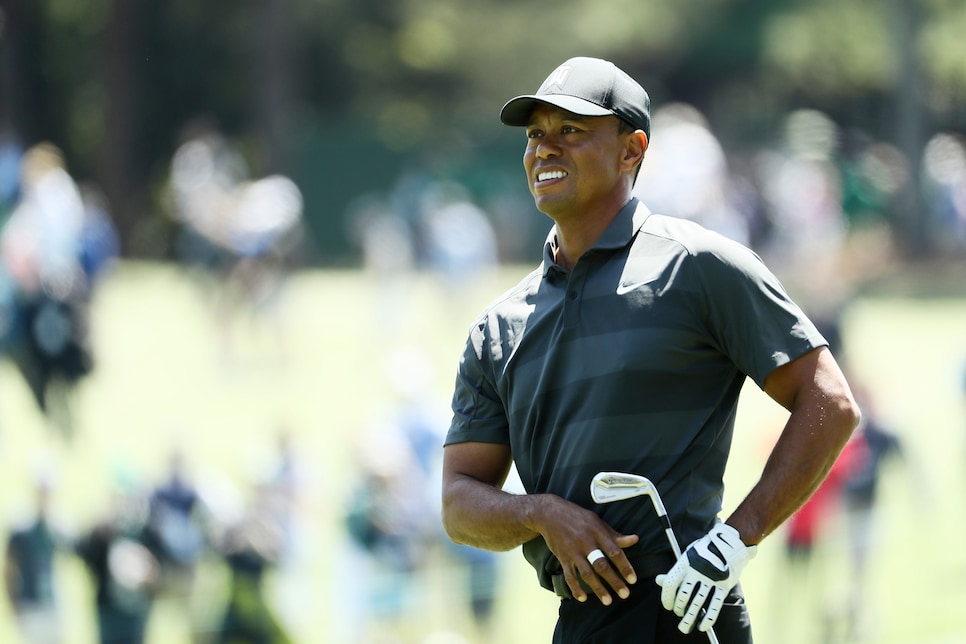 Photo By: Jamie Squire/Getty Images
AUGUSTA, Ga. — After fanning his approach into a greenside bunker at the par-5 second hole following a perfect drive, a perturbed Tiger Woods stomped his right foot into the hallowed turf of Augusta National Golf Club.
Earlier in his career Woods could spin anger into achievement, and you wondered if he wasn't already trying to light a fire in himself in the chilly Spring air. Sure enough, he birdied the third, and the whispers among the wise old pines mixed with the cheers of his overflow gallery to bring a familiar buzz to Thursday's opening round of the 82nd Masters.
The buzz never dissipated as the four-time champion played his first round in three years at Augusta. But the turf seemingly had no memory of his past exploits. Or, more likely, he found parts of it he seldom had visited in his previous 20 appearances. Whatever the case, Woods had to fight and scrape for every stroke to manage a one-over-par 73 that was about the best he could have done.
"Seventy-three is fine," said Woods, whose promising return from spinal fusion surgery made him a pre-tournament favorite despite his two-year absence. "By the end of the week this will be a pretty packed leader board the way the golf course is set up. They have it right where they want it. It's really hard to run away from it, but it's also really easy to lose it out there. By the end of the week there will be a bunch of guys with a chance to win this tournament."
To his credit, Woods made sure he was one of them.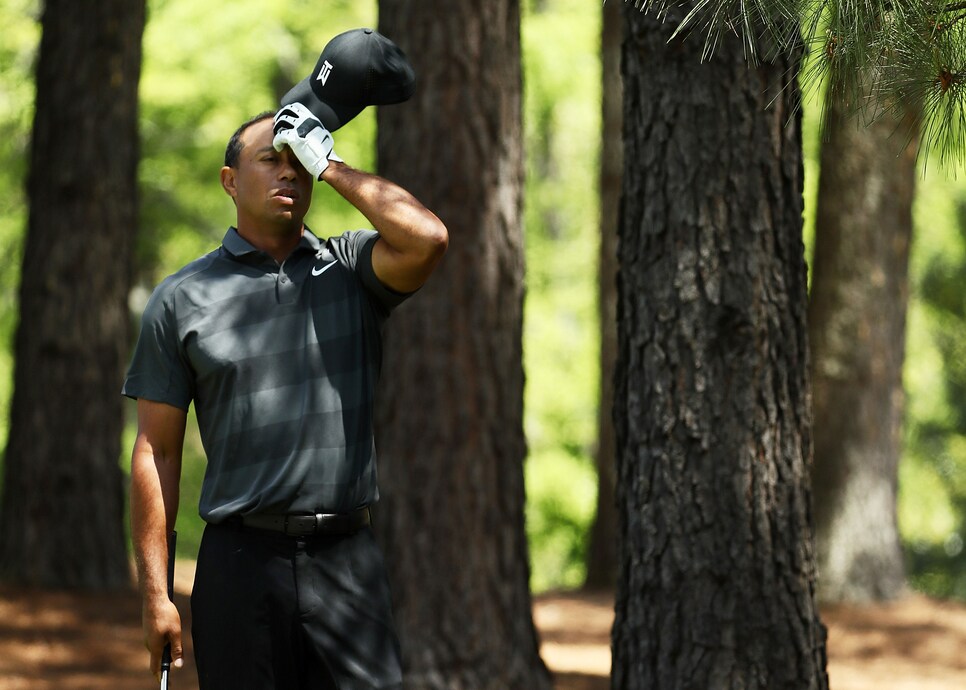 Jamie Squire/Getty Images
Truthfully, the 14-time major winner played golf Thursday morning much like the late Arnold Palmer. Woods was friendly with the patrons because he was frequently among them. He started with a pulled tee shot into the throng at No. 1, flared drives over their heads at 11 and 15, and sent them scrambling on second shots at 11, 13 and 15 as well.
Dropped shots at Nos. 4, 5, 11 and 12 left him sliding in reverse, but it was the bogey at that little demon hole, the 12th, that actually keyed a late rally. A poor 9-iron that he "stuck into the ground" sent his ball into the bank short of the green and it caromed into Rae's Creek. But after a lengthy deliberation on where to take his penalty drop, he pitched on a sank a 20-footer, the longest he made all day.
"It was very important. I just didn't want to drop it to four [over]," Woods said. "I figured I had two par 5s ahead of me. We were anticipating getting it back to even par, just fighting our way back to even par. And I made that putt. I didn't play either par 5 well. But I got two of them [strokes] back coming in. I could have easily let the round slip away from me, but I got it back."
A standard formula for success at Augusta National is to make hay on the par 5s, and Woods has feasted on them in his career, converting 156 birdies and 11 eagles in total. He eagled both 13 and 15 on Tuesday, and he made it look easy. It should have been; it was practice. All he could manage on Thursday was four pars.
He passed on further foot stomps. But he put the pedal down coming home, converting a seven-foot birdie on the par-4 14th—at the time only the second birdie of the day on Chinese Fir—and he trickled in a 15-footer for birdie at the par-3 16th. Pars at 17 and 18 were pedestrian but pressure-free, a welcome respite from the enervating events of previous holes.
The 73 from the 42-year-old, which ended his streak of 10 straight rounds of par or better in 2018, equaled his opening round from 2015, his last appearance here. Before that you had to go back to 2007 to find him shooting a round over par in the first round.
Only once did he claim a green jacket while failing to break par on Day 1, when he posted 74 in the 2005 edition, but rebounded with 66 and 65 in the middle two rounds and eventually outlasted Chris DiMarco in a sudden-death playoff.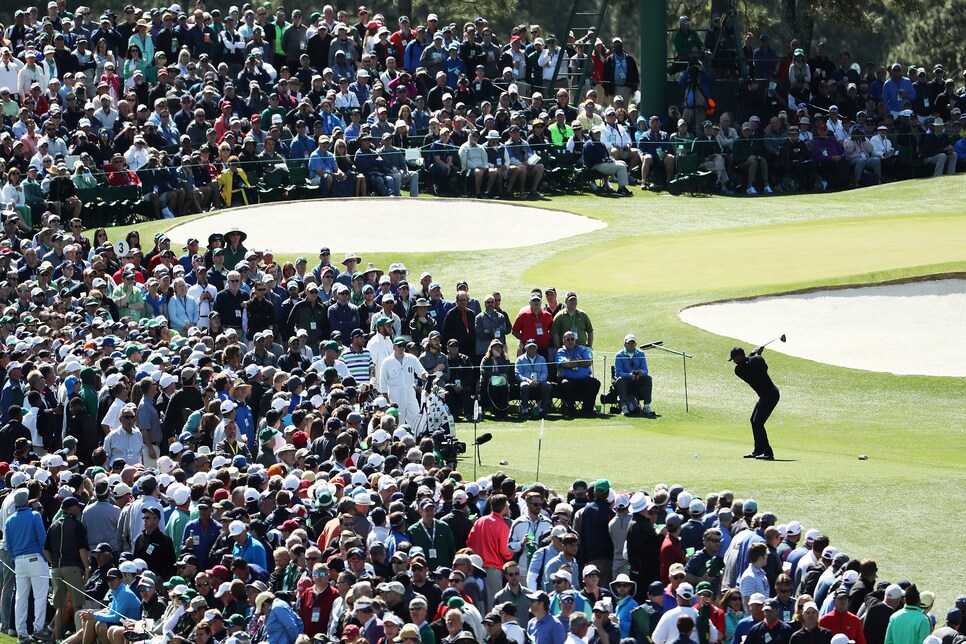 Jamie Squire/Getty Images
In the balance, the day was a success. He felt fine, the back held up, his nerves were "normal," he said. Perhaps he expected more of himself after finishing in the top five in his previous two starts, but there is plenty of golf remaining to make his comeback story more compelling and sensational.
He agreed that a weight was off his shoulders when he sauntered off the 18th hole amid sunshine and a standing ovation. Competing for another green jacket beats wearing one for an august dinner party and then hanging it back in the closet.
"Yes, I played in a major championship again, but also the fact that … I got myself back in this tournament, and I could have easily let it slip away," he said, repeating the theme of his day, not giving an inch, not giving in. Old Tiger stuff. "I fought hard to get it back in there, and I'm back in this championship. It will be fun the next 54 holes."