News
Masters 2018: How Tiger got his game back
A confluence of factors both mental and physical have led to Woods' most impressive resurgence yet
Photo By: Andrew Redington
Tiger Woods has never been an open book. That's true even now, as he takes what has almost universally been considered a kinder, gentler path with fans and media during his comeback.
It seems logical to assume that Woods' primary goal is to get back to the mountaintop and win more majors after years of personal, professional and physical pains. But is that the case? Or is he coming back more for the ride than the destination?
There's no way to know, but some guesses are more educated than others. Dr. Michael Lardon is a practicing psychiatrist who has helped elite performers in sports and business make the most of their mental processes for more than 30 years. He doesn't work with Woods, but he was a part of Phil Mickelson's team when Mickelson recovered from last-hole disappointment at the 2013 U.S. Open to win the British Open at Muirfield the next month. He has been watching Woods' fall and rise as an interested, well-informed observer.
"I remember one of the first interviews I gave about Tiger after he first crashed, in 2009, and I said something to the effect that Tiger wouldn't struggle because players got the better of him but because he himself didn't feel right," says Lardon, who has a private practice in San Diego. "In high level competition, you're so exposed out there, and you need to be at peace. During his first comeback, I was on the range with one of the players, and you heard this cheering mixed with booing. I looked at him and he had a weird look on his face—like a deer in the headlights. He used to have this swagger, and it wasn't there."
After another few back surgeries and some intensive recovery, Woods is presenting as a much calmer, happier and balanced guy, says Lardon, and fans are responding. "He's human, like everybody else. Imagine what it must be like to have everybody kissing your ass all the time, and you go through the trauma of having these affairs and doing these embarrassing things, and having your kids read about it. We know how horrific that is for just a regular person. It obviously takes some time to be at peace with that kind of stuff. Now, he seems to be out there smiling and signing autographs. He's more open. It looks like there's some peace there. The fans love him and miss him, and he's gone from this robotic terminator to a human person who has had affairs and DUIs. He has kids, he's had injuries. He's had surgery. He's real."
To the delight of virtually the entire golf industry, this newer, "realer" version of Tiger Woods seems to be able to hit a ball pretty well, too. "It's crazy...All of a sudden I have this pop in my body and my speed and timing are back," Woods said Tuesday. "I'm hitting speeds that I hit in my prime. That part is very exciting, because I know that if I can maintain this, I can play out here for a very long time and be able to get around pretty much any of the golf courses."
Woods and Mickelson played what might be the most celebrated Masters practice round in a decade Tuesday, and Mickelson came away from his first up-close look at the rebuilt swing impressed with more than just Woods' speed. "I thought with the injuries his speed might not be as great, but some things never change and I can't keep it up with him," Mickelson said. "I know he had a big challenge, but the game for him looks easy."
Mickelson was talking about Woods' comfort going after the ball with full violence off the tee, but he could just as well have been referring to the reemergence of Woods' short game touch—which famously left him for a spell in late 2014 and early 2015. All of the recovered clubhead speed in the world wouldn't have mattered if Woods couldn't find a way to get basic chips on the green.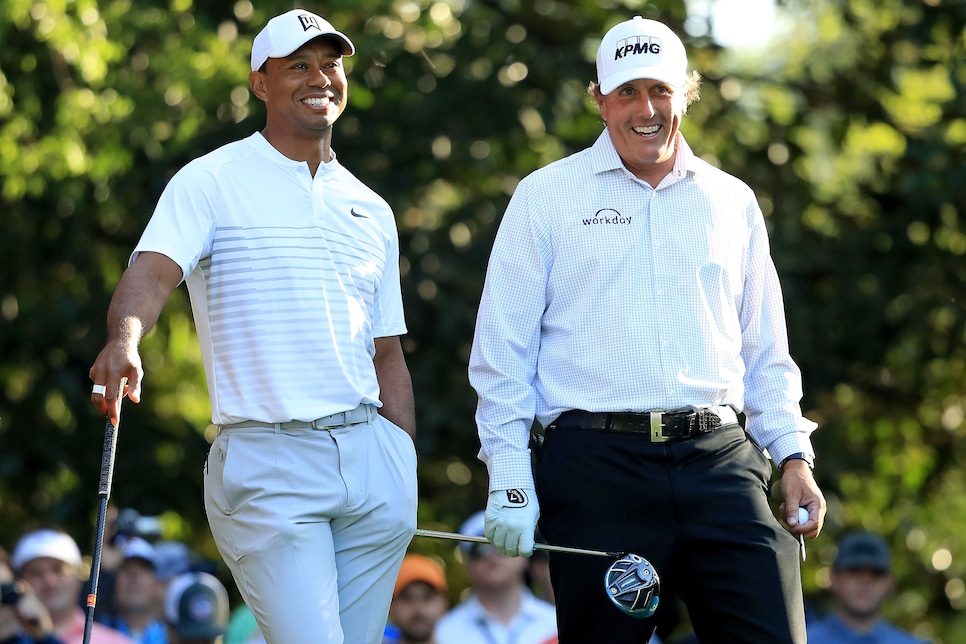 Andrew Redington/Getty Images
Without diving too deeply into the world of swing mechanics, Woods' short game problems started as he tried to add more of the old width into his backswing on full shots. The change leaked into his short game, and caused a very yippy short circuit. Woods was trapped between a mixture of new and old movement patterns, and pain from his unresolved back issues made hunching over a wedge for hours of short game practice impossible. But once Woods rediscovered his old pitching release—more of a flowing throw instead of hard pull with the handle—he was ready to take advantage of the practice time his successfully fused back allowed him. In his tournament starts leading up to the Masters, Woods' short game has been vintage quality, and a legitimate weapon.
"I think what threw people people the most was how off he was with those shots," says tour short game guru and Golf Digest 50 Best Teacher Kevin Weeks. "Seeing a tour player have that much trouble is really rare, because they all have such great hands. Even a bad short game player on tour would put on a clinic at your club, so 'bad' is a relative term. But the shots Tiger had been hitting were ones he had probably never hit in his life. He was so steep coming down, and it forced him to move backwards on the ball. If he didn't hit it perfect, he'd blade or chunk it."
Because Woods' mechanics had migrated so much, Weeks says, it was clear that getting them back in tune would resolve the issue. "And that's what happened. When he felt better and could practice, he was able to find where he use to be and get comfortable again. It didn't take long for it to click back in."
Woods is swinging plenty fast enough to produce competitive distance, his short game has been trouble-free, and he's made his way up leader boards in Tampa and Orlando. Finishing eight shots behind Rory McIlroy at Bay Hill obviously isn't the same as winning four majors in a row, but it's also light years better than the guy who was yipping basic pitches on his way to an 82 at the 2015 Phoenix Open.
If competitive-but-not-dominant is what reality is for the 42-year-old Woods, will that be enough? Only he can say for sure, but Lardon believes Woods is starting to ride the wave of confidence and focus that separates the legends from the rest. "I bet there isn't any doubt in his mind anymore," says Lardon. "He was sure of it before, and now the results he's seen have shown him he's right there. He's thinking to himself, I can't wait to get to Augusta. We're looking at what was for a long time the ultimate Ferrari revving up again."
"The amount of work it took to get to where he is physically, that by itself is an incredible accomplishment," says Lardon. "And to consolidate it mentally, too? It's very impressive. I think he's come to understand that his body has some limitations, and that has guided him to being less concerned with making a perfect swing and more about making the best swing for him. He's looking inside. Honestly, it's a lot like what his ex-girlfriend, Lindsey Vonn, has done in her career. She's had one of the most impressive late-career records of anybody in any sport, because she knows herself and her body so well. Those show why they are the elite of the elite."