News
Masters 2018: Dustin Johnson is watching his step this year at Augusta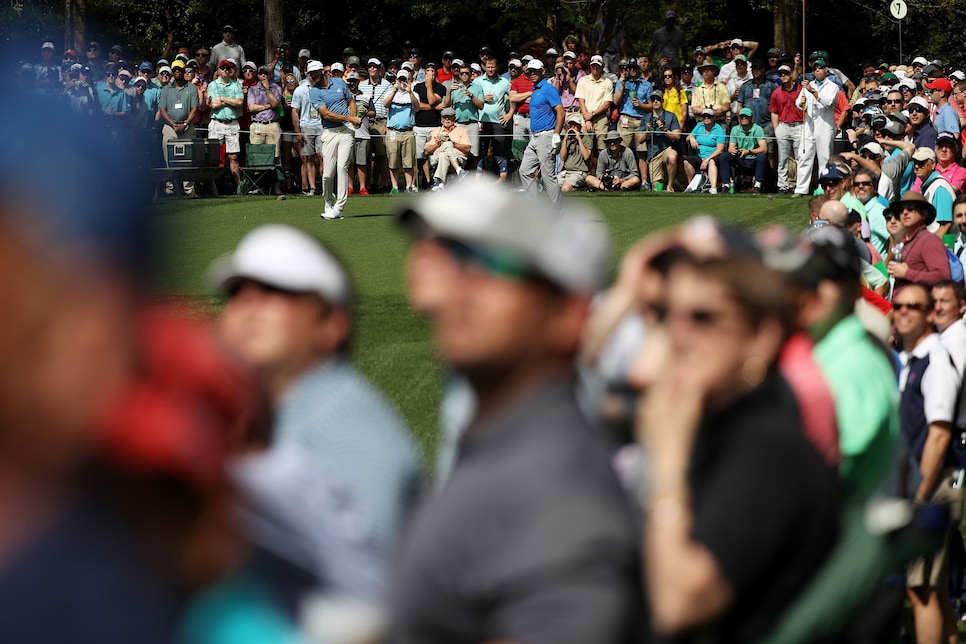 Photo By: Patrick Smith/Getty Images
AUGUSTA, Ga. — The Masters is always met with a great deal of anticipation, yet Dustin Johnson is looking forward to it more than most, and with good reason.
A year ago, Johnson was playing the best golf of his life, a winner of three straight starts and the favorite going into the year's first major.
Then his sock-covered feet met a few slippery wooden steps.
Johnson's agent, David Winkle, was having a late lunch and a beer with his wife, Betsy, and another agent at Carolina Ale House a few miles from Augusta National on a rainy Wednesday afternoon when he called Johnson and left a message about how they should take Johnson's courtesy car to the annual Golf Writers Association of America awards dinner around 6 that night to pick up his PGA Tour Player of the Year award. The speech was already written.
A few minutes later, Johnson called back.
"It was real loud because of all the people and the rain," Winkle recalled. "I said, 'Hang on, I gotta go outside.' He said, 'I just fell real bad.' I said, 'You fell?! How bad?' He said, 'Bad.' I said, 'Oh shit, I'll be right there' and I ran back in and told them Dustin just fell. They asked how bad, and I told them I didn't know but to just stay there and I'd be back."
It was around 3 p.m. that day when Johnson, who was joined at the house by his chef; brother and caddie A.J.; and fiancée Paulina Gretzky, decided to move his car out of the garage to make room for the couple's nanny, who was on her way back from day care with their 2-year-old son, Tatum. As he went down the three steps leading out of the room, his foot came out from underneath him like a cartoon character, and he smashed his back and both elbows on the hard wood. Paulina was upstairs and heard the thud. A.J. did, too, and when he got there found Dustin red-faced, out of breath and writhing in pain. Johnson thought he'd broken his back.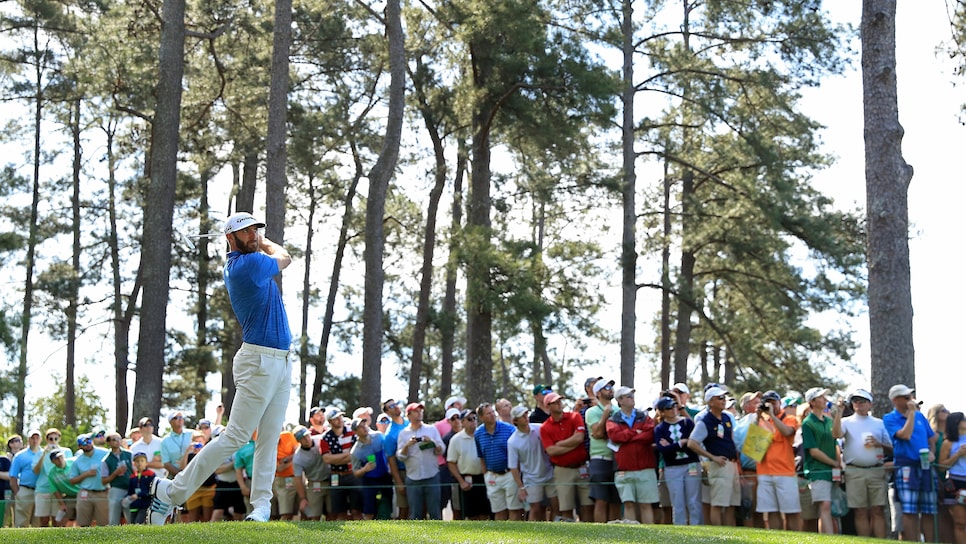 Andrew Redington/Getty Images
By the time Winkle arrived, Johnson was propped up on the couch, a pillow under his legs and looked out of it. The mood in the room was solemn. Also there were Johnson's trainer Joey Diovilsalvi, Dr. Ara Suppiah and physical therapist Mark Wahl. They treated Johnson's back and hoped he'd be better by morning.
"I bet I got 300 messages between texts, calls and emails," said Winkle, who turned his phone off for about 30 minutes that night to celebrate an interrupted wedding anniversary with his wife over a pizza. When he turned the phone back on the messages kept coming. "CNN wanted to know what time Dustin would be arriving at the course so they could have a crew there."
When Johnson arrived at Augusta National the next day, he gingerly walked to the physical-therapy trailer, received treatment that including cupping on his back, and then headed to the range. Though he was still sore, he said was "gonna give it a go" and made his way to the putting green behind the first tee. A short time later, he told Winkle it hurt when he walked and that he had been having a hard time hitting shots. Winkle's advice was that while the decision was up to Johnson, risking the entire year wasn't worth one week or even one day. It was then that Johnson turned to Winkle and let him know to tell officials he was out. Winkle went over to media committee members Rob Johnston and Tom Nelson and with a lump in his throat said, "He's out, guys."

"That was hard," Winkle said. "Knowing what this week means to Dustin, I knew he was dying inside. I'm not a believer in life or golf owing you anything, but I think things happen for a reason and think maybe the golf gods will look favorably on him this week."
Johnson said it took six months for him to get over the injury, which prevented him from turning all the way through his shots and led to a shorter swing, with his hands sometimes prone to pulling the ball.
"His swing is just now lengthening again," says Claude Harmon, Johnson's instructor.
It has shown in the results, too. Johnson won the first FedEx Cup Playoffs event, The Northern Trust, in August and two months later added a runner-up in China. He opened this year with a win in Maui and finished second at Pebble Beach a few weeks later.
"Last year I was about as confident as I've ever been, so [my confidence level] was probably a 10," Johnson said. "This year, it's probably a 9½."
His preparation for this year's Masters has gone smoothly so far, too. Johnson played 36 holes with Michael Jordan at The Floridian last Friday and didn't miss a fairway, followed by a round with President Donald Trump at Trump International in nearby West Palm Beach a day later.
He's also staying in a different house and eager to get another crack at Augusta National, where he finished T-6 in 2015 and T-4 in 2016.
"Well, I mean, yeah, because I get asked it every day out here on the range or walking down the fairway," Johnson said when asked if he thought about the mishap when he arrived for this year's tournament. "I'm reminded all the time. So, yeah, I definitely was thinking about it. It is what it is. It was kind of just a freak thing and it happened, there's nothing I can do about it except I'm here this year, hopefully I can tee it up on Thursday, and definitely be looking forward to that.
"Yeah, it's good. Starting to swing it a lot better. Feeling a lot better on the golf course, for sure."