News
Masters 2018 Live Blog: Patrick Reed two-putts for par on 18 to hold off Rickie Fowler to earn his first major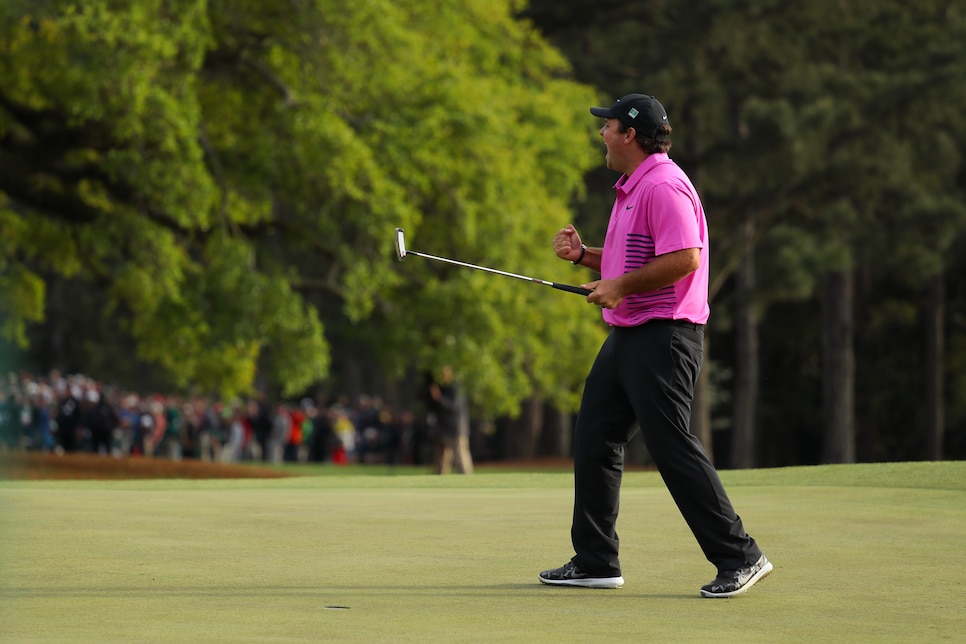 Welcome to Sunday at the Masters. This is the day marked on so many golfer's calendars every year. It's our Super Bowl Sunday. It's our Kentucky Derby or Wimbledon. Nothing beats Masters Sunday.
We should be in store for an entertaining Sunday, given our final pairing of Patrick Reed and Rory McIlroy. Reed's magnificent play has given few others behind him a chance for a green jacket in 2018. Though Rickie Fowler and Jon Rahm both matched Rory McIlroy's bogey-free rounds of 65 on Saturday, they sit five and six back, respectively. They'll certainly have a chance if Reed and McIlroy falter, but the odds of the winner coming from the groups behind them is very unlikely.
Reed and McIlroy have both looked like men on a mission this week—Reed threatens to become the first golfer in Masters history to shoot four rounds in the 60s. Remarkable, considering all the legends who have had fine weeks at Augusta National, none of them had four straight rounds in the 60s. And McIlroy finds himself in the final group on Sunday at the Masters for the first time since his collapse on Sunday in 2011, where he shot a final-round 80 after holding a four-stroke lead after Saturday. The four-time major champion would become just the sixth golfer in history to complete the career Grand Slam (Gene Sarazen, Ben Hogan, Gary Player, Jack Nicklaus and Tiger Woods).
As you might've heard, the Masters really doesn't start until the back nine on Sunday. Well, that's not entirely true: We're going to get you ready for all the action that happens before the leaders get to the back nine.
Masters 2018: Sunday Live Blog:
6:51 p.m.: And now Patrick Reed has made his way to Butler Cabin for his green jacket.
And how about Rickie sticking around to congratulate his Ryder Cup teammate Patrick Reed on holding on for the title? Nothing but class from Rickie.
6:39 p.m.: Patrick Reed: The 2018 Masters champion! The former Augusta State golfer has earned a green jacket with two gutsy pars at 17 and 18 to hold off Rickie Fowler.
As Jim Nantz put it, "Captain America, captures Augusta!"
There will be a number of moments that will stand out for Patrick Reed. Classy birdies at the seventh and 12th holes. His ball staying on the bank above the water at 13, his first putt from long range on 17 hitting the cup, then knocking in the five-footer for par. And then of course, the two-putt par on the 18th hole to etch his name in the history books.
This is a crazy stat, too:
6:37 p.m.: Reed's first putt runs a little more than 3 feet by. Now this to win his first major ....
6:32 p.m.: Patrick Reed's approach is on the green, but he's on the upper tier—needing that two-putt par for the one-shot victory over Rickie. It's not the easiest two-putt ... about 20 feet above the hole.
6:27 p.m.: Rickie Fowler finishes with a birdie at 18! That means Patrick Reed's lead is just a one shot coming to the 18th tee.
Reed knocks it into the fairway—jusssst short of the fairway bunker on the left side. A par will give him the biggest victory of his life.
6:25 p.m.: Ian Baker-Finch with the call that Patrick Reed's par putt at the 17th hole was the "putt of his life." Reed knocks it in for par, to remain two shots up on Rickie and Spieth ... with Rickie needing to hole this birdie putt at 18 to trim the lead to one.
6:22 p.m.: WOW! What a putt for his third on the 17th from Patrick Reed—it got a piece of the cup and just rolled to five feet away. He'll need that for par, which he might need for some cushion with Rickie Fowler in close ...
Rickie just hit one of the best shots of the day at the 18th hole! He puts his 9-iron from 154 yards out to within 7 feet for a chance to go one back of Patrick Reed.
6:12 p.m.: Patrick Reed nearly rolled in the 15-footer for birdie on the 16th hole, but it comes up just short. He heads to the 17th hole with a two-shot lead.
6:06 p.m.: Patrick Reed is safe at the par-3 16th hole—he'll have an uphill putt for a birdie to extend his lead to three. That might put this out of reach...
6:00 p.m.: The tee shot ends up costing Jordan Spieth. Even after a great second and third shot to give himself 8 feet for par on the 18th hole, Spieth missed it left—and bogeys to drop to two shots back of Patrick Reed.
Spieth's round was nearly historic, but it was certainly sensational. The missed birdie putt might've put some extra pressure on him on the 18th tee, and his tee shot, hitting the trees, lead to the 8-under 64 that is still one of the best Sunday rounds ever played at Augusta National.
Reed did well to scramble for par to remain two up heading to 16.
5:47 p.m.: Patrick Reed converts on his birdie at 14 to retake a one-shot lead. Meanwhile, Jordan Spieth ... with probably the worst drive at No. 18 he's ever hit in all his rounds at Augusta National.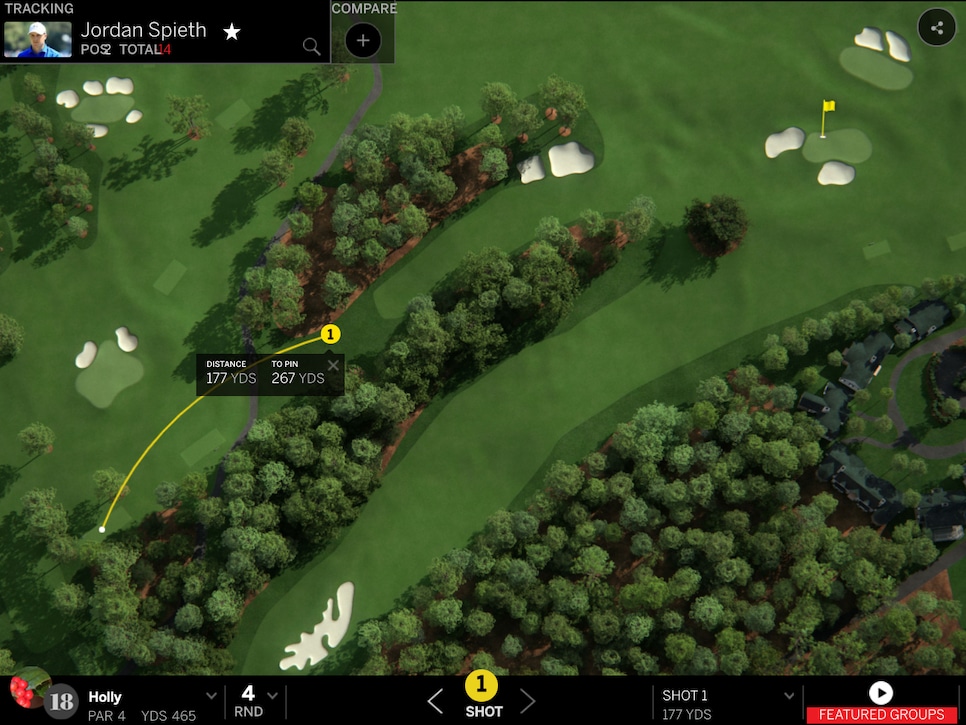 That hit the trees off the tee ... only traveling 177 yards. 177? 177. Wow ... he'll have his work cut out to make a 4 to tie the course record.
5:39 p.m.: Jordan Spieth has another birdie look now at the 17th hole to try to get to 10-under on the day (!!?!) and take the outright lead. Wow. The three-time Masters champion is not only threatening the course record (63, shot by Nick Price in 1986 and Greg Norman in 1996), but to overcome a nine-stroke deficit for the largest comeback to win the Masters. (Jackie Burke trailed by eight shots en route to winning the 1956 Masters.)
Patrick Reed has put it close at 14, and still has the par-5 15th to play, so Spieth might just need a birdie at 17 or 18.
5:31 p.m.: We now have a tie atop the leaderboard. Jordan Spieth started the day seven back of Patrick Reed. He has now caught Reed. What a birdie for Spieth at the par-3 16th!
He turned to his caddie Michael Greller and said: "Are you kidding me!" WOW. He's now 9-under (!) heading to the 17th hole. Spieth has a chance to shoot the course record, and do so on Sunday, which he has never done.
Patrick Reed has left himself a tough birdie putt at 13 after coming up short on his second shot. He was lucky to stay out of Rae's Creek in the rough above the water.
5:22 p.m.: USA's star Ryder Cup duo are exchanging body blows. Jordan Spieth answers Patrick Reed's birdie at the 12th hole from off the fringe (and a vintage fist pump and celebration) to add a birdie of his own at 15 and stay one back of Reed.
5:12 p.m.: Things are getting verrrry interesting here on the back nine. Patrick Reed found trouble on 11, but hit a nice pitch for his third to give himself a chance at a par. But Reed pushed the putt—and his lead is now only one over Jordan Spieth, and two over Rickie Fowler—as Rickie birdied the par-3 12th.
Reed will have to regroup here. He's now 1-over for the day.
5:02 p.m.: Tony Finau finishes up on 18 with one of the most unique and memorable debuts at the Masters. His gruesome injury celebrating a hole-in-one at the Par 3 Contest made was one thing. He somehow managed to recover and tee it up -- then lead for some time on Thursday.
Now, he just created a tremendous memory, birdieing six holes in a row, en route to final-round 66. That might ensure a top-10 finish in his debut appearance at Augusta National. Impressive stuff from Finau.
4:51 p.m.: And now it's just a two-shot lead for Patrick Reed—after Jordan Spieth hit a tremendous second shot from 228 yards on the 13th hole. He missed the eagle putt, but the easy two-putt birdie trims the lead of Reed.
And now Spieth is two back ...
They said the lead was too big ...
4:43 p.m.: Hey, did you ever hear the Masters doesn't start until the back nine on Sunday? No? You never read that? Yes, you almost certainly have, especially if you've ever read the writing of Dan Jenkins or Peter Thomson.
Patrick Reed and Rory McIlroy are making the turn, with Reed holding a three-stroke lead over Jordan Spieth, and four shots above Rory, Rahm and Rickie.
4:37 p.m.: All the things are happening! Charley Hoffman just made a hole-in-one at the par-3 16th hole (ironically, while paired with Tony Finau, whose gruesome-looking injury after his ace in the Par 3 Contest was one of the biggest stories earlier this week.
And then Jordan Spieth just canned an unlikely birdie at the par-3 12th, after CBS ran a long montage of his quadruple bogey at the 12th hole in 2016, to get to 6-under for the day -- and he's now in second place alone, and just three back of Patrick Reed.
4:34 p.m.: Rickie birdies 8 and 9 to turn in 1-under—he's now in a four-way tie for second place.
4:30 p.m.: Wow, CBS holding nothing back as Jordan Spieth walks to the 12th tee. That was a pretty brutal montage of Spieth playing the 12th hole in 2016, en route to his quadruple bogey. Spieth goes a little long on his tee shot, but safely just in the fringe.
The patrons behind the 12th tee gave Spieth a nice Bronx cheer as he laughs at the significance of him staying dry at 12.
4:21 p.m.: Paul Casey's course-record-tying birdie effort at the 18th slides well past the hole, and then he misses his par for 64 as well. Bogey-bogey finish for a seven-under 65, which is still pretty decent.
At No. 8, Rickie Fowler finally gets on the board, holing a slippery birdie putt to get to nine under. Rahm went on to save his par and he stays at 10-under.
4:16 p.m.: Just as things were going bad for Patrick Reed, he comes up big at the par-4 seventh, nearly funneling his approach shot in for eagle. Kick-in bird to get back to 14-under. Clutch. Rory McIlroy makes par and is now three back.
At No. 10, Jordan Spieth barely misses another birdie putt. He's still 10-under as he heads to Amen Corner. Also at 10-under is Jon Rahm, who is in a bit of trouble at the par-5 eighth.
4:02 p.m: At the 17th, Paul Casey has about 10 feet left for his par, one he'll need if he wants to break the course record, rather than just tie it.
Speaking of low rounds, Jordan Spieth just buried another birdie putt to turn in five-under 31. He's at 10-under, which is now just three back as Patrick Reed bogeys the par-3 sixth. Don't let Jordan get hot!
Rory McIlroy's tee shot at the sixth comes up well short, but he was able to get up-and-down for par to stay at 11 under. Getting very interesting all of a sudden.
3:40 p.m.: Paul Casey is really threatening the course record at Augusta National. Starting at No. 11, Casey has gone birdie, birdie, eagle (at 13), birdie, birdie. The Englishman is now 9-under for the day and suddenly inside the top 10. Pretty amazing considering he made the cut on the number (+5). What a weekend!
3:38 p.m.: Rickie Fowler's in some trouble at the difficult par-4 fifth hole. Rickie's second shot kicked beyond the green, and with a back hole location, he's going to do well just to bogey the hole now.
3:33 p.m.: Patrick Reed with an impressive two-putt par at the fourth hole—but he can't prevent Rory McIlroy from trimming the lead to one stroke. Rory hit his tee shot on the 230+-yard fourth hole to 3 feet, leading to an easy birdie ... on a hole that's really not easy.
There's been at least a one-stroke exchange on every hole. Now, the lead is back to two. Reed stays at 14-under. Rory moves to 12-under.
3:23 p.m.: If this in fact like the Ryder Cup, Rory might've won the first two holes, but we have a two-shot swing at the third hole. Reed rolls in a putt from the fringe on the third green for a birdie—and Rory's errant second shot, which spun off the front edge, leads to a bad bogey from the fairway for Rory.
And we're back to a three-shot lead for Reed.
3:13 p.m.: Well, Tiger's 18th hole is a bit emblematic of his week on the whole. Putting from the upper tier on the last green, Tiger's second putt from 40 feet rolled out to 7 feet—leading to a three-putt bogey for the four-time Masters champion.
He didn't achieve his goal of finishing at even-par, falling one shy of that goal, but it was good to see Tiger back at Augusta National.
When's the next time we'll see Tiger? Maybe at the Wells Fargo. If not, he might not play until the Players in May. We'll see if he talks about his schedule in his post-round interviews...
3:11 p.m.: Rory's four-footer for eagle misses on the low side, but he makes the come-backer for a birdie. He trims the lead of Patrick Reed to one shot, as Reed pars the par-5 second.
We have a ballgame, folks.
3:06 p.m.: Advantage: Rory McIlroy on the second hole. An amazing second shot here by Rory—after a big-time drive of 345 yards on the downhill par 5, Rory's approach rolled out to 4 feet. And Reed's approach found the front left bunker.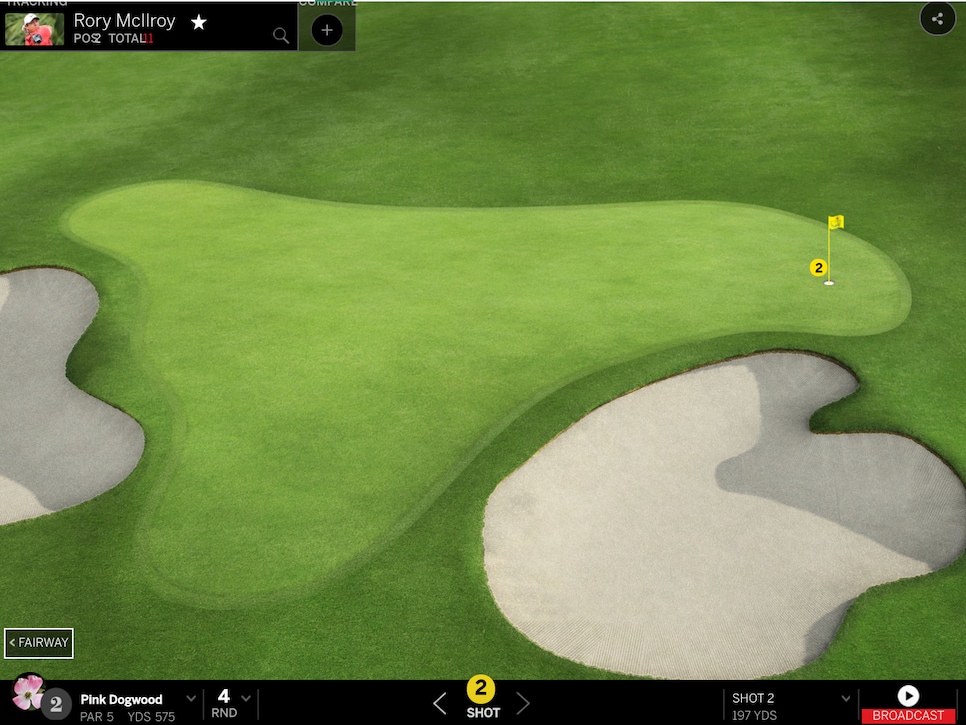 Reed did well to hit his bunker shot out to about 12 feet below the hole for a birdie look.
2:59 p.m.: Tiger Woods is putting together his best stretch of golf all week. Yes, it's little too late—but Tiger will surely be way happier with the way he's hitting his irons. The four-time Masters champion just birdied the 17th to get back to even-par on the tournament (and four-under today). Tiger now owns five birdies on the day, to go with his eagle at 15. An impressive Sunday from TW.
2:53 p.m.: Patrick Reed: Welcome to Sunday at the Masters. The fiery competitor has made an opening bogey after skying his bunker shot over to the back of the green.
Bogey at No. 1 isn't a killer, as it's one of the toughest holes on the course. But his lead is now just two over Rory—with Rory doing well to get up and down from a lie on the downslope of that same bunker Reed was in.
Meanwhile, Jason Day just added a highlight of his own. From 66 feet!
2:47 p.m.: Both Rory and Reed did well to find the front left greenside bunker with their approaches. Rory caught a break to have a nice path out of the right trees—Reed had a restricted backswing with his ball nestled close to a tree on the left side.
It should be a straightforward bunker shot with a decent amount of green to work with, but on the first hole, it's a decent, early test of nerves.
2:41 p.m.: The final group—Rory McIlroy and Patrick Reed—have now teed off! And oh boy, Oberto: Rory might be in some trouble.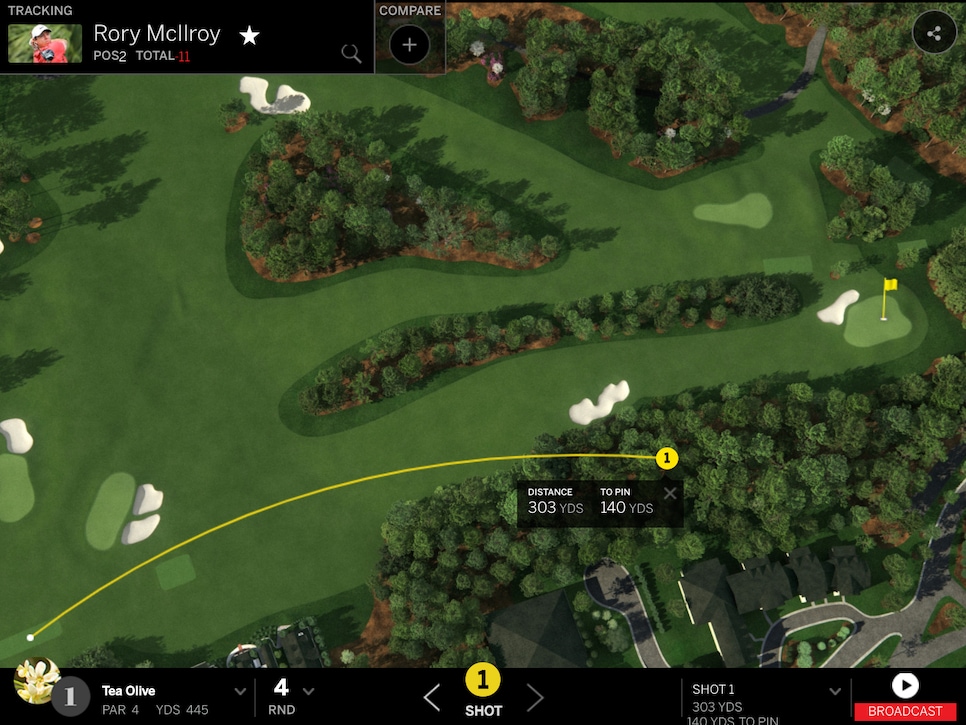 Reed's ball went to the left, too—and he'll have some tree trouble on his second shot.
2:34 p.m.: Tiger! This might be the highlight of his tournament—rolling in a great eagle putt at the 15th hole. Finally, some crystal for Tiger!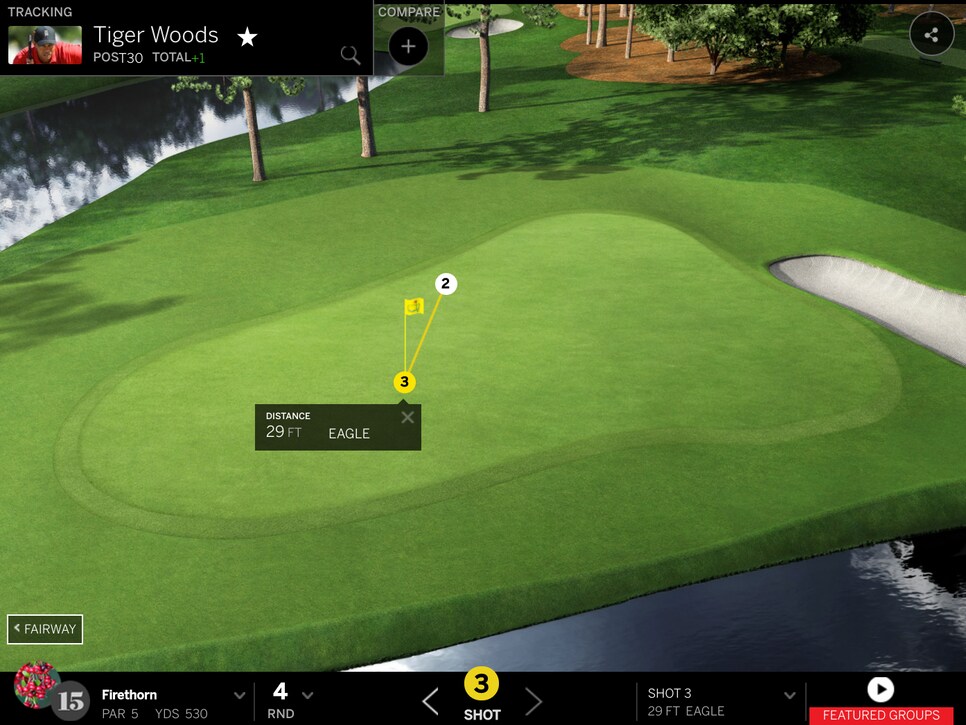 twitter: https://twitter.com/TheMasters/status/983051278325497856]
2:30 p.m.: Webb Simpson has tapped in for his two-putt birdie at the 13th hole. Webb had bogeyed the par-3 12th hole, but the birdie at 13 brings the former Wake Forest golfer back to 3-under for the tournament. Low numbers, they are out there.
2:27 p.m.: A birdie-birdie start for Jordan Spieth has the 2015 Masters champion to 7-under. That's quite the difference from his Friday start, when he went double bogey-bogey to start as the leader.
2:09 p.m.: Jordan Spieth has started his day with a birdie, rolling in a seven-footer on the first hole to get to 6-under. Can he go low today and put up a number that scares the leaders? Reed and Rory would have to come back to earth—and Spieth would have to go super low.
Also, what's the over/under on the number of times we hear that Spieth and his buddy Justin Thomas are good friends? We can count two already in the first 10 minutes of the broadcast. If they continue to play well, it might be quite a few.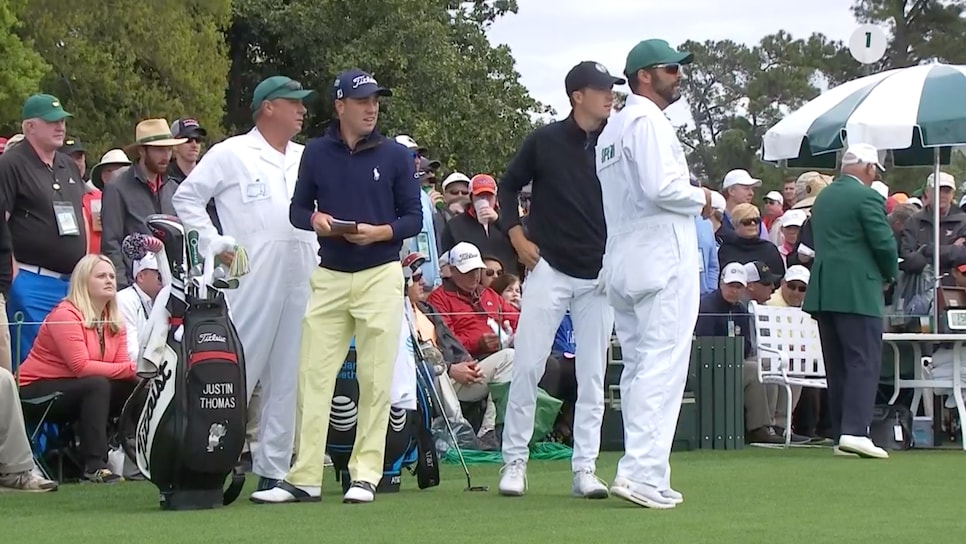 2:04 p.m.: Tiger's eagle didn't scare the hole, but he does have an easy birdie. The 14-time major champ is now 1-under on the day.
In case you didn't see, Phil Mickelson put up the low round of the day so far with a 5-under 67. His attention will no doubt shift to the U.S. Open at Shinnecock, where he has a chance to complete the career Grand Slam. Of course, there are quite a few events to play before that—he'll play the Players and surely the Wells Fargo Championship at Quail Hollow, where he often plays. But the five-time major champion will definitely have Shinny in mind over the next couple of months.
1:59 p.m.: Tiger has hit a fabulous shot into the 13rd green, from just 182 yards out—to about 18 feet for eagle. Tiger could earn some crystal on a week in which he hasn't put up many low numbers at Augusta National.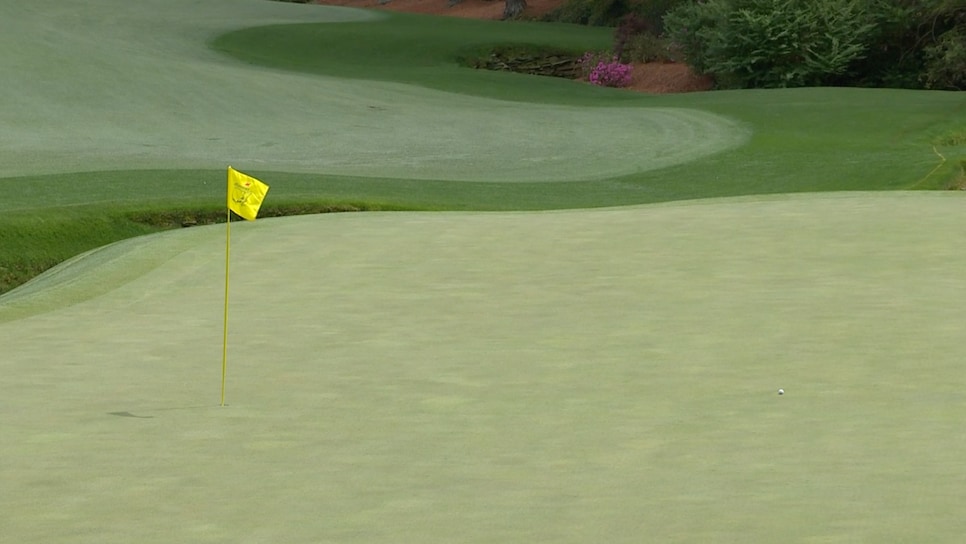 Meanwhile, Webb Simpson has birdied the 10th hole and continues to keep moving up the scoreboard. He's 6-under on his round, and up to 3-under for the tournament. Webb's pulling a Matt Kuchar for the back-door top 10...
1:50 p.m.: Tiger has gone par-par as he is two-thirds of the way through Amen Corner—two rather stressful two-putt pars. The four-time Masters champion is still even for the day, now through 12.
1:46 p.m.: According to Golf Channel's Justin Ray, Webb Simpson's back-to-back eagles marks just the fourth time ever a player has done that in Masters history. Wow ... Webb has made the turn in 5-under 31, and is now 2-under for the tournament.
If nothing else, Webb has shown us that low numbers are possible here.
1:39 p.m.: Tiger's approach at the 10th was a good one, but he walks away with a par. At No. 11, he's on in regulation again, but he's got 42 feet left for birdie.
Meanwhile, Webb Simpson just made another eagle at the par-5 eighth. Back-to-back eagles for the 2012 U.S. Open champion and he's now -5 for the day, -2 for the tournament.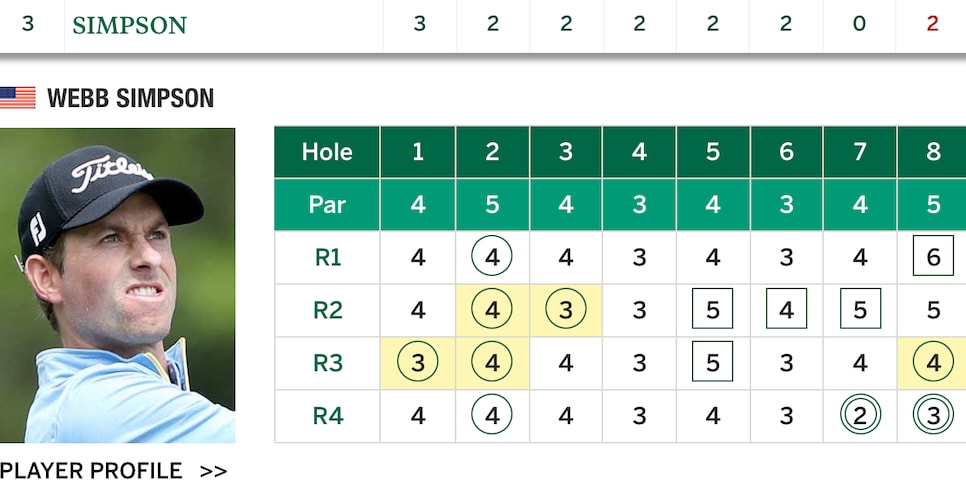 1:19 p.m.: Another huge drive at the ninth leaves Tiger a wedge in, and he spins it off the front of the green. Even after hitting a chip tight, he misses the par putt. Woods turns in even par 36 with three birdies, three bogeys and a bunch of missed opportunities.
For the third straight day, Hideki Matsuyama bogeys the par-3 fourth and falls back to -1.
Webb Simpson's eagle at the par-4 seventh puts him at -3 on the day, even for the tournament. Let's hope there's video soon, because we'd have to guess Simpson funneled his ball back to the traditional Sunday pin location. Always an exciting hole in the final round of the Masters.
1:07 p.m.: After crushing a drive at No. 8, Tiger just misses the green on his approach and then clips one perfectly, leaving a five footer for birdie, which he made. Woods is back to one under on the day, three over for the tournament. Not to exaggerate, but he should be -6, -7 or even -8. Ok, maybe that's a little aggressive.
The best round on the course belongs to Vijay Singh and Brian Harman, with both guys at three under on the day. Singh is +5 for the week, while Harman is at +4.
First guy to get into red figures is Hideki Matsuyama, who has birdied to of his first three holes to get to -2 for the week. After leaving the Waste Management Phoenix Open with an injury, Matsuyama has become the forgotten man in to top 10 of the world ranking, but he's quietly put together a solid week. Good to see him back and healthy.
12:47 p.m.: From four feet away, Tiger three-putts for bogey. Ouch.
12:40 p.m.: Tiger grinds out his par at No. 6, chipping to eight feet and holing the putt. Love to see the fight from Woods despite being 17 shots back. No doubt he's still trying to "post a number."
At the 7th, he smokes a driver down the right side and gets blocked out by a few branches on his approach. So he plays a huge cut and he plays it perfectly, hitting the green and spinning toward the hole. Short birdie look coming up. What a shot.
12:26 p.m.: Routine par for Tiger at the fifth, a hole he played three over for the week. At No. 6, he misses the green well right and will have a testy chip to try and get close. His playing partner, Rafa Cabrera Bello, sticks one close, and he'll have a birdie putt to get to one under on the day, two over for the tournament.
No one on the course has been able to get into red figures, but Zach Johnson is getting closer, having birdied the second and third holes to get back to even par for the week. Strong start for the 2007 Masters champion.
12:09 p.m.: Despite his shot rolling out to around 10 feet, Tiger still makes the downhill slider for birdie to get back to one under on the round, three over for the tournament. And to think he should have birdied one, nearly eagled two, and almost aced the fourth. Seems like he's dialed in.
12:03 p.m.: After dropping a shot at the par-4 third, Tiger hits the hole at the par-3 fourth with his tee shot, but it doesn't go for an ace. Unbelievable. Can the guy catch one break!?
11:55 a.m.: Right after his incredible pitch shot at the second, Tiger follows with a straight-up chunk on his second at No. 3. On his third, he barely gets it on the green and will have 13 feet left for par. Mickelson three-putted for bogey at No. 8. All of the morning Masters energy just vanished. Final groups can't tee off soon enough.
11:51 a.m.: Tiger takes driver at the third and it just rolls off the fairway down the left side. Meanwhile, Phil Mickelson has made three straight pars following his birdie run, and now has a 23-footer coming up for birdie at the eighth.
11:46 a.m.: Wow. Tiger plays the shot of the week (for him), going high up over the bunker and spinning the ball back to the hole and nearly jarring it for eagle. It's impossible to believe, but this is his first birdie of the week at the par-5 second, and just his fourth birdie on a par 5 all week.
11:39 a.m.: Tiger's drive at No. 2 finds the pine straw down the left side and he punches out his second all the way up near the green. Tough chip coming up though, with the front greenside bunker in front of him and the traditional tucked pin location on the right side of the green.
11:22 a.m.: Tiger hammers his birdie putt and it lips out. It's just not his week.
11:18 a.m.: For the third straight day Tiger pipes one that goes bounding down the first fairway, leaving him a wedge in. And finally, he hits the green! Friday and Saturday Woods' approaches at No. 1 came up well short, but this time he sticks one to five feet. We'll see if he can capitalize and get this final round going in the right direction.
11:10 a.m.: We're moments away from Tiger Woods getting his final round underway. He won't win, but it's good to see him back in the red and black on Sunday at Augusta.
There's only a few guys out on the course, but a familiar name is providing some early round excitement. Check out the card of Phil Mickelson: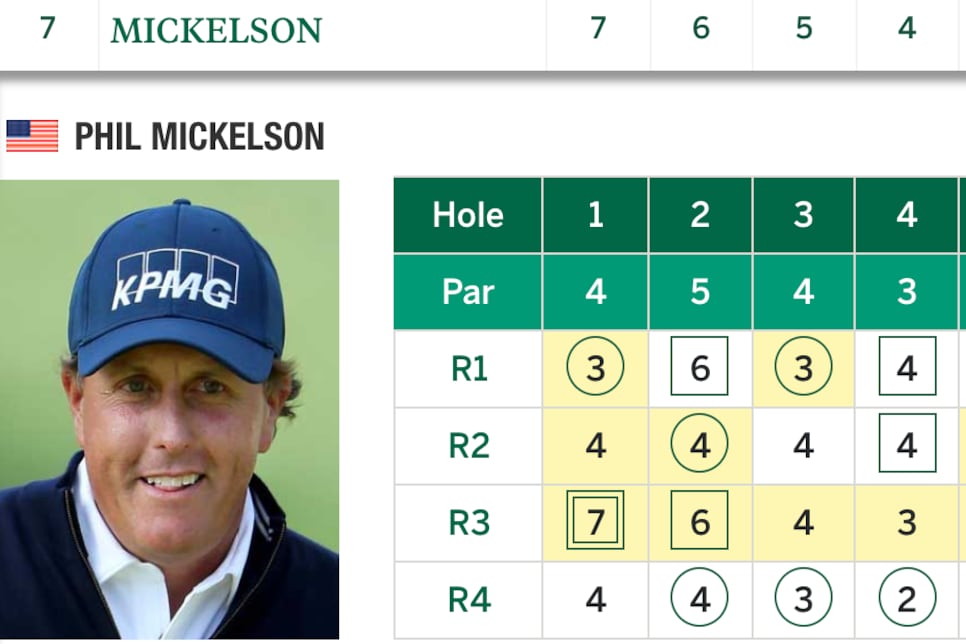 Three under through four holes to move to four over par. Could have used that start yesterday.
10:41 a.m.: Is there actually a legitimate shot that one of the players not named Patrick Reed earns a green jacket on Sunday? Yes, the chances are probably better than you think, writes our Joel Beall. Mike looks at how many comebacks we actually see on Sundays at Augusta National.
10:22 a.m.: You'll hear "career Grand Slam" quite a bit in the coverage today, with one of the biggest storylines being Rory McIlroy going for the monumental achievement. How about this great stat from the PGA Tour's Sean Martin, with a great tidbit on a potential correlation between Gene Sarazen and Rory.
10 a.m.: The final round is officially underway. Vijay Singh, playing with Augusta National member and famous marker Jeff Knox, are the pace setters out there. Vijay was reportedly seen smiling before he and Knox teed off No. 1, a rare sight for the business-like Singh, the 2000 Masters champion.
Vijay has parred No. 1, so we're off to the races here.
Here are the rest of this morning's tee times.
10:10 a.m. -- Ian Poulter, Brian Harman
10:20 a.m. -- Chez Reavie, Phil Mickelson
10:30 a.m. -- Tyrrell Hatton, Doug Ghim (a)
10:40 a.m. -- Martin Kaymer, Kyle Stanley
10:50 a.m. -- Kiradech Aphibarnrat, Xander Schauffele
11 a.m. -- Bryson DeChambeau, Branden Grace
11:10 a.m. -- Rafa Cabrera Bello, Tiger Woods
11:20 a.m. -- Bernhard Langer, Fred Couples
11:40 a.m. -- Zach Johnson, Webb Simpson
11:50 a.m. -- Ryan Moore, Jhonattan Vegas
12 p.m. -- Adam Scott, Daniel Berger
12:10 p.m. -- Haotong Li, Paul Casey
12:20 p.m. -- Adam Hadwin, Hideki Matsuyama
12:30 p.m. -- Satoshi Kodaira, Russell Henley
12:40 p.m. -- Kevin Kisner, Francesco Molinari
12:50 p.m. -- Matthew Fitzpatrick, Si Woo Kim
1 p.m. -- Charley Hoffman, Tony Finau
1:20 p.m. -- Jimmy Walker, Matt Kuchar
1:30 p.m. -- Jason Day, Bernd Wiesberger
1:40 p.m. -- Justin Rose, Louis Oosthuizen
1:50 p.m. -- Dustin Johnson, Cameron Smith
2 p.m. -- Justin Thomas, Jordan Spieth
2:10 p.m. -- Bubba Watson, Marc Leishman
2:20 p.m. -- Henrik Stenson, Tommy Fleetwood
2:30 p.m. -- Rickie Fowler, Jon Rahm
2:40 p.m. -- Patrick Reed, Rory McIlroy
9:49 a.m.: Here are the hole locations for Sunday's final round—with many traditional pins that you've been accustomed to for years:
This is a neat little video Augusta National put together, based on the legendary voice of Chris Schenkel, whom you'll recognize from sports telecasts throughout the years. The Masters added video from Sunday in 2018 to Schenkel's commentary from the 50s. Pretty cool: