News
Masters 2018: Jon Rahm's Spanish lineage may be his secret weapon come Sunday at Augusta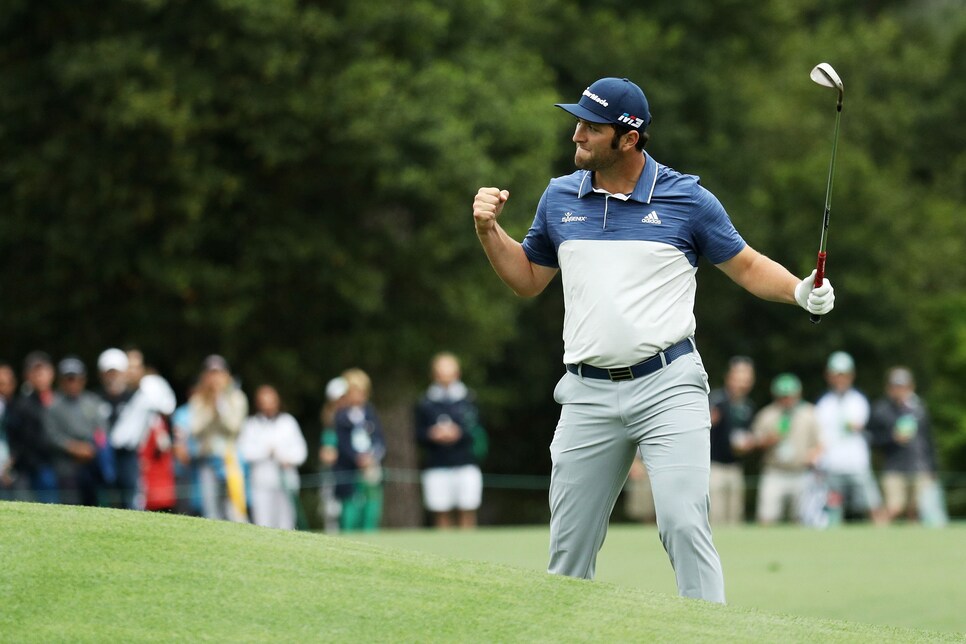 Photo By: Patrick Smith/Getty Images
AUGUSTA, Ga. — Coming our way, in the twilight's gloaming and a misting rain, Jon Rahm left his second shot to Augusta National's 18th green at the front edge, maybe a hundred feet from the hole. We know the name. He's the latest hero from Spain, 23 years old, an amateur phenom for years, a graduate of Arizona State who already has won twice on the PGA Tour. To say his time is coming is to be wrong. His time has come. If Patrick Reed fails to win the Masters tomorrow—an outcome devoutly to be wished—Jon Rahm can be the fourth Spaniard to win it, after Seve, Jose Maria, and Sergio.
Ah, sweet Seve Ballesteros. We had never seen his like. Dark, dashing, electrifying, charisma given form. Because he played at the edges of danger, taking risks for the rewards possible, we thought of him as a matador. To Seve's matador, Jon Rahm is a bull. He is tall and thick, his countenance unshaven. Seen from a hundred feet away on the 18th hole today, Rahm, 6-foot-3 and 220 pounds, could have passed for a linebacker lost on his way to the training table.
Then the big guy putted from way down there. Up the slope. On a wet green. In the rain. To a hole cut into a knob. He rolled the putt to within 18 inches, the kind of thing Seve would have appreciated, the bold act done as if any other outcome was impossible.
On this day, a soggy but scorable Saturday, the outcome was indeed inevitable, for Rahm made five birdies and an eagle in a bogey-less round of 65 that left him fourth on a leader board of stars. Rahm is six strokes behind Reed, three behind Rory McIlroy, two behind Rickie Fowler. Then come Henrik Stenson, Tommy Fleetwood, Bubba Watson, Marc Leishman, Justin Thomas and Jordan Spieth. Except for Reed, who has a long, dark history of alienating friend and enemy alike, victory by anyone on that leader board would be an admirable conclusion to this 82nd Masters.
Asked how Seve's brilliance and Sergio Garcia's victory a year ago inspired him, Rahm said:
"Seve's inspired everybody, right? It's just the fact that if you believe that you can do something, you'll be able to accomplish it. … He was doing unimaginable things, the same way that Tiger did the first time he won here. … Maybe the Spanish character and the Spanish game is built for this place, right? If they have done it before"—he also named Miguel Angel Jimenez and Ramon Sota as other Spaniards who did well at Augusta—"why couldn't I follow that?"
Rahm started this Masters with a 75 that he thought could have been a 68, he was striking the ball so well. But he drove poorly and every trip into the rough cost him a bogey. He fixed that for a 68 Friday, setting up Saturday's 65—a round built on an eagle at the par-5 eighth and back-to-back birdies in the gathering darkness at the 16th and 17th.
"On 8, I hit about as good a drive as I can hit," Rahm said, suddenly less a star-struck kid and more the thoughtful craftsman. "I had a second shot of [247 yards] to the front edge, [284] to the pin, and I hit the driving 4-iron I have, the little thicker one. I just tried to hit it to the front edge of the green to give myself a chance, and it ended up on an upslope on a perfect lie." From 80 feet away, Rahm chipped in for an eagle that put him four-under on the front side, a bonus of two shots, he figured, with two par 5s coming on the back.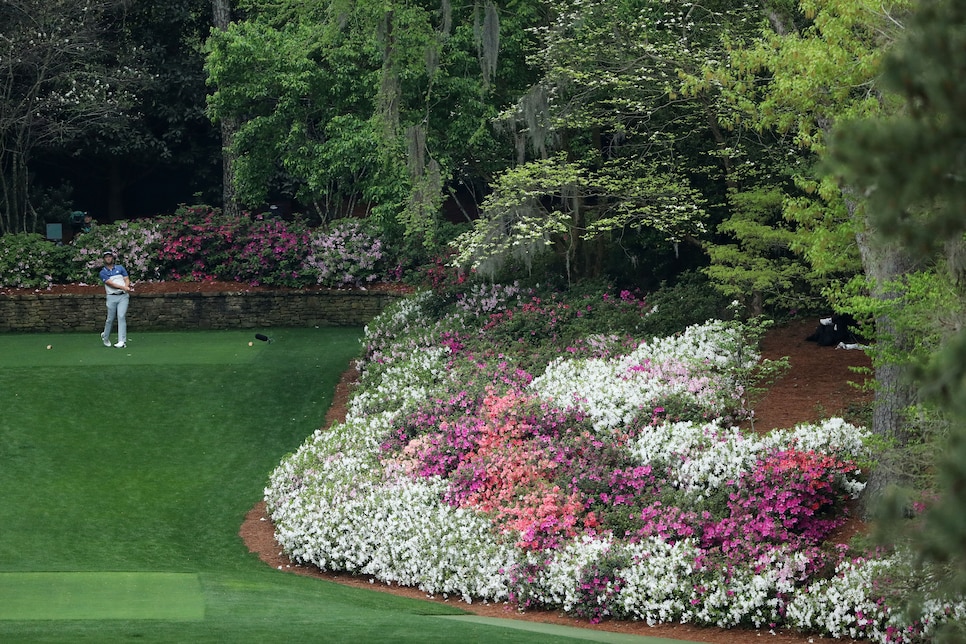 David Cannon/Getty Images
When he failed to birdie either of those holes, the 13th or 15th, his round seemed to have stalled, yielding ground to Fowler, McIlroy and Stenson.
But at the par-3 16th, 170 yards with the wind in his face, Rahm said, "Usually, I put my ball really far up in my stance and try to hit high shots. In this case, I put it more center and left the shaft forward, compressed the ball with a 9-iron, and tried to flight it down, and I was lucky enough to hit six feet right of the pin."
And at the 440-yard 17th: "Not the easiest tee shot for me because I like to hit a fade. That wind was pushing the ball a little bit to the right. I hit a perfect tee shot, just ran through the fairway. Lucky for me, I caught a good lie in semi-rough and that was on an upslope. I had [132 yards], and I hit about as hard as I can hit a gap wedge, try to hit as high as possible, landed 10 feet short and just trickled to the hole."
At day's end, with six shots between him and Reed, Rahm's thoughts of winning a first major championship begin with. "I need to make up a lot of ground. … If you can get a really good start on that front nine and post a good score again"—he shot 32 today—"that back nine can be extremely long for the leaders. We know what can happen on that back nine on Sunday."
Seve won twice on that back nine. Jose Maria won twice. Sergio won.
"I'm just trying to follow the leader," Rahm said, "get on the train at some point in my career."