News
Masters 2017: Jason Day turns things around after his wife was "ready to slap me in the face"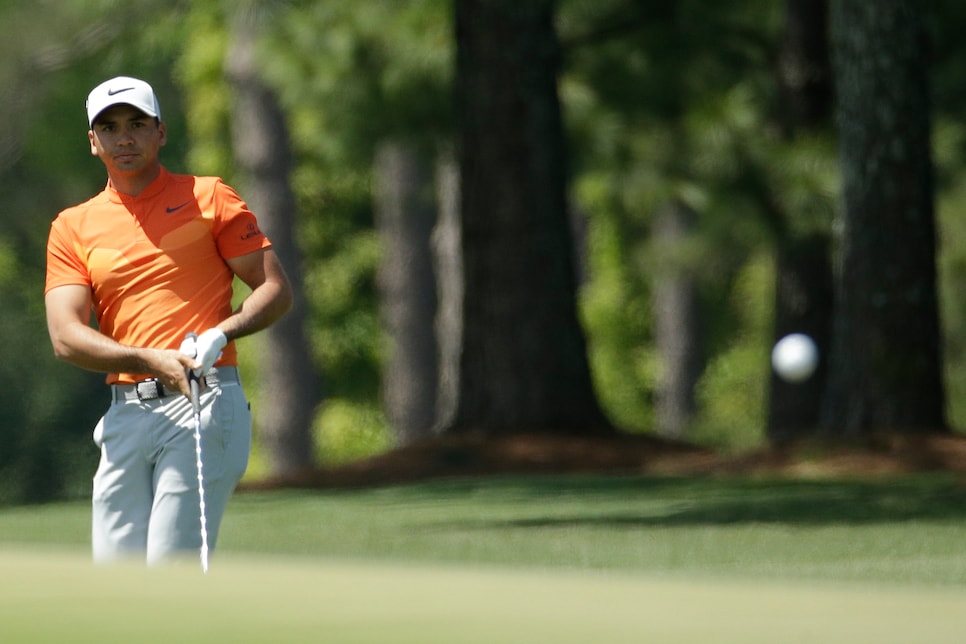 AUGUSTA, Ga. -- Jason Day got to his golf ball and immediately went into an extended squat that would have impressed even Gary Player. The Aussie looked up at the tall pines that cut into the left side of the fairway on No. 15 at Augusta National and searched for an opening. After a few moments of deliberation, he found one big enough (at least, for him) to take a crack at the par 5 in two.
Day's shot seemed to take off on a trajectory way too high, but somehow it climbed quickly enough to avoid all the branches and then hung majestically in the air before finally dropping on the green. The crowd roared. And Jason Day -- the one capable of being the best player in the world was back.
Moments later, Day two-putted for a fourth consecutive birdie that, at least for the time, brought him back within shouting range of the leaders at the 2017 Masters. He dropped a shot on 17, but shot a Saturday 69 -- a positive sign in what has been a trying year.
"I think that I feel like I can actually play golf again, which is great, when I play like that," Day said.
But his turnaround after barely making the cut after a Friday 76 actually began with a pep talk from his wife, Ellie, the night before. Or rather, a pep yell.
"She was kind of ready to slap me in the face because I was so negative with myself," said Day, who began talking by apologizing to the media for leaving without talking to the press on Friday. "And she was trying to get me ... pick me up and give me a good boost. Which she did. Which was a good thing. And that's obviously ... it's good to have a good wife when you have something like that happen."
"I told him, 'Get it together, Day!'" she said. "I told him to find something and break it, if he wanted. I didn't care as long as he did it before the kids came back."
Day's mom was diagnosed with lung cancer in January. In his last start at the WGC-Dell Match Play, Day withdrew after seven holes of his opening match and revealed his mom's status. Two days later, she underwent successful surgery, and he was a late commit to the year's first major.
But after two and a half tough rounds, Day got it going on the back nine. Those four consecutive birdies could have been seven if Day hadn't gotten a bad bounce off the flag stick on his approach to No. 10, and if putts he thought he'd made on 11 and 16 had dropped.
And again, there was that incredible shot on No. 15, which was affected by his position on the leader board—but more by how he was playing.
"I was coming off the back end of three birdies and feeling pretty good and I just, there was a gap, not a very big gap, but I just felt like I was on the good end of the momentum side, and I just said that I'm just going to go for it and hit it in that quarter clean out of there. And I hit a nice shot through the trees and ended up birdieing," Day said. "So momentum is huge in a game like this, so obviously for me I'm way behind, I need to keep pressing to try and get myself a chance at getting up somewhere near a decent position going into Sunday."
And even if Day doesn't finish the tournament well, he won't be upset for long. Ellie will make sure of that.