Massive hippo interrupts Alfred Dunhill Championship, makes gators look like kittens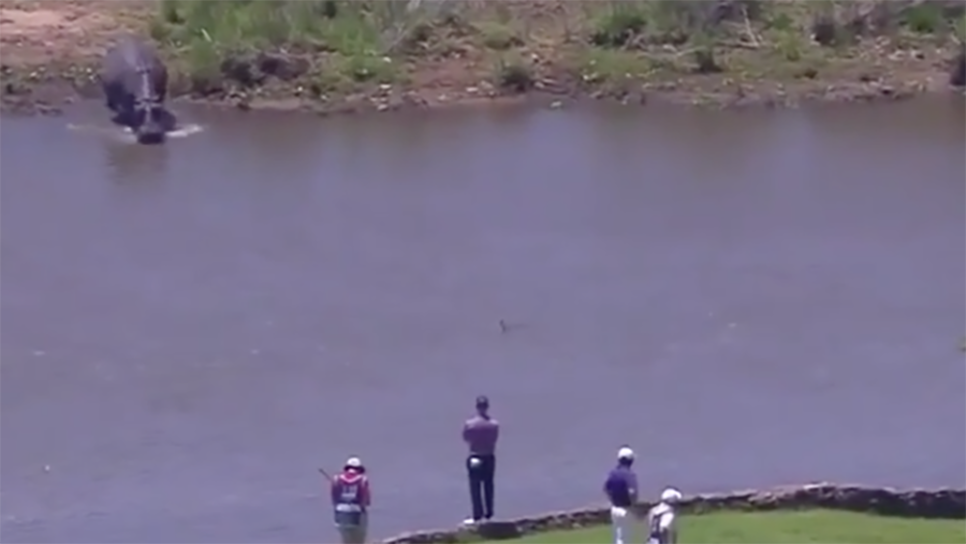 Gators, geese, kangaroos, bears, cobras, mongoose, and even goat caddies. You could start a zoo with the amount of crazy animal-golf encounters we've seen over the years, but on Wednesday, we witnessed a first: A hippo the size of a PT Cruiser bringing play to a halt at the Alfred Dunhill Championship in South Africa by taking a quick dip in a nearby water hazard:
Now this hoss might look like a gentle giant, especially when compared to its reptilian compatriots, but hippos are actually the single most dangerous animal in continental Africa, viciously guarding their territory with enormous canine teeth and top speeds of over 20 miles per hour. If it sounds like a bad idea to build a golf course—in this case Leopard Creek Country Club—and host galleries of fans smack dab in the middle of their bath tub, join the club, but don't worry, Jurassic Park turned out just fine in the end too...not.
P.S. Someone should probably give Brandon Stone the one-sheet on these suckers. In addition to putting himself in mortal danger (kind of), he's also holding up pace of play. To be honest, we're not sure what's worse.