The Steel Curtain
Buckle up football fans, we have a third-string quarterback conspiracy brewing in Pittsburgh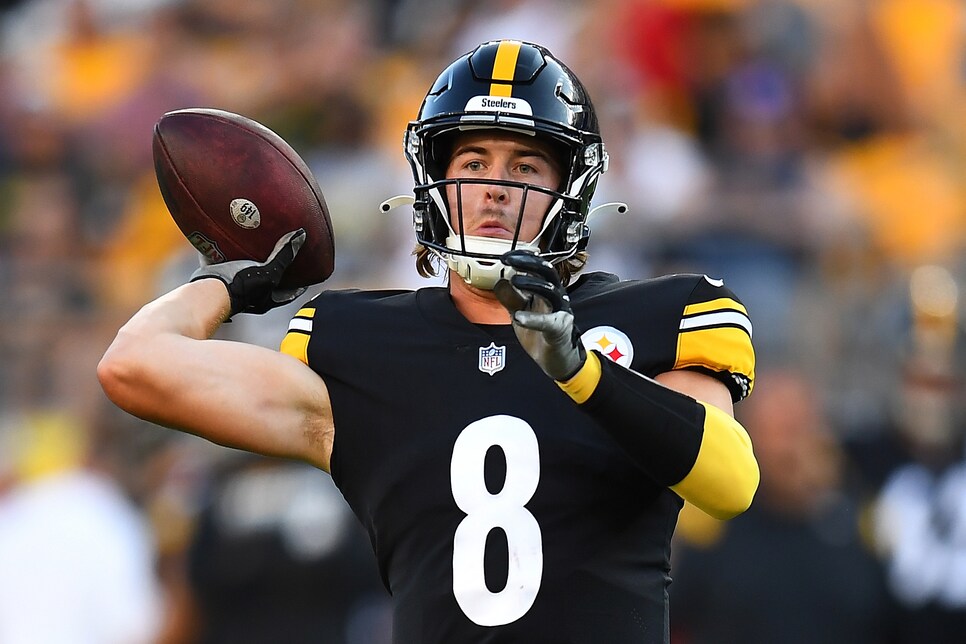 It's NFL kickoff week. The football-sphere is teeming with storylines. Are Tom and Gisele getting a divorce? Is Aaron Donald going to prison for assault with a deadly helmet? How's Joey B's appendix? Will Rodgers have warm bodies to throw to? Is Tua trash? When are Kyler's double-XP 'Call of Duty' weekends? All big topics with big ramifications, but as of Tuesday afternoon, just over 48 hours out from Bills-Rams, all anyone can talk about are the backup quarterbacks in Pittsburgh.
On Monday, the Steelers all but confirmed Mitchell Trubisky—not Mason Rudolph nor first-round pick Kenny Pickett—as their starting quarterback for Week 1 with the release of their 2022 depth chart. The news wasn't terribly surprising for anyone that had been paying attention, but the order behind Trubisky on the roster was. Fans quickly noticed that Rudolph had earned the backup spot on the roster ahead of the Pitt star. The Steelers don't plan to dress three quarterbacks on Sunday, so it essentially meant the franchise's biggest draft pick since Big Ben would be in street clothes for the first game of his NFL career. Not what you want to see from your supposedly "pro-ready" rookie, and the jokes came rolling in just as you would expect.
That lasted for less than 24 hours, however. After the uproar, the Steelers released a revised depth chart on Tuesday morning. There Pickett magically supplanted Rudolph as the Steelers' top backup. Hmmm.
A collective crinkle of tinfoil hats reverberated around the Steel City. The Steelers scrambled to explain it away as a "clerical error" but no one was buying the shiny new packaging. Mike Tomlin stepped up to address the change on a Tuesday press call, but technical difficulties only deepened the rabbit hole.
So what's the truth—NAY, the facts—of the NFL's biggest conspiracy this very second? Sloppy use of the ol' Command V? A Bengals mole sowing seeds of discord? A power play by a shawdowy cabal of lizard people led by Elvis? We may never know for certain, but given the intrigue, espionage, and betrayal currently gripping our great football nation, we suggest you trust no one and question everything.