Takeaways
Ludvig Aberg's impressive PGA Tour debut, Michael Block's brutal start and a potential Canadian hero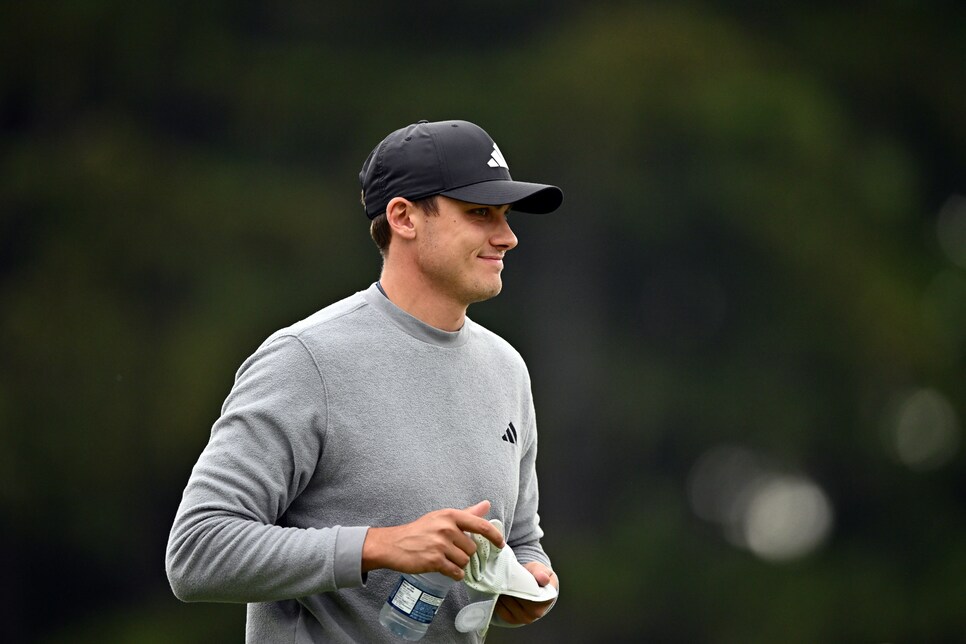 After a couple of the craziest days in PGA Tour history, fans got to see some golf again. We also got to witness the pro debut of one of the most ballyhooed prospects in years. And he did not disappoint.
A week after Rose Zhang won her LPGA debut, it was Ludvig Aberg's turn to turn heads on the men's side.
"Well, Rose is an unbelievable player and what she did is very special," Aberg told reporters after his round. "If I'm anywhere along those lines I'm pretty happy. So obviously she's done a tremendous job and she's going to have a great career. Hopefully, I'll be able to do ... somewhat similar to what she did."
Unlike Rose last week, Ludvig didn't have his name butchered by the first tee announcer:
Good start! And he certainly was ready for his closeup as the reigning NCAA Player of the Year dazzled with a front-nine driving display as he made the turn at Oakdale Golf & Country Club at four under:
The Texas Tech product who swept every major college award this season gave a stroke back on his back nine (the front nine at the Toronto-area course), but finished second on the day with a driving average of 326.2 yards. Not surprisingly, Aberg's length helped him birdie all three of Oakdale's par 5s as he more than held his own playing alongside Matt Fitzpatrick (four under) and Tyrrell Hatton (even) with an opening three-under-par 69 that puts him two shots off the lead shared by Corey Conners, Aaron Rai, Chesson Hadley and Justin Lower.
"I was nervous," Aberg said. "I mean, I think it would have been weird if I wasn't nervous. But I tried to embrace it. I tried to view it as something fun. And obviously playing with Matt and Tyrrell as well was a lot of fun too."
So how did Aberg get here? Well, he became the first college golfer to lock up a PGA Tour card by virtue of finishing No. 1 in the PGA Tour University standings. He then celebrated by recently treating himself to a trip to ... Chipotle.
Well, a few more rounds like this, and he'll be able to open his very own fast-food franchise. Here are three other takeaways from Day 1 at the RBC Canadian Open.
A potential Canadian hero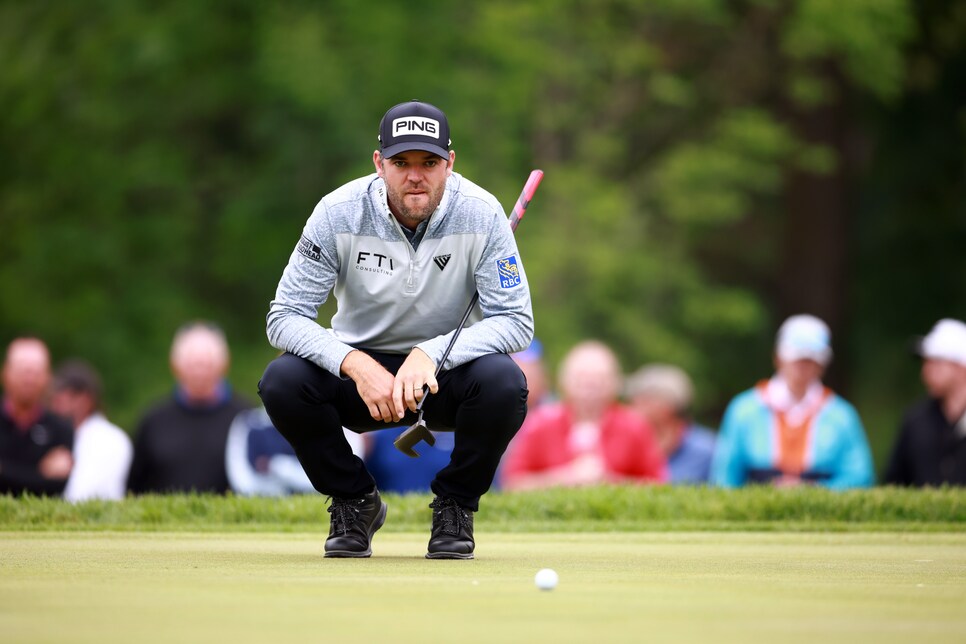 OK, so Corey Conners is already a big deal in his home country as a two-time PGA Tour winner. But to win his national championship would take things to another level. And no offense to the other guys at five under, but the Canada crowds will only care about this guy—or one of his fellow countrymen—getting it done.
Despite many close calls, including several by 2003 Masters champ Mike Weir during his prime, a Canadian hasn't won the Canadian Open since Pat Fletcher in 1954. It's a long drought, but one that could very end this week thanks to Conners, who opened with a five-under-par 67 to grab a share of the Day 1 lead.
Actually, Canada's depth has never been better. This season marks the first time that three Canadians are the reigning champs of PGA Tour events. That includes Conners, who won the Valero Texas Open for a second time in April, and Adam Svensson and Mackenzie Hughes, who won the RSM Classic and Sanderson Farms Championship, respectively, last fall. Hughes, Taylor Pendrith and Roger Sloan are currently T-2 on the Canadian leaderboard at three under.
Strangely, Conners, who led the PGA Championship last month until late on Saturday, didn't talk to the media following his round. They probably had to sneak him out the back to avoid all the paparazzi.
Michael Block's brutal start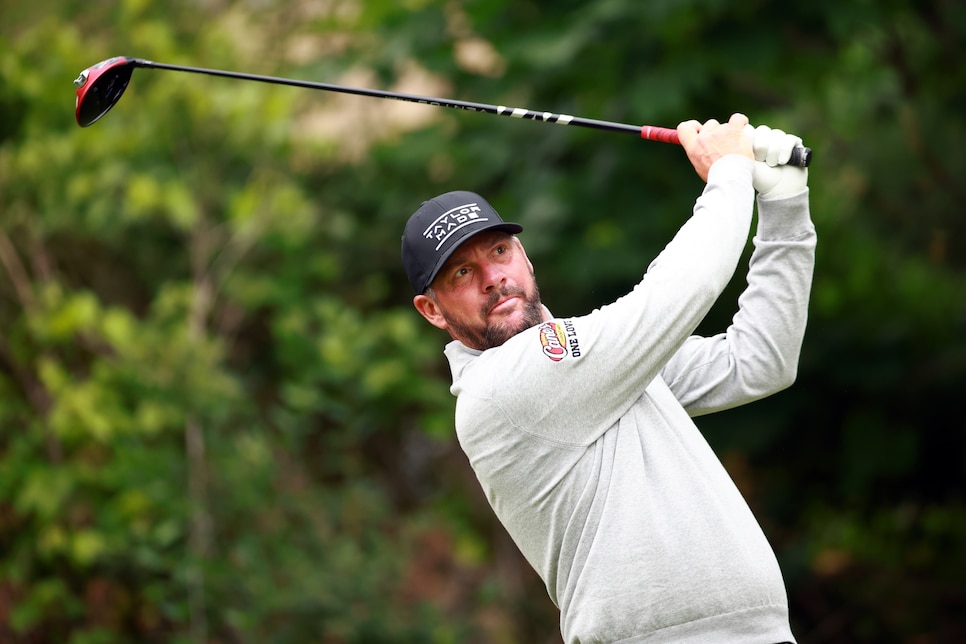 Yes, it's time to talk about Michael Block again. After his magical week at the PGA Championship, Golf Twitter—and the golf gods—turned on him at Colonial where he finished in last place. But he's back this week to cash in on another sponsor exemption he earned for his performance at Oak Hill—it just doesn't look like he'll be cashing a check for his play.
The 46-year-old club pro bogeyed seven of his first 13 holes to once again tumble near the bottom of the leaderboard. But he went two under over his final five holes to shoot 77 to put the man ranked 582nd in the world in a tie for 144th out of 156 players.
Even worse for Block, he's not even the low club pro thus far. That honor goes to Omar Uresti—another guy used to facing backlash—who shot 76.
No, but seriously, it can't be overstated how cool these past few weeks have been for the Arroyo Trabuco Golf Club employee. That even included him being filmed doing a celebrity shift at a local Raising Cane's. Too bad it wasn't near the Texas Tech campus, or we might have seen Ludvig Aberg drive through. Anyway, Block will be back out there on Friday living out a dream and flashin plenty of smiles—no matter how he plays.
Rory's weird week continues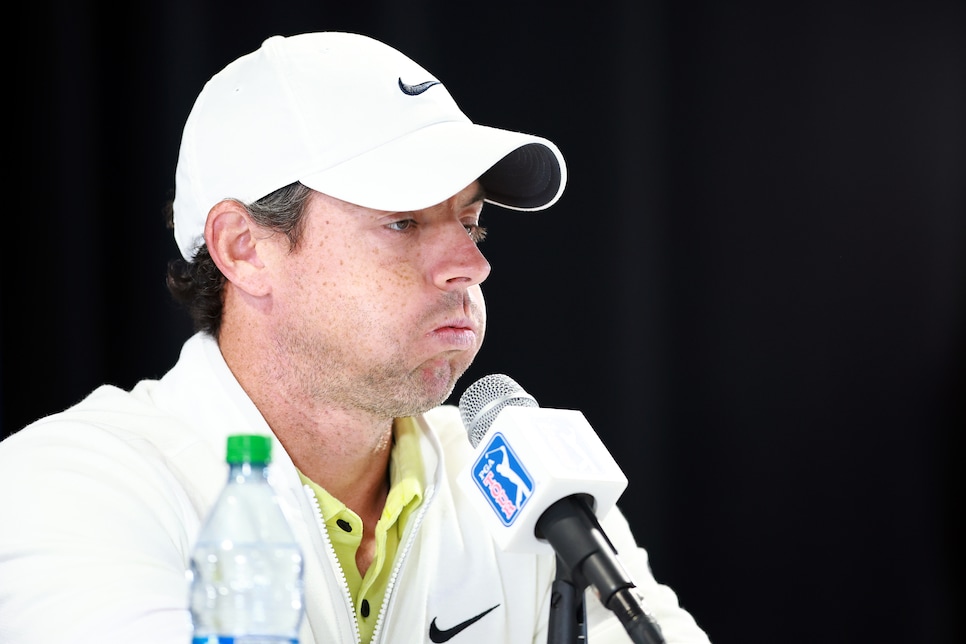 Of all the guys getting back inside the ropes on Thursday, Rory McIlroy must have been the happiest. The face of the PGA Tour was among those blindsided by Tuesday's announcement of the partnership with Saudi Arabia after spending the last year serving as the tour's spokesperson against LIV Golf. He went as far as calling himself a "sacrificial lamb" during Wednesday's press conference. Ouch.
But his weird week continued on Thursday, because despite bookend birdies, there wasn't much else great to speak of as McIlroy settled for a one-under-par 71. Still, he—and playing partner Justin Rose—were glad to have the focus shift back to playing.
"It was good," McIlroy said. "Rosie and I said, 'All right, no chatting until lunch' so that we can actually concentrate on what we're doing out there. We started to get in a conversation walking down the 1st and we're like, No, let's stop this. Let's just focus on our golf and we'll say what we want to say when we get inside. So it was nice to play a round of golf and focus on something else for those five hours we were out there."
Speaking of weird, there's also the statistical oddity that McIlroy is the only winner of this event since 2018—despite the fact that he's only won it twice. McIlroy won in 2019, there was no tournament in 2020 and 2021 due to COVID, and then he won for a second time last year. So in a way he's going for a three-peat—at a third different golf course.
"Course is good. It's penal," said McIlroy of a track that should provide a good tune-up for next week's U.S. Open at Los Angeles Country Club. "If you miss fairways the rough is very, very thick. Yeah, and I didn't, I mean, I hit a few, but—I certainly hit a few loose shots and got myself out of position and the golf course does start to get quite tricky from there. So need to do a better job of just putting my ball in play off the tee. Then from there the golf course is still quite scorable."
In case you're curious, the pre-tournament favorite is still the third-favorite to win with 10-to-1 live odds, trailing only Conners and Matt Fitzpatrick. You know, if you're into that sort of thing ...