Age-old question
The biggest barrier to winning for LPGA veterans is inevitable and unavoidable: Turning 30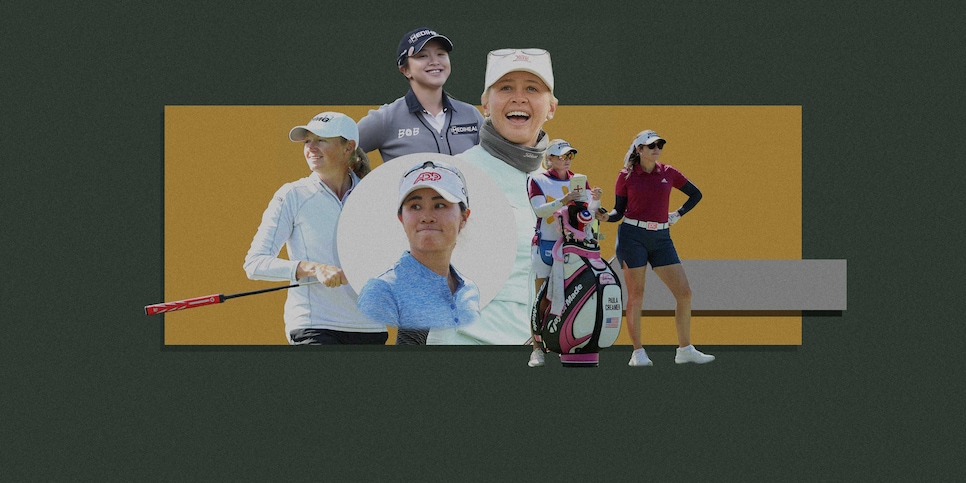 Age, as some like to remind ourselves each year when celebrating a birthday, is just a number. But when you're a player on the LPGA Tour, that's not entirely true. Age also serves as a measure of competitiveness, with players who pass one particular milestone, statistically speaking, finding it harder to win on tour.
That milestone is 30. From 2003 to 2012, 32 percent of LPGA tournaments were won by players who were 30 years old or older. In the last 10 seasons, however, that percentage has dropped drastically, falling to 12 percent. In 2022, it was roughly 19 percent, with six of 32 events won by 30-somethings:
Marina Alex, 31, Palos Verdes Championship
Eun-Hee Ji, 36, Bank of Hope Match Play
Lizette Salas, 32, Dow Great Lakes
Asheigh Buhai, 33, AIG Women's Open
Paula Reto, 32, CP Women's Open
Jodi Ewart Shadoff, 34, LPGA Mediheal
"I'm actually really surprised by that number," said Paula Creamer, a 36-year-old who won the first of her 10 LPGA titles in 2005 at age 18 and the last in 2014 when she was still only 27. "I almost feel like it's an advantage when you get older because you've seen so many more things, and you understand yourself out on the golf course."
The 2023 season will test Creamer's belief versus recent trends as some of the tour's marquee talent turns the big 3-0. Danielle Kang, a six-time tour winner, celebrated her 30th last October. Sei Young Kim, a 12-time winner, turned 30 last month. Jessica Korda, a six-time winner marks her 30th on Feb. 27. All three dealt with notable injuries in their career. Kang took time away in 2022 due to a tumor. Kim changed her swing due to back problems. Korda missed time from 2017-2018 due to a forearm injury and reconstructive jaw surgery and last fall ended her 2022 season early due to back problems that are keeping her out of the field at this week's Honda LPGA Thailand and delaying the start of her 2023 season.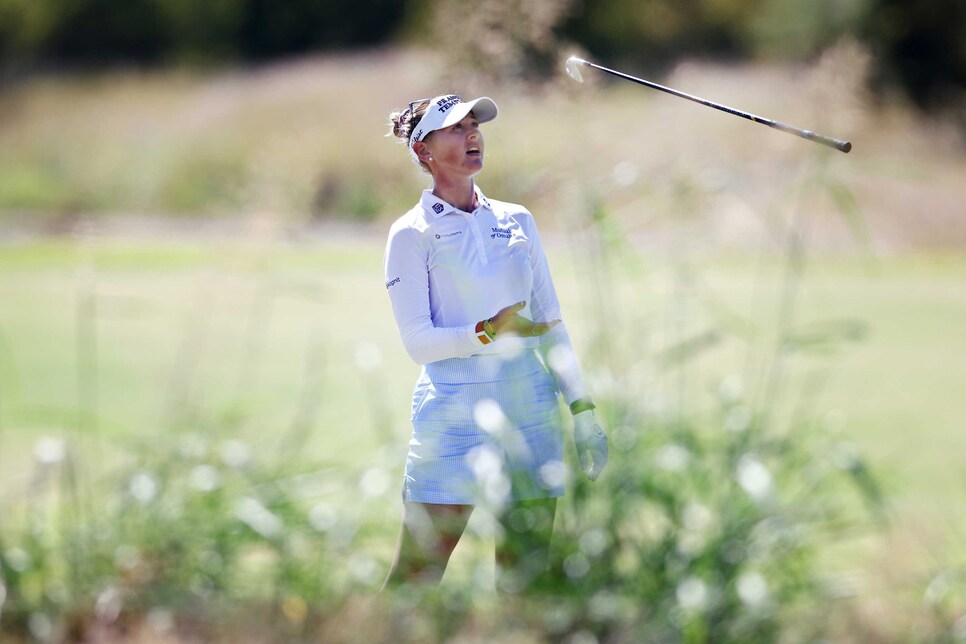 Jessica Korda turns 30 on Feb. 27, joining Danielle Kang and Sei Young Kim as high-profile players playing a full season in 2023 for the first time since massing the milestone birthday.
Tom Pennington
Why, specifically, is winning in your 30s an incrementally more difficult task? According to players we spoke with, the reasons are varied, some related simply to being of a certain age and others to hurdles all players face but that are more taxing on those who are older.
For instance, five of the six LPGA 30-somethings we interviewed said that the decline in 30-year-old winners is tied to the increased travel that tour players face. In the last decade, 40 percent of the LPGA's tournaments were played outside the U.S., compared to 29 percent from 2003-2012. Half of the events in 2013 and 2017 were hosted outside the United States.
This week's event in Thailand is followed next week by the HSBC Women's Championship in Singapore. The wear and tear caused by the international schedule has been a topic that Stacy Lewis has discussed in detail the last few years in her role as an LPGA player director. Heading into her 15th season on the tour, the 38-year-old remembered being able to hop in a car and drive from tournament to tournament in the early part of her career. Today, a full year requires cross-ocean flights at three distinct times—to Asia in February and September, and Europe in July/August.
"All our players come from all over the world, so we need to go play in Thailand," Lewis says, understanding the new reality of tour life. "We need to go play [internationally]. These girls deserve to be able to play in their home countries and be superstars for a week."
While international tournaments have spurred growth of the women's game in those countries, it's paid for by the decreased chances of veterans winning those events. The last player 30 or older to claim a title in Southeast Asia was Cristie Kerr, who did it at age 40 at the 2017 Sime Darby LPGA Malaysia. And the last winner in the Eastern Hemisphere older than 30 was Inbee Park at the 2020 ISPS Handa Women's Australian Open. It's one of the South Korean's two victories in her 21-win Hall of Fame career that has come in her 30s.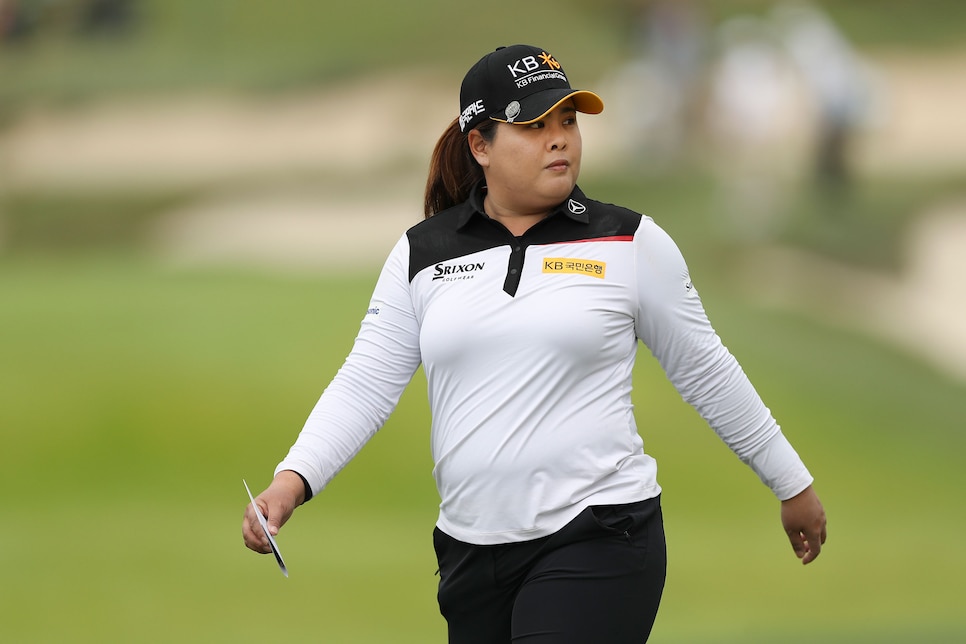 Inbee Park has 21 career LPGA wins, but just three since turning 30 in 2018.
Meg Oliphant
Indeed, it's not just older American players challenged by all the travel. The tour's international players who joined in the wake of its growth face even more unique challenges as they jet around the globe. South Korean So Yeon Ryu, who's won seven times over her 10-year career on tour, has had multiple stateside bases to alleviate travel concerns. Yet the 32-year-old's family remains across the Pacific Ocean.
"If I'm thinking about the like physical stuff," Ryu said, "it's better not to go back to Korea more often. But mentally, I know it's better to go back to Korea more often to just make sure I'm having a good life balance."
Those factors impact travel for just one player. Having kids adds another layer of complexity for those 30-and-older, given they're more likely to have begun families than their younger counterparts. Both Lewis and LPGA veteran Brittany Lincicome (age 37) had their kids interrupt them while being interviewed for this piece.
During the offseason, Lincicome enjoyed spending time with her 3-year-old Emery and 6-month-old Sophia. Having her family travel to events helped alleviate some concerns when it was just Emery who came with Lincicome on the road. Now she balances two kids' needs, such as keeping Emery from running in front of her while the eight-time LPGA winner practices.
The reality of parenting leads Lincicome to accept the potential ending of her 19-year career. "I think I'm in a stage in my life where it's just so rewarding, hanging out with the two girls," Lincicome said. "I couldn't imagine not having them in my life. So if that means I have to give up golf or sacrifice golf to be with them, then that's where we are."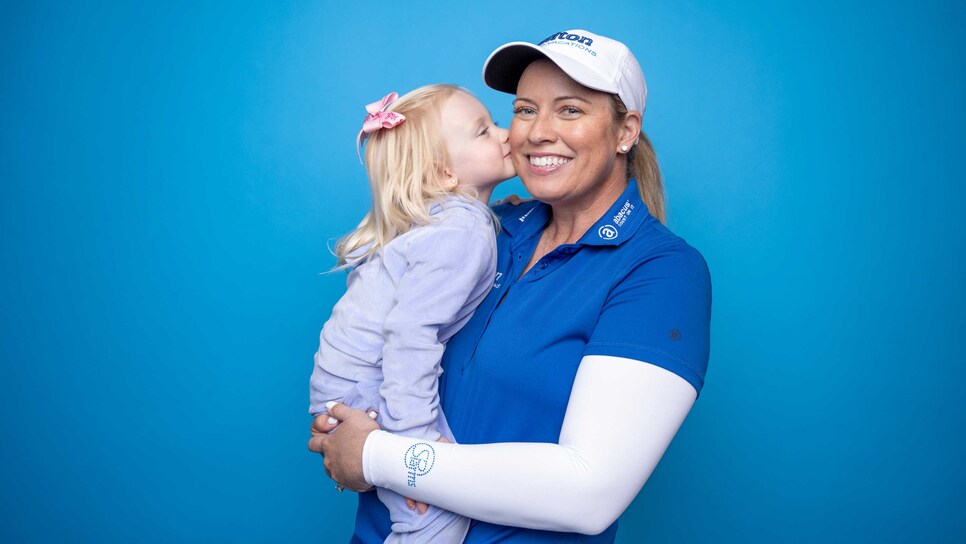 Brittany Lincicome poses with her older daughter, Emery, in 2022. Balancing family and with working on your game is a challenge for older players.
Donald Miralle
Creamer got her first introduction to traveling with her daughter, Hilton Rose, over her last five starts of 2022. To help, Creamer enlisted the aid of her parents to come back on the road with her for the first time since her teen years, aiming to have them at 90 percent of her tournaments.
"For me to be competing with the best players in the world, with girls that don't have [kids], it's not a distraction, but it's definitely a different change of your life," Creamer said. "I have to be more organized … more compartmentalized. That's a big part of it. And definitely more efficient."
Creamer no longer can spend eight hours a day practicing as she used to when she was younger. The good news is that means she's putting less stress on her body. The bad news she has less opportunity to keep her game sharp. And, of course, putting in the work to keep up with the next generation of talent is critical for those who hope to extend their career success into their 30s.
Quite naturally, the biggest challenge older golfers face is the talent and energy of news player joining the tour and becoming regular contenders, many of whom are doing so at younger and younger ages. Consider that all 10 of the top 10 players in the Rolex Women's Rankings began their careers as teenagers. Atthaya Thitikul became the second teen ever to become No. 1 in the world this past October, alongside Lydia Ko.
Indeed, the infusion of gifted young players joining the LPGA ranks, both in quantity and quality, makes it harder for older golfers merely to make cuts and play on the weekend, let alone win.
"The competition just keeps getting better and better every year," said Alex, whose win last May at Palos Verdes was just the second of her career. "Cuts are lower, scores are lower. The facts are there that the golf has improved greatly, even in the last five years."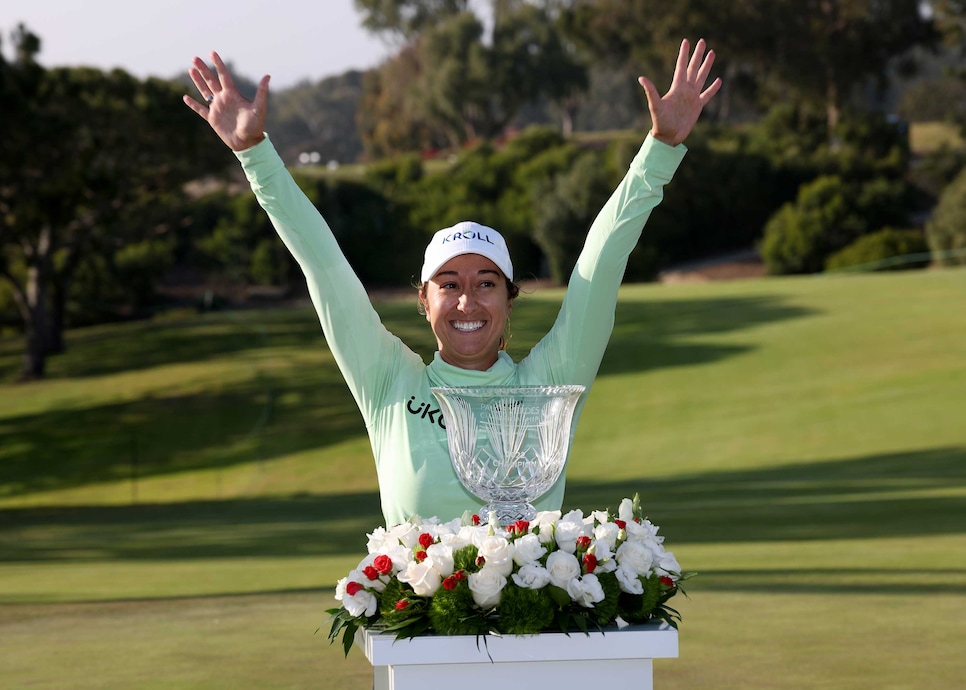 The influx of young players shooting lower scores has made not just winning but simply making cuts more challenging, says veteran Marina Alex, one of six 30-year-olds to win on tour in 2022.
Harry How
To compete with them requires making sure you're physically ready for the grind and managing injuries. That potentially includes even changing your game in order to make it work on a more consistent basis.
Ji, winner of the Bank of Hope last spring, realized it took too much effort to hit the ball far enough with a controlled fade so she switched to a draw ahead of the 2022 season. Her stats suggested the change paid dividends as the 2009 U.S. Women's Open winner hit it the furthest off the tee (258 yards) than at any point her career. It's five yards further than her previous best of 253 yards in 2007, Ji's rookie season.
The six-time LPGA winner also continued adding to her stretching routine to sustain her career. Every day, it's five to 10 minutes when she gets up. Ji then works with a trainer at the course for 10 to 15 more minutes before starting her on-course warm-up.
"When I was young, like only 20s, I didn't even stretch out," Ji said. "Now I have to do it. If I don't do it, I will get an injury."
As the talent improves, there are fewer role models for those competitive players in their 30s and beyond on tour. When Creamer joined the tour in 2005 out of high school, she had active veterans in Juli Inkster and Beth Daniel, along with idols Nancy Lopez and Kathy Whitworth, available to give advice, both on and off the course.
Today, only fellow U.S. Women's Open winner A Lim Kim is actively picking Creamer's brain as she did in her early years. Kim routinely found Creamer on the range to ask questions. That'll happen more often now, as Kim joined Isleworth Golf and Country Club, where Creamer is a member, in early January to practice alongside her more.
That trove of experience, Creamer feels, should help those in their 30s remain competitive on tour. Having seen how she's reacted under pressure, the 10-time winner understands what to focus on in her preparation.
"You kind of already have seen a movie about it in your head," Creamer said. "You can go back and, you know, fix those things before it even happens."
Alex agrees, noting that before she won her first title at the 2018 Cambia Portland Classic, she had made four starts in the tournament. "I've played here [in Portland] so many times," Alex said. "So prep is a little bit easier. Play a pro-am and maybe play a few holes of practice."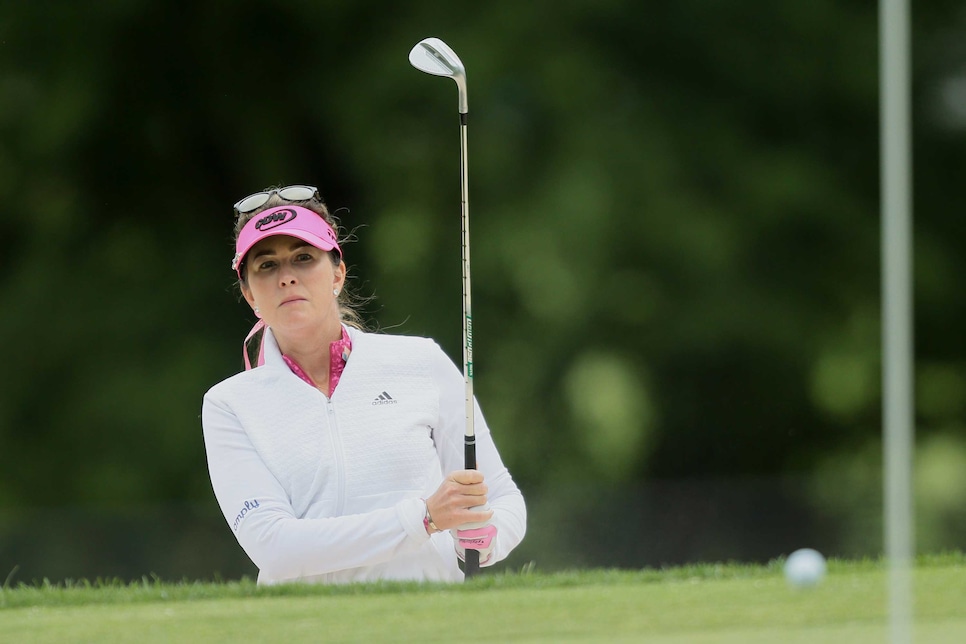 Paula Creamer believes that experience should be an asset for older players that helps offset any setbacks with their swing through age.
NurPhoto
Yet instead of putting these advantages to the test, several major champions in their 30s are walking away from the game. Na Yeon Choi, 2012 U.S. Women's Open winner, retired at 35 at the tail end of last season. China's Shanshan Feng, a 10-time LPGA winner including the 2012 Wegmans LPGA Championship, also stepped away last August at age 33. Michelle Wie West, 2014 U.S. Women's Open champion, 32 as of last October, shared that Pebble Beach will be her final professional start at the 2023 U.S. Women's Open. Yani Tseng, five-time major champion at 33, has yet to make a start since 2021. Morgan Pressel, 2007 Kraft Nabisco Champion winner, moved to the announcer booth last year at 33.
Other top players are also talking of ending their careers earlier than the generations before. Ko, last year's LPGA Player of the Year at age 25 and the current World No. 1, made waves back near the start of the 2015 season, when she was just 18, explaining that she wanted to retire by 30 and explore other things in life. Multiple players told Lincicome they're considering a similar path.
Yet there is a trickle of hope of reversing the trend: the nearly $100 million total season purse available for 2023.
With elevated purses, star players with secure status can play fewer events and save their bodies for larger checks. In Lewis' early years, when she was near the top of the world rankings, she felt she had to push herself to play an entire season.
It may replenish the resource of competitive veterans on tour down the road. But, for now, those remaining want to make the tour better for the veterans to follow them.
Lincicome is exploring writing a handbook for new players on how to adjust to tour life for them to ideally "keep playing until they're 100 years old and we keep growing the game." Ryu wants to have a voice on how to treat veteran players better, such as ensuring they don't have early/late tee time splits on Thursday and Friday so they can rest better.
Lewis continues talking with her mentors from when she was a rookie. Recently, she spoke with Daniel and Meg Mallon, Hall of Famers who mentioned that they won in their 40s.
Nobody batted an eye when someone won in their mid-30s 15 to 20 years ago. Now? It's a celebrated occurrence.
"I think it's more a product of how young the tour is in general," Lewis said, "Just thinking that player is 15 years older than the other people they're playing with, you know? It's just going to become more rare [to have winners in their 30s] I think, as things go forward."