Letter from Europe
The best college golf program you've never heard of
Scotland's University of Stirling has become an alternative for top European amateurs to develop their games (and get a degree) without having to play American college golf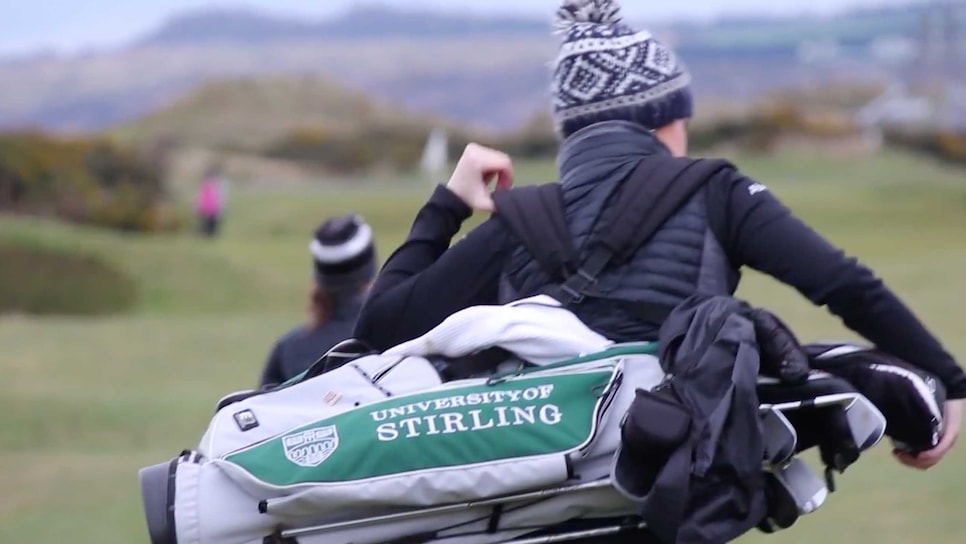 There was a time, not so long ago, when university golf in Scotland was little more than a laugh on the links. Plenty of giggles were to be found amid the (many) hits. Invariably, alcohol played a part, too, the end result a long way from properly competitive. Truth was, matches between the universities were merely opportunities for fresh air during the grind of academic study—and nothing more than that. Few, if any, of the participants took the results even remotely seriously.
All of which is a long way from the college system in the United States, where golfers with ambitions within the game train to be professionals rather than doctors or lawyers. Indeed, not many serious golfers went to "uni" in the homeland of the game. There were exceptions, but good players were rarely found in the various student bodies, lurking in places like Edinburgh, Glasgow, Aberdeen, Dundee and St. Andrews. Anyone aiming to graduate—with or without honors—onto any tour would have been considered the ultimate anomaly.
That is not the case today. Not in one place in particular.
The University of Stirling has only been around since 1967. And the golf bursary/scholarship program that has seen the endlessly picturesque 330-acre campus in the shade of the Ochil Hills, 30 miles northeast of Glasgow and 40 miles northwest of Edinburgh, become home to a series of future professionals is just 41 years old. But in that time Stirling has become the place to be for those elite golfers disinclined to take advantage of a scholarship in far-off US of A.
As a result, Stirling students have for long enough largely dominated British Universities College Sports events—winning the Scottish and British Universities Championships more often than any other school—with a stream of graduates going on to make their mark at the highest levels of the game. The list of distinguished alums is long and includes the likes of former U.S. Amateur champion Richie Ramsay, Gavin Dear, a member of the four-man Scottish side that won the 2008 World Amateur Team Championship, former British Amateur champion Gordon Sherry and five-time Solheim Cup player Maria Hjorth from Sweden.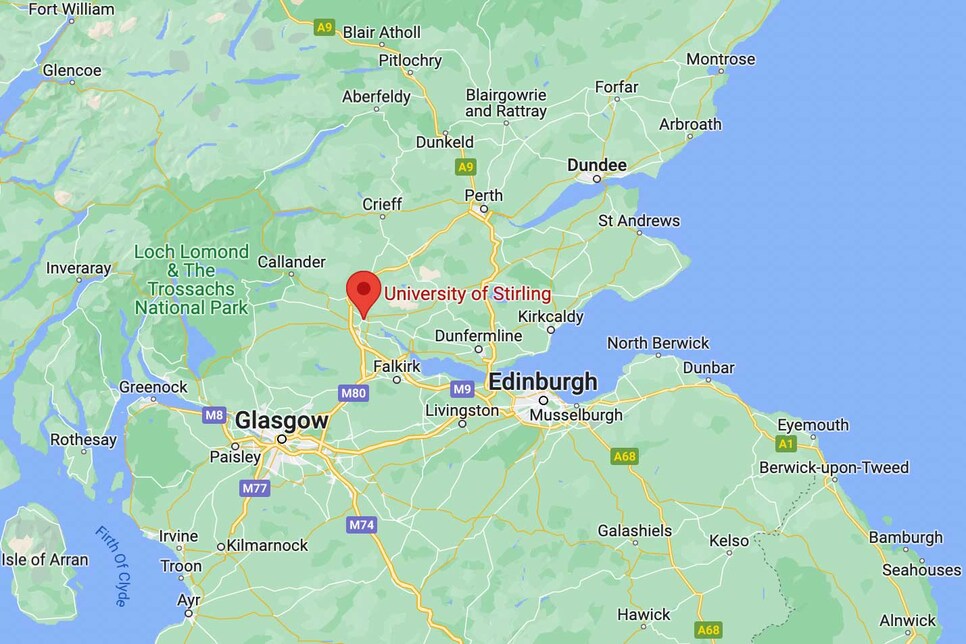 University of Stirling is located 30 miles northeast of Glasgow and 40 miles northwest of Edinburgh.
Stirling graduates have also made their way in golf off the course. John Grant is Director of Golf for the St. Andrews Links Trust. Eilidh Barbour hosts the BBC's golf coverage at the major championships. And another guy was once a senior editor at the world's biggest golf magazine and now its European correspondent. Forget his name though.
Still, most notable on a long list that includes DP World Tour players, Ladies European Tour players, nine Curtis Cup participants and six Walker Cuppers is former Women's British Open champion Catriona Matthew. Matthew spent five years at Stirling taking advantage of the one academic break afforded the golfers, an optional extra year to complete their degree courses in 1992.
"I went to Stirling because of the golf scholarship," says the nine-time Solheim Cup player, who turned down offers from Stanford and San Jose State to study in her native Scotland. "But I wanted a degree that was going to be useful in this country if the golf didn't work out for me. For some, the American college experience is a dream. It's what they want to do. But it wasn't for me. I was tempted, but I hadn't travelled much at that point in my life, and it all sounded a bit daunting. I was happy being close to home. If I had to do it again, I think I'd make the same decision."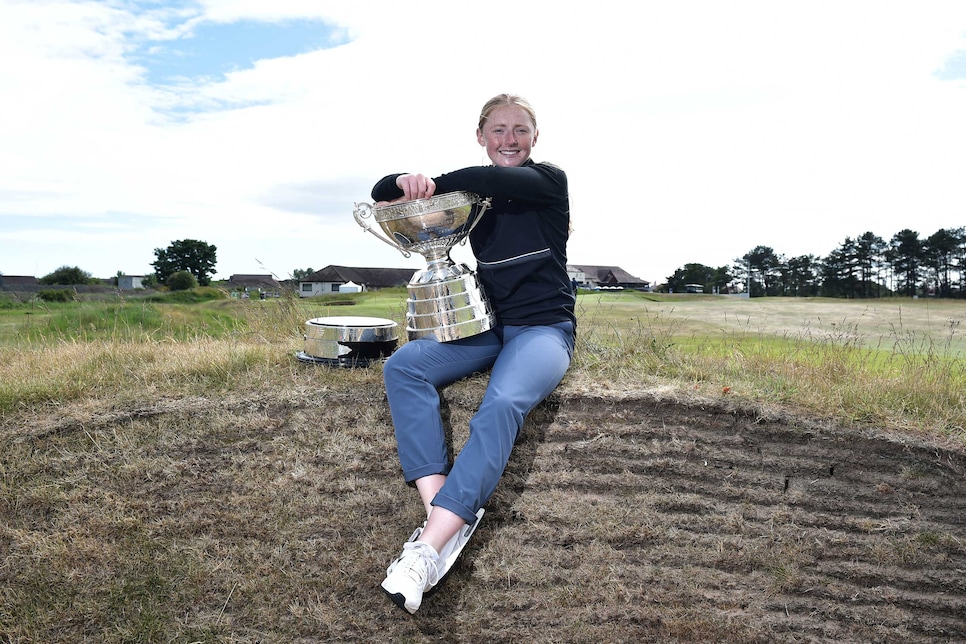 The University of Stirling boasts having the reigning women's British Amateur champion Louise Duncan (left) and men's champion Laird Shepherd (right).
Charles McQuillan/R&A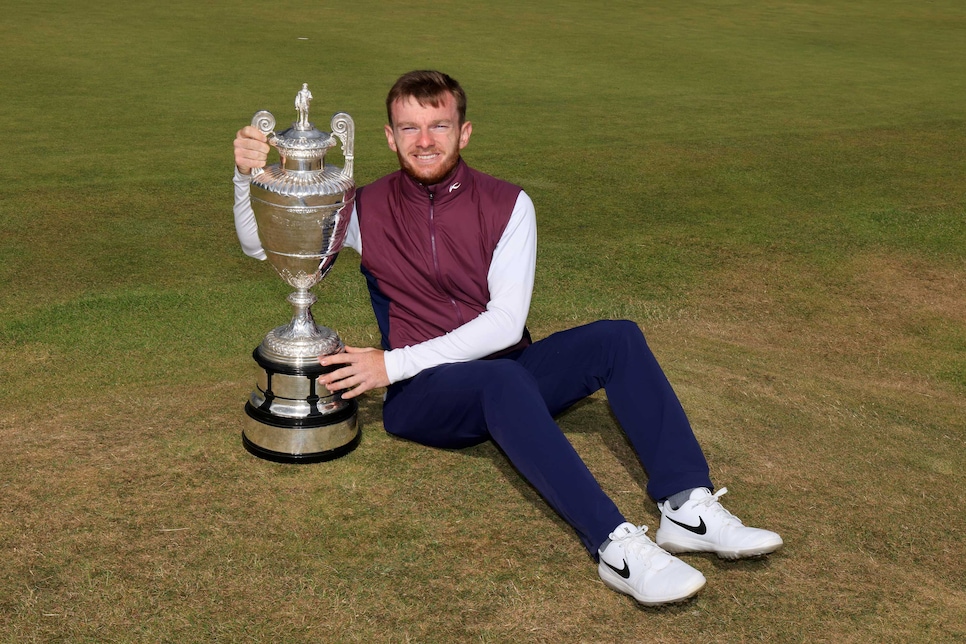 One who has followed that lead more recently is Duncan. Rather than cross the Atlantic, the Scot opted for Stirling.
"I did have opportunities to go to the States," says the sports science student. "But America is just too far away for me. I like being at home. So this is the best of both worlds for me. You can't find the facilities here anywhere else in Scotland. I have no regrets. I am so much better in adverse weather having played here so much. Shooting good scores in some of the conditions we face over here has given me the confidence to know I can do that anywhere. I'm not sure I could say the same had I gone to the States."
The motivation Matthew and Duncan share is a common theme amongst past and present Stirling scholars. For many, it wasn't and isn't just about the golf. The desire to have a "Plan B" in the shape of a meaningful degree was there right from the start. After two years at Ohio State, where he was part of a winning 1979 NCAA Championship team alongside future PGA Tour players John Cook and Joey Sindelar, Colin Dalgleish was the first recipient of a golf bursary back in 1981.
"I now know I was at the beginning of what has been a 40-year journey, and a great success story," says Dalgleish, who won the Scottish Amateur in 1981 and went on to be the Great Britain & Ireland Walker Cup captain in 2007 at Royal Country Down. "In a golfing sense, we were nowhere back then, in the bottom half of Scottish university golf teams when it was still very much 'university club' golf rather than elite golf. But that has certainly changed. The program has gone from strength to strength and the facilities have improved dramatically. Many of us improved our golf and went on to various levels of achievement in the game, while importantly also gaining university degrees which have stood us in good stead. The level of golfing achievement within the program is now on a different level entirely to that of the early years."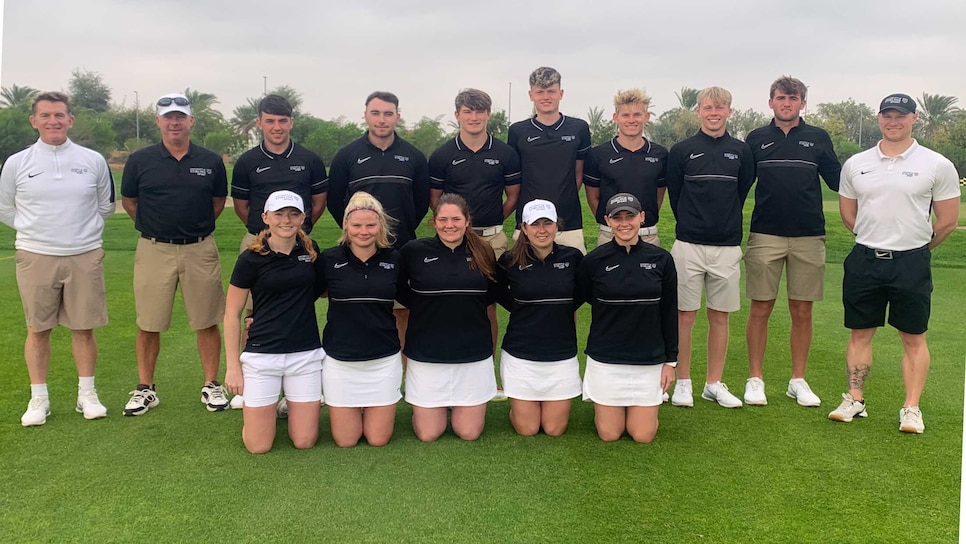 The University of Stirling men's and women's 2021-22 squad: Back row—John Mathers (Sports Psych), Dean Robertson, Jack Broun, Greg Hurley, Will Coxon, Will Beatty, Jeremy Lyonnet, Ben Brookes, Lachlan Reynolds, Josh Walsh (S&C). Front Row—Louise Duncan, Abby Nisbet, Lorna McClymont, Penny Brown, Nicola Slater
The man most responsible for that fact is Stirling's high performance golf coach, Dean Robertson. During the 12 years of his tenure, Robertson has transformed the program. Where once the players might be termed "enthusiastic amateurs," now they are the equivalent of full-fledged card-holding "tour pros" such is the extent and quality of their preparation for competition.
Speaking of which, Robertson was one of the driving forces behind the implementation of the BUCS Golf Tour that has since been backed up by the R&A-supported Student Tour Series. Throw in the likes of the Stirling International event at the Fairmont course just outside St. Andrews and all of the above provides the students with the sort of high-level competition that backs-up their various forays into elite amateur tournaments around Europe.
Today there are five teams and about 60 golfers in the Stirling program, with 14 of those receiving scholarships.
"Each team has a captain assigned," says Robertson, who spent time at Midland College in Texas, before embarking on a 13-year, 239-tournament career that earned him €1,884,270 in prize money (as well as the 1999 Italian Open title) on what was then the European Tour. "I look after the scholarship program, so I effectively take charge of the top team. But promotion and relegation takes place between each team. My primary focus is on the ISSP, the International Sports Scholarship Programs. In recent years that has been seven men and seven women. That's our maximum, the number we can give our proper level of attention. We also work on the strength and conditioning, which is a massive compliment to the development of players."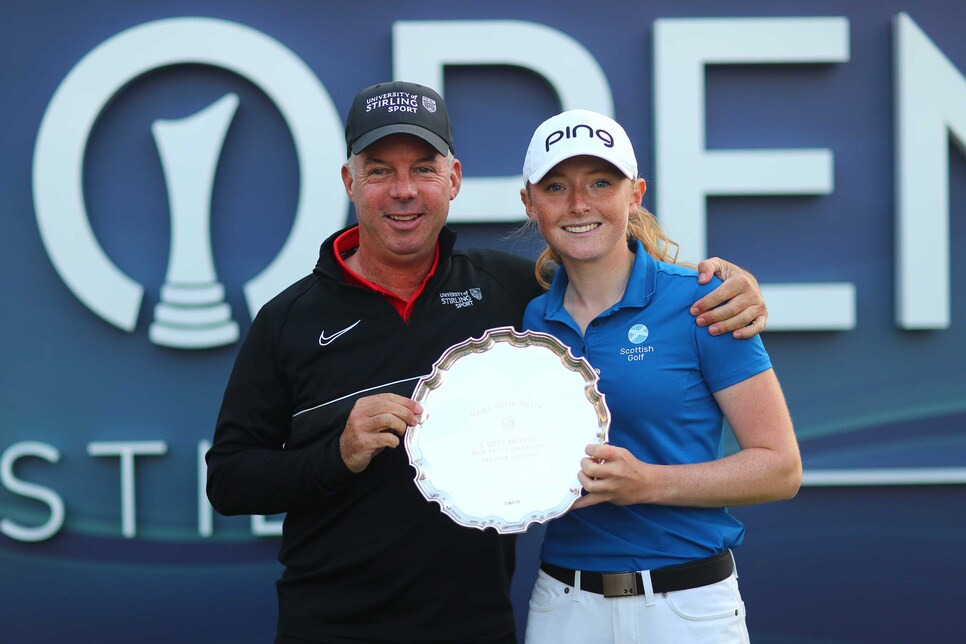 Dean Robertson, who caddied for Stirling's Louise Duncan as she went on to earn low amateur honors at last year's AIG Women's Open at Carnoustie, had built the program into a sensible alternative to top European players to develop their games without have to travel so far and play in the American college system.
Chloe Knott/R&A
Duncan is one of the best examples of how a player can develop in many ways under Robertson's tutelage. Working in the gym, the Ayrshire native has raised her clubhead speed by 10 percent. Once in the mid-90s mph, she now swings at up to 109 mph.
"In the women's game, if you can do that and square the face at impact you've got a big chance to do well," says Robertson, who caddied for Duncan during her Amateur win, as well as in the Women's British Open at Carnoustie, where she finished in a tie for 10th.
"Louise's development as a player needed help," Robertson says. "Her understanding of situations wasn't there, which is why I caddied for her. The aim was for her to enjoy the challenges and make herself hard to beat … and not beat herself. From a strategic standpoint, we went to Carnoustie with a goal. We went there weeks in advance. Then we played practice rounds with Beany [Matthew], Sophia Popov and Leona Maguire. Right away she was out of her comfort zone.
"For me, coaching is about drawing out, not about filling up. There is a massive amount of instruction out there. But I'm not that person. For me, it's not a case of 'one size fits all.' It's about working with what a player has and refining that base. I'm able to use my experience from play—not just anecdotally—to allow my players to go out there and formulate an understanding and awareness of what to do, how to do it and how to take ownership of all that."
'For some, the American college experience is a dream. It's what they want to do. But it wasn't for me. I was tempted, but I hadn't travelled much at that point in my life, and it all sounded a bit daunting. I was happy being close to home. If I had to do it again, I think I'd make the same decision.'
—Catriona Matthew
So things have come a long way since 1981. But Stirling, along with every other university in the British Isles, is never going to be anything like any of the powerhouse golf schools in the United States. They've had their moments though.
In 2015, Stirling led by three shots after the opening round of "The Prestige at PGA West" college event in California.
"With the budget available to us, shoestring by comparison to the big schools in the States, we have punched above our weight and continue to do so," Robertson says. "At that Prestige we were up against the likes of Jon Rahm, Patrick Rodgers, Xander Schauffele and Maverick McNeely. But at the end of day one, it was Stirling followed by ASU, Oklahoma State and Southern California. People were bamboozled."
Three years later Stirling became the first overseas side to win an NCAA Division I event, the Yale Intercollegiate. But that sort of success is only part of Robertson's remit, which is why recruitment, while not exactly ad hoc, is far from an official part of his job description.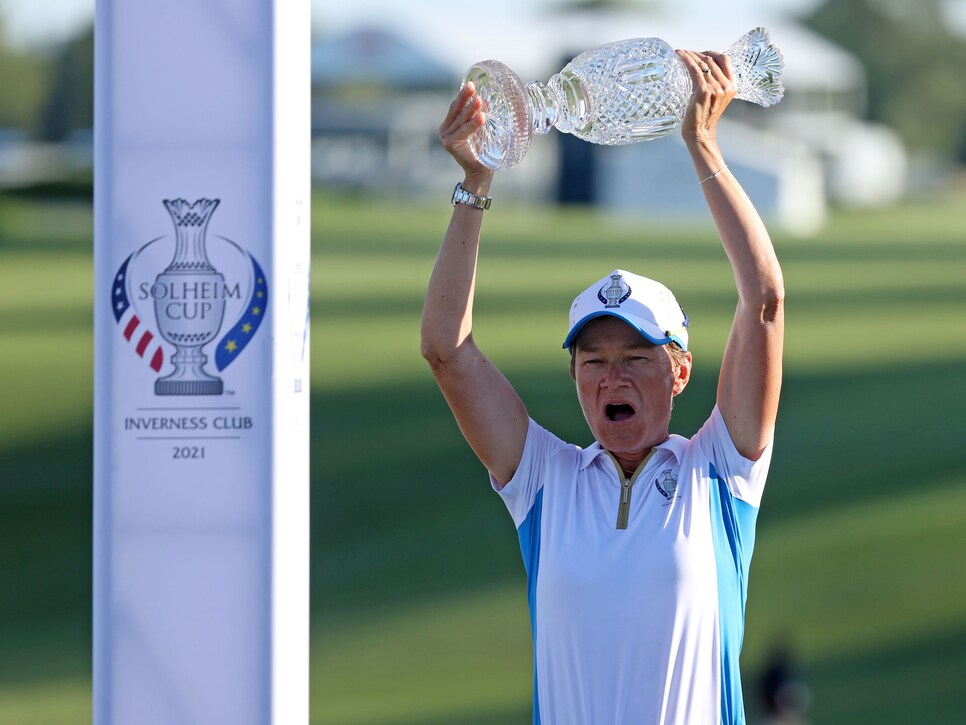 Among the notables golfers who attended the University of Stirling are two-time Solheim Cup captain Catriona Matthew.
Gregory Shamus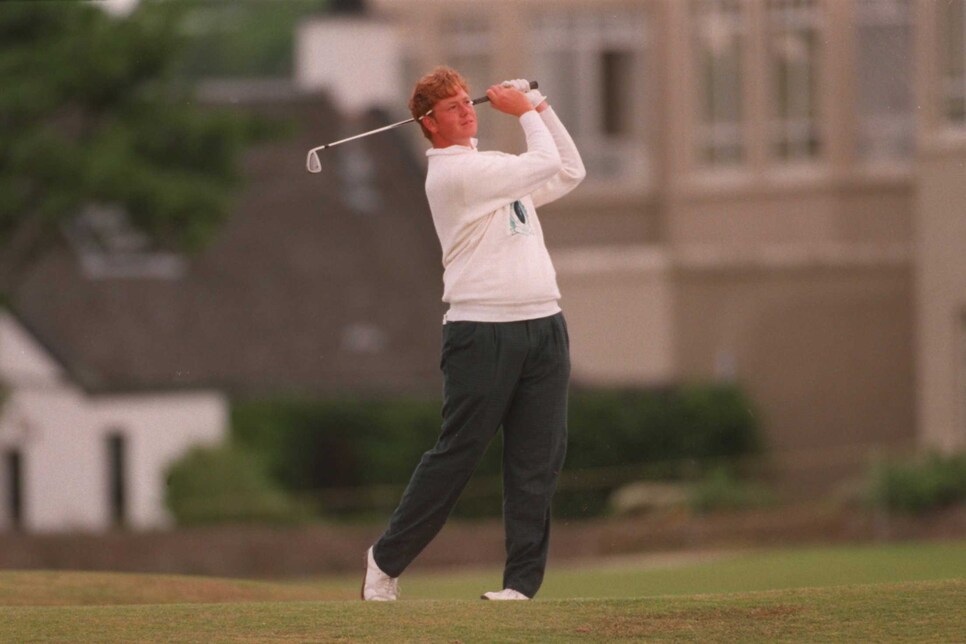 1995 British Amateur champions Gordon Sherry.
David Cannon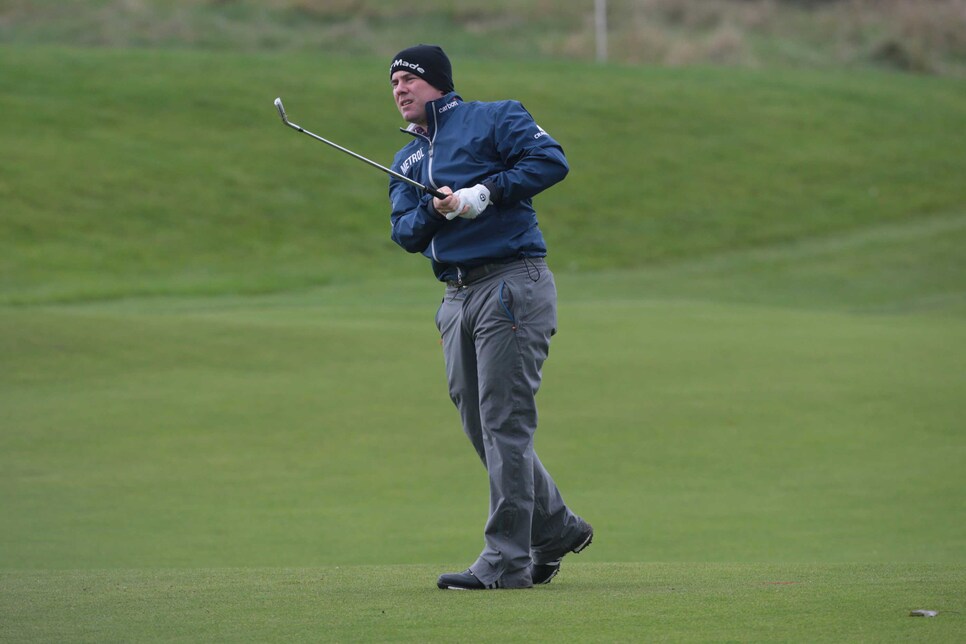 2006 U.S. Amateur champion Richie Ramsey.
NurPhoto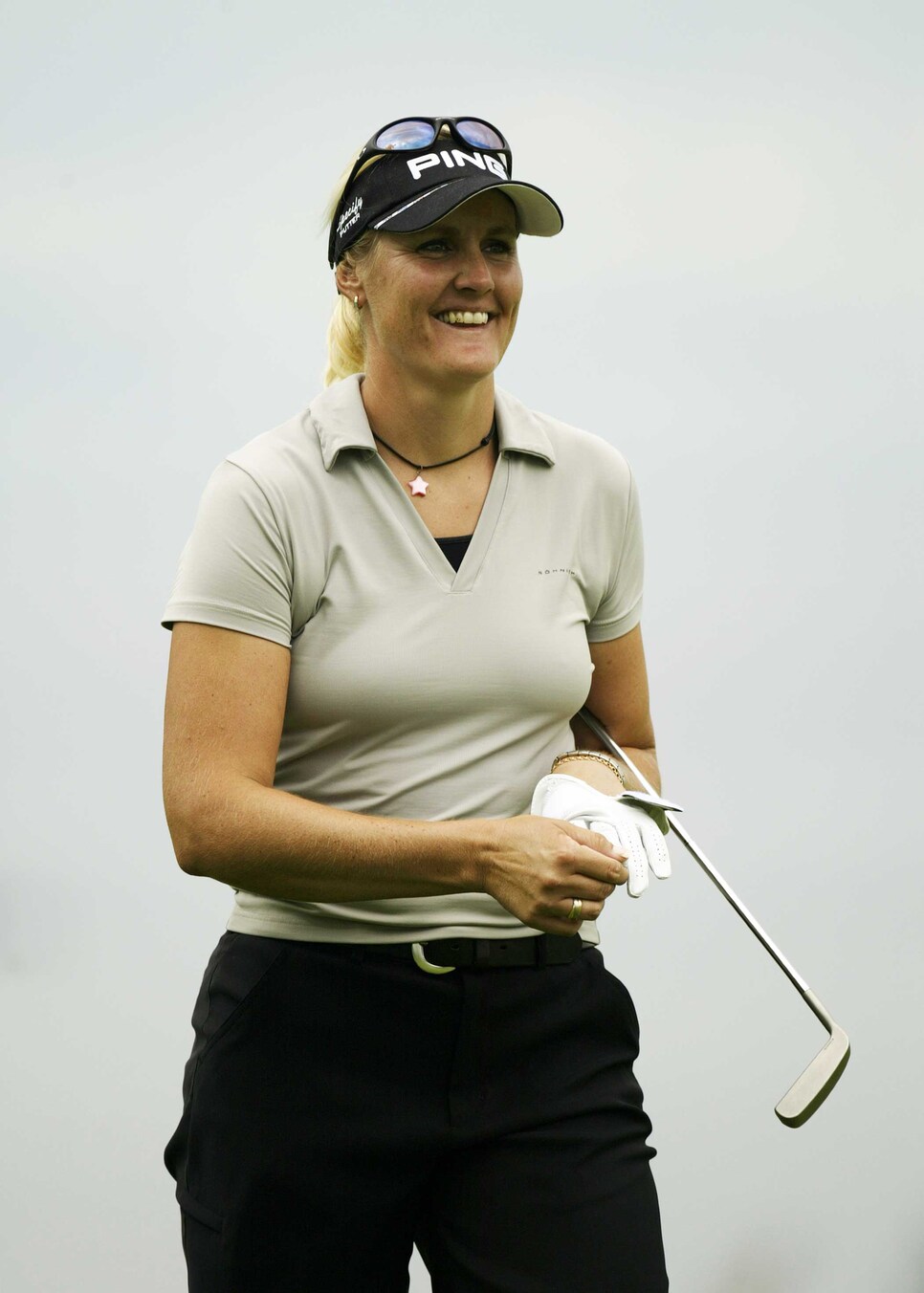 Five-time LPGA winner Maria Hjorth of Sweden
Stuart Franklin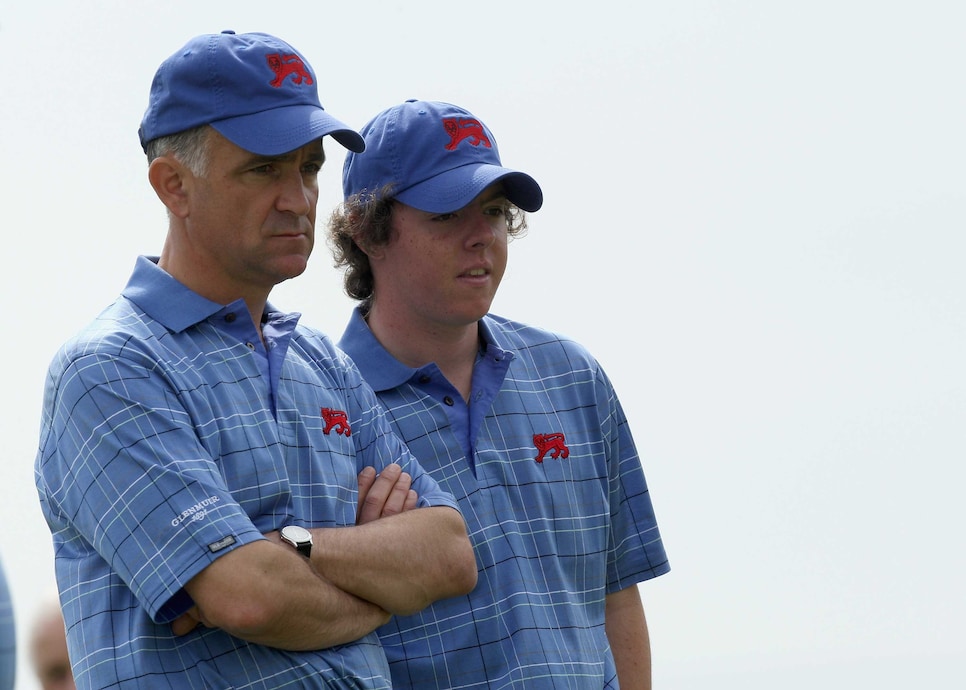 Colin Dalgleish captained Rory McIlroy at the 2007 Walker Cup. Dalgleish was the first scholarship golfer at the University of Stirling in 1981.
David Cannon
"The top players in this country get bombarded with offers from the States," he says. "I don't fight that fight. But I go to the big amateur events in the U.K. It's just a presence though. I never approach players with offers. Mostly I get players coming to me. I was recently at the Scottish Girls championship. A couple of players approached me with their families. I did a little talk for them. I took them round our campus. We had a training day here in March where I brought some of our players, male and female, and gave them an experience. That's how I recruit. I don't have a budget, but I'm a good salesman.Word of mouth is our biggest asset."
Once players arrive at Stirling, the experience is again different from what one might expect in the States.
"American golf programs are all about winning," Robertson says. "They have qualifying every week. In essence, they are training them to be pros. We're training students to be skilled enough to be national players. Academic results come first, on-course achievement is second. It's a twin-track approach.
"My aim is not to bring people here and train them to play on tour. It's about broadening horizons. It's about developing them as individuals. It's about giving them an amazing experience and make them as good as they can be. If they get to tour level, great. They will maybe get invites to pro events. So they can taste it and see what it's like. Only then will I say they are ready to make the transition. Far too many turn pro and have no idea what they are getting into."
Indeed. But it sounds like Stirling is more and more the perfect place to learn.