Amateurs
Laird Shepherd pulls off craziest comeback in British Amateur history, wins after being 8 down in final match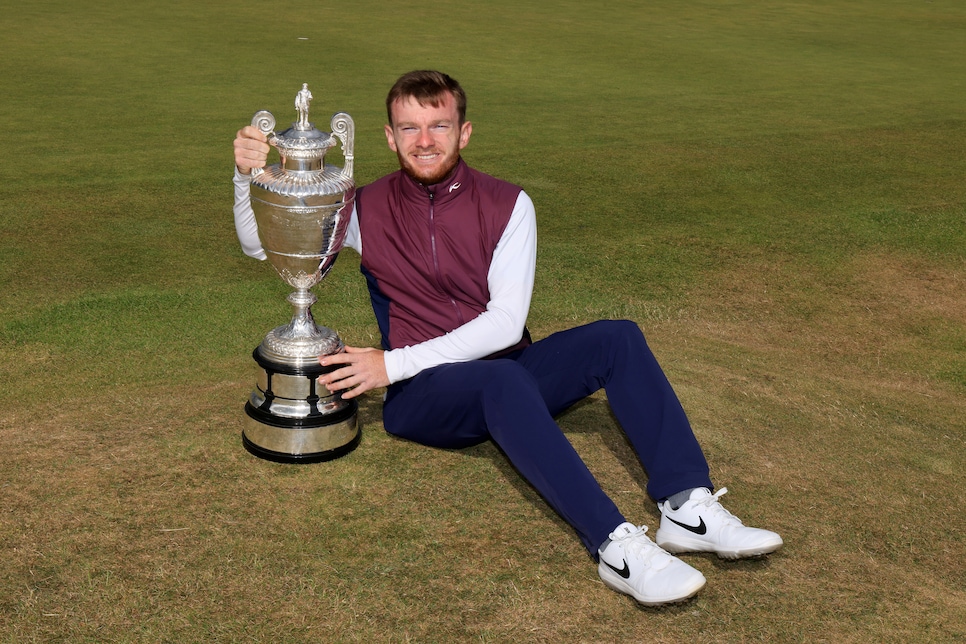 Laird Shepherd poses with the trophy after his incredible come-from-behind victory in the final of the British Amateur Championship.
David Cannon/R&A
Given the inherent uncertainty that is always a part of match play, it's safe to assume that the British Amateur Championship has seen just about everything golf has to offer since the event began in 1885. But not quite everything. Surely there has never before been a climax like this one.
After 17 holes of the 36-hole final, it looked for all the world that, more than three decades after a young lad by the name of Colin Montgomerie became the 1987 Scottish Amateur champion at Nairn, another Monty was going to be added to the club's honors board. Monty Scowsill, 8 up at that stage in the championship match, seemed to be strolling to victory against fellow Englishman Laird Shepherd.
Indeed, it looked like a safe assumption, given how poorly Shepherd was playing. The 23-year-old University of Stirling graduate who makes his home in St. Andrews had yet to make a birdie over the proud links that sits on the southern shore of the Moray Firth in the endlessly picturesque Scottish Highlands.
Still, things did improve—albeit slightly—for Shepherd before he sat down in the clubhouse for lunch. Losing his drive way right off the 18th tee, Scowsill lost his first hole of the day. But 7 up with 18 to play … no problem, right?
At the end of what inexorably evolved into 38 holes of classic match play—one filled with innumerable shifts in momentum—Shepherd is the improbable 2021 Amateur champion. Not bad for a man with a history of back problems, no previous record of note at the highest level of the amateur game and a subterranean World Amateur Golf Ranking of 846 (335 places higher, by the way, than the 25-year-old Scowsill).
Shepherd got back to 6 down with his first birdie of the day at the 383-yard par-4 fifth hole (23rd overall). Then, clearly heartened by that success, he reduced the deficit again and again with consecutive birdies at the 353-yard eighth and 357-yard ninth. Game on.
Not quite, or so it again seemed. When Scowsill took advantage of Shepherd's bogey at the par-3 11th to win his first hole since the 17th in the morning, the lead was back to 5 up. But Shepherd was still not done. His par was good enough to claim the 12th and a birdie at the par-4 13th further reduced the deficit, one that more and more appeared retrievable.
Not quite (2). Scowsill's par at the short 14th, where Shepherd missed the green and failed to get up-and-down for par, seemed to settle things. Four-up with four holes left in regulation, Scowsill was all but over the finishing line.
But it wasn't to be. A Shepherd birdie—his fourth of the afternoon round—won the 15th. Then a wild drive by Scowsill off the 16th tee finished deep in a gorse bush. Suddenly the lead was down to 2 holes. And then it was one, when Shepherd made another birdie at the par-4 17th.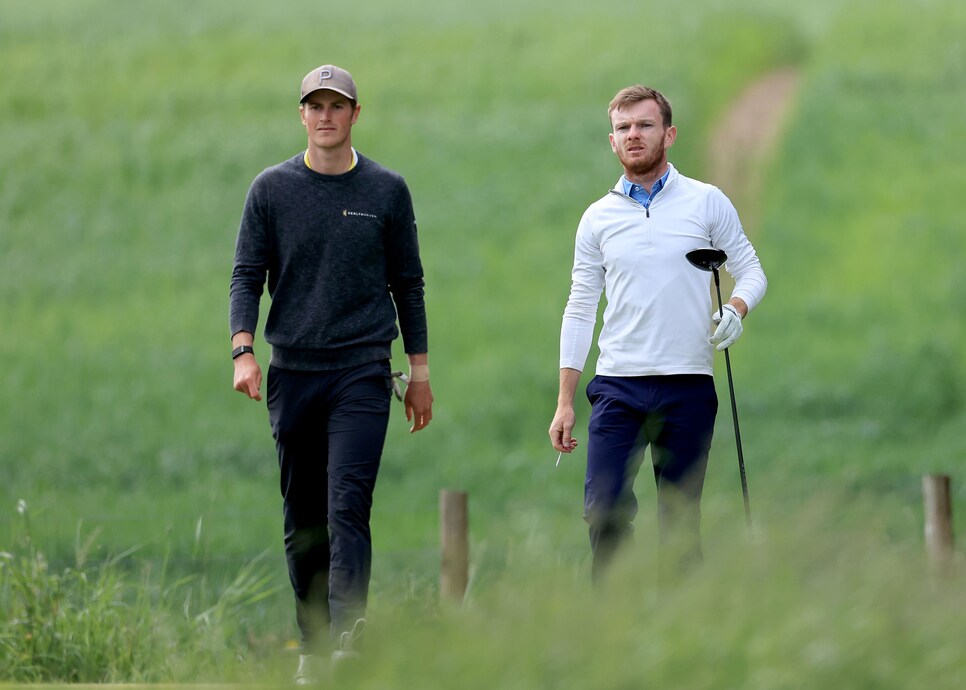 Monty Scowsill and Laird Shepherd walk off the 15th hole in the morning round of the final at the British Amateur Championship.
David Cannon/R&A
Fighting an obvious and understandable loss of rhythm, Scowsill saw his drive on the par-5 18th tee again sailed way right. As did his second shot. And his third. In the end, Shepherd's par was enough to send the proceedings into extra holes.
It ended after two. As always seems inevitable in such circumstances, Scowsill capitulated by three-putting, eventually missing from inside four feet.
"Honestly, at lunch I thought this was over," said Shepherd, who earned an exemption into next month's Open Championship at Royal St. George's as well as a spot in next year's U.S. Open and a likely invitation to the 2022 Masters. "I was just trying to avoid an embarrassing score line. I can't believe this really. Monty played so well this morning.
"I don't have the words to explain this," Shepherd continued. "My caddie did a great job getting in my ear. So did my girlfriend [Scottish Ladies champion Chloe Goadby] and my dad. They were telling me not to give up. But I still couldn't really see it happening. I felt so nervous I thought I was going to die. The only time I felt OK was when I was 8 down. To win is amazing enough, but to come back like that is completely surreal."
Adding to the emotion of the occasion was the knowledge that, as recently as the start of this year, Shepherd was unable to even hit a handful of shots, so painful was his aching back.
"I've had a difficult time with injuries," he said. "There have been occasions when I wondered if my golf was going to work out. In January I was struggling with my back and my game. I went to practice with Chloe and could only hit five or six balls. I was in tears. I'm not good at anything other than golf, so to have it maybe taken away from me was pretty scary. To come back from that like I did today is special."
Which might just be the biggest understatement in Amateur Championship history.