AIG Women's Open
Scottish amateur finds herself contending in Women's Open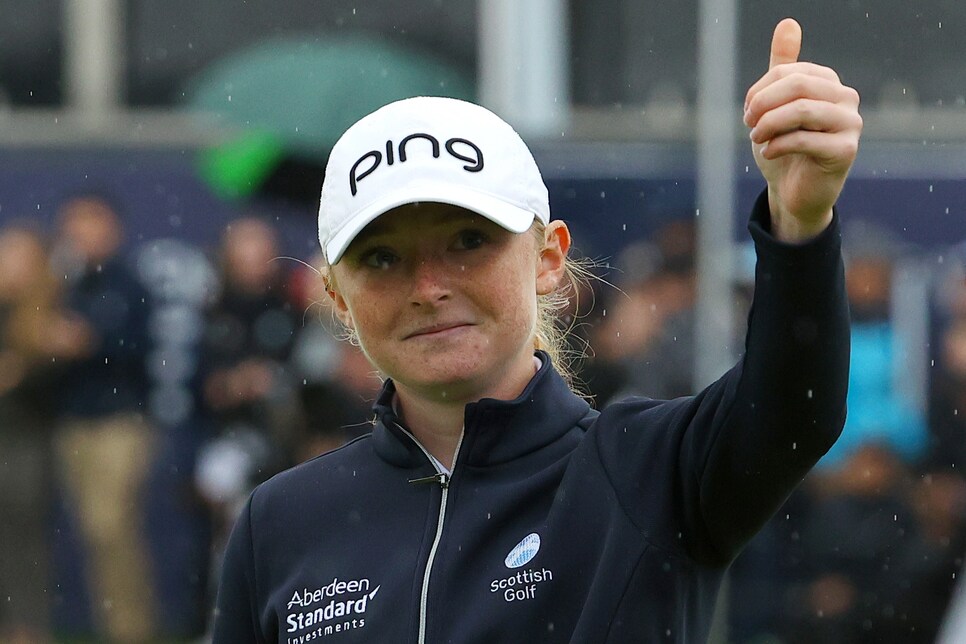 Louise Duncan reacts as she finishes the third round of the Women's Open.
Andrew Redington
CARNOUSTIE, Scotland—Louise Duncan arrived in Carnoustie with two aims. First, make the halfway cut in the AIG Women's Open. And second, claim the Smyth Salver awarded to the low amateur. What wasn't going through the 21-year-old Scot's mind was adding a major championship victory to the Ladies British Amateur title she won two months ago. That was unthinkable—"daft" was the word she used after completing a third-round 68—in what is her first, albeit unpaid foray into the world of professional golf.
With 18 holes to play in 2021's final major, Duncan is seven under par, two shots off the lead held by Anna Nordqvist of Sweden and Dane Nanna Koerstz Madsen and in a tie for fourth place alongside the likes of Lexi Thompson and Sei Young Kim, both major champions. Heady stuff indeed for the Sports Science student at the University of Stirling in Scotland.
Cheered on by a vocal home crowd, the wee lassie from West Kilbride in Ayrshire (a few miles up the coast from Troon) made six birdies during a dreich Caledonian summer day, the overcast sky providing conditions that alternated between damp and soaking wet. Two shots were dropped, but the rousing birdie Duncan made on the 430-yard closing hole was greeted by what was easily the loudest roar of the day.
"That felt a bit surreal," she said with a disarming shrug. "I almost didn't hear it. I don't know what I was thinking, but I didn't hear it. So, it would be great to watch the footage back and just be able to relive that for the rest of my life. It's been a great week so far, and all the support out there has been fantastic. It's been really good to have them out there cheering me on. They definitely keep me more positive than if I was by myself."
Leading that fan base is Duncan's caddie, Dean Robertson. A former Walker Cup player and Italian Open champion, the Scot is now the high-performance coach at Stirling.
"The whole focus this week was to go out and enjoy the experience," said Robertson. "Louise is an athlete. She works hard on all aspects of her game and in the gym. Her clubhead speed is up there with the boys. No matter how she plays [Sunday], the experience here is going to stand her in good stead. She's straight into the Curtis Cup next week and she's going to have a feeling of really belonging there. That's important. She just needs a little bit more belief in herself, a little bit more self-confidence."
One more 68 and that head space shouldn't be a problem. Although there will definitely be at least a financial downside, whatever happens over the closing 18 holes. For Duncan, there will be no check, only glory. Reminded of that fact, she feigned indignation.
"I'll be drowning my sorrows tomorrow I think, tears rolling down my face," she said with a smile. "Whatever happens, happens. I'll just try to not look at what I could have won."