DP World Tour
Lee Westwood's outcast status in Abu Dhabi can't keep him from remembering some of the good times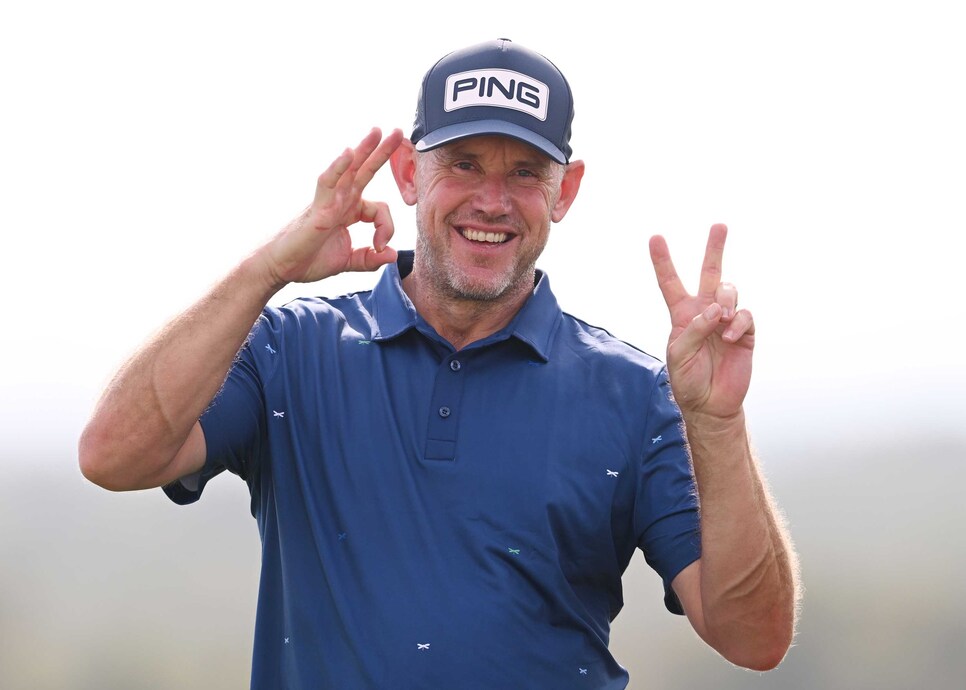 Lee Westwood smiles during a practice round prior to the Abu Dhabi HSBC Championship.
Ross Kinnaird
ABU DHABI — Not many people beyond the winner, Sweden's Mats Lanner, remember the 1994 Madeira Islands Open. But Lee Westwood does. It was there, on the Portuguese archipelago off the northwest coast of Africa, that the then 20-year-old Englishman made his professional debut on the European Tour. He didn't do too badly, either. Rounds of 72-69-75 saw Westwood pull up in an eight-way tie for 19th place in the weather-shortened event. For that effort, he earned €3,941.
Almost three decades later, much has changed, both for golf and for Westwood. His meager first check was the forerunner of tour earnings that today sit at almost €35 million. En route, 25 victories, 171 top-10s and 102 missed cuts have been recorded and 10 Ryder Cups have been played in.
Throw in his worldwide travels over the years and Westwood has finished first in 44 events, seeing off the likes of Tiger Woods and Greg Norman down various late-Sunday stretches. So the now 49-year-old from Worksop has done rather well, both for himself and, one has to think, for the tour he still calls home.
"There have been so many highlights," says Westwood, who has long-ago caddie, Mick Doran, back on his bag this week. "Hey, Mick, the late '90s were good weren't they? He can't remember because he was drunk every Sunday night after we'd won. I won eight tournaments in a year twice. Six on the tour both times. To be honest, it's a bit of a blur to me as well. Winning was just a habit. It was the fearlessness of youth. Mick says that when I was on the leaderboard, I won. It was like for that for Monty and, of course, Tiger. Their names went up on the leaderboard and guys would say 'oh no it's him' and back off. Made it easier.
"Beating Tiger in Germany was special," he continued. "But beating Tiger anytime is special isn't it? I won around that course twice. One year there I wasn't really in it until I shot an 11-under 61 on the Saturday morning and flew into contention. Then I shot 66 on the final day and won. That's how it was back then. Great days."
At this stage then, Westwood should be something of a revered statesman on what is now the DP World Tour. But he isn't, of course. His lucrative switch to LIV Golf last summer has, perhaps forever, soured what should be a relationship founded on mutual admiration and respect. This week at the Abu Dhabi HSBC Championship—what will be Westwood's 588th start on the European/DP World Tour—he is in the field but has been confined to after-thought status. He did not have a spot in Wednesday's pro-pro and is part of a non-descript three-ball group with Ross Fisher and Victor Dubuisson.
"Why not let us [LIV players] tee-up in the pro-am this week? Why would you not have, for instance, me and Poults [Ian Poulter] playing. That doesn't do the sponsors much good. Why with the [arbitration between LIV and DP World Tours] hearing coming along would you change the routine? Why not treat us the same until there's a decision?"
That snub, however, wasn't what is energizing Westwood's mind most when the subject inevitably turns to the DP World Tour in 2023.
"I'm not sure where the European Tour is now," he says. "If you'd have told me that I'd be playing in a $9 million tournament on tour I'd struggle to believe you. But then if you also told me there would only be one member of the world's top-20 in the field, I'd think you were mad. No disrespect to whoever he is but the 15th-ranked player on the Challenge Tour is in this week. And this is a short field, as is next week, another $9 million event. I've never known it go down so far, even when it was nowhere near this money.
"I've had a lot of people come up to me here this week and saying 'thanks for playing this week and giving us your support,'" he continued. "But the PGA Tour is forcing the hands of the top players, which stops them competing here. The FedEx Cup is structured around making every player play every week, which doesn't leave much left for any other tour. And with the World Rankings as they are now, it's a double whammy."
Things may be a little clearer after the five-day arbitration hearing (Feb 6-10) that will determine whether or not Westwood and his fellow LIV players can continue to play on the DP World Tour.
"With the hearing, there is going to be some sort of line drawn in the sand," Westwood said. "There will be clarity, although whether there is as much clarity as everyone is saying, well let's see. Everything is a bit vague. And not always pleasant. There was a message sent out the other day to players. It was just propaganda aimed at stoking up tensions between players who aren't with LIV against those who are with LIV. Why do that? Just wait for the hearing and then go from there. There has been no animosity to me from other players. It's only come from one place [the tour].
"If I do get banned, I'll cross that bridge when I come to it. I'm not going to play a guessing game. I love the European Tour. I've played on it for 30 years and like to think that I've supported it more than anybody. When I had the chance to take up my PGA Tour card in 1998 and again in 2010, I didn't. I've only taken up my American card sporadically, when it became obvious that was the only way to protect my ranking. But even when I was a member of both tours I'd always say that I was a member of the European Tour first and foremost. I don't want that to change."