The Loop
Please, expose your ignorance and tell me LeBron James isn't the G.O.A.T.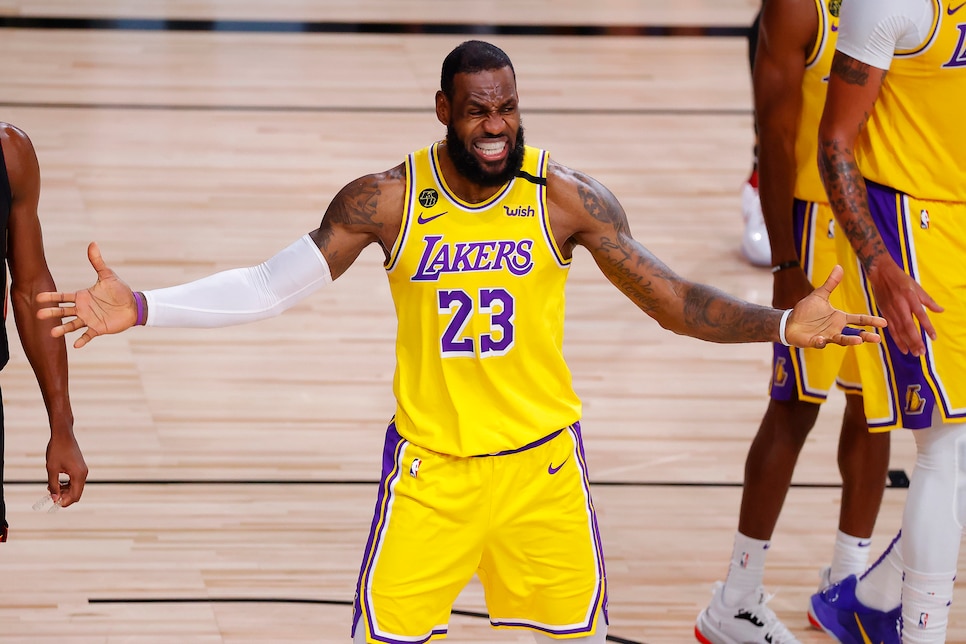 On Friday (okay, maybe Sunday), LeBron James is going to win his fourth NBA title with his third team. He'll become the third man in history to win with three squads, but unlike Robert Horry and John Sally, he'll have done it while leading all three teams. It will be the cherry on top of a brilliant career, and there's no sign that the man is slowing down at age 35. Let me throw some statistics at you:
+ LeBron James is third all-time in career points scored, and at his current pace will easily pass Kareem Abdul-Jabbar for no. 1 in three years. Shortly after that, with just an average season, he'll become the first man to ever score 40,000 points.
+ In one more decent year, he'll have surpassed the 10,000-assist mark, and in two more below-average years he'll have passed Steve Nash to reach third all-time. He'll finish below only Jason Kidd and John Stockton, and may I remind you that the dude is not a point guard. (For what it's worth: he still has an outside shot to catch Kidd.)
+ With three more normal seasons, he'll reach fifth on the all-time steals list.
+ Despite also not being a center, three more decent years will see him move inside the top 30 in career rebounds.
+ Again, despite not being a center, he'll finish his career as one of fewer than 100 players to ever accumulate 1,000 blocks in a career.
+ We don't have great metrics to measure defense yet, but his obvious defensive talents have landed him on five all-NBA first teams, and led to countless lock-down playoff performances against the opponent's star.
Those are just career numbers, but digest those facts: Even based on the most modest projections, he's going to be top 5 in three of the NBA's five main statistical categories, and elite in the other two.
And that's because he's been ridiculously, absurdly, consistently great at basketball for every year of his existence in the NBA. He's won four MVPs, but that's only because the league likes to spread the wealth; anyone with a basic statistical background knows he should have at least six, minimum.
I know what you're going to do now. You're going to throw Michael Jordan in my face. Jordan, the mythological god of heroic feats and petty revenge, whose greatest moments have been enshrined again and again, most recently in the hagiography The Last Dance. You won't get very far denying Michael Jordan's greatness, and yeah, he won six titles, had a slew of iconic shots, also has a bunch of MVPs, and is a decorated defender. When you look at Player Efficiency Rating—a sabermetric measure of all-around ability meant to size up a player more comprehensively than you could with a single statistic—Jordan and LeBron are one and two, but Jordan is first by a hair.
But—I'm sorry—longevity counts. Jordan skipped what might have been some of his prime and post-prime years, which simultaneously pads a stat like PER while reducing cumulative stats. He had his reasons, and I'm not saying it should diminish his legacy. But LeBron never skipped a damn thing. For 17 seasons, he's somehow been both a genius and a rock. That matters.
And let's talk about titles. Sure, Jordan has more, but after figuring out how to survive the Pistons, he and the Bulls had some cupcake years. LeBron? LeBron has genuinely never had an easy season. He was saddled with the woeful Cavaliers for the first seven years, and as bad as they were, he still led them to an NBA finals and won a playoff series in his last five (original) seasons with the team. The Heat were supposed to be a SuperTeam, but there he had to go up twice against one of the greatest teams ever assembled, the mid-2010 Spurs. And he still beat them once! Then, back in Cleveland, he made four straight NBA finals and pulled off one of the NBA's most heroic acts in the 3-1 comeback against Golden State. So, sure, he's 3-6 in Finals series, but he faced a juggernaut—either the Spurs or Warriors—in five of them, and a peaking Mavs team in the other. In each loss, his team was inferior. Hell, even in the Finals he's won, his team has only been better one time (2011-12, against the Thunder) before this season. A mere mortal would be 1-9.
Every title he's won, he's had to claw it out from the dirt, and in the meantime he's now reached ten NBA Finals in 17 seasons. This is a person who has made his team better just by the fact of his existence, and he's fought battles against mega-dynasties that Jordan never had to fight after 1991.
And now that he's with the Lakers, in his 17th season, how did he adjust? By leading the NBA in assists, adapting to the bubble when other title contenders like the Clippers and Bucks flailed, and finding himself on the verge of another title. The ongoing trajectory of a superb career, matched with the cold hard reality of statistics, steers us to the unavoidable conclusion: LeBron James is the greatest ever, bar none. Michael Jordan may always occupy the seat of honor in American sports mythology, and he deserves it, but LeBron is a giant unto himself. All hail the G.O.A.T.