News
Landry strikes gold in Texas, prodigy dazzles in debut, and one of the craziest up-and-downs you'll ever see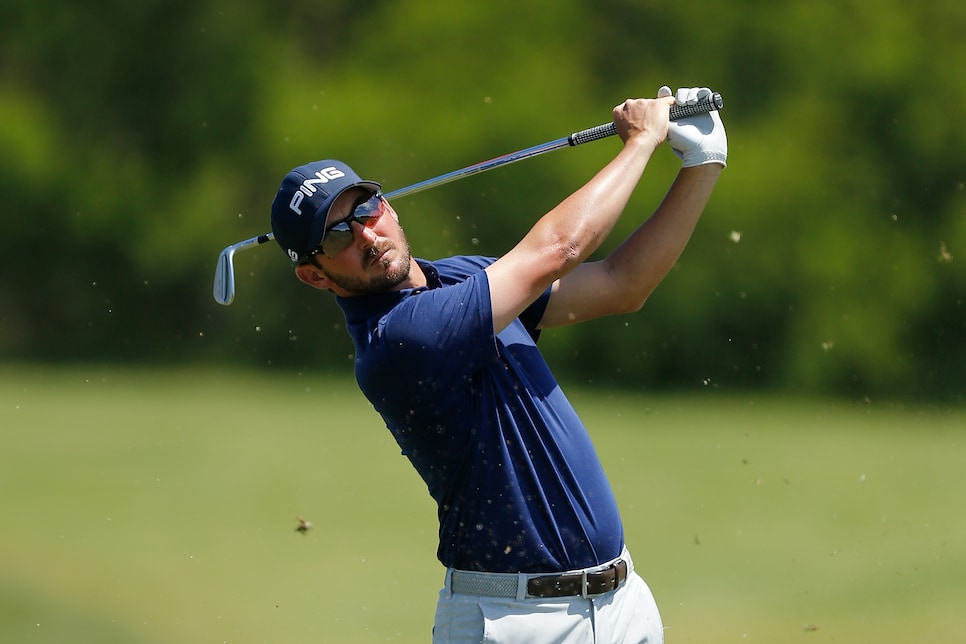 Welcome to the Dew Sweeper, your one-stop shop to catch up on the weekend action from the golf world. From the professional tours, trending news, social media headlines and upcoming events, here's every golf-related thing you need to know for the morning of April 23.
Until Sunday, Andrew Landry was best known for his out-of-nowhere run at the 2016 U.S. Open. With a near-flawless display in San Antonio, the 30-year-old proved he's far more than a one-week wonder.
That's not fair; Landry did have a runner-up at this CareerBuilder Challenge this year, along with two other top 10s entering the week. But, in professional golf, the difference between contenders and conquerors is great. By capturing the Valero Texas Open by two shots over Sean O'Hair and Trey Mullinax, the 30-year-old journeyman put himself firmly in the latter.
"Lot of hard work, obviously," Landry said after his win. "Today was a grind, especially on the back nine, didn't hit that good of a wedge shot [at the 18th], good two-putt there, so, we'll take it."
"Grind" has been a recurring theme at this tournament since it moved to TPC San Antonio, one of the toughest venues on tour. Though the course surrendered more red numbers than usual this year, the track was far from a stroll through the park, making Landry's performance—just one bogey over his final 53 holes—impressive. Perhaps it's one we should have expected from a player who's battled and labored for nine professional seasons to get to this moment. Evidenced in his three consecutive birdies to start the round, a moment that Landry was ready to seize.
Though the win bestows a bounty for Landry—a two-year tour exemption, invites to the 2019 Masters and 2018 PGA Championship—the Austin native remains focused on a separate objective. "We're trying to get to the Tour Championship this year, and that's kind of my goal still," he said. "We still have a lot of work to do, but this will definitely help."
If Oakmont was our introduction to Landry, consider San Antonio a harbinger of what's to possibly come.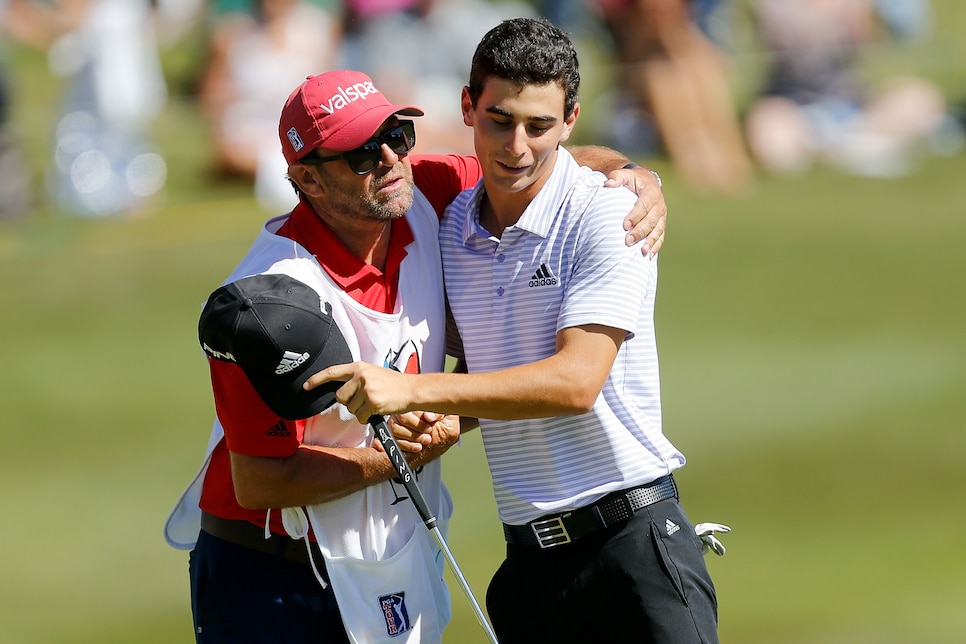 Michael Reaves/Getty Images
Be it the post-Masters melancholy of the tour calendar or merely a lack of relative popularity, Joaquin Niemann's professional turn at the Texas Open was met with a general yawn at the beginning of the week. That tune was decidedly different Sunday afternoon.
The former No. 1 amateur in the world dazzled in his pro debut, making the cut at TPC San Antonio and turning in a pair of weekend 67s. A charge good enough for a sixth-place finish for the 19-year-old, a standing that earned an invite to the Wells Fargo Championship.
"I mean, I was playing good [coming into the week]. I never thought I was going to finish how I played this week, but I can't be more happy than this," Niemann said. "Just try to keep it up and hope to play well for the next weeks."
Niemann, who competed in this year's Masters as the Latin America Amateur champ, had earned his way into the U.S. Open and Open Championship fields as the Mark H. McCormack Medal winner, but lost invites after turning pro. That decision largely had to do with confidence in his game, yet also involved some NCAA red tape. Niemann was set to play college golf at South Florida, but while still in the midst of learning English, had an issue with an entrance exam that would delay his entry by a year. Following his exit in the Round of 64 at last August's U.S. Amateur, Niemann decided to expedite the professional process.
After one tournament, it's looking like the right move.
"I think this is going to give me a lot of confidence to try to do my card for this year," Niemann said. "Thing is I've got a couple more tournaments coming, and I just can't wait for it."
One heck of a birthday present
Eric Axley didn't hit a single shot on Sunday at the North Mississippi Classic. (At least one that counted.) That was more than enough to claim the title at the Country Club of Oxford.
The final round of the Web.com Tour event was canceled, as officials deemed the course unplayable after heavy rains. Axley, who held a three-stroke lead over Willy Wilcox, Sebastian Munoz and K.H. Lee, was declared champ. It was a bit of providence, as Axley had already gave up his lead before play was suspended.
"We looked at the forecast and knew they had moved [final-round] tee times up," Axley said, "and this isn't our first rodeo so we thought that there may be a chance that we didn't play today. Our goal yesterday was to play like it was the final round and we went out and played well, and it ends up it was the final round, so we got the win."
It is Axley's first win in 12 years since, coincidentally, the 2006 Texas Open. Better yet, Sunday marked Axley's 44th birthday. Considering the win puts him in a strong position to regain his tour card, that's a hell of a present.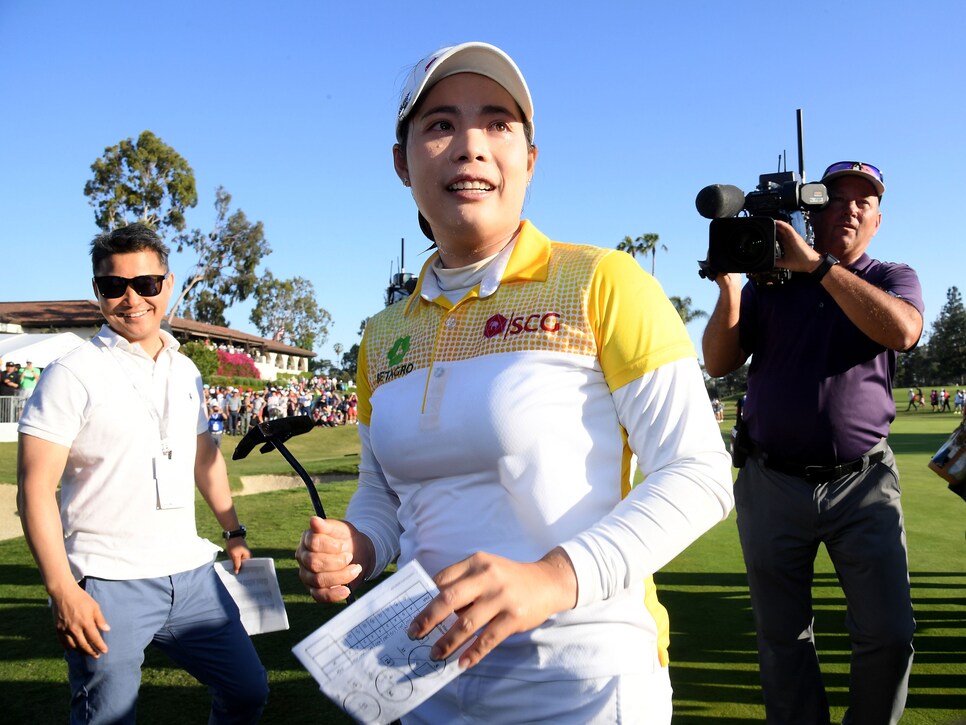 Moriya gets her breakthrough
After 156 career starts, Moriya Jutanugarn finally found the winner's circle on Sunday at Wilshire Country Club. Jutanugarn, who entered with a two-shot lead, made just one bogey on the day, as her final-round 68 equated to a two-shot victory over Inbee Park and Jin Young Ko at the HUGEL-JTBC L.A. Open.
You're forgiven if you think Jutanugarn has already won on the LPGA Tour. She's been in contention so many times, after all—five top-three finishes in the last 10 months. Not helping matters is the confusion from the success of her younger sister Ariya, who has won seven victories in the last two years.
But in Los Angeles, it was Moriya's time to shine.
"[I had] alot of patience out there, and finally my week come true," she said.
A bit of history was also filled on Sunday: the Jutanugarns join Annika and Charlotta Sorenstam as the only pairs of sisters to win on the LPGA.
One of the craziest up-and-downs you'll ever see
In the team-oriented Bass Pro Shops Legends of Golf, Kirk Triplett holed out his bunker shot in a playoff to defeat Bernhard Langer and Tom Lehman to win (along with Paul Broadhurst) the oldest event on the Champions PGA Tour. But that wasn't the only short-game prowess on parade at Big Cedar Lodge.
During Friday's round at the Top of the Rock course, Jesper Parnevik's tee shot on the par-3 15th ricocheted off a rock and hurdled some 30 yards off the green. The good news for Parnevik is his ball found land. The bad? He was left with a short-sided approach over a bridge, water and elaborate landscaping, a scene reminiscent of a putt-putt course.
Making this one of the best saves you'll ever see:
"One of the top three up-and-downs in my career," said Parnevik, which might be the understatement of the year. "And I've made some sick up-and-downs."
All the more daunting considering partner Jeff Maggert's tee ball found the water. To all the tour pros playing in this week's Zurich Classic, that is how you pick up a teammate.