News
Joaquin Niemann finishes sixth in pro debut, confident a PGA Tour card isn't far away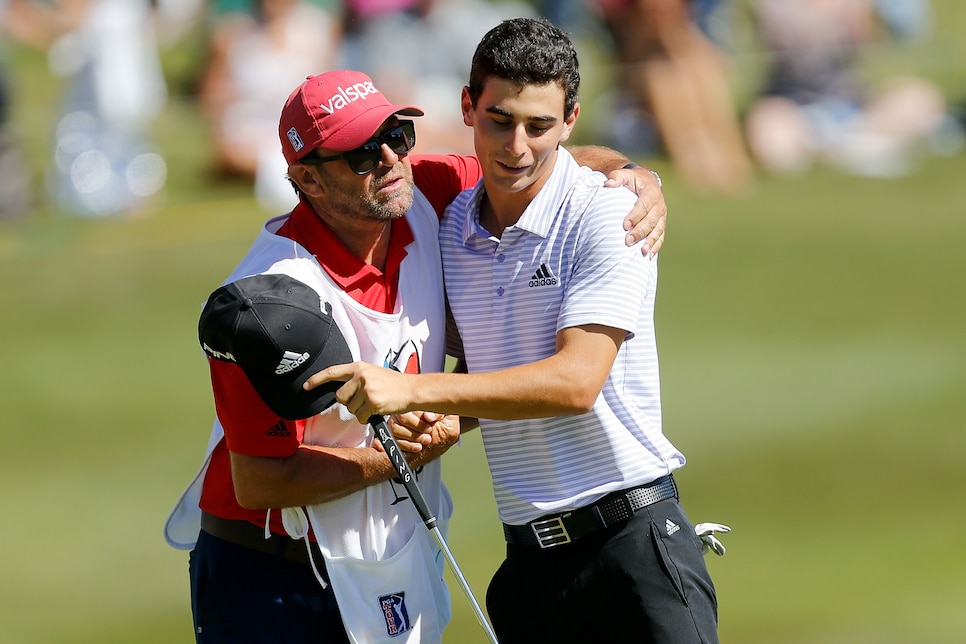 Michael Reaves/Getty Images
Nobody leaving TPC San Antonio on Sunday was happier than Andrew Landry. Winning your first PGA Tour title will have the effect. But Joaquin Niemann's emotions weren't that much different after finishing sixth in his professional debut this past week. The 19-year-old native of Chile posted a second-straight 67 to get into the top 10 and secure a spot at the Wells Fargo Championship.
Niemann improved his position all four rounds after shooting an opening 72 to sit tied for 35th on Thursday. He moved to T-25 and then T-11 with a 70-67 before ending up sixth, and earning $223,200 in the process.
Niemann's closing round at TPC San Antonio ended with a flourish. A birdie on the 14th was offset by a bogey on 15. But then he made birdies of six, nine and seven feet on the final three holes. His 12-under 276 total was five back of Landry.
"I mean, I was playing good [coming into the week]. I never thought I was going to finish how I played this week, but I can't be more happy than this," Niemann said after Sunday's round. "Just try to keep it up and hope to play well for the next weeks."
Prior to Niemann, the last player to finish inside the top 10 in his first tour start as a professional at the Valero Texas Open was Anthony Kim, who finished T-2 in 2006.
Niemann, the No. 1 ranked amateur at the end of last summer, had played in three professional events as an amateur, including the 2017 U.S. Open and the Masters earlier this month. He missed the cut in both majors, but did have a T-29 finish at the Greenbrier Classic last July.
Given his impressive amateur resume, which included a win at the Latin America Amateur in January, Niemann has lined up a handful of sponsor's exemptions in addition to the one he got at the Valero. He is scheduled to play at the Wells Fargo Championship, AT&T Byron Nelson and the Memorial. He can now save the Wells Fargo exemption for another tournament as he has gained entry into Quail Hollow thanks to this week's top 10.
More important than the money, Niemann earned 100 non-member FedEx Cup points for his Valero performance. He needs at least 269 points in his other starts to earn special temporary membership on tour. That status then allows him to take an unlimited number of sponsor's exemptions (otherwise, he can take just seven through the end of the 2017-'18 season). And if he earns 365, the number of points for the 125th player on the FedEx Cup points list a year ago, he'll secure a PGA Tour card for the 2018-'19 season.
"I think this is going to give me a lot of confidence to try to do my card for this year," Niemann said. "Thing is I've got a couple more tournaments coming, and I just can't wait for it."