News
Andrew Landry wins Valero Texas Open, adds his own chapter to the 'Landry legend' in Texas
This had the hint of familiarity, this man named Landry, owning a Sunday afternoon, making Texans proud. If only he'd been wearing a fedora …
Tom Landry was a giant in Texas, a Hall of Fame football coach with two Super Bowl rings. Andrew Landry, at 5-foot-7, is not a giant anywhere, though he came up large on behalf of the Lone Star State on Sunday.
Landry, no relation to Tom (as far as we know), is a Texan through and through, from head to pointed toes on the cowboy boots the Valero Texas Open awards its winners. Not his first pair of cowboy boots, of course. "Got a couple pair at home," he said.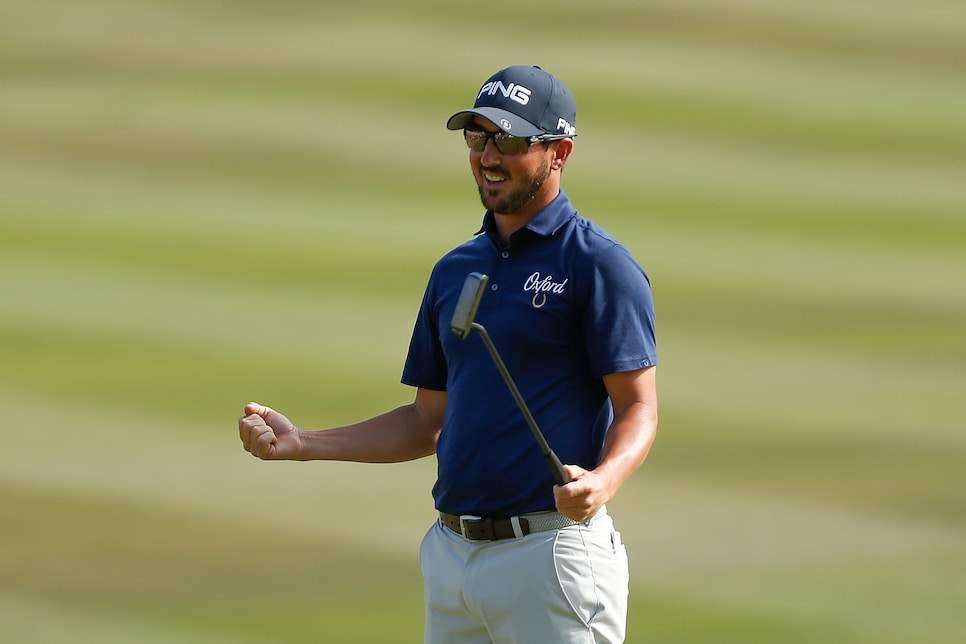 Michael Reaves/Getty Images
This was a win made in Texas. Landry is a native of Port Neches, outside Beaumont and east of Houston, and a resident of Austin, who won in Texas hill country in San Antonio. He birdied his first three holes on the AT&T Oaks Course at TPC San Antonio on Sunday, parred his last seven and won by two.
"A lot of hard work," Landry said of the key ingredient to his first PGA Tour victory, coming at age 30.
His has been a gradual ascent to the pinnacle, not a steep one. He won twice on the Adams Pro Tour and twice on the Web.com Tour on a nine-year journey en route to his inaugural PGA Tour title.
The Landry name ought to be a familiar one to those outside Texas, too. Most recently, Andrew lost to Jon Rahm in a playoff at the CareerBuilder Challenge in Janaury. And two summers ago, he held the first-round lead in the U.S. Open at Oakmont Country Club after shooting the lowest opening score (66) in the championship's 117-year history. He played in the final pairing of the fourth round, and eventually tied for 15th.
He had his PGA Tour card in 2016, lost it for 2017, and regained it this season via his Web.com Tour performance. It was his loss to Rahm that was the impetus for his win on Sunday.
"It helps because you get yourself in that situation and you continue to learn," he said. "You know, losing in that playoff when I was continuing to hit good shot after good shot, just not making any putts. Normally that's a strength of my game. Now here we are, a winner."
He also learned from his Oakmont experience, where after taking the first-round lead he suggested to his father that he was going to win, "something of that nature," he said. This time, he did not look beyond the shot at hand.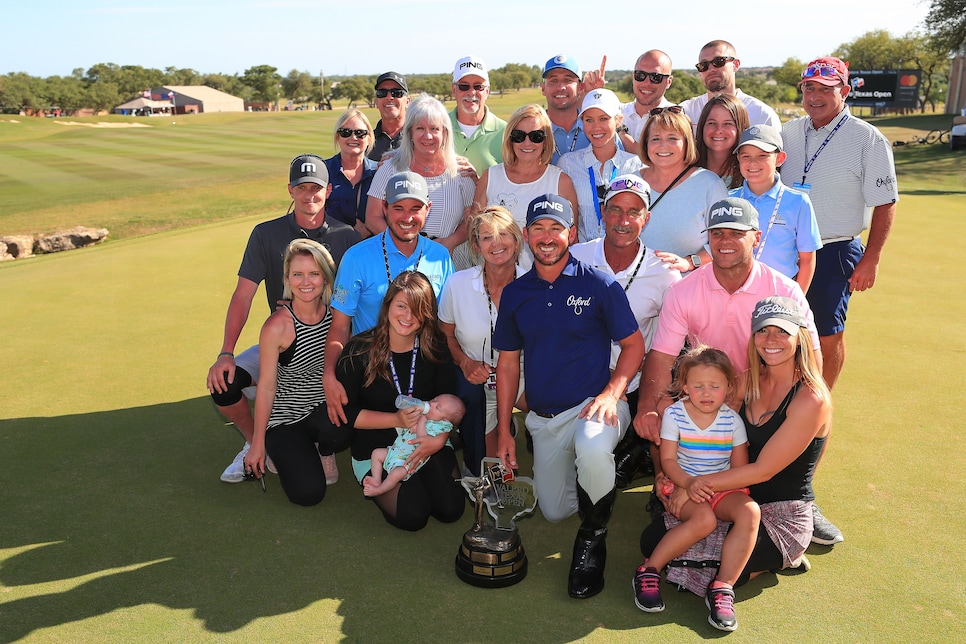 Tom Pennington/Getty Images
"I just told my wife, 'We're not talking about what we're going to wear, we're not talking about any of this. I'm just going to go out and play golf. We've got a lot of golf left and this golf course can bite you in a hurry. If we stay in the present I think that it's going to help out a lot.' And that's kind of what we did today."
Landry played a near flawless weekend, a single bogey in 36 holes, to prevail over Trey Mullinax and Sean O'Hair. He entered Sunday tied with Zach Johnson, potentially a future World Golf Hall of Famer. He separated himself from Johnson with three birdies to start his round and finished with a four-under par 68, while Johnson shot 72 and finished fifth.
Maybe it did not help in the crucible of a final round in contention, but a Landry, on Sunday, in Texas, there's history there, and this Landry created some more.