News
Playoff heroics give Kirk Triplett-Paul Broadhurst the victory at the Bass Pro Shops Legends of Golf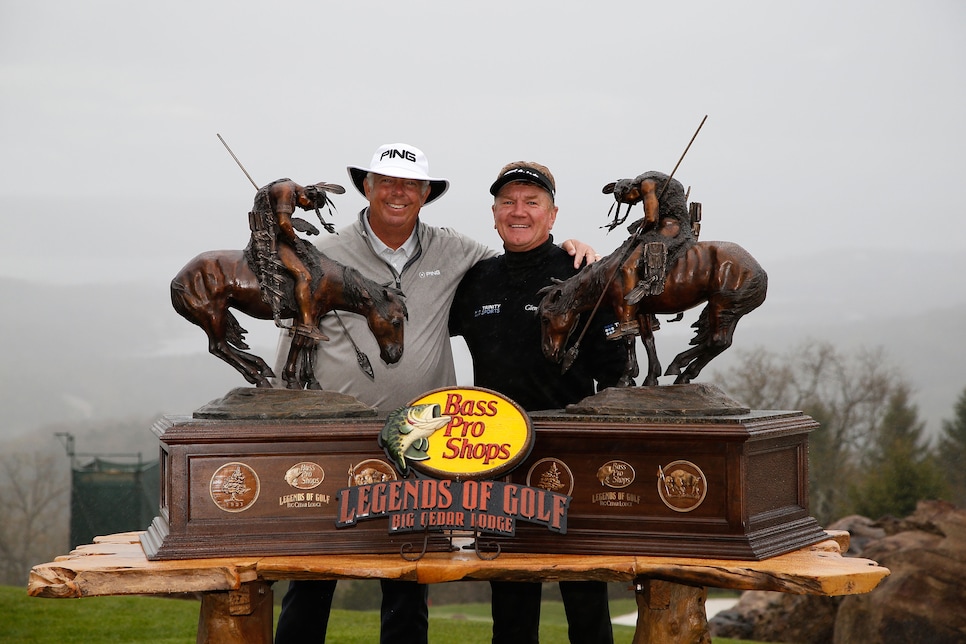 Michael Cohen/Getty Images
Kirk Triplett felt like the odd man out for much of the final round at the Bass Pro Shops Legends of Golf at Big Cedar Lodge. Teamed with Paul Broadhurst in the PGA Tour Champions event, Triplett couldn't seem to get a birdie putt to fall while playing four-balls on the Par-3 Top of the Rock course. Instead, he relied on his partner to do much of the work during a six-under 48 that tied for first at the end of regulation.
"I was the glue guy all week, just trying to make pars," Triplett said. "Paul was playing such beautiful golf."
In a playoff against Bernhard Langer and Tom Lehman, Triplett was frustrated again when his tee shot found a bunker on the 168-yard 18th hole, while the other three players were safely on the green.
But the 56-year-old got the last laugh when he holed the bunker shot for birdie, then watched Langer and Lehman miss from 12 and 10 feet, respectively.
"I was just so dejected after hitting such a poor shot," Triplett said. "Coming down [to the green], I was like, Hang in there, hang in there, get it out there where you can make a par."
Broadhurst and Triplett, not making a bogey over the course of the event, split the $342,000 first prize and each get to add a victory to their PGA Tour Champions win total—Broadhurst now with three and Triplett with six. It was the first win for either since 2016.
The oldest event on the senior tour always appeared bound for a playoff under overcast skies at at the Lake of the Ozarks. In the final hour, nine teams were tied or within three shots of the lead. Arguably the biggest surprise was overnight leaders and defending champions Carlos Franco and Vijay Singh making four pars on the final four holes to miss the playoff by one stroke.
Conversely, Langer and Lehman, winners of the event in 2009, looked like they were out of it until making five birdies over the last seven holes to finish the day with a seven-under 47.
But it was all for naught after Triplett's heroics.
"As soon as it came out I knew it had a hell of a chance," Broadhurst said.
"You know that saying, the blind squirrel," Triplett said. "I found a nut right there, right, at the right time."