The Grind
Kurt Kitayama's incredible nicknames, Rory McIlroy's brutal miscalculation, and Danica Patrick's syrupy golf swing
Welcome to another edition of the Grind, where we are genuinely confused by the uproar over the PGA Tour's planned no-cut designated events. Have people not been watching golf for the past couple decades? In the World Golf Championships, the Tournament of Champions and the Tour Championship we've had plenty of these already. And, in a way, there is still a cut for these events. It's just more of a cut-off that happens before the events. Also, while making the cut provides an added layer of drama, it's not as big of a deal for the top-level players these events will feature. And if you just learned all about the cut from Netflix's "Full Swing," don't worry. There will still be plenty of events with cuts.
Besides, it's not like the guys who struggle for two days and get a pass to the weekend are going to magically start winning these tournaments. How often does someone who makes the cut on the number win? Once per year? Maybe? And as long as there's a great finish with a star-studded leaderboard come Sunday afternoon isn't that the most important thing? Look, I wouldn't want every week to be like this, but I'm fine with a few of them amid a long season of events that can blend together. OK, rant over. Time to talk about, well, more golf.
Kurt Kitayama: Before you say it, yes, we still would get an underdog story like this with future designated events because Kitayama would have qualified as a top-50 player in the Official World Golf Ranking. And what an awesome story it is (Also cool to see caddie Tim Tucker get back in the winner's circle after the Bryson breakup). Nicknamed "The Project" during his college days at UNLV because his golf game was so rough, Kitayama played on 10 different pro tours before earning his PGA Tour card for last season. But with three runner-ups (to Rory McIlroy, Jon Rahm and Xander Schauffele, no less) a maiden victory was bound to happen.
Apparently, though, he's known by some other nicknames now. As Schauffele revealed his buddy is called "Quadzilla" or "Quadz" or "The Quadfather." Amazing. And makes sense how a 5-foo-7 dude is one of the longer players on tour. Look at how Golf Channel's Damon Hack towers over him!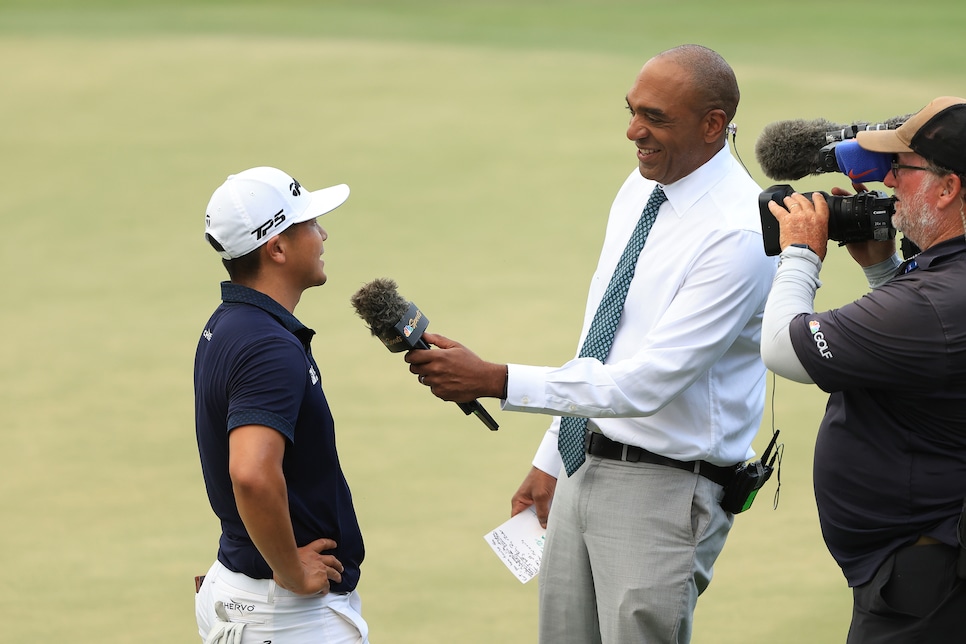 But now Quadzilla can also boast having the unofficial record for the shortest putt ever marked:
That's a baller move right there. Good for you, Kurt. Sorry, Quadz. Savor the moment. And enjoy that $3.6 million and snazzy red cardigan. The King would be proud of The Project.
Jin Young Ko: If Kitayama's tale is one of steady improvement, Ko's is a reminder of how fleeting success could be. After winning the HSBC Women's World Championship in Singapore last year she was on top of the world, but she suddenly lost her game, in part due to injury, and had plenty of questions as she returned for her title defense.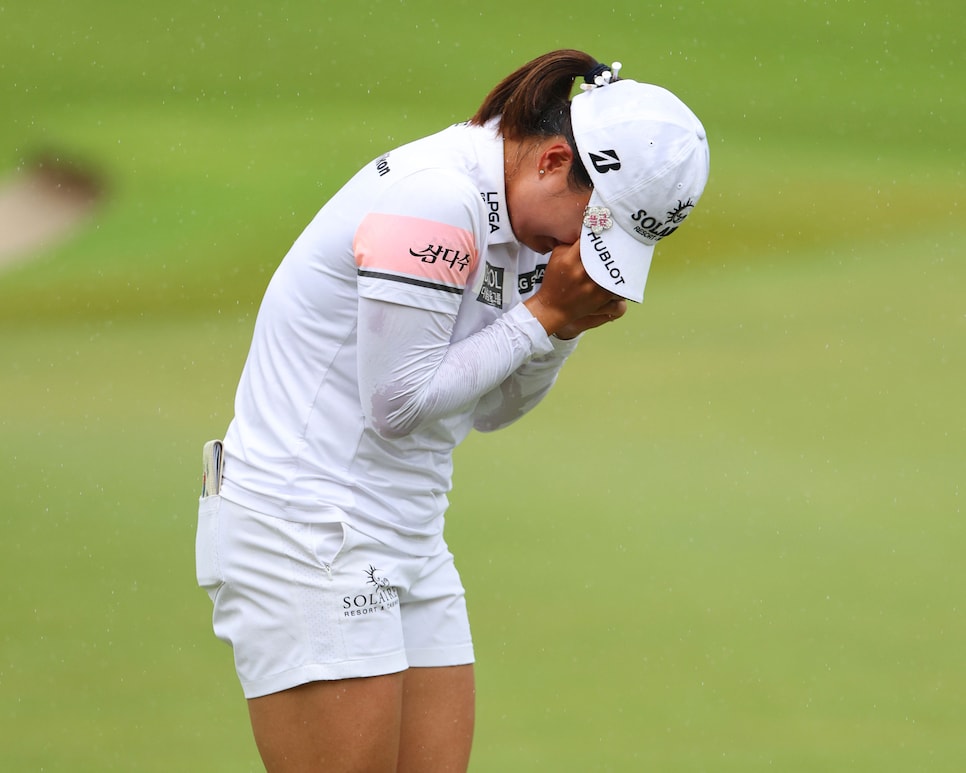 Those questions are all answered now after ending that 12-month drought and earning what she called "the most important" win of her career. That's high praise for someone who has won two majors.
Akshay Bhatia: Congrats to Nico Echavarria for winning his maiden PGA Tour title at the Puerto Rico Open. No offense to Nico, though, but the bigger story was Bhatia finishing runner-up to earn a special PGA Tour membership for the rest of the season. Despite only turning 21 a few weeks back, we've been hearing all about—and seeing some—this lanky lefty for years and he's one of the most exciting prospects in recent history. But now golf fans will get to see him more on the biggest stage. Also, look at the emotion that poured out of him after finally reaching the PGA Tour:
And, yes, "finally" sounds like a stretch for someone so young, but he's had a more difficult journey than he anticipated since turning pro right out of high school. Anyway, good for Akshay. And he didn't even have to strip down this week.
Rory McIlroy's leaderboard strategy: Forget about the no-cut griping, the biggest mystery of the week was McIlroy admitting he didn't look at the leaderboard late on Sunday and that, not realizing he was in the LEAD, he played a more aggressive shot on No. 14 that led to a bogey. McIlroy wound up losing by one shot.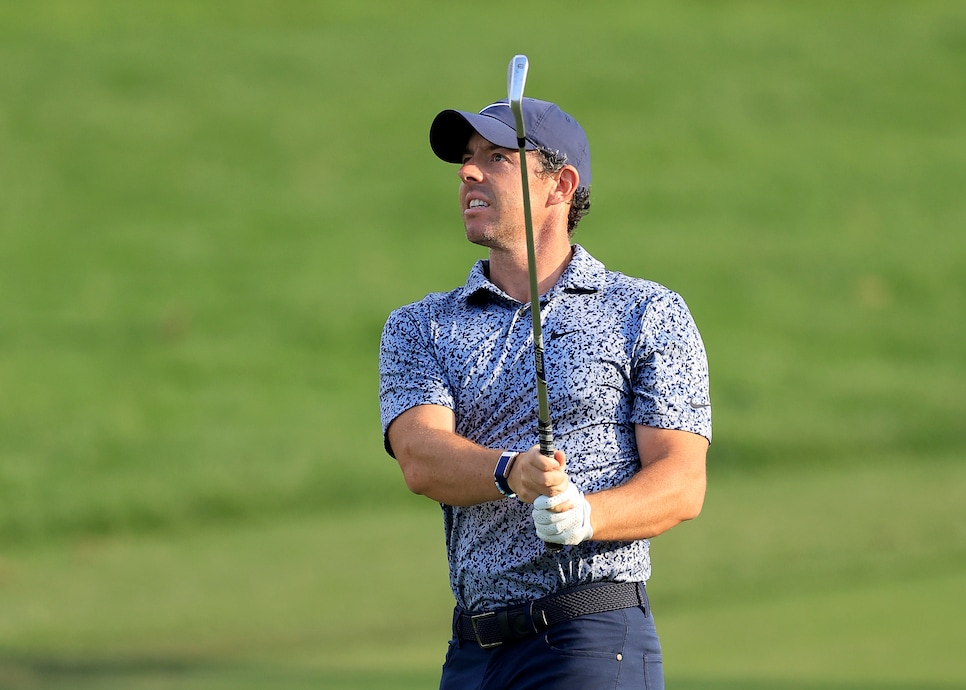 I can maybe understand someone like Kitayama not looking at a leaderboard there to avoid extra pressure, but Rory McIlroy? A guy who has won four majors and 23 PGA Tour titles already? I don't get it. Also, I think everyone should look at the leaderboard late on Sunday, because the more information, the better. This would be like playing in a match and not paying attention to what your opponent is doing! Bad job, Rory. At least it only cost you another red sweater and not a green jacket. Or a claret jug like it cost Jesper Parnevik in 1994. Look it up, kids.
Ben Taylor's timing: This 30-year-old Brit is missing a chance to play in his first-ever Players Championship because he's getting married. While we're happy for him and wish him the best, he couldn't have timed his nuptials better? There's $25 million on the line! Think of the honeymoon that could pay for!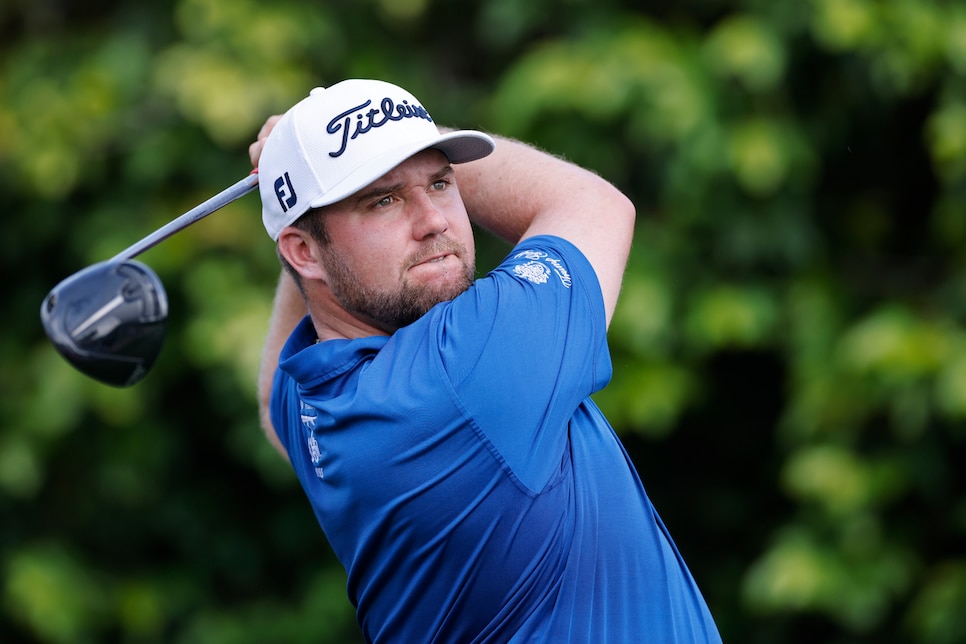 Turns out, their dream wedding venue in West Palm was only available this weekend or Masters weekend. As if you needed another reminder that the Players is not a major. Anyway, congrats, Ben. She must be one special lady.
Aaron Baddeley's record on No. 17: It's Players Championship week, which means it's time to start talking about a certain par 3 at Pete Dye's TPC Sawgrass Stadium Course. And it's time for this Aussie to start thinking about it again after earning his way back into the field. The infamous island green has victimized just about everyone, but no one has taken more lumps than Baddeley, who has hit a staggering 13 golf balls into the water, placing him atop a list you don't want to be on:
That's a full dozen golf balls plus an extra one that he's deposited into that pond by himself. Rough.
The PGA Tour stays in Florida for the Players Championship, AKA that one with the island green par 3, AKA that one that's kind of the fifth major. And if major status was awarded based on an event's theme song, it would certainly be one. HIT THE MUSIC!
Random tournament fact: In a strange turn of events, the defending champ, Cameron Smith, as well as half of last year's top 10 are not in the field this week after defecting to LIV Golf. Smith was stripped of his prized parking spot at TPC Sawgrass, but the Jacksonville native said he still might show up to the tournament as a fan. Mullet Man in the gallery at a tournament he's banned from playing? I'm praying to the content gods for this to happen.
RANDOM PROP BETS OF THE WEEK
—Cam Smith will be heckling players on No. 17: 1 MILLION-to-1 odds
—I will get tired of hearing that theme song this week: 10 MILLION-to-1 odds
—Aaron Baddeley is tired of hearing about his "17" problems: LOCK
If you didn't know already, Kourtney Schenk is an electric follow on Twitter.
CLUB PRO GUY TWEET(S) OF THE WEEK
Perfectly said. As usual.
That actually seems pretty genius from Kip the caddie. Unless the people breaking into your room aren't trying to be sneaky and just want to rough you up. Then you're screwed. Kip is still tweeting up a storm today, though, so looks like he's OK.
Seriously, there's no other explanation, right? What an incredible reaction. The fist pump is one thing, but that leg kick is next level.
VIRAL VIDEO OF THE WEEK (FAIL DIVISION)
We've got the perfect Southwest "Wanna get away?" commercial right here:
That's almost as many golf balls as Aaron Baddeley has hit in the water at TPC Sawgrass!
VIRAL VIDEO OF THE WEEK (JEOPARDY! FAIL DIVISION)
THIS WEEK IN CELEBRITY GOLFERS
Apparently, Danica Patrick just golf into golf and already has this syrupy swing:
#Athlete. And another person who will make a hole-in-one before I do.
THIS WEEK IN PUBLIC DISPLAYS OF AFFECTION
Looks like Quadz has bunz of steel too because he didn't feel that love tap from Rory.
"There's one thing that changes that—shoot the scores." —Rory McIlroy on players complaining about not qualifying for certain events they're used to playing. Tough, but fair.
With a $25 million purse this week, four people who DON'T win can still walk away with more than $1 million. What a world. . . . Great news, golf fans! Netflix announced there will be a second season of "Full Swing." Hopefully we'll get that Max Homa episode after all. . . . SiriusXM announced a first season of "The Rocco Hour" starring Rocco Mediate and we were lucky enough to have him on The Loop podcast this week. And now I feel bad for rooting so hard against him (and for Tiger) in that 2008 U.S. Open playoff. . . . And, finally, congrats to Greg Chalmers for completing this LEGO car during a tournament week:
Wild times in Puerto Rico for the 49-year-old. But he might get a building challenge from my LEGO-loving, soon-to-be five-year-old daughter, who finished off this entire "Frozen" village collection in a couple sittings: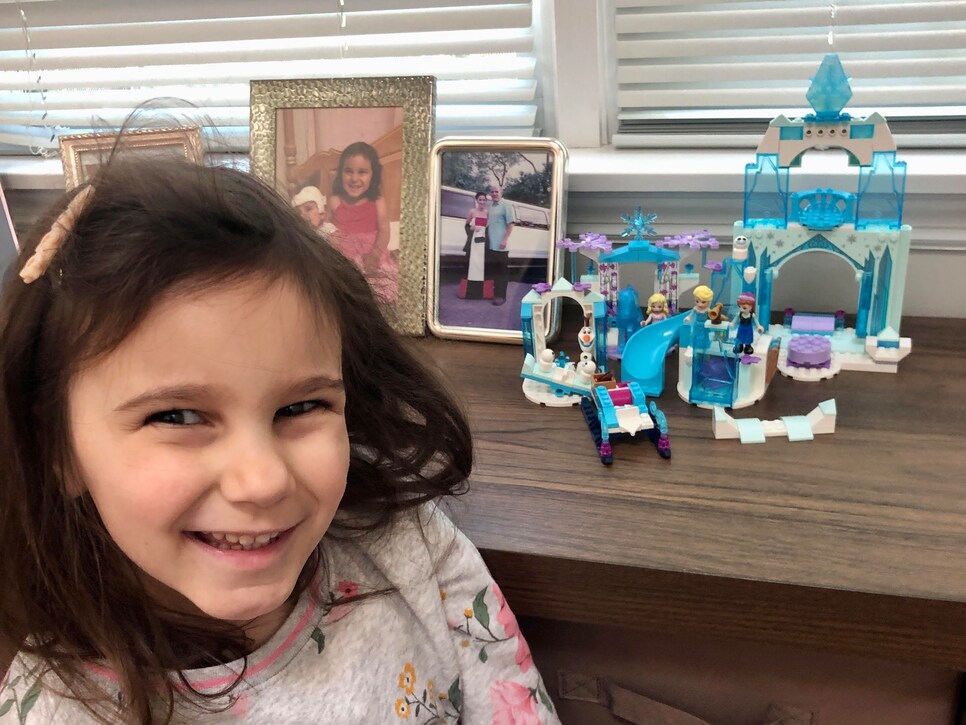 RANDOM QUESTIONS TO PONDER
Which golfer would make for the best subject for a "Full Swing" episode?
Which golfer would make the best radio show host?
Where are we going to put all these LEGOs?