PGA Tour
How Kurt Kitayama went from 'The Project' to a PGA Tour winner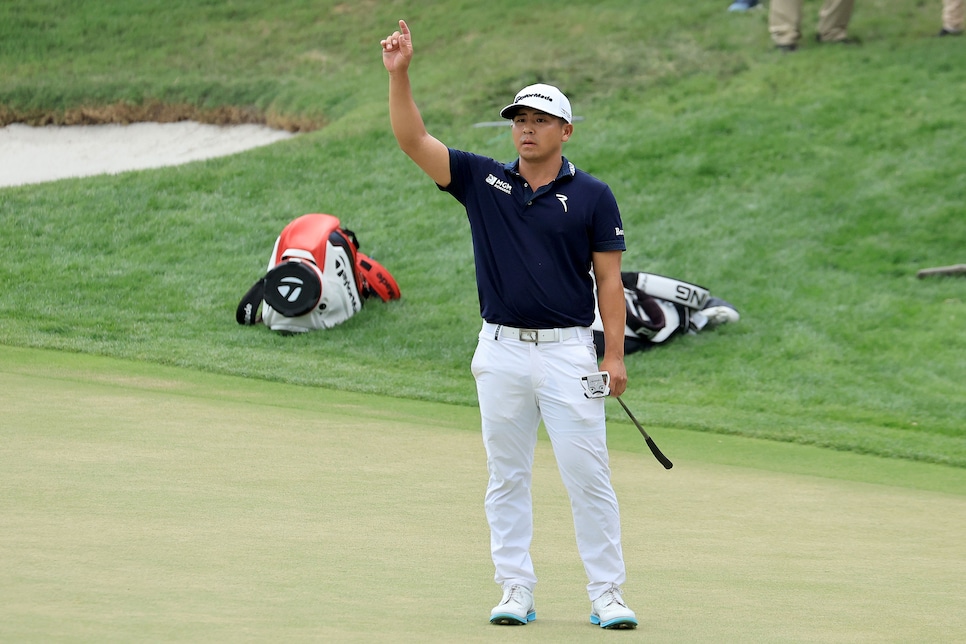 ORLANDO — In the interview area at Bay Hill, Rory McIlroy hunched over a small TV that sat on the ground inside a black plastic tub, watching just like so many others along with him, the moment that Kurt Kitayama finally proved himself to the golf world.
McIlroy had finished his 72 holes at the Arnold Palmer Invitational at eight under par, one shot back of Kitayama as the leader played Bay Hill's famous par-4 18th. The Northern Irishman could have gone to the practice range to hit balls, anticipating a playoff. Instead, he remained, perhaps a show of faith in Kitayama that he would make par and close out the one-shot win.
A clutch approach from the thick left rough had Kitayama needing two putts from just inside 48 feet for victory. As the birdie try rolled toward the hole, 2019 Bay Hill champion McIlroy leaned forward to the TV. It looked for certain that the ball would disappear in the cup, only to hang on the edge, refusing to drop but leaving no doubt on the next stroke. Laughing, McIlroy mouthed, "Wow." Kitayama marked his ball, tapping it in moments later to close out an eventful final-round 72, post a nine-under-par total and claim a $3.6 million payday, the biggest of the 30-year-old's life.
It was a moment of relief for the UNLV graduate who in college was nicknamed "The Project" because his game needed so much work. In his pro career, he had competed on 10 tours around the world before earning a PGA Tour card. Now he was a PGA Tour winner in his 50th tour start and has jumped from 46 to 19 in the Official World Golf Ranking.
There were doubts, right until the end. Questions on Saturday night. How would Kitayama, the 54-hole leader, fend off charges from some of the world's best players? On Sunday, McIlroy led midway through the back nine before bogeys at Nos. 14 and 15 sank him to a tie for second with Harris English. Jordan Spieth (70) made a valiant run, leading briefly on the back nine only to miss four consecutive putts inside eight feet to drop to a share of fourth. Patrick Cantlay (68), 2020 Palmer champion Tyrrell Hatton (72) and defending champ and World No. 2 Scottie Scheffler (73), shared fourth at seven under.
"You know who is near the top [of the leaderboard] and you just pay attention the whole day," said Kitayama, clad in the red cardigan sweater given to the champion. "You can't ignore it. You have to know where you're at … and just embrace the whole situation."
He certainly embraced a triple-bogey 7 he made at the difficult par-4 ninth, which appeared to everybody not named Kitayama that it was the beginning of the end for the only man inside the top 10 who didn't already have a tour win to his credit. It was his second triple bogey of the weekend. But Kitayama's caddie, Tim Tucker, who worked for Bryson DeChambeau when he won at Bay Hill in 2021, gave his boss a pep talk en route to the 10th tee.
"I said you're tearing up the course; you're a ball-striking machine," an emotional Tucker said post-round.
"I still felt comfortable; it was one bad swing," Kitayama said. "I didn't feel out of place. Tim backed me up and that helped a lot." (For the record, Kitayama became the first player on the PGA Tour winner to overcome a triple bogey in a final round since Viktor Hovland at the 2020 Puerto Rico Open.)
Kitayama survived Bay Hill's brutal back nine with seven consecutive pars until the defining shot of the tournament. Sitting at eight under and tied with McIlroy, Scheffler, and English, he struck a perfect 6-iron from the tee at par-3 17th to 13 feet, then drained the putt to pull ahead. "It's pretty amazing just to get your first win, I think is an unbelievable thing," he said. "I'm lucky enough to have it at a very special place."
Kitayama is the first to acknowledge just how raw a player he was not that long ago. "Yeah, when I got into school I was struggling," he said, "but the guys at the course saw me every day grinding, just working hard, and that's kind of why they nicknamed me that."
Improved after finishing school in 2015, Kitayama was no world beater however as he played his way around the world, competing anywhere and on any tour that would have him. "Canada, Korn Ferry Tour, PGA, Europe, Sunshine, Asian Tour. Asian Development Tour. Japan, Korea, and in India."
Thankfully for him, Kitayama won on the Asian Tour and on its development circuit, before breaking through with two wins on the DP World Tour in 2018 and 2019. He then played on the Korn Ferry Tour, his performance pushing him to the PGA Tour in 2021.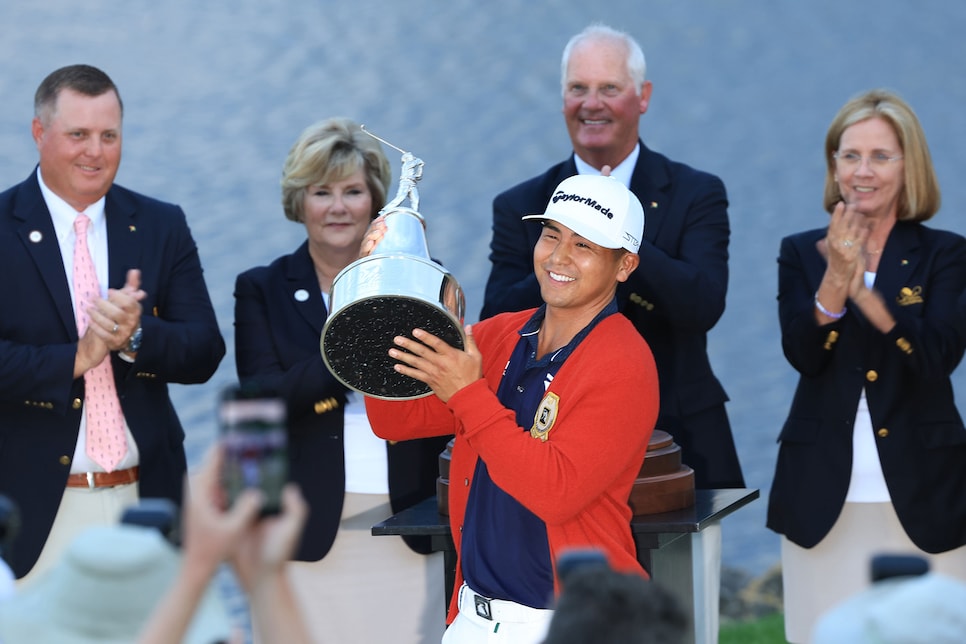 "You travel to every different country, dealing with logistics, food, the culture, language," he said. "It helps you grow as a person and when you get into situations like this [Bay Hill], you know, there's tougher things."
He started to believe in himself when he racked up three runner-up finishes on the PGA Tour, most recently to McIlroy at the CJ Cup in South Carolina last fall.
"Finding those little successes around the world and making it out here, putting myself in contention there, you start to really believe in yourself, that you belong out here," Kitayama said.
Finishing second to McIlroy by one shot at the CJ Cup at Congaree last October was the penultimate step in Kitayama's journey. It was a full circle moment when four-time major winner McIlroy stayed around to congratulate the California native Sunday.
"Look at him; look at his smile," Tucker said. "He got the monkey off his back, proving he can play with the big boys. I'm anxious to see what he can do the rest of this year."
Now, "The Project" is complete.