ARNOLD PALMER INVITATIONAL
Kurt Kitayama overcomes triple bogey, outlasts heavyweights to collect first PGA Tour victory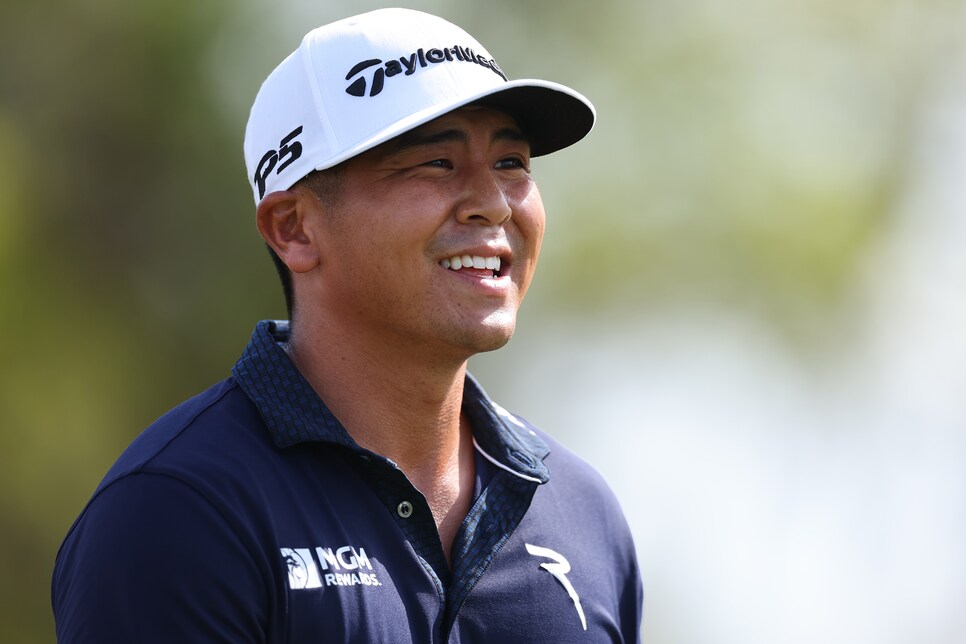 Kurt Kitayama made a tiple bogey on the ninth hole but somehow still held on to win his first PGA Tour event at the Arnold Palmer Invitational.
Michael Reaves
ORLANDO — With one hole remaining in the final round of the Arnold Palmer Invitational, there were as many as five players who had a chance to claim the title—and the $3.6 million prize money payout—in PGA Tour's latest "designated" event.
Rory McIlroy was six shots off the lead when he made the turn at Bay Hill Club & Lodge Sunday but somehow was atop the leaderboard late in the day. Despite making four birdies on the final nine holes, he did not win.
Patrick Cantlay made eagle on the 12th hole then birdied three of the last four holes. But he didn't win.
Jordan Spieth bogeyed three of four late in the round. He didn't win, despite leading for a portion of the day. His putter turned ice cold at the worst possible time.
World No. 2 Scottie Scheffler barely missed birdie on the 17th hole and then bogeyed the last after his approach shot came up close and nearly found a watery grave. He did not win.
Third-round leader Kurt Kitayama led after eight holes but made triple bogey on the par-4 ninth after his tee shot landed an inch out of bounds. He made par on the next seven holes, rolled in a birdie on the par-3 17th from 13 feet, then finished with a par on the home hole after a two-putt from 48 feet, the first putt tantalizingly hanging on the edge of the cup.
A 30-year-old from Chico, Calif., Kitayama outlasted all the aforementioned heavyweights to shoot even-par 72 at Arnie's Place and collect $3.6 million for his his first PGA Tour victory after several close calls. He was in contention all week, and many believed that he would find a way to let the pressure get the best of him. After the ninth-hole debacle—the second time over the weekend that Kitayama hit a drive OB—the vibe began to shift, with the gallery feeling the likes of McIlroy, Spieth or Scheffler would be donning the winner's red cardigan sweater by day's end.
Kitayama shot 67-68-72-72 for a nine-under 279 total. McIlroy and Harris English tied for second place at eight under. Cantlay, Spieth, Scheffler and Tyrrell Hatton tied for fourth place at seven under.
"It went south on 9 all of a sudden I'm not leading anymore," said Kitayama, who went from two shots ahead to only one shot back. "I fought back, I fought back hard. I'm proud of that.
"I didn't feel rattled at all."
While McIlroy, Spieth and company were jockeying for position, Kitayama kept calm and managed pars on Nos. 10-16, although there were a couple holes where the score was in question. He stood on the 17th tee tied for the lead and hit a laser to 13 feet that he would convert for birdie to take a one-shot lead to the last.
On the 18th hole, Kitayama drove it left into thick rough. He did well to get his approach on the green and then from 48 feet he nearly made the birdie putt and tapped in for victory.
"Just get it on the green," Kitayama said of the approach on 18. "Just wanted to give myself an opportunity to win."
Kudos to Kitayama, who was ranked 46th in the world and previously finished second at the Genesis Scottish Open last summer and then last fall to McIlroy at the CJ Cup in South Carolina.
This time McIlroy finished second place to Kitayama. He seemingly came out of nowhere on the back nine after being well out of contention. He birdied 9, 10, 12, 13 and 16—with bogeys at 14 and 15—but he left a birdie putt low from 10 feet on the last hole that would've ultimately put him in a playoff.
"I feel like this week was much better than L.A. or Phoenix," McIlroy said. "Definitely heading in the right direction."
Then there is Spieth who was cruising through 13 holes and absolutely was the man to beat. He opened with four birdies in the first five holes to take the lead and then made birdies again on 10 and 13. But Nos. 14-17 were bizarre as Spieth missed four putts from inside eight feet on those four holes, resulting in three bogeys and a par on the par-5 16th hole.
"I wouldn't have hit any of the putts differently," Spieth said. "I hit my line on every single one of them. I misread all four by just barely.
"I feel really good about where things are. It's no different than how I've been feeling over the last month."
No one, however, left Bay Hill feeling better than Kitayama.