The Grind
Keegan Bradley's emotional phone call, Brooks Koepka's cryptic(?) message, and a hole-in-one lawsuit
Welcome to another edition of The Grind, where we finally caved and got a Peloton. You know, now that the pandemic is over. Great timing as usual by me, but on the bright side I've used this cool—and costly!—machine eight of the first nine days I've had it. I've also stuffed my face with chocolate on eight of those nine days, but hey, that's the whole point of working out, right? In any event, this past week was stuffed with plenty of golf so let's dive in.
Keegan Bradley: It's quietly been a solid year for Bradley, who broke through with his first PGA Tour win in four years at the Zozo Championship. Keegan also provided us with one of the best public displays of affection of 2022:
Ah, that's the good stuff. And it's just slightly different than the "What time are you going to be home again?" call I got from my wife after winning the green jacket on my golf trip this year. With five PGA Tour wins, Bradley has now caught, well, the guy he caught and passed on Sunday . . .
Rickie Fowler: Slick Rick couldn't quite close the door, but a runner-up to Keegan continued his quick start to the 2022-23 campaign. Fowler already earned almost as many FedEx points through three events as he did in 22 events all last season.
Is he all the way back to being the player he once was? Well, coach Butch Harmon thinks he's 75 percent of the way there.
Judging by reaction to his performance—and by the PGA Tour including him in these new elevated events—he's certainly still a star and his presence is great for golf. Put a little pep PIP in his step and watch him go!
Brooks Koepka: While Fowler wasn't able to end a winless drought, this four-time major champ was by winning the LIV Jeddah event, his first victory since the 2021 Waste Management Phoenix Open and just his second in more than three years. But boy, did he make up for lost time, because with individual and team titles, Koepka earned a whopping $4.75 million. And although his reaction was slightly more subdued than Bradley's, for him, he showed a bit of emotion as well when talking about the injuries he's overcome the past couple years. His life isn't all private jets and Mediterranean yachts, people! Just most of the time, judging by Instagram. After winning, Koepka also provided this cryptic message:
OK, so maybe it's not so cryptic. A couple colleagues told me that emoji pretty clearly means he's giving thanks to those around him for being "the key" to his success like he says in the interview when he talks about "getting the band back together." Sorry, I'm old. And speaking of bands, I like the 90s Rock classes on Peloton.
The Stricker family: Steve has been racking up the wins on the PGA Tour Champions. Oldest daughter, Bobbi, won the Wisconsin Women's Amateur last year and is awaiting the second stage of LPGA Q School. And now youngest daughter, Izzi, is the Wisconsin high school state champ. Not to mention Mom is a former Wisconsin Badger golfer and has caddied for all of them:
In other words, they'd make for one heckuva a scramble team.
Keegan Bradley's putting routine: To be fair to Keegan, there are plenty of golfers who are just as tedious to watch on the green. But it's just something about Keegan's plodding (literally) method that makes it seem worse. Someone posed the question, "What would you do if you were paired with someone" who went through the AimPoint method, and former PGA Tour pro John Peterson, who already quit pro golf once, had the best response:
That's not the good stuff. That's just tough to watch. Of course, John with his $2.2 million career PGA Tour earnings—and 99.99 percentof golfers out there—would copy Keegan if it meant winning a $2 million check for a week's worth of work.
Lexi Thompson's drought: I'm sorry, but it's time for a little tough love for Lexi. Sure, she won the LET Aramco Team Series event in New York on Saturday for her first worldwide victory since 2019, but someone who hits the ball that good—and that far—should never go three months without winning, let alone three years.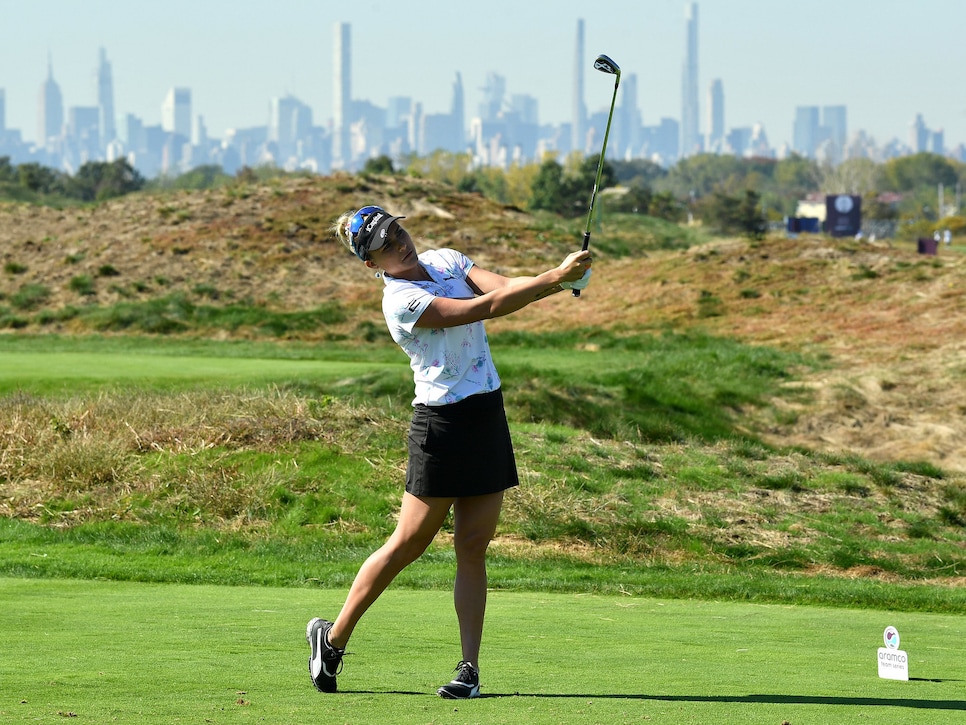 But, yeah, congrats on the win, Lexi. Now let's see some more of that!
Getting screwed out of a prize: Admittedly, it's tough to feel too bad for someone who actually made a hole-in-one, but it sure sounds like this Arkansas man got hosed. Austin Clagett aced the 10th hole at Morrilton Country Club and thought he'd won a 2022 Ford F-150 4x4 Supercrew but wasn't given his prize over some technicality with the course not having secured the proper insurance with a local dealership. As Clagett's lawyer put it, the course and the dealership "want to crawfish out of the deal." Now that's a legal term we've never heard. In any event, Clagett has filed a lawsuit. I wish him the best. Although, again, as someone without a hole-in-one, I'm a bit less sympathetic.
The PGA Tour heads to South Korea Carolina for the CJ Cup, AKA that one where the trophy isn't actually a cup for some reason. And a lot of big names will be teeing it up at Congaree. Also, the Charles Schwab Cup Playoffs start on the PGA Tour Champions, and speaking of which, we had the pleasure of speaking to one of the favorites to win—and certainly an all-time favorite to talk golf with—Padraig Harrington—on the latest episode of The Loop podcast. Please have a listen:
Random tournament fact: More like a random venue event, Congaree hosted the PGA Tour one time previously at last year's Palmetto Championship. That resulted in Garrick Higgo defeating Chesson Hadley. Guessing you don't remember that one. Unless you happen to be Garrick Higgo reading this.
RANDOM PROP BETS OF THE WEEK
—Jon Rahm will win this week: 9-to-1 odds (Actual odds)
—Rory McIlroy will win this week: 7-to-1 odds (Actual odds)
—The leaderboard at Congaree will be better this time: LOCK
Vijay out of nowhere! OK, so he's a little late to the party on this, but he turns 60 in a few months so we'll give him a pass.
VIRAL VIDEO(S) OF THE WEEK
Big pickleball week! Shout-out to Coach Finegan for pushing the sport when I was at Pelham High School over 20 years ago. He even kept an all-time ranking in school history! (I was No. 4 when I graduated NBD.) Anyway, not surprisingly, Jordan Spieth is a scrappy player who likes to talk to his ball:
But the trash-talking of John Isner stole the show when the tennis player savagely roasted Spieth for choking away the 2016 Masters:
THIS WEEK IN PUBLIC DISPLAYS OF AFFECTION (NON-KEEGAN DIVISION)
We're guessing someone in the Philadelphia Eagles organization is a big Tiger Woods fan because Jalen Hurts used the GOAT's name as an audible during Sunday night's win against the Cowboys. It didn't work out well, but it led to a great call in the booth from Mike Tirico:
Talk about worlds—and bodies—colliding.
THIS WEEK IN PUBLIC DISPLAYS OF SARCASM
Not surprisingly, Dustin Johnson is sleeping pretty soundly over his decision to join LIV Golf:
In fact, here's a photo of DJ's bed: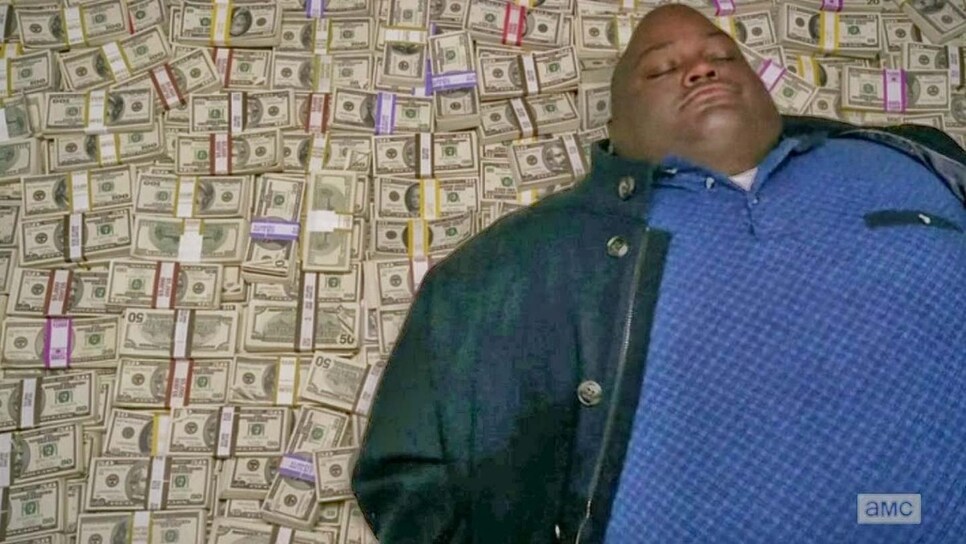 THIS WEEK IN PUBLIC DISPLAYS OF ANGER
Do you have a golfer in your life who gets a little too worked up on the course? Well, this might be the perfect gift for him/her. Introducing the Bogey Bag:
Taking your anger out on that is certainly better than destroying a good golf shirt like Rory McIlroy did that time.
"I think it's the best round I've ever played." —Fred Couples after a sensational final-round 60 that won him the the senior circuit's SAS Championship by six shots. We would have put Freddie in the buying section, but it got a little crowded there, and I wanted to highlight this quote anyway. In what other sport could you confidently say you've performed your best when you're 63? Heck, in what other activity? Maybe at crossword puzzles? Regardless, the point is that golf is awesome. And Freddie is awesome.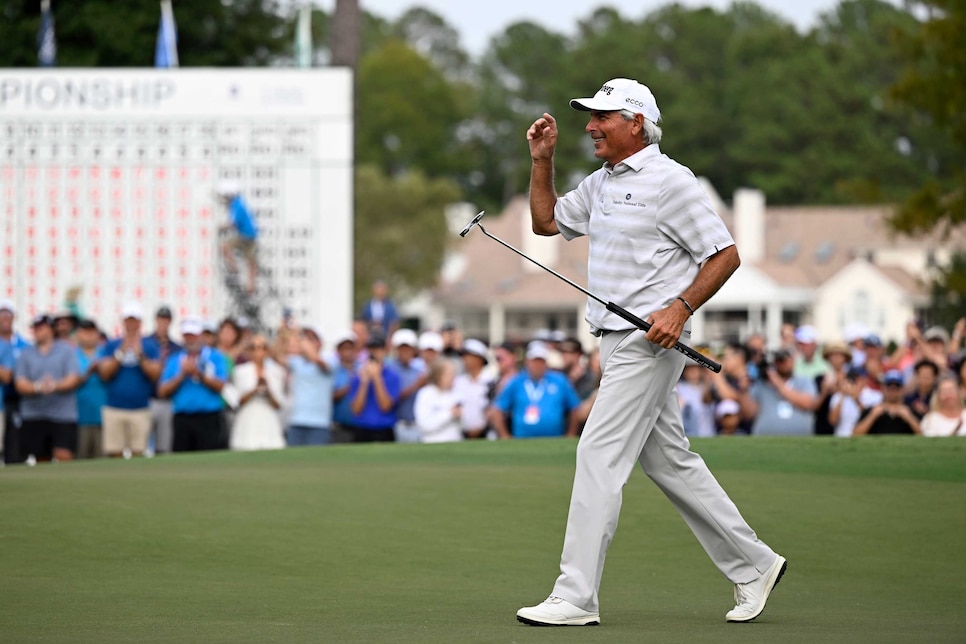 And if he had been born with a back that had been more awesome, we would have seen a lot more awesome performances like this the past few decades.
Rory McIlroy has a chance to retake the No. 1 spot in the Official World Golf Ranking this week. His wardrobe should be safe if he does. . . . With a runner-up finish at the LIV Jeddah event, Peter Uihlein earned a $4 million bonus for finishing third in the 'season-long' standings. His career PGA Tour earnings in over a decade? $4 million. Wow. . . . Emiliano Grillo shot a final-round 64 at Narashino Country Club and said, "I don't like it, to be honest," of the course. Imagine how much he'd hate it if he didn't shoot 64? . . . According to the New Yorker, LIV Golf asked about renting Augusta National's clubhouse to do a meet-and-greet with players. LOL. . . . And finally, a fantastic weekend was highlighted by a trip to a nearby music festival to see my golf buddy Chris Barron and the Spin Doctors perform: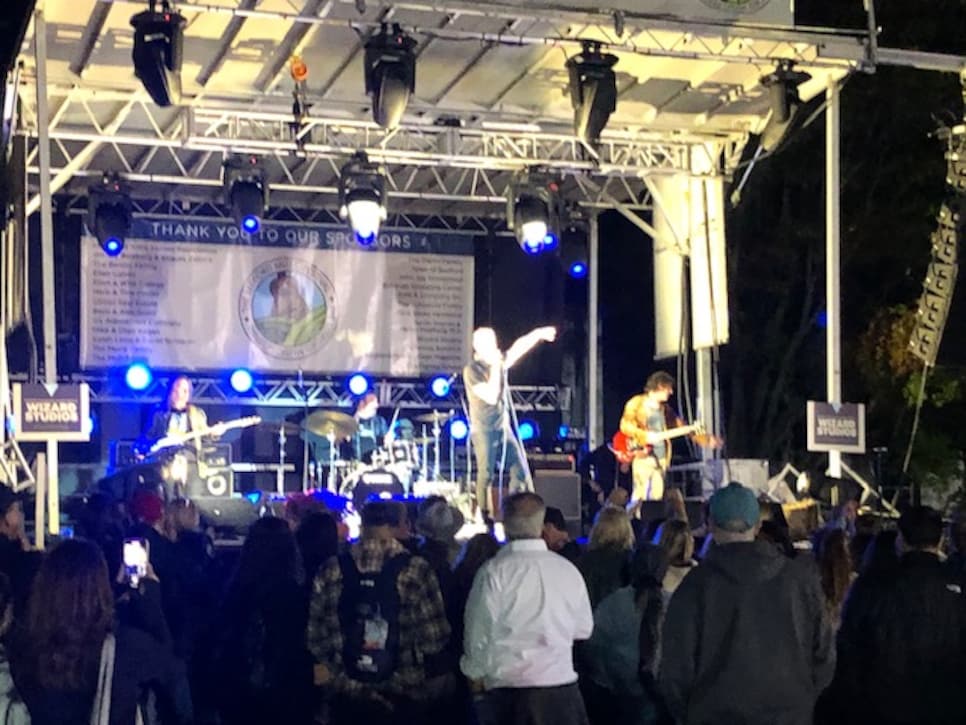 Great stuff. Like I said earlier, 90s Rock is the best.
RANDOM QUESTIONS TO PONDER
How many times have I heard "Two Princes"?
How many Peloton classes will I take?
Could I take Jordan Spieth in pickleball?