PGA Tour
Keegan Bradley draws on memories of Tiger Woods in seizing Zozo Championship victory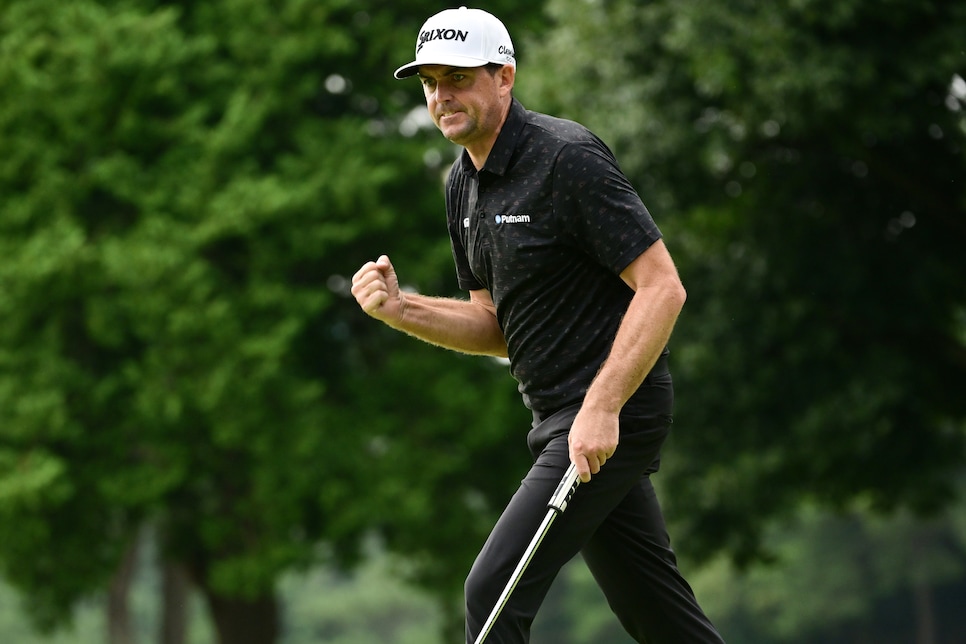 Keegan Bradley celebrates his birdie on the 11th hole during the final round of the Zozo Championship.
Atsushi Tomura
Bradley was fortunate enough, and played beautifully enough, to be in the cauldron with Woods during both weekend rounds at Narashino Country Club in Chiba, Japan. He drew on that experience a lot early Sunday morning (U.S. time) while in contention again at the Zozo this week. "Just kind of remembering Tiger and how he walked a little slower than I noticed in the past," Bradley said, "and I tried to do that."
That is not an easy task for a golfer who is as kenetic and fidgety as they come, but this was Bradley digging at his deepest to seize one of those opportunities that haven't come around nearly as often as he'd hoped.
Having overcome a one-shot deficit to Rickie Fowler to start the day, Bradley led Andrew Putnam by one stroke with three holes to play, only to be horrified by a cold shank out of a greenside bunker at 16 to bogey and fall into a tie.
Uh oh. The pressure of going 1,498 days without a victory was looking like it may crush the 36-year-old New Englander. But Bradley responded the way his closest competitors and group mates, Fowler and Putnam, did not. He laced a drive into the 17th fairway, hit a wedge approach to 20 feet and made the birdie putt that provided the winning margin in his fifth career tour victory.
With a closing two-under-par 68, Bradley finished at 15 under, and though the final tally will show that he beat Putnam (68) and Fowler (70) by a single stroke, Bradley was able to enjoy that slow walk up the 18th hole with a two-shot lead before tapping in his par after the other two made birdies.
Bradley exalted by raising both arms high, and while leaving the green he promised his friend and caddie, Scott Vail, a coming night of steak and sake.
"I've been crying since I finished. I can't remember the last time I cried," Bradley told reporters in the aftermath. "I talked to my wife [Jillian] on the phone a second ago, FaceTime. I can't keep it together. I don't know what's wrong with me."
Attribute part of the emotions, Bradley said, to him earning his first win as the dad to his son, Logan, while the family was back home. But there was obviously some relief from all the pressure that built up since Bradley's last victory in the 2018 BMW Championship. He once seemed destined for a career of wins in the double digits after he captured the 2011 PGA Championship in his first major start. But though Bradley has had an admirably consistent career, those who win majors and play in Ryder Cups expect far more than four victories by their mid-30s. Before Sunday, Bradley had lifted a trophy just once in the last 10 years.
"There's a lot of hard work that goes into it," Bradley said. "Even if you play perfectly, doesn't mean you're going to win. But for me, I feel like I should be contending for tournaments, I want to be contending to play on Ryder Cup, Presidents Cups teams, majors. You know, this is going to go a long way."
Bradley seemingly took control of the tournament early on Sunday when he birdied the par-3 fifth from 45 feet and backed that up with a short birdie at No. 6. He made another birdie at 11, and by the time he reached the 14th tee, Bradley had played 30 holes without a bogey while shooting eight under. At that point, he had a two-shot lead over Fowler and Putnam.
But Bradley made a sloppy bogey at the 14th after a missed green and poor pitch, and following a tremendous up-and-down for par from a greenside bunker at 15, he found a bunker with his tee shot on the par-3 16th. From there, Bradley badly bladed the sand shot to more than 40 feet beyond the hole, and when he made bogey he was tied with Putnam.
"Well, 16 was bizarre," Bradley said. "I've never done that, I don't think, ever. I shanked one out of the bunker. But I stayed really calm."
At that point, Putnam hadn't circled a number since birdies at Nos. 1 and 3, but shared the lead. By missing a six-foot par putt at 15 and catching only the lip with a birdie putt at 16, Fowler was two back. He hadn't made a birdie since the seventh hole.
Rickie Fowler reacts after missing a birdie putt on the 16th green during the final round of the Zozo Championship.
Chung Sung-Jun
The turning point came at the par-4 17th when Bradley gave himself a good look at birdie after Putnam's approach sailed long and Fowler mishit a 9-iron that settled about 40 feet from the pin. Bradley's putt looked like it might stay out before breaking hard inches from the cup and going in.
"That birdie on 17 goes down as one of the best holes of my life," Bradley said.
As thrilled as Bradley was, there was palpable disappointment for the 33-year-old Putnam, who was trying for his second career win and first since 2018, and Fowler, whose fifth and last victory came early in 2019. In building a 54-hole lead, Fowler expressed confidence in the swing changes he'd made in recent months after reuniting with coach Butch Harmon. But the swing didn't hold up as well in the rigors of Sunday, with Fowler giving himself few good looks at birdie. And then he missed the two very makeable putts down the stretch.
With pre-tournament favorite and local hero Hideki Matsuyama out of contention and en route to finishing T-40, Fowler was the clear gallery choice for rooting interests, with a good number of orange Puma hats visible in the large crowd.
"Yeah, kind of bittersweet," Fowler said. "Obviously wanted to get the job done and I felt very good going into today. Felt, you know, probably as good as you can feel out there. Final round, haven't been there a whole lot in the last couple years, really just didn't give myself many opportunities until the end. And I hit some darn good putts that it was like there was a cover over the hole. Gave it our all, left it all out there."
Fowler was headed home knowing that there may be more contending opportunities coming up in the new year, while Bradley was simply happy to be focused on the evening ahead. The plans were to get dinner in Narita and then catch his beloved New England Patriots at Cleveland. Kickoff was set for 2 a.m., Japanese time. "Could be a long night," Bradley deduced.
It should be when the celebration is four years in the making.