Fails
Jordan Spieth won't be getting any MLB offers after latest (wild) first pitch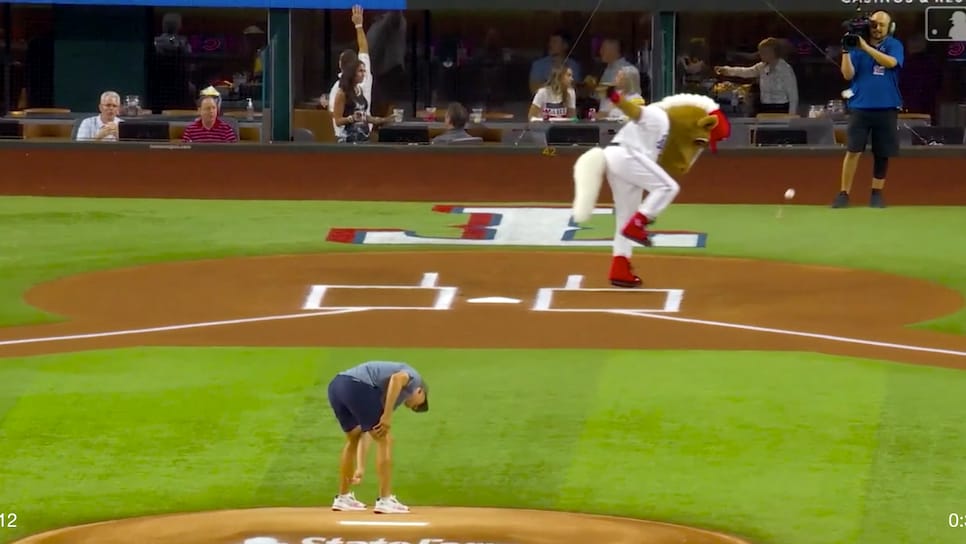 After a flurry of solid first-pitch attempts in MLB ballparks from 2013-2017, Jordan Spieth announced he was done with the ceremonial tosses. Perhaps, he should have stayed retired.
Spieth returned to the mound ahead of Wednesday's Texas Rangers game, and, well, let's just say the scouts weren't impressed. The southpaw slung a low hook that caused the team's mascot to have to run to the backstop to retrieve it. Have a look:
Yeah, the official scorer didn't have a problem judging that one. That's a wild pitch. A really wild pitch. Although, the official scorer there is probably used to seeing that considering how far in last place the Rangers are currently.
Spieth's first foray into first-pitches came in 2013 when he threw a beautiful strike at Globe Life Park in Arlington in front of his hometown team's fans. In 2015, he did the same and won a bet against Zach Johnson. Easiest 5 grand Spieth ever made.
Later that year, he was a bit high with one at Fenway Park, but bounced back with some heat at Wrigley Field in 2017. Then he said this:
"I hit the three bucket-listers for me there. I'm done now."
But that retirement lasted less than four years. And considering the recent British Open runner-up just turned 28 on Tuesday, we're guessing it's not his last attempt—especially because no one wants to go out like that.