The Grind
Brooks Koepka's wild dance moves, Phil Mickelson's unique giveaway and Justin Thomas' deflating welcome-to-the-Olympics moment
Welcome to another edition of The Grind, where we can't even begin to imagine the dinner-table conversations in Minjee and Min Woo Lee's house. "So, kids, what did you do today?" "Well, mom, I won the Scottish Open on the European Tour." "Very good, Min Woo. And you, Minjee?" (Fast-forward two weeks) "Well, I won a major championship on the LPGA." Good lord. Let's just say it took a LOT less for my sister and I to impress our parents. In any event, little bro Min Woo had fun with the situation:
Well played. What a talented famiLEE, indeed. What? He started it. OK, let's get to what else has us talking this week.
Cameron Champ: This guy is quickly becoming like the Dos Equis Most Interesting Man in the World of Golf. "I don't always make the cut, but when I do, I prefer to win." Seriously, he's only made the weekend in half of his 22 starts this season, but there he was winning the 3M Open to become only the fourth golfer 27 or younger to win on the PGA Tour for three consecutive years. The other three? Jon Rahm, Bryson DeChambeau and Collin Morikawa. Decent company!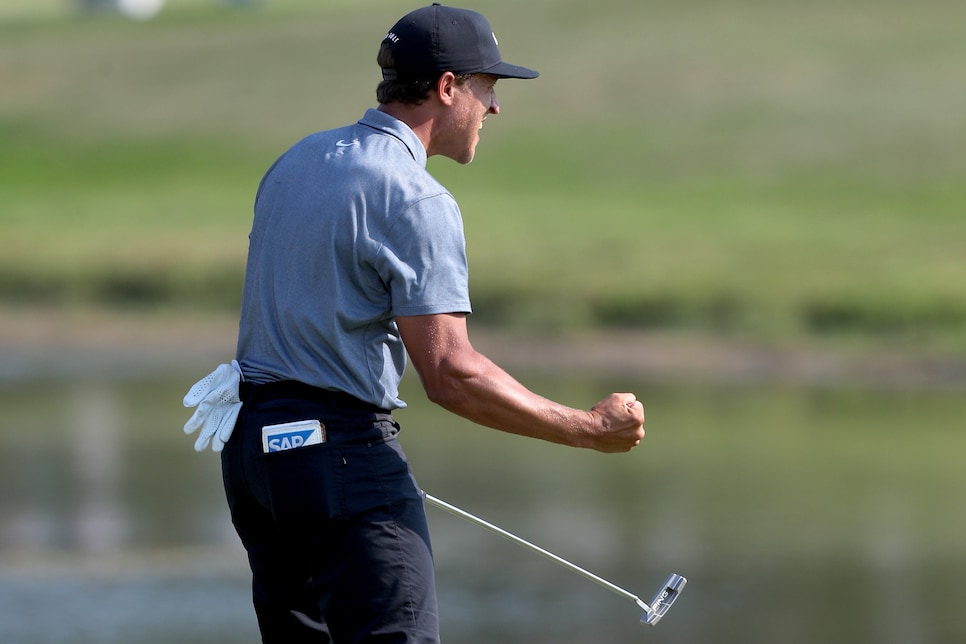 Champ now has three career PGA Tour wins despite only seven career top-10s. Heck, he's only two wins behind Rickie Fowler! (More on him later.)
Minjee Lee: Not only did Min Woo's big sister win back family bragging rights by winning her first LPGA major at the Amundi Evian Championship, she also pulled off a historic comeback. Lee entered the final round trailing Jeongeun Lee6 by seven shots, but a 64 and a birdie on the first playoff hole got the job done. And after, the 25-year-old Aussie got doused in celebratory bubbly: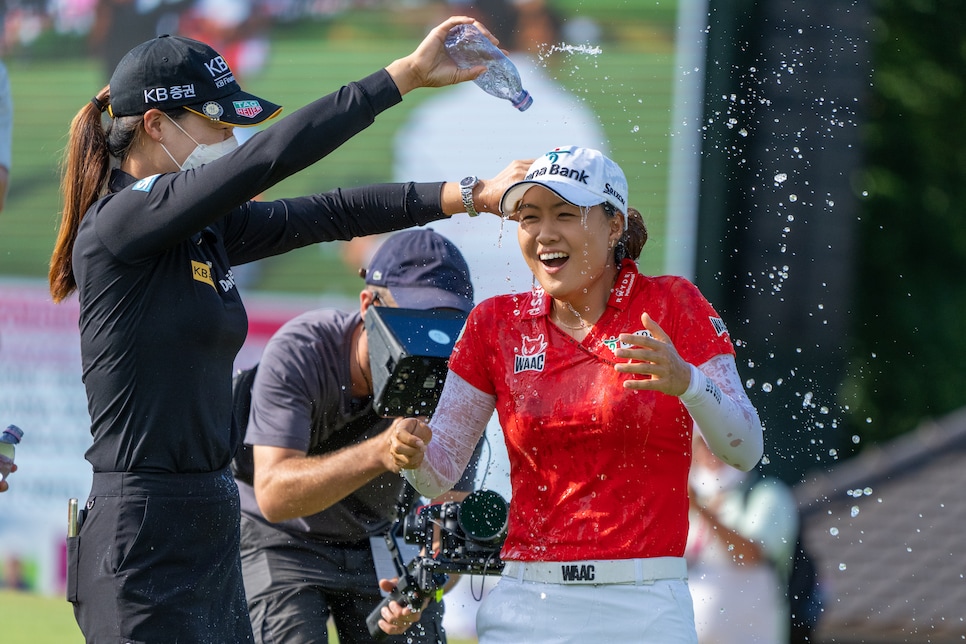 RvS.Media/Vincent Galloux
Well, first, she had to get doused in Evian because it was the Evian Championship. But then she got doused with celebratory bubbly: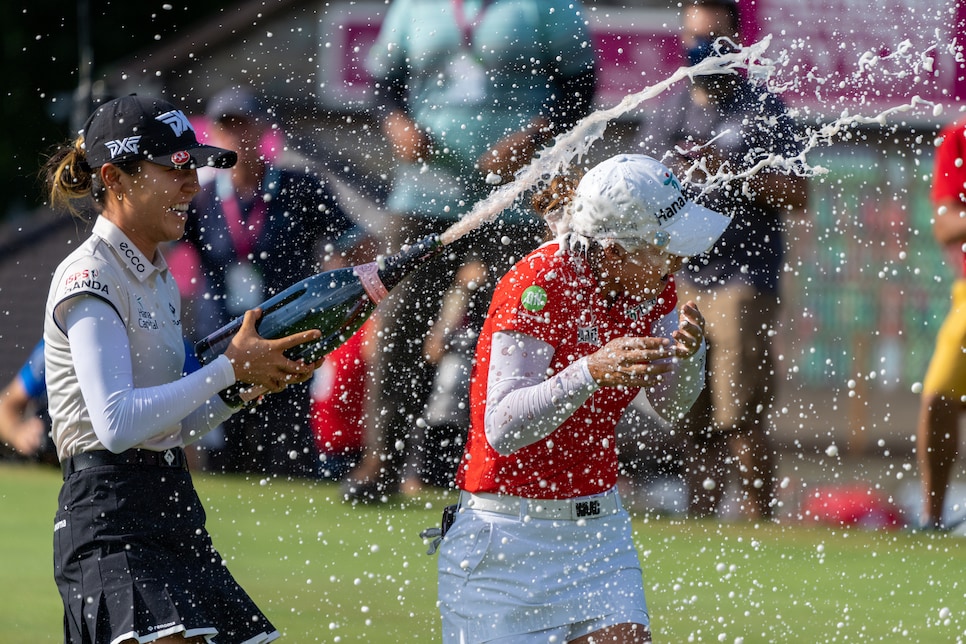 RvS.Media/Vincent Galloux
After all, they're in France. So that's the real deal stuff right there. And the Lees are clearly the real deal as well.
Bernhard Langer's diet: Following the first round of the Senior British Open, this ageless wonder said a key part to the whole ageless wonder thing has been "eating lots of sauerkraut and sausages." I like it. Although, I'm not buying it. Just look at him!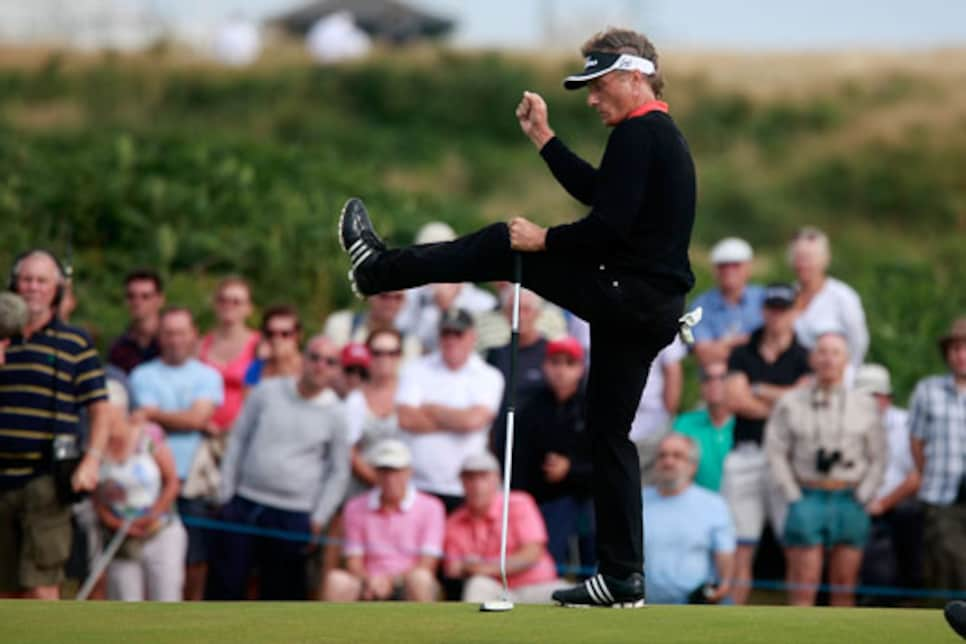 The dude is a specimen. But Bernhard, if you're serious, I'd love to grab a hot dog from Costco with you sometime. It's $1.50 and you get a soda with refills! My treat!
Rickie Fowler's "magical" glasses: This was posted after Rickie Fowler grabbed the Day 1 lead in Minnesota:
NARRATOR: This trend did NOT continue. Instead, Fowler tumbled down the leader board and continued a prolonged slump. Just when it seemed like he might be turning the corner with a T-8 at the PGA and a T-11 at the Memorial, Fowler has gone MC, T-32, T-53, T-34 since. And his T-34 at TPC Twin Cities—again, after LEADING through the first round—dropped him two spots in the Official World Golf Ranking to No. 106 and one spot in the FedEx Cup points list, down to the bubble-boy spot of No. 125. You'd have to be wearing the rosiest-colored glasses to not call this season a disappointment.
Olympic men's WDs: It's been a rough month for golf in the Olympics. First, the no fans thing. And now, two of the game's biggest names aren't showing up for the men's competition, either. Unfortunately, both official World No. 1 Jon Rahm and unofficial Content King Bryson DeChambeau tested positive for COVID and had to withdraw just days before the tournament started. It's still a better men's field than 2016, but not by nearly as much. Also, Rahm is now the COVID King after a second positive test within two months. That's rough. Get well soon, guys!
Olympic travel woes: I will never complain about a tough travel day again after reading about Doug Ferguson's plight. OK, that's not true, because I'll totally still bitch about even a 30-minute flight delay. But maybe I'll bitch a little less after hearing what happened to the AP's longtime golf writer. After missing a 72-hour window to arrive in Japan by a half hour, Ferguson had to fly to Seattle to take another COVID test and then BACK to Japan! We are living in some crazy times, but hey, rules are rules. And if anyone can appreciate that, it's a golf writer.
The Olympics are here and most many some of the world's best male golfers will be there! But seriously, golf should get a little more attention this time considering the tournament is being played in a golf-crazed country like Japan. Juuuust a bit different from Brazil, where they had to build a golf course in order to even have the event. Anyway, (PLUG ALERT!) if you're into learning more about the golf industry in Japan and how Hideki Matsuyama's Masters win has really energized things, check out the latest episode of our Local Knowledge podcast:
Random tournament fact: None of the three men's medal winners from Rio (Justin Rose, Henrik Stenson, and Matt Kuchar) qualified for this year's event. So we're going to see some fresh faces—and maybe even some fresh haircuts—on the medal stand this year:
RANDOM PROP BETS OF THE WEEK
—Minjee Lee is going to shave "AUS" into her head for next week's women's event: 1 MILLION-to-1 odds
—Collin Morikawa will win gold this year: 7-to-1 odds (Actual odds, co-favorite)
—Justin Rose will still be carrying his gold medal wherever he goes: LOCK
I'm all for stretching in the name of content, but this is pretty wild:
The Greek Freak and two senior golfers … so similar! Still, it's been a great run for Wisconsin. Even Aaron Rodgers has showed up for Packers training camp!
In the latest edition of "Pros are just like us! (Sort of)," Michael Campbell accidentally hit his golf ball with a practice swing during the first round of the Senior British Open:
Whoops. And according to Campbell, it's not the first time it's happened:
Reminder: This is the same dude who beat Tiger Woods at the 2005 U.S. Open. Golf!
Justin Thomas had a hilarious "Welcome to the Olympics" moment:
Good for him for even walking in there as a golfer. That was gutsy.
THIS WEEK IN PUBLIC DISPLAYS OF AFFECTION (AND DANCING)
Brooks Koepka and Jena Sims attended an SI Swimsuit Issue party, and, wow, did Brooks have a great time:
Good for you, Brooks. By the way, Justin Thomas is in the Olympic Village weight room while Brooks Koepka is out partying at SI Swimsuit events. Advantage Brooks!
THIS WEEK IN PHIL BEING PHIL
Amstel Light tapped into Phil Mickelson's magnificent calves with its latest commercial:
Great delivery as usual by Phil. And how about these beer glasses up for grabs in that contest?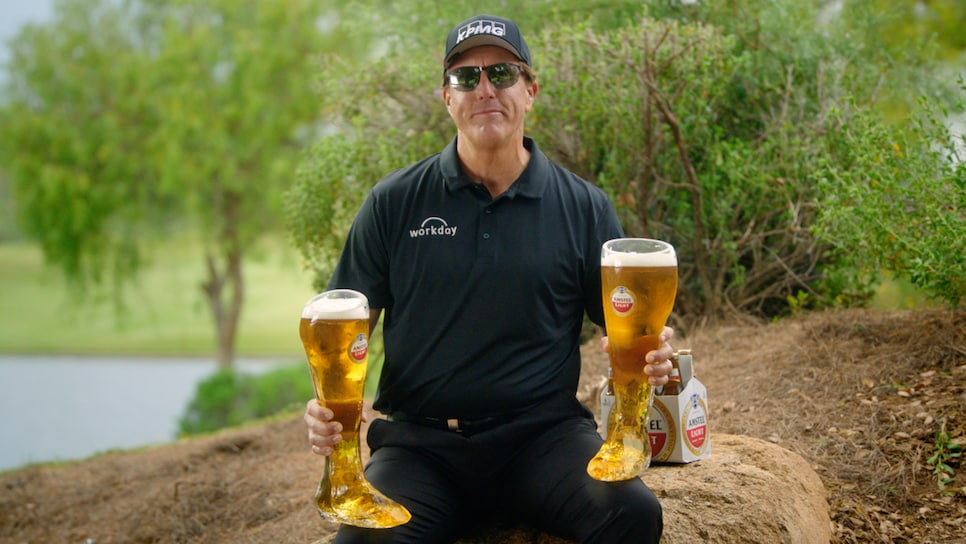 Too bad I can't enter because my calves are the opposite of magnificent. Now I'm really regretting skipping leg day. For my entire life.
THIS WEEK IN BROOKS VS. BRYSON
Surprisingly quiet here as Brooks held off on any COVID testing jokes regarding his nemesis. Probably for the best. And Bryson didn't take a crack at Brooks' dancing. It's good to see #PIPszn has some boundaries.
Congrats to Stephen Dodd for winning the Senior British Open despite only playing one previous tournament in the past 18 months. Although us weekend hackers now have no excuse for playing poorly because we "don't get out enough." … Congrats to Harry Higgs for successfully negotiating a spot in one of Phil Mickelson's legendary Tuesday money games. But, kids, be careful what you wish for. Phil will probably take that unbuttoned polo right off Harry's back. … And finally, I had the pleasure of attending the Grand Opening of The Summit Club in Armonk. The course is really coming along and these beverage holders on the tee boxes are genius: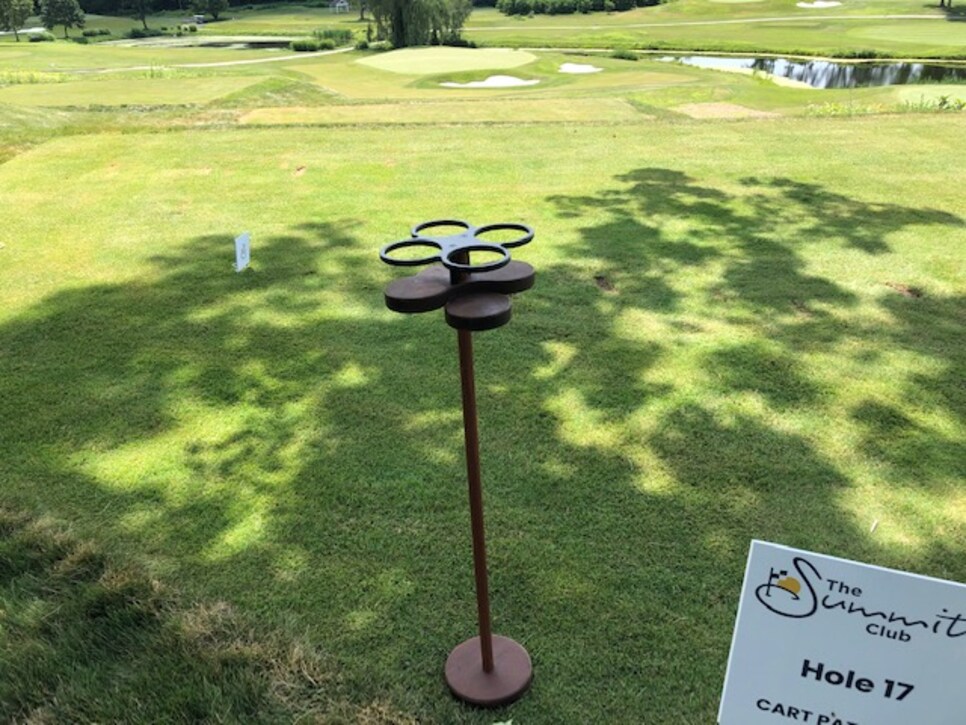 My drink isn't pictured because that would be a violation of my HIPAA rights. Anyway, good times.
RANDOM QUESTIONS TO PONDER
Who is the best brother-sister combo in sports?
Who would win a Brooks-Bryson dance-off?
How much will Phil and Harry play for?