Senior British Open
Bernhard Langer says 'sauerkraut and sausages' explain his longevity, unclear if he's kidding or not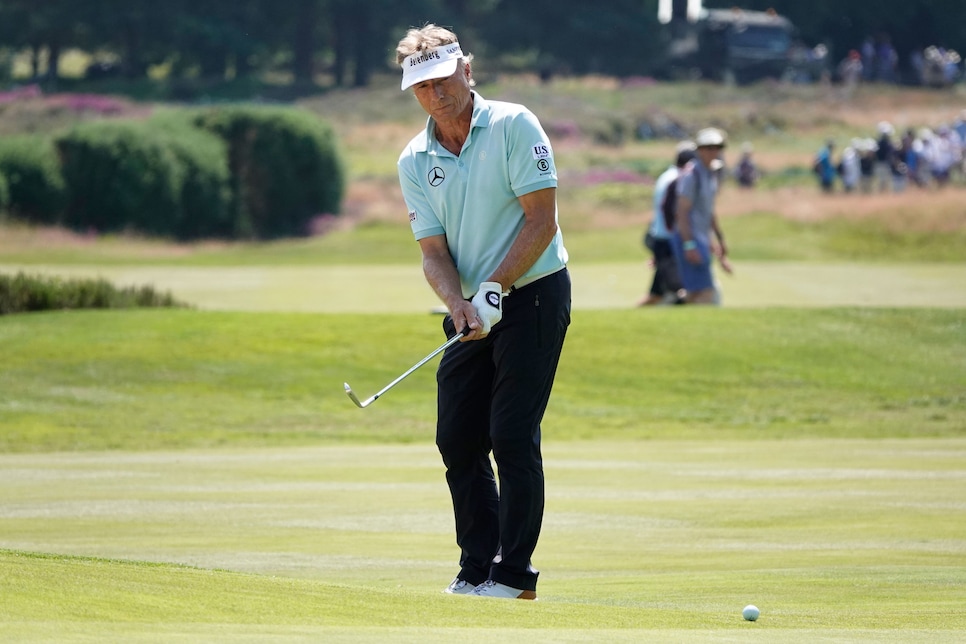 Bernhard Langer opened with a 66 at Sunningdale in his quest to win a record fifth Senior British Open title.
Phil Inglis
It is surely a question asked by many of Bernhard Langer's fellow competitors on the PGA Tour Champions: What is the secret behind the 63-year-old German's longevity? Since turning 50 way back in 2007, the two-time Masters champion has accumulated a remarkable 41 senior victories and more than $41 million in prize money playing against what Lee Trevino used to call "the round bellies."
That slightly mischievous description hardly applies to Langer though. There are a few more wrinkles on the face—and the hair isn't quite as blonde as it used to be—but it's a safe bet that the waist measurement hasn't changed much since his days on the regular tours on both sides of the Atlantic.
More importantly, the Langer swing has hardly altered and the putting stroke that has endured and beaten multiple attacks of the dreaded yips continues to function well enough. Which is not to say that the 10-time Ryder Cup player was entirely satisfied with his performance on the greens during his four-under-par 66 in the opening round of the Senior British Open at Sunningdale that left him near the top of the leader board on Thursday. Yes, his score matched the so-called "perfect round" shot by Bobby Jones on the same course way back in 1926, but Langer, a four-time winner of the championship, was still bemoaning a few missed opportunities after signing his card.
"My strength today was my driving," he said of his five-birdie, one-bogey effort. "I hit it pretty good off the tee and I hit some pretty good iron shots. The weakness was the putter. I had two three-putts early on and made my first putt on 16 and another one on 17, and I had a par save on 18. I wish I could have played a few more holes but I was just getting warmed up with the putter."
There was time though, for a tribute to the classic Harry Colt-designed course, one these days deemed obsolete/too short for players at the highest level. The last European Tour event at Sunningdale was the 1992 European Open.
"This course hasn't changed," Langer said. "I came here 40 years ago, maybe more than 40 years ago. But it's the same. They added a couple tee boxes here and there, but there's no need to change. This course is withstanding the test of time, as they say, and it's perfect for us. I still hit a lot of medium, even long irons. It's a wonderful mixture of short par 4s and long par 4s. Yes, it looks innocent at times, but it can grab."
Which brings us back to that nagging longevity question. While there have been exceptions (Hale Irwin springs to mind with his record 45 senior tour wins), conventional wisdom and the majority of evidence does tend to indicate that when a player passes the age of 50 he typically has about a seven-year window in which to succeed on the PGA Tour Champions. Langer is closing in on double that general opportunity, having won at least once in every one of his 13-and-a-bit seasons as a senior.
Ask him how he has managed to be so successful for so long and Langer usually gives one of his patented smiles and shrugs. But maybe he's finally feeling sorry for his competition. After that little moan about his putting, and asked for his secret, Langer was at last a little more forthcoming, giving up a couple of clues regarding his ability to play so well into his 60s.
"Eating lots of sauerkraut and sausages," he said. "And I have pretty good genes. My mother is going to be 98 in a couple of weeks. But I do work on it. I enjoy working out. I love playing golf. I love to walk, not sitting in a cart and all of that helps. But to be successful, you need more than fitness. You need good technique. You have to be mentally tough and strong. You need a good caddie and coach, and hopefully a good private life and all that stuff. It's a puzzle and the pieces need to fit most of the time if you want to have longevity and success in this game."
So there you have it. It's simple really. Throw all of the above into a pot and mix well. Then keep shooting 66s.