3M Open
Cameron Champ converts his peace off the course into an inspired victory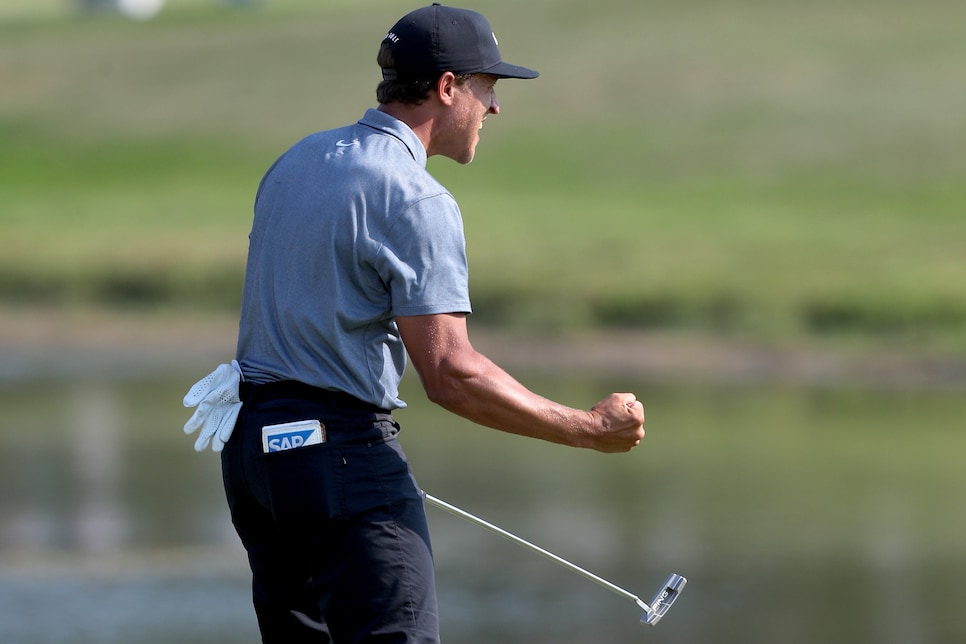 Cameron Champ celebrates making his par putt on the 18th hole to secure the 3M Open championship.
David Berding
That the game of golf is played mostly between the ears is a rather handy bromide that explains much of what occurs on a given Sunday on the PGA Tour—who wins, who doesn't, who embraces it and harnesses the power of the mind to guide the body to doing wondrous things under extreme pressure. It's a frontier often explored but not yet understood. And certainly not conquered.
It might just be a matter of inspiration. Or so it seems after watching Cameron Champ, lost for much of the year, calmly summon the best of himself to win the 3M Open Sunday in suburban Minnesota. All it took was stepping outside himself to look deeper within and decide that the golfer he wants to be on the course is no different than the person he strives to be off it.
Getting right in the "head space," a term he repeated often, got him to the head of the field at steamy TPC Twin Cities. A bogey-free five-under 66 yielded his third tour title, a remarkable feat for a player who now has seven top-10 finishes in his career. With a 15-under 269 total, he beat Charl Schwartzel, Jhonattan Vegas and omnipresent runner-up Louis Oosthuizen by two strokes.
He beat recent bouts of self-doubt, frustration and dejection by immeasurable margins.
"I wasn't being myself on the course. I wasn't being true to myself," is how Champ, 26, began to explain what was different from the guy who came into the week 196th in scoring average and 142nd in the FedEx Cup standings. "I was frustrated and acting certain ways that wasn't a benefit to me and what I was trying to do and created an image of myself that wasn't me at home. I needed to take a true step back and put my ego to the side and say, 'Who do I want to be and how do I want to project that?'"
Cameron Champ at home is a patient guy, slow to anger, someone who is, he said, "a giver." He's a happy husband, one who adores his wife Jessica so much that he has her name scribbled on his glove, right there next to his late grandfather, Mack, the man who introduced him to the game when he was 2 years old.
When things got tight this week, when he needed reminding of what he was trying to be, he looked at those names on his glove, "realizing that's what I get to look forward to [meaning his life at home]. And my grandfather, who I want to be," he said. "I just really stuck with kind of what my approach was all week and what it's going to be for the rest of my career no matter the result. It freed me up. … Coming down the stretch I felt very calm, very relaxed and kind of in my zone."
And what a zone he occupied. Champ entered the week ranked 206th in strokes gained/putting. At TPC Twin Cities, he ranked first, gaining more than eight shots on the field, a theme that runs through all three of his victories. When his putter comes alive, the rest of the field is doomed. He changed nothing, he said, nothing but how to think, how to stay in the process of the shot without pondering the outcome.
"It has nothing to do with technique, anything like that," said Champ, who also fought off a bout of dizziness due to dehydration in the middle of the back nine as well as a crowded leader board. "It's just all been this year, just been a struggle within … between the ears. I had to figure it out."
The California native, who now makes his home in Houston, is the fourth player 27 or younger with at least one victory in each of the last three seasons, joining Collin Morikawa, Jon Rahm and Bryson DeChambeau—all major winners in the last 10 months. A self-proclaimed late bloomer, Champ is still in the process of figuring out how to bring his best out more often, setting smaller goals, he said, before going after bigger ones.
Sunday was a decent start.
He has a kinship with the two previous winners of the 3M Open, Matthew Wolff and Michael Thompson. Wolff, the 2019 winner, earlier this year was forthcoming in admitting his mental struggles with life through the prism of his professional golf career one that mixes bits of glamour with copious portions of anxiety. Champ acknowledged similar challenges after rallying from two behind third-round leader Cameron Tringale. Meanwhile, Thompson last year summoned magic similar to Champ's to win his second tour title after entering the tournament 151st in the FedEx Cup standings.
There must be something in the water in the land of 10,000 lakes.
Not that Oosthuizen would know. He collected his fourth runner-up finish of the year and fifth top-3 in his last seven starts. In his last three starts he's beaten all but four players.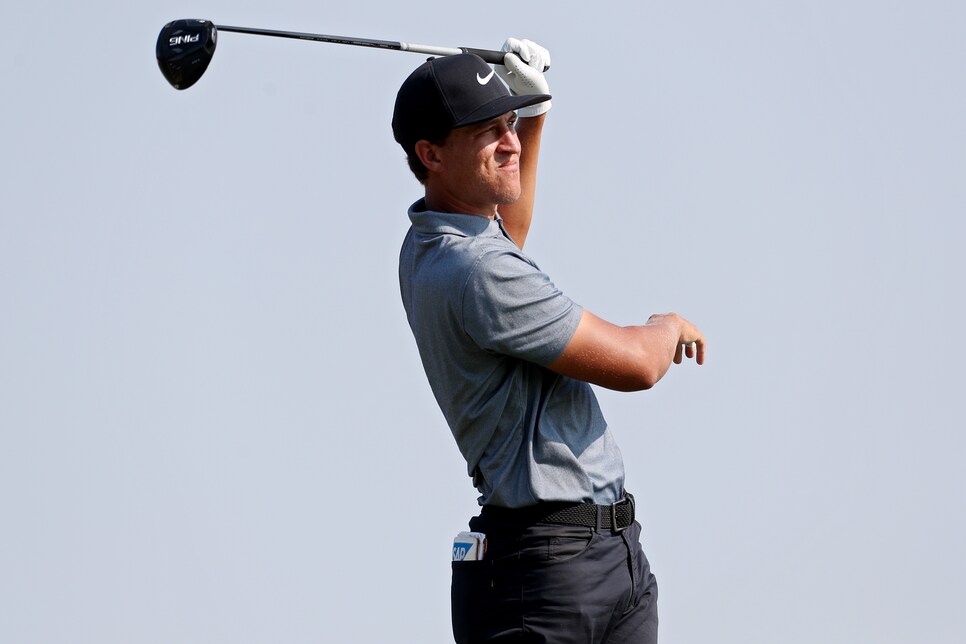 Cameron Champ watches his drive on the 18th tee sail left in the final round of the 3M Open.
David Berding
"We had a good time here this week, and I'm just trying to see if I can go one better than all these seconds and thirds," said Oosthuizen, 38, who can't buy a win, not even with all the cash he has been putting in his pocket this year.
Vegas can relate. He finished second for the third time this season.
Champ hadn't finished better than T-8 this season, that coming in October at the Zozo Championship, and he had missed 11 cuts in 21 starts, including a dispiriting run of four missed cuts and a withdrawal starting at the PGA Championship May. He twice shot 82 in that stretch. When he packed early from the Rocket Mortgage Classic after a second-round 77, he did a lot of soul searching.
He found his soul intact. He wanted that to shine through when he stepped on the course.
"After Detroit," he said, "I just took a step back and said, 'You know what, this is enough, I can't keep going on this way, I'm not enjoying the game, it's not fun,' and in order for me to enjoy the game and for it to be fun, I have to be true to myself and who I truly am as a person."
"For me, it's more so realizing what I want to do in the game of golf and then who I want to be at home. It's a balance you have to find, and if you don't, it can really haunt you, and it can cause a lot of issues. So, I just feel like the last two months I've been in a lot better head space and kind of realizing what is truly important to me and what is not. I've just been sticking to it."
In his next start, the John Deere Classic, Champ finished T-11. Now he has a third victory. And now he has a way forward. And the challenge is not keeping his form but keeping his head, sticking to this newfound serenity and giving himself a base upon which to improve in the ways that mean the most to him.
"We can never say what our true potential is," he said. "We may have our goals and ideas of what that may be, but again, that's where it goes back to balancing life and golf. For me, home life is a lot more important to me than golf. It's managing both those sides.
"I think my own potential, I can do great things in this game," Champ added, saying so in a way that sounded hopeful, not egotistical. "Obviously I have my goals, but I've always set kind of smaller goals to allow me to get to the bigger ones. Again, really all my goals right now have to do with just myself and, I think, what that will allow me to be the player I can be one day. I feel like I'm starting to trend in that right direction."
A direction that, really, was there all the time.