Takeaways
Cameron Champ's chaotic finish, Louis Oosthuizen comes up just short again and a big name on the FedEx Cup bubble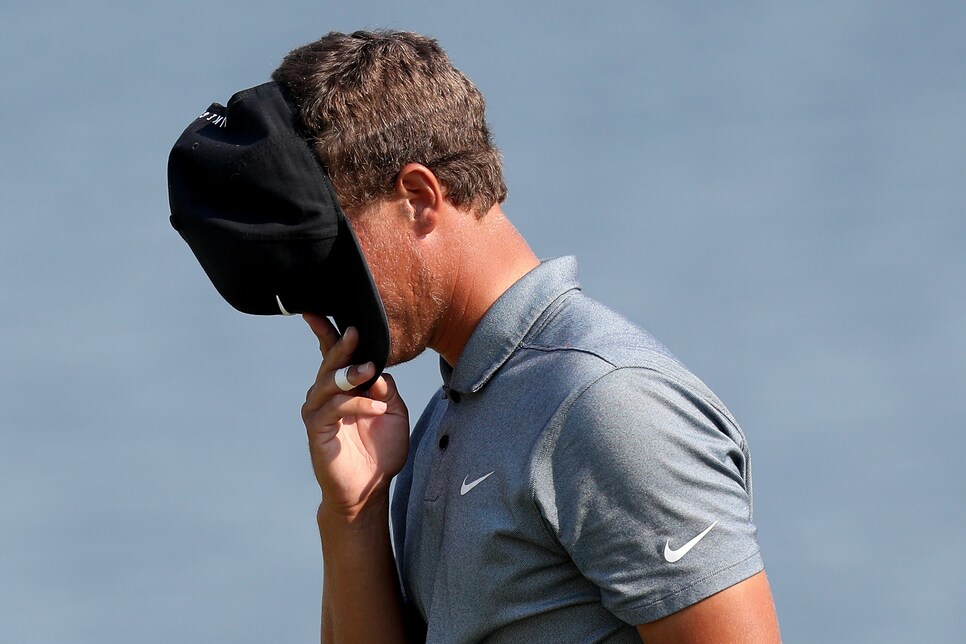 Cameron Champ reacts after making par on the 18th green to win the 3M Open.
David Berding
The 2020-21 PGA Tour Super Season has delivered all kinds of chaos, specifically at the top-tier events. Justin Thomas' win at the Players, Jon Rahm's victory at Torrey Pines and Phil Mickelson's epic Sunday at Kiawah Island are among the many hearstoppers this season has featured.
And yet, you could make a serious case that no tournament was worse on golf fans' fingernails than the 3M Open, which Cameron Champ hung on for dear life to win on Sunday. Champ, whose day got off to a perfect start with a birdie at the first, had played clean, solid golf for all of the front nine and the early portion of the back nine. A spell of dehydration appeared to slow him down, but a late birdie at the 16th and a par at 17 still saw him take a two-shot lead to the 18th tee.
That's where things took a seriously chaotic turn, as Champ pulled out driver when 6-iron, 6-iron, wedge would have all but sealed the deal. He proceeded to snap hook one so badly that even his layup option was blocked out by trees, not to mention the water lurking on the other side of the fairway. Suddenly, his two-shot lead felt like it could disappear before everyone's eyes.
Champ chipped out, narrowly avoiding a tree and coming up just short of the fairway. Another layup left him with 127 yards to the pin on his fourth shot, which he ended up sticking to tap-in range, winning with an all-world par save.
"I didn't make it boring," Champ said afterward. That's putting it lightly.
When asked if he knew where he stood on the leader board when he pulled driver on the 18th tee, Champ said he was aware, but that driver at 18 was the plan the whole week, no matter the situation. All part of his new process-over-results mindset. No one can tell him he didn't stick to his game plan after that decision.
"On 18, I'm going to hit driver there every time," he said. "It's a very difficult driving hole for me, but it's one of those where if I hit it left I'm going to have a chance to punch out, and the times I do hit the fairway it will be an easy par 5 to get in two, but obviously I made it a little interesting there at the end."
That he did. Fortunately for him, no one will remember how he got it done, just that he got it done. That's three victories now on tour for the 26-year-old, the most recent of which will see him make a massive leap in the FedEx Cup standings. He began the week at 142nd but is now 49th, essentially locking himself in to the first two legs of the postseason and giving himself a prime opportunity to get to East Lake, where he did not appear to be headed after a string of four missed cuts between late May and early July. That escalated quickly, kind of like his final-hole heroics.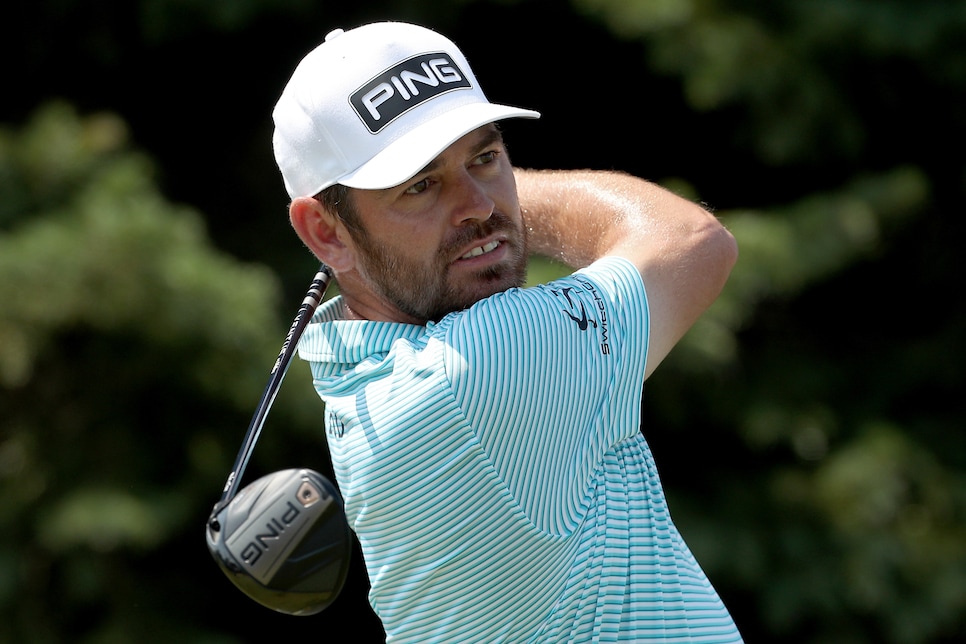 Louis Oosthuizen plays his shot from the second tee during the final round of the 3M Open.
David Berding
Louis Oosthuizen finished in second again (not a joke)
Given the fact the 3M Open is a) not a major and b) played in America, the narrative was that Louis Oosthuizen would have a quiet week in Minnesota, if he showed up, that is. Well, Oosthuizen definitely showed up, riding the scorching hot hand and posting rounds of 68, 68, 69 and a Sunday 66 that was inches from being a Sunday 65. What did he get for his efforts? Another T-2 (and another monster six-figure check, which is nothing to scoff at). The man just really, really loves finishing in second place, save for that one time at St. Andrews, which was kind of a big deal. He also should get more credit for his nine European Tour victories, which we all definitely overlook in any Louie discussions. He's clearly still one of the more talented players in the sport and obviously knows what it takes to win. It's going to happen soon. It has to ... right?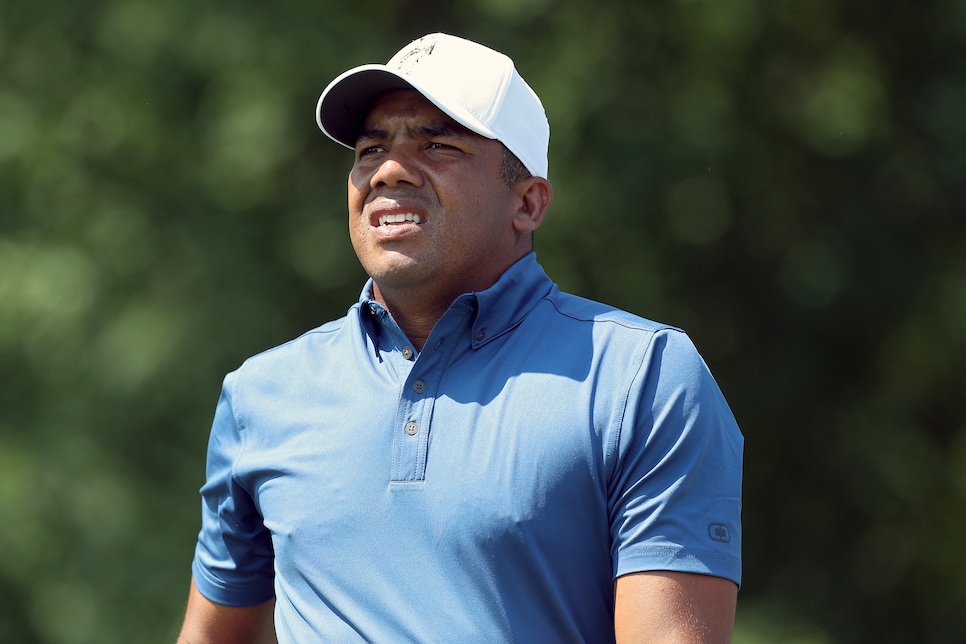 Jhonattan Vegas plays the 11th hole during the final round of the 3M Open.
David Berding
Jhonnattan Vegas might be staring at the ceiling quite a bit tonight
As we hinted at with Louis, finishing second ain't a bad life on the PGA Tour. But there's only so many serious cracks you get at a win when you're not one of the elite, elite players in the world, and Jhonattan Vegas had one of his more serious cracks at a win in awhile on Sunday at TPC Twin Cities.
Following a front-nine three-under 32, the 36-year-old Venezuelan was in control of the golf tournament, but his putter abandoned him at a number of crucial moments on the back nine, none more crucial than the par-3 13th and the par-3 17th. At each of those holes, Vegas found the putting surface with his tee shot, leaving himself with a 40-footer for birdie at 13 and a 65-footer for birdie at 16. Each time, he three-putted for bogey, something you simply cannot do if you're going to close out a tournament. Champ, meanwhile, went bogey-free, a product of some very solid lag putting and him picking up birdies where he needed to. That was enough to finish two shots clear of Vegas, who has a long, restlesss night ahead.
The big name on the FedEx Cup bubble
You probably have already guessed who we are referring to, so we'll save the suspense: It's Rickie Fowler, who began the week ranked 124th in the FedEx Cup standings and his projected to be ranked 125th following the 3M Open. Wait ... what?
That's right, Fowler actually lost ground in Minnesota, a stunning turn of events when you remember he was leading the golf tournament on Thursday and remained in contention until late Saturday afternoon. A disastrous triple bogey at the par-5 18th in his third round spoiled the week, though, and he was unable to make a big recovery on Sunday, shooting an even-par 71. As a result, he now still has work to do to make the postseason, which he hasn't missed in a decade. With just two events left after the Olympics, time's ticking on Rick.