Senior British Open
Stephen Dodd's triumph in Senior British Open is one that will change his life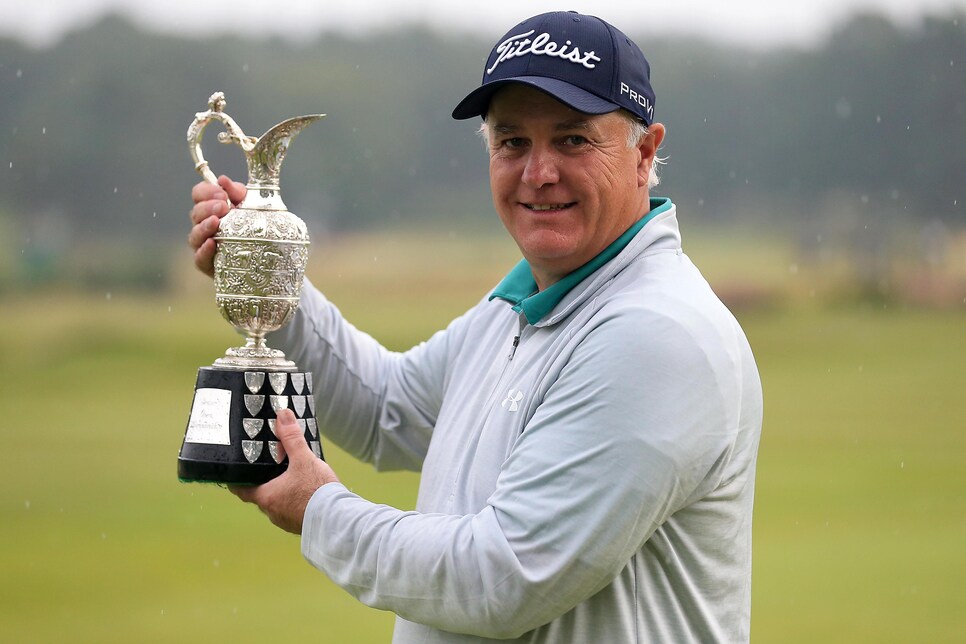 Stephen Dodd celebrates victory with the trophy at the Senior British Open.
Stephen Pond
He's had his moments before, of course. Welsh Amateur champion in 1989. British Amateur champion that same year, before he was a member of the first Great Britain & Ireland Walker Cup side to beat the Americans on home soil. A 1992 victory on the European Challenge Tour punctuated a few years of early professional struggle before three European Tour victories came along between 2004 and 2006. In 2005 he teamed with compatriot Bradley Dredge to claim the World Cup of Golf for Wales. And just over a decade later, he recorded the first of three wins on the European Senior Tour.
So, all good, all memorable, all things to be proud of. But nothing that would quite qualify as truly life-changing.
With a seemingly nerveless birdie on the 72nd hole, Stephen Dodd's 13-under-par aggregate of 267 for four circuits of Sunningdale's Old Course was just enough to clinch the Senior British Open title by a shot from Spain's Miguel Angel Jimenez. A pair of major champions in Darren Clarke—bidding to become only the fourth man after Gary Player, Bob Charles and Tom Watson to win both the Open Championship and the Senior Open—and Bernhard Langer pulled up in third and fourth places respectively. Jerry Kelly, whose erratic putting over the four days proved to be an adventure like no other, was the leading American alone in sixth place, one shot behind the 2016 champion, Paul Broadhurst.
"I knew exactly where I was," said Dodd of his thoughts standing over the 6-iron he struck from the right rough to eight feet on the finishing hole. "I like to see the scoreboards and know what I need to do. For me it focuses my mind more on what I need to do. I hit some decent shots coming down the last few holes."
For Dodd, who had played very little competitive golf—one tournament, in fact—over the previous 18 months because of the global pandemic, the perks of victory will surely outweigh the $375,000 first-place check he will be soon be banking. An exemption onto the PGA Tour Champions beckons, and just under a year from now the 55-year-old will be able to tee-up in the Open Championship at St. Andrews without having to qualify.
"That will be special," he said with a smile. "I'll have to start trying to hit it a bit harder and further."
"This is an amazing feeling," continued Dodd, who's record-equaling third round of 62 provided the basis for the biggest win of his golfing life. "I was in control of my emotions out there, I just wasn't in control of the ball, which was a problem. It was a bit of a battle out there. But luckily, I gave myself a few chances. I really didn't know what sort of game I was going to wake up to. Today wasn't a great one, so it was a challenge. I scrambled my way around because I hit a lot of bad shots. Holding the trophy was the last thing on my mind. I just wanted to come in and do myself justice. Hopefully I've done that."
Dodd's immediate future remains unclear, but it would be something of a surprise if his hope is not to parlay this victory into at least a few years on the lucrative senior circuit in the States. As Kelly, his playing partner over the final 18-holes, remarked as the pair left the historic 18th green that sits directly in front of the iconic oak tree that forms the Sunningdale club emblem: "See you in the States."
In that respect, Broadhurst is a fine role model. Since his 2016 win at Carnoustie, the former Ryder Cup player has won four more times across the pond, including another major, the 2018 Senior PGA Championship. So there is, potentially at least, much for Dodd to look forward to. As ever though, this understated soul wasn't giving much away.
"I'm not sure it's sunk in yet," he said. "I'm sure on the drive home I'm reflect on it all. I'll look at it over the coming weeks. I'm not sure what lies ahead at the moment. It's just too early for me to decide what's going to happen, but I would like to play a bit in America."
Don't be fooled by all that diffidence though. Stephen Dodd has always been a golfer you need to keep an eye on. You just have to be patient.