The Loop
Jordan Spieth takes playful jab at Tiger Woods over his TV ratings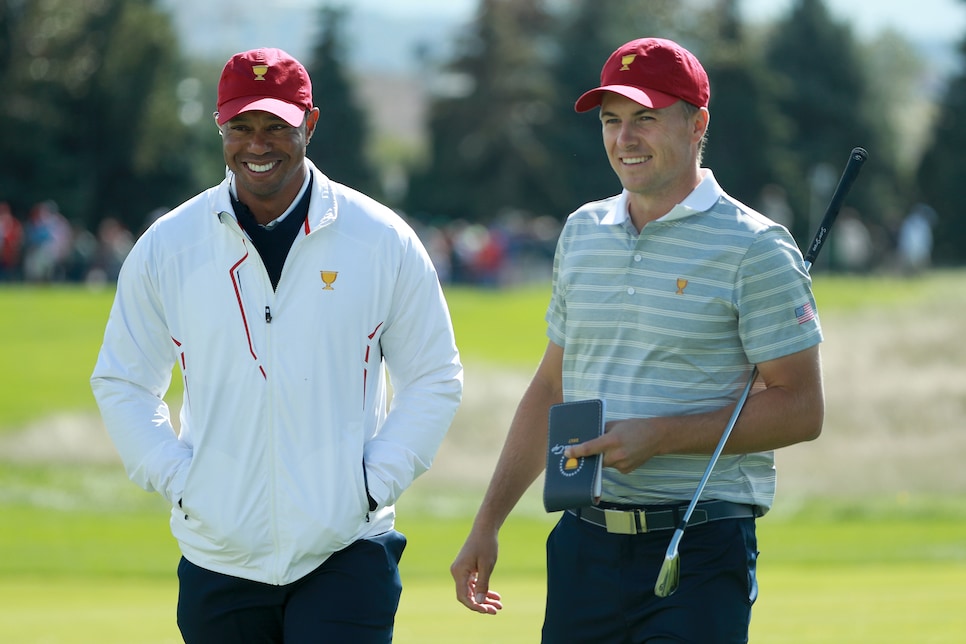 One of the most interesting subplots of Tiger Woods' latest return to golf is how he'll fit in with the young group of stars that has taken over the game in his absence. Stints as assistant captain by Woods at both the 2016 Ryder Cup and 2017 Presidents Cup gave golf fans a window into how much he gets along with these whippersnappers and how much they respect him. Tiger teeing it up again for real, though, has brought out the feisty -- but fun -- side of this new generation.
Take Justin Thomas' press conference last week after learning he'd be paired with Woods. "I'm also looking forward to trying to kick his ass," the reigning PGA Tour Player of the Year said with a laugh. Woods said later he congratulated Thomas on having a five-win campaign, but also told the 24-year-old that he only needed to do that nine more times to catch him. Burn.
Dustin Johnson let Tiger know who's boss in terms of driving distance after those reports of Woods hitting it past him:
Then there was Patrick Reed making this quip about what he would wear on Sunday. "Well, my outfit this week on Sunday is red and black so I'd hate to have to spoil the new generation coming in in red and black and taking over the Big Cat." Reed even gave Tiger a little love tap on the range before the final round.
And now Jordan Spieth has entered this feisty fray. On Tuesday night, Golf Digest's Instagram account posted about Woods' positive effect on TV ratings at the Hero World Challenge and that of all NBC golf events in 2017, only the British Open had more minutes streamed by golf fans. We were just stating facts, but if you wade through all the comments, you'll find this gem of an opinion from the man who won that tournament:
Yep, 2018 on the PGA Tour could be a lot of fun.