The Loop
Tiger Woods' "Bright future," Rickie Fowler's successful Bahamas trip, and the Tiger T-shirt every fan needs for Christmas
Welcome to another edition of The Grind, where our Tiger Woods "BACK!" meter has revved up quicker than one of those new Tesla trucks. No, he's not "BACK!" to winning majors just yet, or even glorified 18-men member-guests, but what about the fist pumps? BACK! The club twirls? BACK! The Sunday red shirt? BACK! Although, if I'm nitpicking, that was more of a magenta. Hey, he's rusty.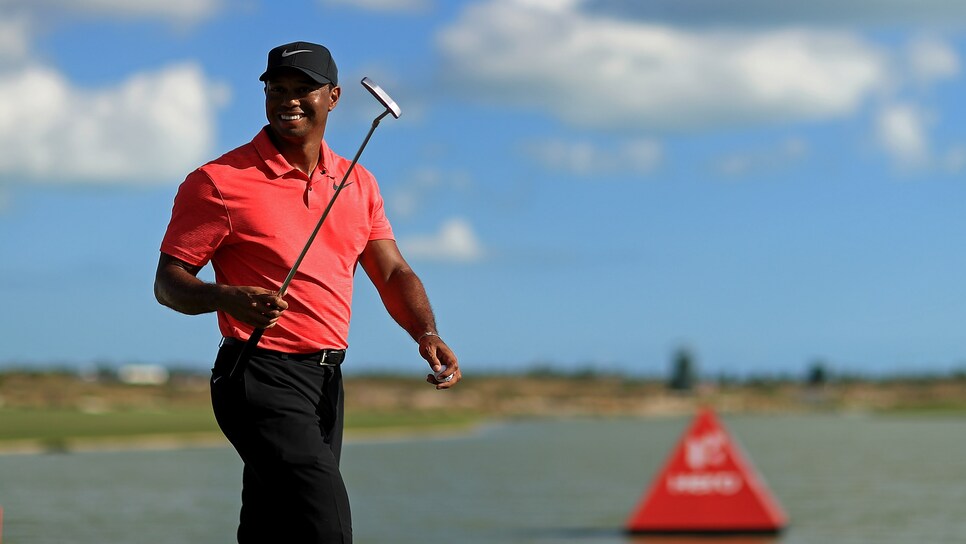 The 330-yard drives? BACK! The laser 2-irons into the wind from 270? BACK! Vague answers about his upcoming playing schedule? BACK! The brilliant short game? BACK! (At least, most of the time.) … You get the point. There's no official definition for Tiger Woods being "BACK!" but he sure did check a lot of boxes last week in the Bahamas. And considering where we were just a couple months ago when even Woods sounded like he doubted he would even return, we're just happy to be having this debate at all. Let's discuss everything else happening in the world of golf this week -- and talk Tiger a bit more, of course.
Tiger Woods: Well, that was certainly worth the wait, wasn't it? The naysayers will say it was just an limited-field exhibition on a fairly open golf course, but Shhh! Let us Tiger fans enjoy this moment! Tiger finished in the top 10 (T-9 out of those 18) and consider this: Woods played reigning PGA Tour Player of the Year Justin Thomas to a draw in their two rounds together and he wound up beating World No. 1 Dustin Johnson in the event. By eight shots. BACK! I really needed something good to happen after Eli Manning's benching, and Tiger delivered. And now Eli The Great got his job back so all is right in the (sports) world. I mean, check out this freaking rainbow that showed up right as Woods wrapped up his first round!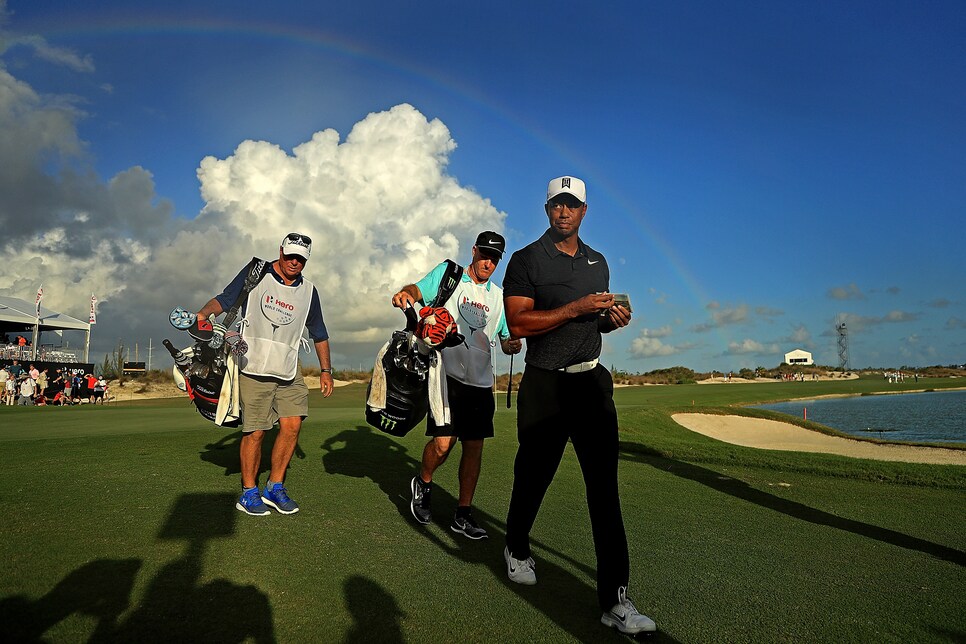 Rickie Fowler: Oh yeah, Rickie Fowler won. And he did it in spectacular fashion by wiping away a seven-shot deficit with a Sunday 61 that included a front-nine 28. The same Tiger naysayers will point out this doesn't count as an official PGA Tour win, but this event has served as a springboard to big seasons for recent winners of the event (Tiger Woods in 2011, Jordan Spieth in 2014 and Hideki Matsuyama in 2016). Plus, the trip doubled as a tropical vacay for Fowler and girlfriend Allison Stokke.
Cameron Smith: Speaking of big seasons, the Aussie's breakout year culminated with a playoff win at the Australian PGA Championship. Still just 24, it's Smith's first European Tour victory to go with the first PGA Tour title he picked up at the Zurich Classic in May.
John Daly's driver: As in you can buy the Cobra driver Long John used during his incredible victory at the 1991 PGA Championship. And it won't cost you that much! Check that, the bid on Green Jacket Auctions is up to $2,852 as of this post, but bidding opened at just a thousand. Still, three Gs sounds like a bargain. We're talking about a piece of history here, people!
Charley Hoffman with a 54-hole lead: To be fair, this wasn't all Hoffman's fault. You never think someone is going to track you down by birdieing the first seven holes of the final round. Still, Hoffman is now 0 for 5 in his PGA Tour career with 54-hole leads. And now he's 0-1 with a five-shot 54-hole lead. That hurts.
Adam Scott with a long putter: The Aussie switched back to the broomstick and missed the cut in the Australian PGA, a tournament where he'd previously flourished. We don't like the decision for two reasons: 1.) At one time, Scott was great with a regular putter and he won twice that way in 2016; 2.) Now he has to worry about people accusing him of cheating like they do with Bernhard Langer. That's annoying.
Breaking your wedge: It's never good to do this, but it's especially dumb when you do it when you have a chance to win a tournament. Such was the case for Dylan Frittelli during the final round of the AfrAsia Bank Mauritius Open.
Frittelli admitted after that he needed that club a couple times, including on his approach shot on the 72nd hole. But kudos to him for still winning his second European Tour title.
Hecklers: In what sounds like a plot plucked from "Happy Gilmore," Cameron Smith dealt with a heckler throughout much of his final round at the Australian Open. Considering Cameron is a local product, it's surprising he'd be the target of such a verbal attack. It's also surprising no one threw out this jabroni until the 18th hole.
The PGA Tour's silly season heads to Naples for the QBE Shootout. Once again, Lexi Thompson is the lone female in this event, but after finishing tied for last with Bryson DeChambeau last year, she'll partner with Tony Finau. It's also a return to the same course where she missed that two-footer to potentially win the LPGA's season finale and Player of the Year Award just two weeks ago. Talk about exercising the demons quickly.
Random tournament fact: Matt Kuchar and Harris English have gone win-2nd-2nd-win in this event in their four times playing together. Ryder Cup captain Jim Furyk might want to keep that in mind next fall.
RANDOM PROP BETS OF THE WEEK
-- TV ratings this week will match Tiger's comeback: 1 MILLION-to-1 odds
-- Tiger Woods will win the 2018 Masters: 20-to-1 odds (Down from 50/1)
-- Tiger Woods will get a lot of invites from tour pros to team up at the Zurich Classic: LOCK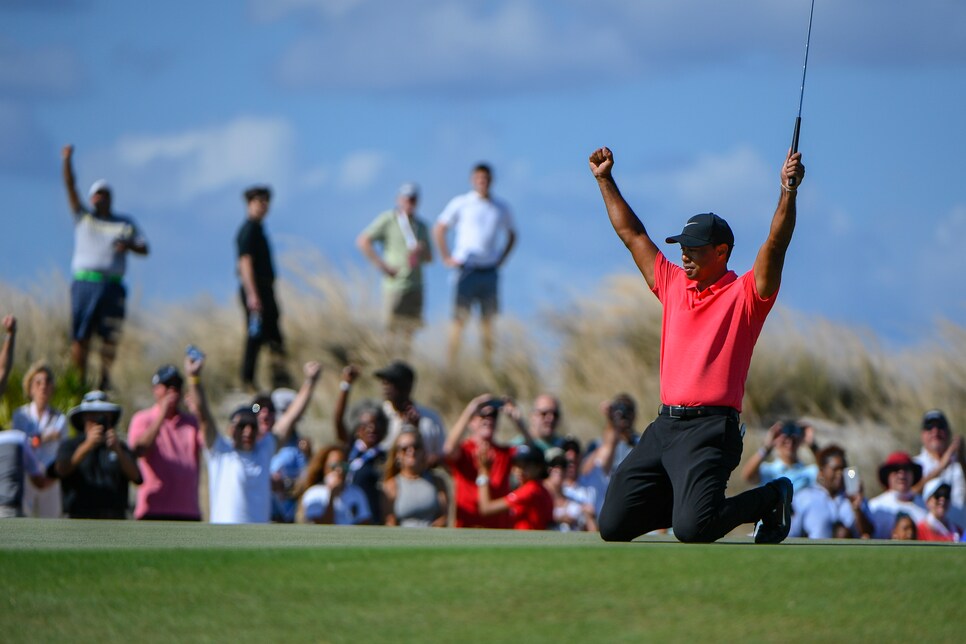 Brings a tear of joy to your eye, doesn't it?
It was great to see former Ryder Cupper Jeff (BOOM BABY!) Overton sinking an important putt again after his recent health struggles. We're sure the lucky fans who won a trip to Myrtle Beach as a result were pretty stoked as well.
VIRAL VIDEO OF THE WEEK (TRICK-SHOT DIVISION)
Well done, sir. And is that a little Tiger Sunday red?
"I showed some good signs, I hit some really good shots out there and [it's] a bright future." -- Tiger Woods. WOO! When I heard those words, I felt like I could run through a brick wall. Or at least, finally tackle those leaves in the front yard.
THIS WEEK IN NATALIE GULBIS (AND MICHELLE WIE) POSTING BIKINI PICS
Looks like Wiezy is taking it easy in Hawaii:
And how about this pose from Gulbis?
Watch Tommy Fleetwood's golf ball roll into a footprint hole crater:
On the bright side, he should have better luck on the Bahamas sand when he gets married there on Tuesday.
THIS WEEK IN GREG NORMAN MAKING US FEEL BAD FREAKING US OUT WITH HIS WORKOUTS
I'd legitimately be more scared of seeing this shredded shark in the ocean than an actual shark. And how about the 62-year-old Norman's outfit at the company Christmas party?
If you've got the goods, you may as well show them off.
Morgan Hoffmann revealed he was diagnosed with muscular dystrophy last year. We wish him the best on the course and off it where he plans to raise money and awareness for this incurable disease. . . . Congrats to Maria Torres, who became the first Puerto Rican to earn an LPGA Tour card. The fact that she did it after surviving Hurricane Irma and having to track down an internet signal just to submit her application for Q School makes it even more impressive. . . . Speaking of impressive efforts to play golf, a 60-year-old electrician disabled his company's tracking device by putting it in an empty bag of cheese puffs so he could skip out of work and play 140 rounds of golf. What a genius. Well, until he got caught. And fired. . . . And finally, I'd never heard of Instagram star/rapper FatBoy SSE, but check out what he wore in honor of Tiger's comeback:
From the image of an actual tiger to the "Golf Champion" title, what a thing of beauty. And I don't think I've never wanted anything so badly in my life.
RANDOM QUESTIONS TO PONDER
When will we see Tiger Woods play next?
When will we see Tiger Woods win again?
Can someone get me that Tiger T-shirt for Christmas?