News
Rowdy fan heckles Cameron Smith but can't keep him from taking Australian PGA title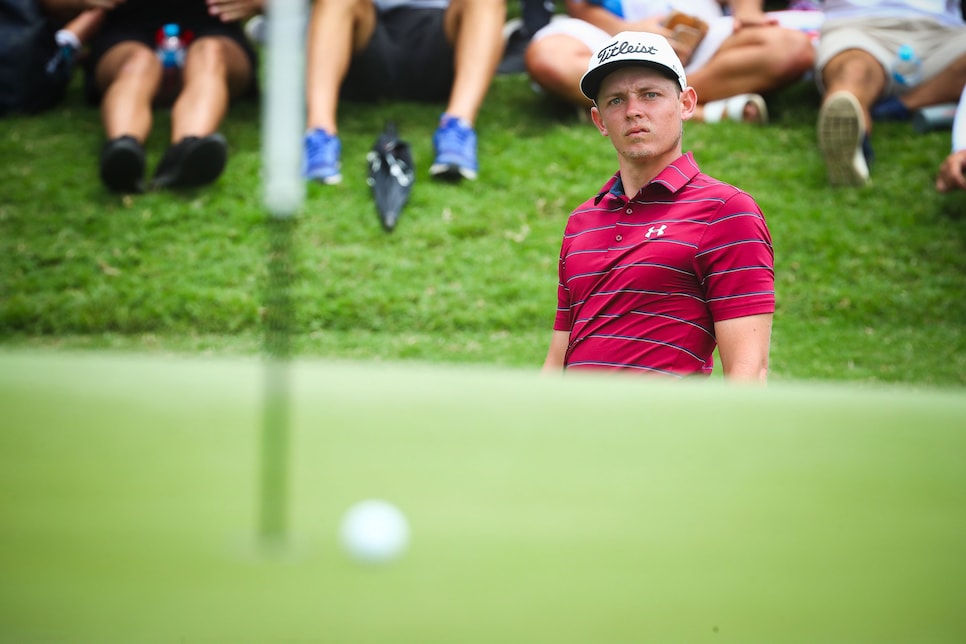 En route to winning the Australian PGA Championship title in a playoff on Sunday, Cameron Smith didn't just have to hold of Jordan Zunic at RACV Royal Pines Resort in Queensland. He also had to tune out a rowdy fan who seemed to have it out for the 24-year-old.
Over several holes on the back nine, according to reports, an unidentified man from outside the ropes heckled Smith, faking coughs and sneezes in an apparent attempt to distract him as he charged from three strokes back to start the day. On the 72nd hole when the fan's actions forced Smith to back off his approach shot, Smith's caddie, Sam Pinfold, reacted. Walking toward the ropes, he identified the fan, and security officials eventually took him away.
"He just said a few nasty things there on the left-hand side, telling me not to choke," Smith said. "I tried to just play it off and just as I was coming into the ball he coughed and sneezed. "Sammy did the right thing there. I don't know what he was trying to achieve."
Smith wound up missing the green with his approach, and then missed a five-foot par putt that cost him the outright title. He would gather himself, however, getting up-and-down for par on the first playoff hole to extend the match, and then winning with another up-and-down par on the second playoff hole after Zunic made a bogey.
The bizarre ending didn't diminish Smith's accomplishment as he claimed his first European Tour title after sharing a playoff victory with Jonas Blixt for his first PGA Tour win at the Zurich Classic of New Orleans in May. The difference in this win was the friends and family there to witness the triumph.
"Neither my mum or dad were there for the win in New Orleans," said Smith, who shot a closing 68 to win with a 18-under 270 total. "To be able to win in front of them and in front of other family and friends, and then winning in Queensland, makes it so much more special to me."