News
Jordan Spieth illustrates golf's thin line between struggle and success, and how we perceive both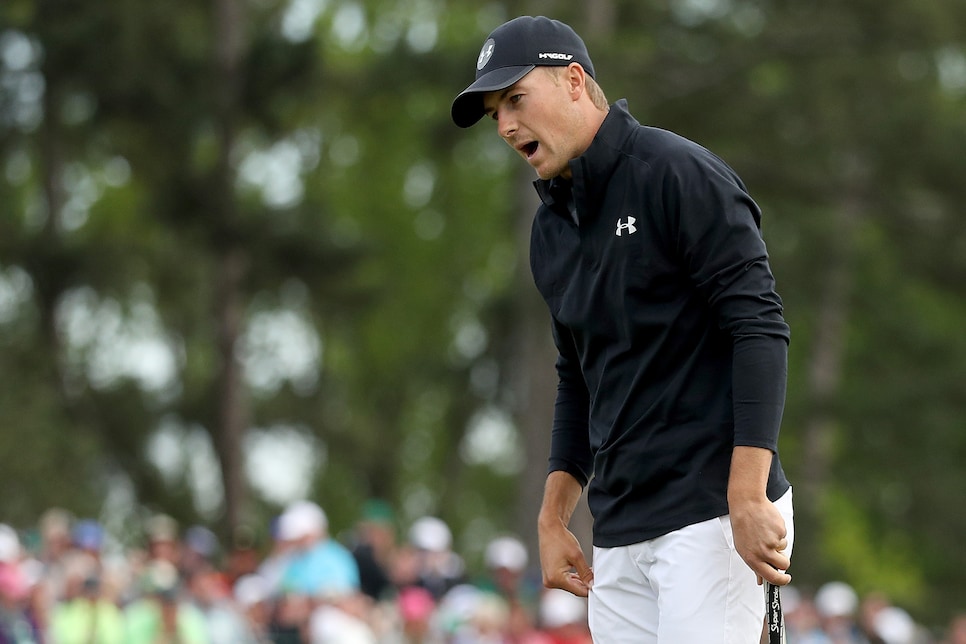 Photo By: Patrick Smith/Getty Images
There is an alternate 2018 timeline for Jordan Spieth. A cosmos featuring the 25-year-old slipping into the green jacket for a second time following the greatest comeback in Masters history. Where he becomes just the third player in the last 35 years to successfully defend the claret jug. Likely the No. 1 in the sport, he heads to East Lake seeking his second FedEx Cup title in four years. A world in which Spieth's peers aren't Justin Thomas, Dustin Johnson or Brooks Koepka but Jack Nicklaus, Tiger Woods, Ben Hogan.
Depending on your beliefs in the multiverse, perhaps that realm exists. In the one we actually live in, Spieth's 2018 is decidedly not that.
This Spieth season has been marked by struggle. His earnings were the lowest of his six-year career, and he failed to claim a PGA Tour title for the first time since 2014. (He also had no runner-up finishes, another unwanted first on his résumé.) Spieth did not advance to the Tour Championship, creating the ignominious situation of likely facing fine or suspension for not making the minimum required starts on tour. When he makes his next appearance, he will be outside the OWGR top 10. Spieth did earn an automatic selection to the Ryder Cup, although if the point system was based on his play this year alone, there's a chance Spieth would not have a ticket to Paris.
In short, Spieth came out on the business end of 2018.
And yet, you don't have to squint too hard from this reality to see the other.
Before traveling too far down the spin zone, let's be clear: This season was a disappointment for Spieth. Making it to East Lake is not a goal for a player of his prestige; it's an assumption. The Tour Championship was still within reach heading into Monday's final round at the BMW Championship, but a closing 73 put an end to that.
"I was in control of my own destiny and didn't have it this week," Spieth said at Aronimink. "Was riding some momentum [after a T-12 in Boston], but all in all, just [my] game kind of got a little off."
Atlanta-bound or not, Spieth's season would have been viewed in the same light. He recorded only five top-10s, a far cry from 2017's 12. He missed five cuts, including the U.S. Open, after missing five cuts in his previous two years combined. Specifically, it was how these performances came to pass. Spieth's short game, previously one of the best in the game, has slowly morphed from a generational asset into an Achilles' heel. Two years ago, Spieth ranked second in strokes gained/putting, and ninth the season before that. After falling to 42nd in the category in 2017, Spieth leaves Philadelphia 136th in sg/putting.
"Everyone goes through peaks and valleys of results in any part of your game," Spieth said at Shinnecock in June. To be fair, he was somewhat able to right the ship down the stretch, yet Spieth posted a negative-.945 sg/putting figure at Aronimink. Worse, he haphazardly missed a six-inch putt two weeks prior at The Northern Trust, providing an indelible, an apropos, image for his summer.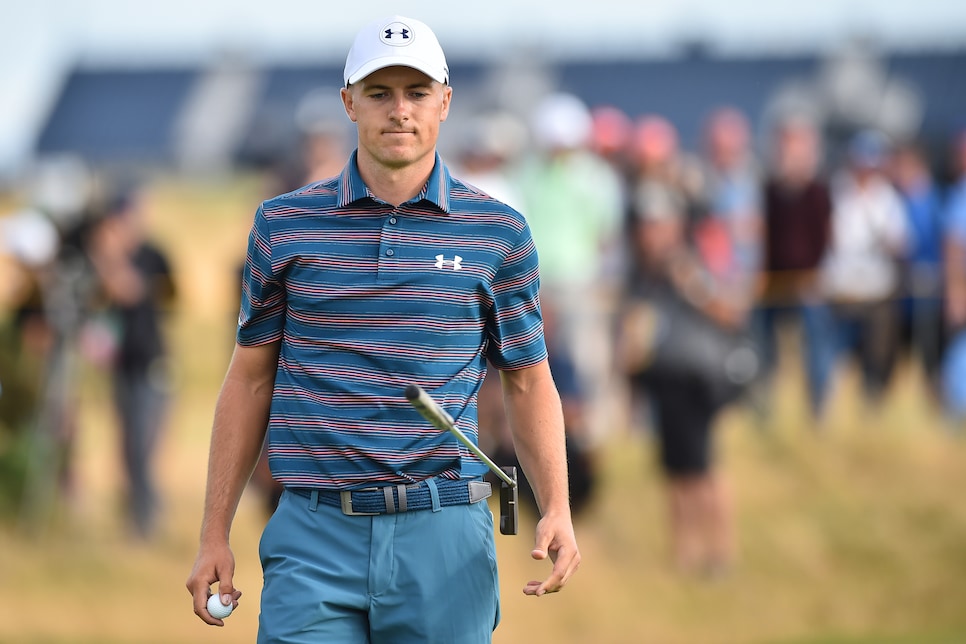 Glyn Kirk/AFP/Getty Images
But it wasn't just Spieth's putting that let him down. His iron prowess, so strong in 2017 (first in approach) and 2015 (11th), took a noticeable drop, as did his work around the greens (97th in scrambling, 151st from the fringe). Individually, these facets aren't concerning. In the aggregate, though, it's slightly troubling, particularly when the putting has been so off. When an aspect of his game was holding him back, there was no safety net for Spieth.
That Spieth's slump has coincided with the rise of friend and rival Thomas hasn't helped. The 2017 PGA champ has won five times since Spieth's last W, jumping him in the World Rankings and even briefly holding the No. 1 spot. No matter that Spieth has three majors to Thomas' one, or that Spieth holds a 14-9 advantage in global wins. Whether attributing it to Thomas' length off the tee or his blitzkrieg approach, many in the sport believe Thomas has passed Spieth as an equal, to say nothing of holding a brighter future. In some ways, Thomas' light may, fairly or not, be dimming Spieth's star.
There is merit to all the above. And, in that same breath, to this: Was it really that bad of a season for Spieth?
Much was made of his slow start, yet Spieth did post eight top-20 finishes in his first 10 outings. Spieth ended his season ninth in birdie average and 18th in scoring, and finished T-12 or better in three of the four majors. That's not an "off" season; it's a year most pros aspire to. If you want to see what a bad season looks like, take a gander at Sergio Garcia's results.
Speaking of majors, it's worth noting Spieth held the first-round lead at the Masters. He went sideways on Friday, and he didn't improve his standing on moving day, but surmounted one of the more formidable late charges ever seen at Augusta National. Starting Sunday nine shots back of Patrick Reed, Spieth birdied nine of his first 16 holes, and saw an 18-footer for No. 10 slip just by on the 17th. He bogeyed the 18th, ultimately finishing two strokes behind Reed. But in that moment, before his putt on the 17th decided not to drop, Spieth was on the precipice of something you see once a lifetime, if you're lucky. So what if he didn't close it out; that he came as close as he did can't be overlooked.
Nor does Spieth's week at Carnoustie. No need to romanticize here: Owning a share of the 54-hole lead, the Texan fell flat on Sunday, turning in a bogey-free 76. Considering all Spieth needed was a 72 for a playoff with eventual winner Francesco Molinari—feasible, considering half the field shot even par or better that round—Carnoustie was the latest entry in Spieth's "What the hell happened?" anthology, a series of final rounds that's robust for someone of his age.
He was however, there, in the running until the three-putting the par-5 14th, with a bogey on the ensuing hole providing the official death blow. It's not inconceivable that Spieth, like Koepka, could have won two majors this season.
And there's the rub. Spieth has fumbled away his share of titles—the '14 and '16 Masters, the '15 and 18 Opens, darn-near the '17 Open—proving he's no stone-cold assassin. They're falters that warrant criticism. Continuing to put himself in positions to win, though, also deserves a share of acclaim.
Especially at his age. Arnold Palmer, after all, didn't win his first major until 28. Phil Mickelson, 33. Though arguments can be had when a golfer "peaks," there's no debate that careers, thanks to training, medical and equipment advancements, have been extended longer than ever. Also in that vein: unlike the game's of his fellow young guns, Spieth's is predicated off precision, not power. While that occasionally works against him, his attributes should age gracefully in the next two decades. The sport has cruelly proved that you can't count on anything as a guarantee for the future … but save for injury or off-the-course issues, Spieth is on pace to be one of the greats.
Which, unfortunately for him, is part of his current problem.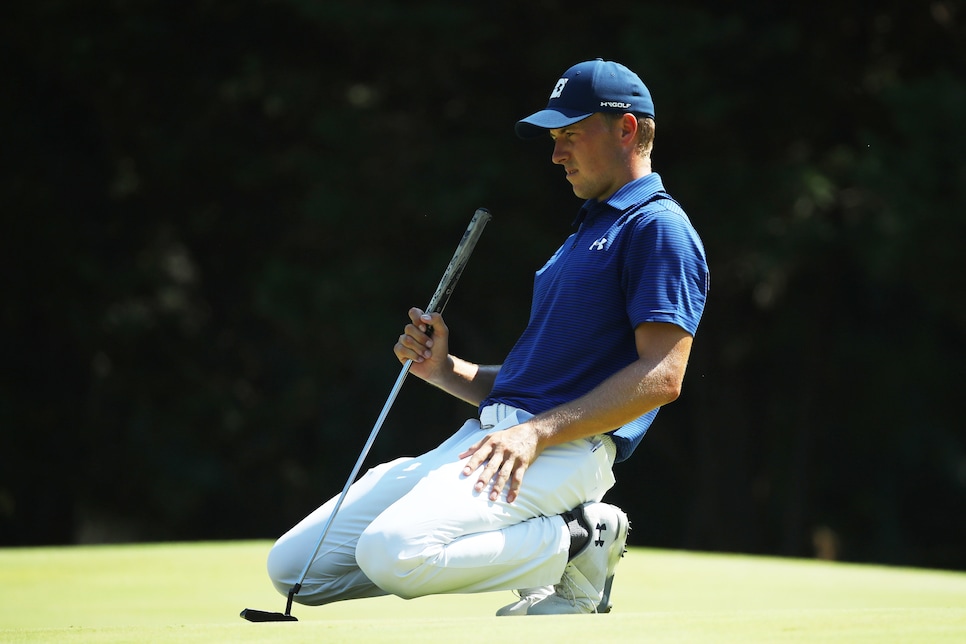 Gregory Shamus/Getty Images
Mentioned above, the majority of professional golfers would sign up for Spieth's 2018. But he is not being evaluated by that yardstick. He is being judged for being Jordan Spieth, a barometer he's historically disdained.
"It's been tough given I think it's been a solid year and I think, had last year not happened, I'd be having a lot of positive questions," Spieth famously said at Troon in 2016, the weight of the accomplishments of his transcendent 2015 season first being felt. "Instead, most of the questions I get are comparing to last year and therefore negative because it's not to the same standard.
"So that's almost tough to then convince myself that you're having a good year when the questions I get make me feel like it's not. So that's a bit unfair to me, but don't feel sorry for me. I'll still be OK. But I would appreciate if people would look at the positives over comparing to maybe hopefully what would happen to me a few times in my career a year, like last year."
Yes, 2015. The year Spieth, at 22, won the Masters and U.S. Open, was co-leader of the Open on the 71st hole, and finished runner-up at the PGA. That will raise expectations.
Here's the thing: They are expectations he's met. Spieth has six worldwide wins (including a major) since his silver medal at Whistling Straits. He has seven top-15s in his last 12 majors and has been a force for the U.S. at the Ryder and Presidents Cups. What more can a sport reasonably ask from its star?
That's rhetorical, because, in truth, reason is often suspended when judging stars. It's not too long ago that fans and media were asking Tiger Woods what was wrong during his major "drought" from the 2002 U.S. Open to 2005 Masters. Never mind Woods won 10 tournaments in that interval, or led golf in every stat quantifiable under the sun. If Woods' example seems dramatic—and, as Spieth has asserted many times, he is not Woods—look to Rory McIlroy. It's now been four years since the Ulsterman has captured a major, and each year since—including 2016, when he won three tournaments—has been deemed, to some degree, a "lost season."
Granted, that's not how golf should work, not with its talent pool deeper than ever before. Just because only three players won majors this season doesn't make the rest failures. But, when a player raises the bar to the historic levels McIlroy and Spieth have achieved, anything short going forward is unacceptable.
It is a desirable position, and any pro would gladly make a Faustian deal to be in this place. But it can be frustrating when those peaks aren't revisited, especially so when trying to explain why those returns didn't happen.
Which is to say the "What's wrong with Jordan?" narrative should not be a surprise, and one that will be heard from now until the end of his career every year he fails to win a major, how close he was to actually winning one be damned.
Perhaps out there in the galaxy, there's another existence not so capricious. But that's how it goes in this reality.