News
How would the U.S. Ryder Cup team look if only points from 2018 counted? Some big names would switch places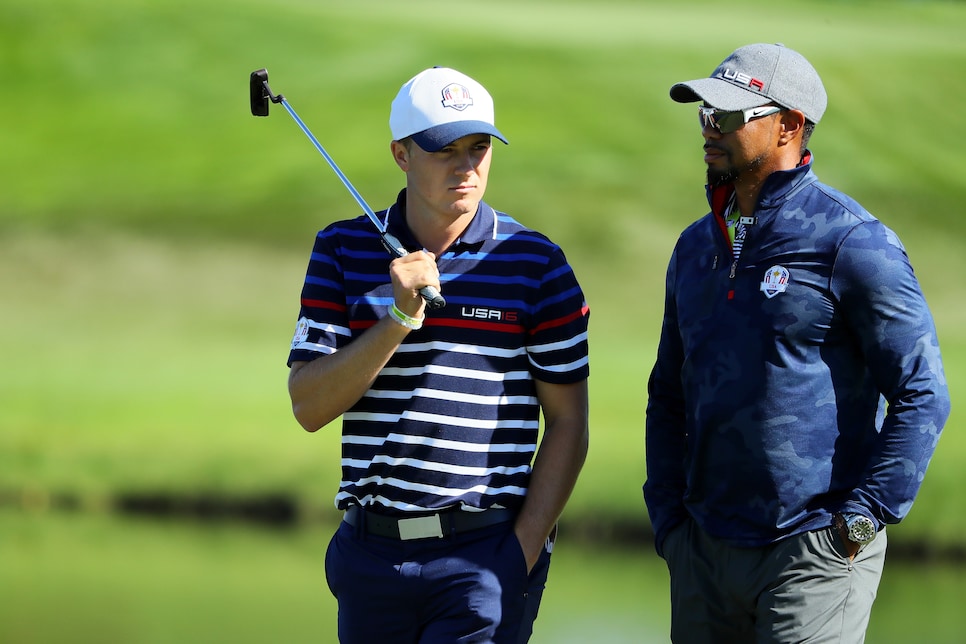 Eight golfers wrapped up spots on this year's U.S. Ryder Cup team at the conclusion of the 100th PGA Championship. The eight players (Brooks Koepka, Dustin Johnson, Justin Thomas, Patrick Reed, Bubba Watson, Jordan Spieth, Rickie Fowler and Webb Simpson) automatically qualified for next month's event based on a points system that counts all PGA Tour events (1 point per $1,000 earned) from this year (Majors count 1.5 times and major winners earn double the points) and all majors (1 point per $1,000 earned) and WGC events and the Players from 2017 (1 point per $2,000 earned). But how different would Jim Furyk's eight-man (so far) squad look if only points from 2018 counted?
Twitter's mysterious Official World Ranking guru @Nosferatu crunched the numbers on Wednesday to find out. Here were the results:
As Nosferatu notes, a couple things jump out. First, current outside-the-bubble boys Bryson Dechambeau and Tiger Woods, who finished 9th and 11th, respectively, would be on the roster already. Of course, Woods, a 14-time major champ who has missed the past two Ryder Cups due to injuries, is a virtual lock to still make the team as a captain's pick, while DeChambeau is on the short list to go to France as well. Woods, coming off that runner-up finish at Bellerive, is the only person in the top 10 on this list without a win in 2018.
But on the flip side, Jordan Spieth and Rickie Fowler would need to be picked by Furyk if only the results of 2018 counted. Spieth gets a big boost from winning the 2017 Open Championship, while Fowler benefits from finishing T-22 or better in all four of last year's majors, including a pair of T-5s at the U.S. Open and PGA Championship. Both Spieth and Fowler are winless in 2018.
Nothing would change, however, for Phil Mickelson. In both scenarios, the five-time major champ just misses automatically qualifying. He's ninth on the mythical 2018-only list and 10th in the actual standings. Like Woods, though, this veteran is expected to make the team again. Although, if he's to play in a 12th consecutive Ryder Cup, he'll need to be a captain's pick for the first time. Another veteran in the mix for a captain's pick, Matt Kuchar, doesn't come close to cracking this (again, mythical) list after losing a bunch of points for his runner-up to Spieth at last year's Open.
Furyk will make three of his captain's picks on Sept. 3 following the Dell Technologies Championship and the fourth and final selection after the BMW Championship the following week. So far, he hasn't tipped his hand, but did state that if Woods makes the team, he will replace him as a vice captain. The 2018 Ryder Cup will be contested at Le Golf National for the first time from Sept. 28-30.