News
The Ryder Cup Radicals Email Exchange: Is the U.S. team overrated? (Plus, Bjorn's Sergio conundrum)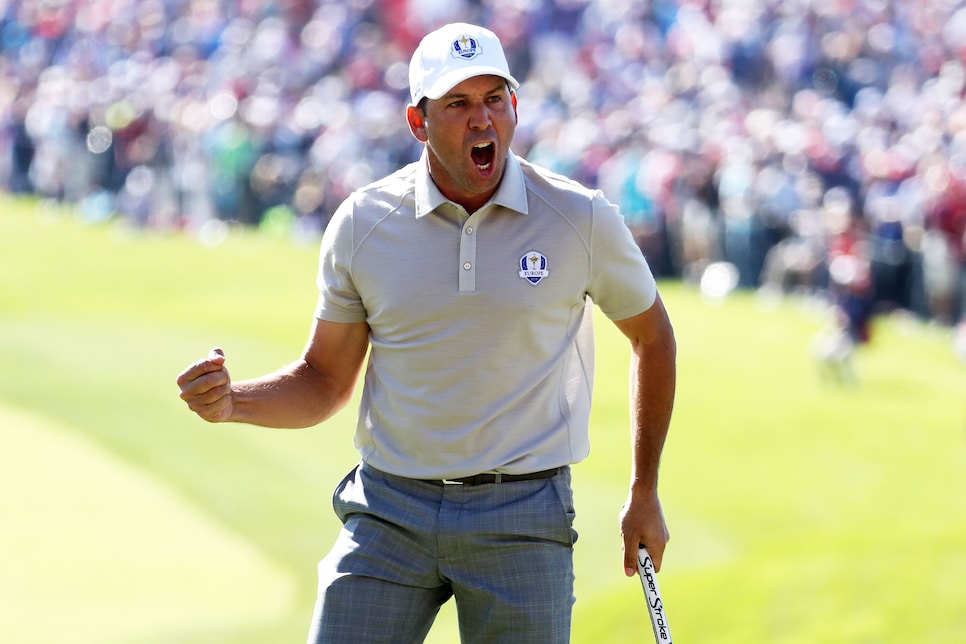 Photo By: Sam Greenwood/Getty Images
Two men. Two continents. One fixation. Luke and Shane love the Ryder Cup above all else, so we've set them loose to indulge their obsessions in a series of email exchanges leading up to the showdown in France. Today, they're covering the U.S. automatic qualifiers and the ramifications of the PGA Championship on team Europe.
Shane my boy … Winter is coming. The final major championship of the year is in the books, and the wall of ice is officially approaching (even though walls don't approach things but whatever … I don't feel like rewriting this sentence so just ride with the analogy).
Thankfully, though, we have one last ray of sunshine ahead: the Ryder Cup. And for as good as Sunday at the PGA Championship was, its conclusion means the automatic spots on the U.S. team are officially set.
Here's what Americans are looking at so far:
Brooks Koepka
Dustin Johnson
Justin Thomas
Patrick Reed
Bubba Watson
Jordan Spieth
Rickie Fowler
Webb Simpson
Let's start there. We'll get to potential captain's picks in a bit, but Shane, what do you think of the lineup so far? Have to admit, it looks pretty nailed-on from this side of the pond.
Europe hasn't been in this much trouble since Genghis Khan rode a horse, and though he stopped short of conquering the entire continent, the mighty Americans will be showing no comparable mercy. That top eight is superlative. It's not real life—it's a dream, and if you're on the wrong side of the Atlantic, it's a nightmare.
But just for fun, let's take the Euro-optimist view and go down that list one by one, charting the main reason for hope with each player:
Koepka: Two majors to his name, but has to read about how nobody likes him and he's boring. Clearly a confidence crusher.
Johnson: Another year, another 0-4 in the majors. Worse, he got beat at the U.S. Open by his younger doppelganger. He's crushed.
Thomas: Just a slew of missed short putts in the year's final major, and he's going in on a sour note. CRUSHED.
Reed: Obviously coasting on his Masters all season, will go in over-confident. CRUSHED.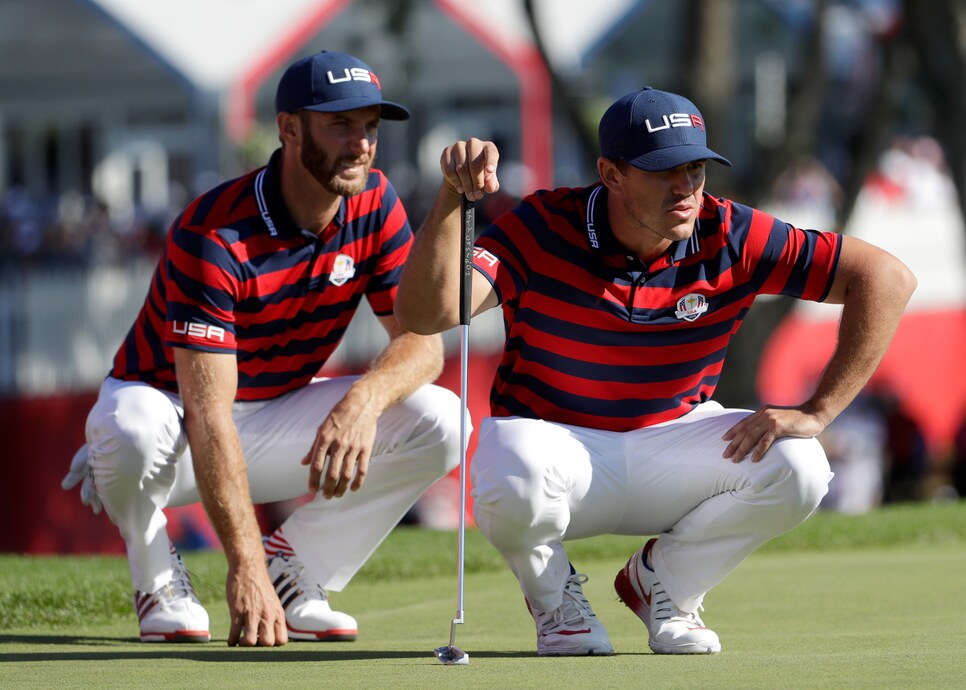 Jamie Squire/Getty Images
Watson: No bit, has legitimately been terrible since mid-June (and cost me my fantasy championship). CRUSHED.
Spieth: Doing his best Rory impression this year as the nearly man, still huge ?? with the putter. CRUSHED.
Fowler: No matter what I say about him here, he will go 1-1-2 at the Ryder Cup. CRUSHED?
Simpson: Was beyond bad at Gleneagles, will definitely get paired with a fading Bubba in Paris. CRUSHED!
And just like that, I've talked myself into a 28-0 victory for Team Europe.
Seriously, there are real reasons to pump the brakes on the "America can't be stopped" narrative, and after my bold proclamation of last week, wherein I declared that the U.S. could win with just eight golfers, I've come to realize that winning a Ryder Cup on foreign soil is actually incredibly hard. The last time the U.S. did it? 1993. Twenty-five years ago. That's wild. I still think it's going to happen this year, but I've talked myself down from my patriotic soapbox and come to understand that it's going to be an incredible battle.
And even though the list above is mostly facetious, it's actually not hard to envision the whole thing going sideways for the Americans. Bubba really is playing poorly, JT really might have confidence issues, Spieth really isn't the same, and there are already three people on the team who present legitimate chemistry issues in Bubba, Koepka and Reed. I'm bullish, but not Ernest Hemingway bullish.
On the Euro side, Luke, the eight picks are not yet set, but the PGA at Bellerive brought us a very interesting change—Ian Poulter is now among the automatic selections, and Paul Casey is on the outside. How does that change things for you? Poulter was obviously going to get a captain's pick if he didn't make the team, but will Casey?
Heading into the PGA, I was worried the European team had become slightly stagnant. The automatic qualifiers seemed to be coasting in without much thought, while the remaining spots were occupied by players engaged in a rather uneventful pillow fight. I really wanted the Europeans further down the order to show some signs of life, and in that regard, the PGA Championship couldn't have gone much better.
Europe's hero of the last Ryder Cup not named Rory McIlroy, Thomas Pieters, hung around the top of the leader board all Sunday enroute to a T-6 finish. Rafa Cabrera-Bello finished one shot higher at T-10, while a bogey-bogey-par finish overshadowed Shane Lowry's otherwise impressive T-12 showing. Add to that soon-to-be automatic qualifiers Jon Rahm, Francesco Molinari and Tyrell Hatton's T-4, T-6 and T-10 finishes, respectively, and all-in-all a very good week.
The one interesting move you mentioned—Poulter leapfrogging Casey into automatic spots—is largely incidental in my mind. Like you said, Poulter is going to Paris in one form or another, and so is Casey. His steady fairways-and-greens game is perfect for the course, and his 3-2-4 career record is solid. If he didn't play almost exclusivity in the U.S. (excluding WGCs and majors, he's played a grand total of three European Tour events in the last two years), he'd be a lock on this team. My main concern is that one of them, and not Thorbjorn Olesen, finishes in that last automatic spot. It's nothing against Thorbjorn, but let's just be honest: The European team is stronger if an untested Olesen, who only recently hit a good patch of form on the European Tour, is pressing for a captain's Pick, rather than forcing Bjorn to burn two picks on quality players like Casey and Poulter.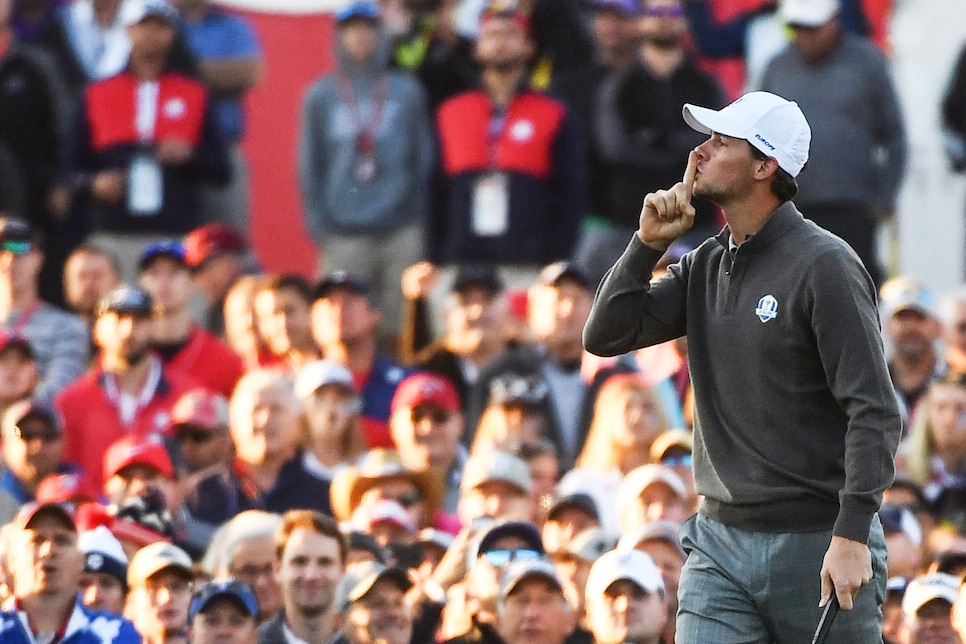 I think you're dead on with Poulter/Casey, although if Olesen managed to go lights-out over the next three events and clinch an automatic berth, there's a good argument to be made that Bjorn's picks become very simple—Poulter, Casey, Sergio Garcia and Henrik Stenson. That said, and I know this is borderline heresy, but Sergio's form has been pretty poor lately, and if someone like Russell Knox or Rafa Bello stays hot in the closing stretch, I have to wonder if Sergio might get left home … especially when you consider Bello's 16-8-3 match play record, which includes an undefeated 2-0-1 mark in the 2016 Ryder Cup.
One more question for you on Team Europe: Is Bjorn going to feel compelled to pick Alex Levy in order to have a native son in France's first Ryder Cup? Paul McGinley took Stephen Gallacher for similar reasons in 2014, and it was a bit of a disaster—really the only mistake he made that year. Even then, Gallacher was very close in the standings, while Levy is not, and Levy's recent form has been very rough: missed cuts in four of his last seven, and mediocre finishes otherwise. I'm sensing Bjorn can't afford to waste a valuable pick on Levy, but I'm curious what you think.
The Sergio predicament is actually becoming a really interesting one, and it really is classic Sergio. He basically concedes defeat on ever winning a major, then promptly wins the Masters in thrilling fashion and spends the next year in a perpetual state of celebration.
Look, I get it. He got married, had a kid and finally accomplished the career-defining achievement that had been dogging him for the better part of 20 years. There's more to life than golf, and it's refreshing for a top-tier professional athlete like Sergio to remember that.
That said, his form has been abysmal. Like, really, really bad. Since March— MARCH!—his missed the cut in eight of 10 PGA Tour starts, including all the majors, and has finished inside the top 70 just once. Picking him this time would solely be a nod to what he's done in the past, which is a risky strategy. And remember, he's played his way off a Ryder Cup team before in 2010, so leaving him off the team isn't without precedent. I'm not saying Europe shouldn't do it anyway, but I don't consider him a forgone conclusion, either.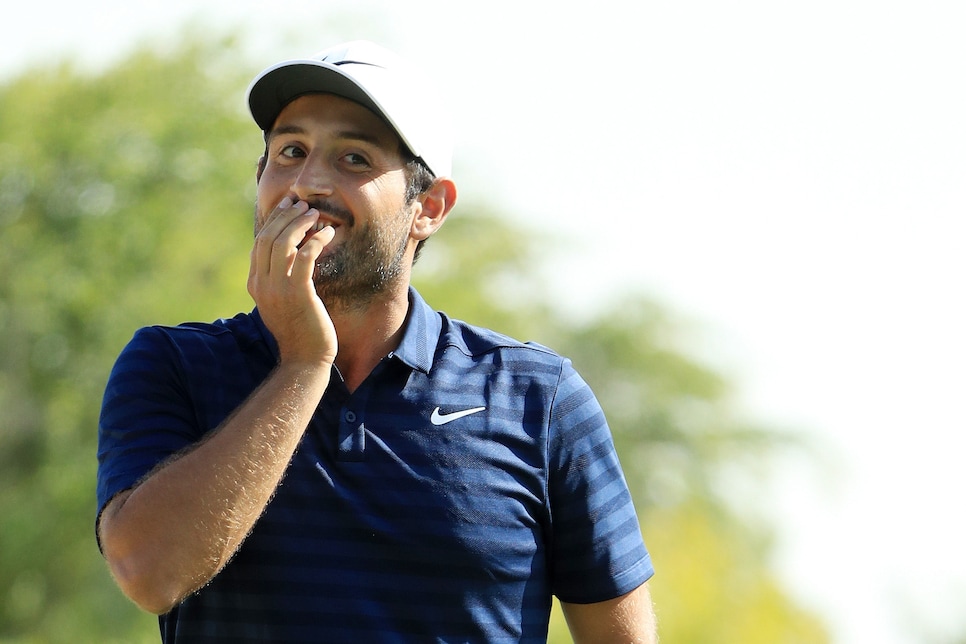 On Levy, my opinion has been slowly changing. The Ryder Cup is probably the single best grow-the-game initiative Europe has. Earlier this year, when Levy was playing quite well but would probably finish just outside the automatic spots anyway, I didn't think there was any way you don't take him. Given the context, Thomas Bjorn needs to find reasons not to take him. Unfortunately for Levy, he's been giving Bjorn a few too many of those recently. Thankfully, there's still time for this stuff to sort itself out. Sergio could knuckle down and allay all my fears; Levy could regain some form and make Bjorn's life easier; Olesen could end the captain's pick debate and play his way onto the team.
It all sort of makes me wonder: There's still six weeks until the Ryder Cup— plenty of time for players to fall in and out of form, especially with the FedEx Cup playoffs coming up soon. I quite like that Europe is biding its time to see if the remaining issues iron themselves out. And if they don't, they're in the same position they would've been anyway. The U.S. team isn't giving itself that luxury. Why are they locking down a majority of their team so early?
I like the U.S. system a little better, all things considered. By cutting off the top eight at the end of the PGA Championship, you put the pressure on the borderline cases to play really well in the last three-to-four events in order to merit a captain's pick. If they can't manage it, that tells me two things. First, their form isn't great to begin with. Second, they weren't able to elevate that mediocre form under pressure. And aren't both of those factors extremely good reasons to leave someone off the Ryder Cup team? It's a nice mini-cauldron that serves as a testing ground for the real thing.
As for the Europeans, their cut-off date is Sept. 2, and Bjorn is announcing his picks on Sept. 5. What's the point of that, Luke? Wouldn't you rather be Furyk, with three full weeks to analyze your first three captain's picks, and another week to settle on a fourth? I just think it gives him so much more flexibility, and at the same time so much less to think about with all the attention on a few players. Also, it gives the rest of the American team the chance to give their input.
As a final bonus, I think you want the players who do make the team to have a little mental break. For someone like Webb Simpson, I believe there's value in not having to sweat it out until the last minute, and I think Furyk will get a better performance out of him in Paris as a result.
Now, as for Bjorn's Sergio conundrum, I think we can learn a lot from some quotes he gave a week ago. He tried his best to spin it as, "I know Sergio can find his form!," but read between the lines here:
"Knowing him very well, he tees it up every week to try and go and win golf tournaments, and I would like to see something from him."
"It still comes back to what's the makeup of the team," Bjorn said. "Does he fit in there? If he doesn't make it on merit, does he fit in there with where he is going through all of those points that I put down of making my picks?"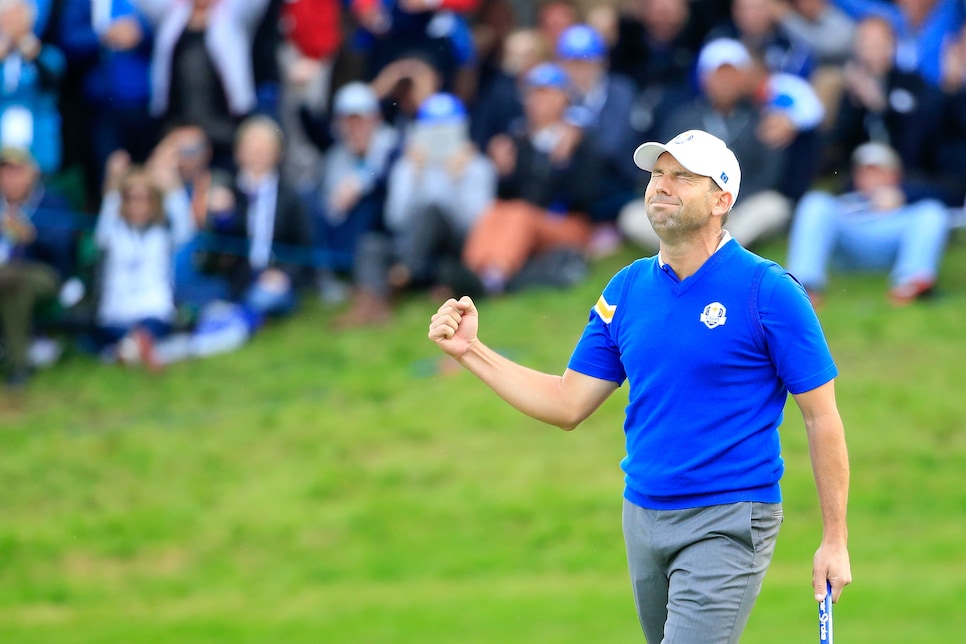 In other words, Sergio isn't guaranteed anything. I think he needs to play lights out in Europe for the next three weeks, but at the same time, there's really no sign that it's about to happen. So to end this week's exchange, I'll put myself in Bjorn's shoes and make my captain's picks as of where we stand today, on Aug. 15:
Casey
Stenson
Cabrera Bello
Pieters if he continues to play well for the next three weeks, Olesen if he doesn't.
That would suddenly be a really scary European team. Next week, Luke, I promise to have my American over-confidence mojo back. Until then, revel in this little thing called hope.