News
Introducing the 'Ryder Cup Radicals' Email Exchange: The high stakes at the PGA Championship edition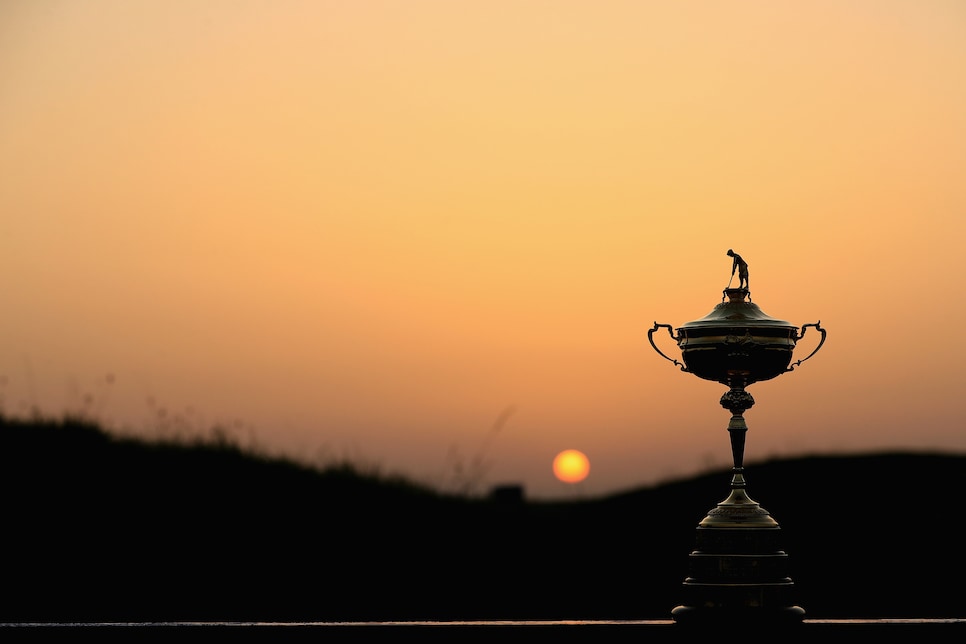 Photo By: Andrew Redington/Getty Images
Editors' Note: Two men. Two continents. One fixation. Luke and Shane love the Ryder Cup above all else, so we've set them loose to indulge their obsessions in a series of email exchanges leading up to the showdown in France. Today, they're covering the PGA Championship, and the implications it holds for the Ryder Cup teams.
First, let me say what a pleasure it is to be sharing the digital page with a man of your tastes. You and I love the Ryder Cup more than anyone I know, and I'm excited to team up for the next two months, fight bitterly over email and treat this tournament as the life-or-death affair we both know that it is.
I also want to give our readers a quick sense of who we are. You are a sophisticated, dual-continental gentleman, with English and U.S. roots, while I am a Big White American Boy (BWAB). However, despite my very Irish name, I recently found out that my origins are largely French, and with the Ryder Cup being held at Le Golf National this year, perhaps it means those ancient loyalties will re-surface.
In any case, we're here to talk about this week's PGA Championship. As Ryder Cup obsessives, we recognize this event is far more than a simple "major." It's a dramatic, even critical stage of the Ryder Cup qualifying process.
In fact, for the Americans, it's the last chance to make the team on points. Unlike 2016, when the qualifying ran through the first FedEx Cup playoff event, Bellerive is the end of the road for automatic qualifying, and we'll know eight of the 12 team members come Sunday. After that, Jim Furyk will make three captain's picks following the Dell Technologies Championship in September, and one more after the BMW Championship.
A glance at the current standings shows that four Americans have clinched their spots (Dustin Johnson, Brooks Koepka, Justin Thomas, Patrick Reed), while two others (Bubba Watson, Jordan Spieth) look pretty safe. The question then is, who has the most to gain and the most to lose this weekend?
For me, it's do-or-die time for Bryson DeChambeau. He's ninth on the list right now, first man out, and here's a crazy stat: The first man out on the American side has not been selected as a U.S. captain's pick since Paul Azinger took Steve Stricker in 2008. That's four straight Ryder Cups! And I think Bryson is at high risk to make it five. Both his game and his mind are extremely volatile at the moment, to the point that he seems to be living inside a self-made prison of melodrama. As much as I'd love to see him on the team (for experience if nothing else), he's looking very mercurial, and very much at risk of not getting one of Furyk's four roses.
In other words, he really, really, really needs to have a solid PGA Championship and make the team on points.
I have so much more to say, but let's start there—are you with me on Bryson? What else are you seeing from the Americans?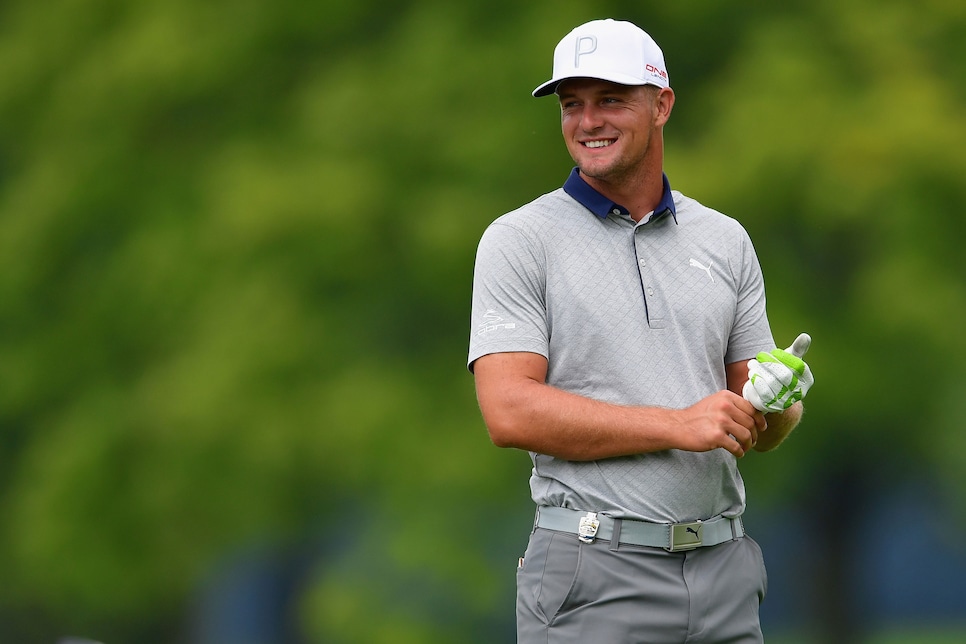 Stuart Franklin/Getty Images
Usually we only exchange emails to argue about our fantasy golf league, so I'm looking forward to putting aside those differences and instead exploring the intercontinental grudges we hold against one another. I'm sure the rivalry will be no less intense.
I have to admit, I'm genuinely impressed at how the U.S. team is shaping up and frankly, as an Englishman, a little concerned. After years of flailing and fiddling about, the U.S. team finally seems to have stumbled upon a system that gets its best players automatically qualified. That said, my faith in the American team's ability to screw it up somehow remains strong.
Which brings us to the captain's picks.
I agree that Bryson's game isn't as strong as the standings suggest, and his theatrics may well cause some friction in the locker room, but ultimately I'm more bullish on DeChambeau. If the current top eight of the U.S. standings remain, Thomas—who's won seven times in his last two seasons—will be the only automatically qualifier to go into the Ryder Cup as a rookie. That kind of depth of experience means you can take some free swings on young guns like DeChambeau. Play him early, and if he looks iffy, bench him and lean on your tested hands. If he looks good, then great! Keep it rolling. It's low risk, high reward; the perfect guy to use a pick on.
When I think of do-or-die time, there's only one American that comes to mind: Phil Mickelson. I don't think there's any way Furyk can justify two sentimental gambles with his captain's picks in Mickelson and the other Hall of Famer outside the points list, Tiger Woods. Mickelson's age finally seems to be showing, and his game is trending down as a result. His scores are increasingly sporadic, he's not driving the ball as well or as far, and he's a big personality that can be difficult to manage (remember him throwing Tom Watson under the bus in 2014?).
When push comes to shove, Tiger will get a pick over Phil, and he deserves to—he's been genuinely impressive since returning this season. If Phil wants to make one last Ryder Cup team, his only chance is to play his way into the automatic spots this week.
I agree with you completely about Team USA's strength. They're the overwhelming favorite, even on foreign soil, and the arrogant American exceptionalist in me almost believes that they could just take their eight automatic qualifiers, play them in all four sessions, sacrifice the four extra singles points on Sunday, and still win. I swear that's not even a troll—the team is just too good.
It's funny to think about where we were four years ago at Gleneagles. Paul McGinley and his Europeans were so dominant, and the Americans were so bad and so incompetent, it seemed like Europe would just go on winning this thing forever. But the result was almost too perfect for Europe, in that it shocked the U.S. to its senses and led to a sea change in how the Ryder Cup is managed. Maybe a narrow loss would have let them maintain the status quo, but the confluence of the humiliation in Scotland and the maturation of a golden generation of young Americans has led to a complete reversal. After Gleneagles, I thought the Europeans would dominate for a very long time. Now? It feels like the U.S. should win three or four straight … at minimum.
And I have to say, Furyk seems like the perfect guy to keep this going. He's solid as a (very plain) rock, a machine kind of captain, and all the players respect him without being intimidated by him. He's definitely not going to pull some Tom Watson "I go with my gut, let's give Grayson Murray a shot!" BS. He's the most unlikely guy to make a mess of things in France.
As to your Phil/Tiger theory, this is our first big point of disagreement. In a perfect world, Furyk would take one or the other (Tiger), but in the real world, he will inevitably take both. And it won't be hard to justify. Phil is going to be very close to making it on points, and his form, while not superlative, is plenty good (only one missed cut all summer). Plus, he's beloved of … well, everyone that matters, and if I were Furyk, I'd be terrified to leave him off the team. You referenced his big personality and how he destroyed Watson, but you don't think the long arm of Phil Mickelson can reach Furyk even if he's not on the squad?? Men have died for less.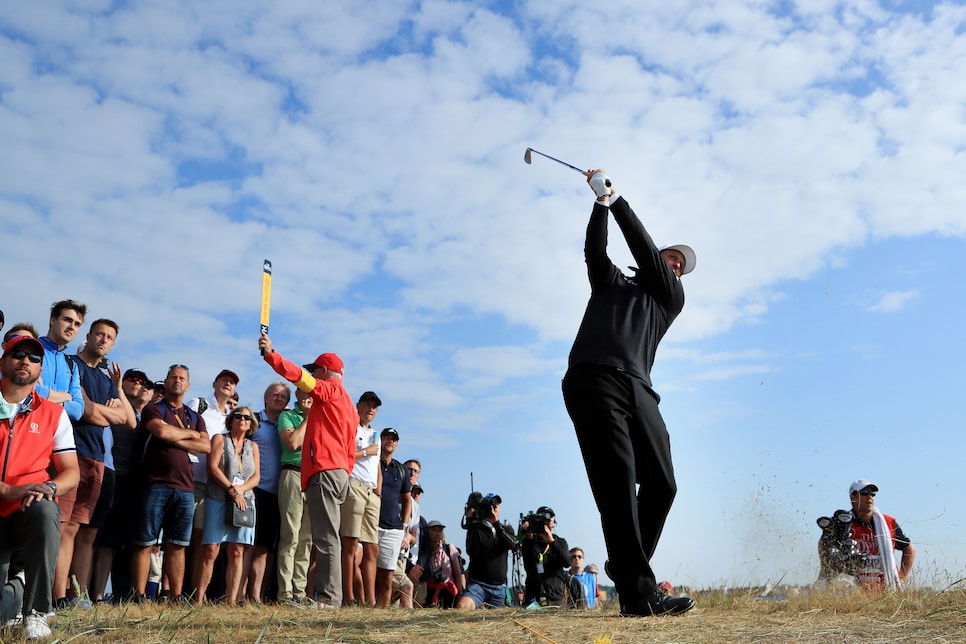 Man, we still have to talk about Europe! Which is easy, because you only need an expert's knowledge of Riemann's Hypothesis, the Fermi Paradox, and orbital mechanics in order to understand their qualifying system. I'll leave you to introduce that.
The European qualification has been flawed for a while, in my opinion, and 2018 is the year it's finally starting to catch up with us. Explaining it as simply as I can: They take the top four Europeans in the Race to Dubai rankings, then the next four Europeans from the World Rankings, plus four captain's picks. One of the changes they made ahead of this Ryder Cup is tweaking the formula so it weighs tournaments closer to the Ryder Cup more heavily.
My issue (which I wrote about a few months ago), is that it's primarily designed to reward players who play mostly on the European Tour, even though the reality of the sport is that the best players ply their trade in the U.S. It's why a guy like Tyrrell Hatton, who plays a full European Tour schedule and registered a handful of good finishes in WGCs, has been a lock on the team for months, while U.S.-based players like Sergio Garcia (WHO WON THE MASTERS LAST YEAR) and Henrik Stenson are on the outside looking in.
There's not really even much chance for the captain's picks to correct for all this, just by nature of the current order of things, so I'm basically just looking for some players lower down the order to put together a good week at the PGA Championship. Would be nice for Sergio to show some form, or someone like Rafa Cabrera Bello or Ross Fisher to send a statement to Thomas Bjorn.
The European Tour absolutely uses the prestige of the Ryder Cup to try to heighten its brand and secure strong fields, and it's kind of hilarious. My favorite little caveat of their qualifying process is that during the "Rolex Series," which encompasses eight Euro Tour events during the year, Ryder Cup points aren't given for any other tournament in the world. That means if you play well (or even win) the Colonial, Byron Nelson, Quicken Loans, Greenbrier, John Deere, along with a few fall events, you get absolutely nothing. Rose and Molinari happened to win two of those events this year, and though it didn't hurt them in the end, it could have. The next Team Europe move should be to actually subtract points from anyone who plays in America.
As for the PGA Championship, the European points qualifying runs for three more weeks after it's over, so the situation isn't quite as critical for their players, but I'm also very interested in the names that aren't quite as familiar to Ryder Cup audiences. Guys like Thorbjorn Olesen (like Bjorn, a Dane), Matthew Fitzpatrick, Cabrera Bello, Russell Knox, Fisher, etc.
The reason why their performances matter gets to the heart of Bjorn's conundrum: When it comes to captain's picks, he has a really difficult choice to make between tested veterans who aren't playing very well, or younger, more inexperienced guys … who also aren't playing very well. Olesen is the one exception here—he's been terrific for the past couple months, and I think he's earned a captain's pick if he doesn't qualify. On the veteran's side, Poulter is also in—you can't leave Ryder Cup royalty off if he's playing halfway decent, and he's playing halfway decent.
Beyond that, though, it gets really tricky. Do you look around at the younger generation, feel generally underwhelmed, and keep it simple by going with Sergio and Stenson? I think that's probably the best move for the present, and my guess is that it's exactly what Bjorn will do, but the problem is this: the longer you trot out the old guys and try to extend the glory years, the more you mortgage the future. In two or four years, Europe is going to be in a situation where they're facing an American juggernaut filled with relatively young guys, and they're not going to be able to respond with youth of their own. So I do wonder if Bjorn feels any responsibility to blood some youngsters now in preparation for that day.
The answer? Probably not. He'll still have guys like Jon Rahm, Alex Noren, Tommy Fleetwood and Hatton making the team automatically, and I'm guessing he'll think that's plenty.
Every Ryder Cup, the question of exposing youth to the competition versus riding with experience pops up, and every year it's a silly argument. Golf's talent pool is so deep that it's a fool's errand trying to plan too far ahead. Sure, you have a small handful of guys who will always qualify, but on the whole the lineup is volatile. Full of one-and-done Ryder Cuppers (Ryan Moore). Players who make a few then miss a few then make a few more (Bubba). Players who catch some good form for a few years then drop off the face of the earth (Hunter Mahan), or players who emerge from nowhere (Jimmy Walker).
It's like in 2016, when the European Team "blooded" six young Ryder Cup rookies. A rebuilding year, but a great investment in the future! The only problem is that all six are probably going to miss the team this year.
Basically, I think captains should be trying to field their best team possible. Take a swing on a few unknowns if you have that luxury, but when in doubt, go with quality, regardless of age. Don't worry about solving a problem that doesn't exist yet.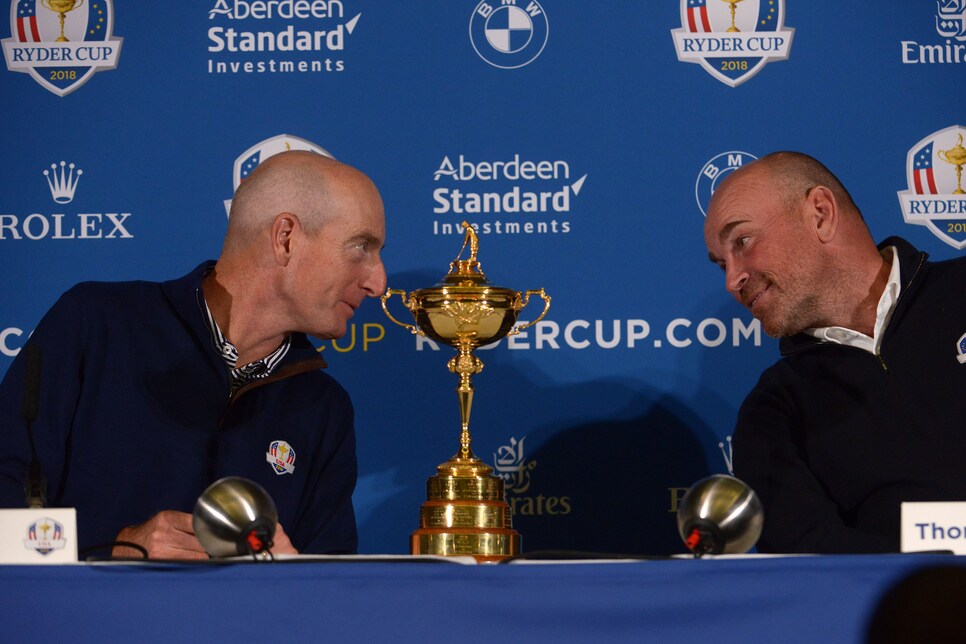 Frederic Stevens/Getty Images
The problem facing European team further down the pecking order isn't a lack of talent or the experience versus youth conundrum, it's a general lack of form. Sergio, Stenson and even Casey are some of the best players Europe has, but their play remains solid if unspectacular. Fisher is the latest name to suddenly jump into Ryder Cup contention, courtesy of … a T-17 at a WGC?
Basically, that's what I want to see this week at the PGA. An enticing showing from someone like Fitzpatrick, or for Sergio to show some life, or for Stenson to get the blood pumping in contention. A statement from somebody further down the board, that sends a message to U.S. fans on American soil.
Thanks for reading! Check back next week, when the top eight Americans will be set and the captain's pick speculation can truly take flight.