News
How does Thomas Bjorn feel about the upcoming Ryder Cup? He talks, and we read between the lines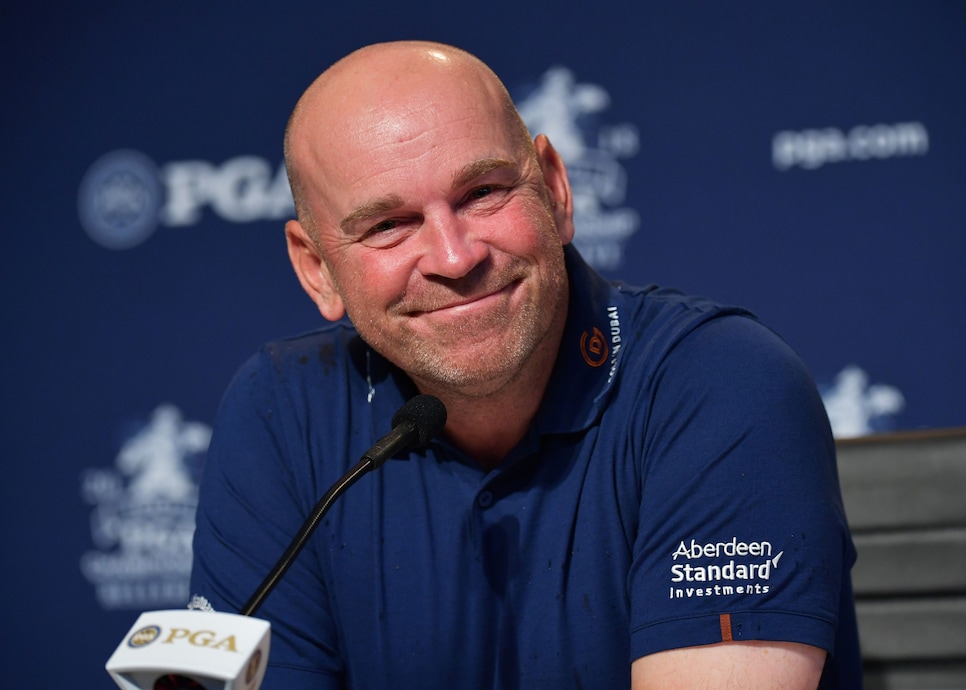 Stuart Franklin/Getty Images
ST. LOUIS — Within the world of professional golf, Thomas Bjorn has always provoked a range of opinion. There are those on the European Tour who could see the sometimes glowering Dane far enough, having felt the rough edge of the Bjorn tongue. On the other hand, many are those who admire the work and time the 47-year-old has long put into his home circuit behind the scenes. For more than a decade before he ascended to the European Ryder Cup captaincy that will climax in Paris next month (after working as a vice-captain four times) Bjorn served as chairman of the tour's tournament committee.
What has never been in doubt—and always near unanimous—has been Bjorn's political instincts. One of the best interviews in the game, the 15-time European Tour winner possesses a keen intellect and is one of the most articulate members of the game's elite.
All of those attributes were on show early Tuesday during a press conference at Bellerive, 26 days before Bjorn will add his four captain's picks to the eight automatic qualifiers at the conclusion of the Made in Denmark tournament on Sept. 2. Responding to a wide array of questions, the European skipper managed to give away very little. Which makes sense. Until he knows the identities of his automatic qualifiers—currently Francesco Molinari, Justin Rose, Tyrrell Hatton, Tommy Fleetwood, Rory McIlroy, Jon Rahm, Alex Noren and Paul Casey—it is difficult for him to be too precise regarding his subsequent plans.
Which is not to say that Bjorn is unhappy with the way things are shaping up. As things stand, it appears as if the 12-man team he will take with him to Le Golf National will be considerably stronger than the losing side at Hazeltine in 2016. Indeed, a good case can be made that this might well be the best-ever European squad, eclipsing the 1987 version that won the trophy for the first time on U.S. soil at Muirfield Village. Perhaps most importantly, however, many of Europe's leading lights have recently been shining brightly.
None of the above is surprising, of course. Basic logic dictates that those currently occupying the qualifying spots have all played extremely well to this point. Had they not been playing so well, they would be among the sizeable group hoping for one of Bjorn's picks. Within that majority are some notable names: Henrik Stenson, Thorbjorn Olesen, Russell Knox, Eddie Pepperell and Ian Poulter. A good case can be made for each one, both on current form or past experience or both.
Still, one issue has already become clear, one that will force Bjorn into deciding whether or not Sergio Garcia's recent inability to score well outweighs his past deeds—and notable successes—in the biennial contest against the United States. What will count for most?
Not surprisingly, Bjorn played a straight bat to that particular query.
"Sergio has been brought up to me a couple of times over the last couple of weeks," he said with a smile. "Sergio is a world-class player, and he's got some weeks ahead of him where he can go out and achieve things. But we also know that Sergio is the type of player who can turn it around in a week or two and then all of a sudden go on a great run of form. World-class players all have ups and downs. And the last few weeks he hasn't played his best. But he's still bobbling around. There are still some good signs here and there. He can turn it around very quickly."
Translation: Expect Sergio to get a pick if he needs one, which he almost certainly will.

Inevitably, the subject of Tiger Woods came up in conversation. Did Bjorn, who played all four rounds of the 2001 Dubai Desert Classic alongside Woods and beat him by two shots, think any of his players might be intimidated competing against the great man head-to-head?
Not surprisingly, Bjorn played a straight bat to that particular query.
"I'm glad that this generation of players get to experience Tiger Woods, because that's what they need," he said. "They need to experience what he brings to the game. And they need to experience all that comes with the world of Tiger Woods."
Translation: My guys will do just fine playing against the 2018 version of Tiger.
Next up was the sometimes thorny issue of Ryder Cup rookies. Much was made of the fact that half of the 2016 European side was playing in the matches for the first time. Two years on, Bjorn currently has four rookies inside his eight automatic qualifiers. How will that affect his decision-making?
Not surprisingly, Bjorn played a straight bat to that particular query.
"It depends on the player," he said, not unreasonably. "You're going to have players that have experience of playing in the Ryder Cup and not done very well with it. And then you have players with experience of the Ryder Cup and have done extremely well with it. If you're going to make a choice, you probably end up going with the one that has done the best with it.
"But it still goes on back to what are these eight going to be and then how do you match it up with the four. It really is a puzzle. It's not one or two things that come into consideration when making picks. There's 15, 20 different things that play in. When you start going through all of this, they all have their pros, and they all have their cons. And then you get to make a decision from there."
Translation: Rookies, smookies, makes no difference at this level.
Last up came the inevitable question regarding the man many believe to be the best player on the European side: McIlroy. In contention almost every time out this year, the Northern Irishman has more than once faltered down the stretch on Sunday, most notably in the Masters and last week at Firestone in the WGC-Bridgestone Invitational.
Not surprisingly, Bjorn played a straight bat to that particular query.
"You go through spells where you don't quite get over the line," he said. "But Rory is still contending every week. I just think he's in a place where it's going to go 'boom' and then he's going to start winning a lot of tournaments. That will be good fun to watch. I'd pay money to go and watch him."
Translation: Are you kidding me? He's still my best player.
All in all, a masterclass from a master politician.